London Fashion Week keeps calm and gets creative
The Queen's state funeral didn't stop British designers delivering one of their strongest seasons in recent memory.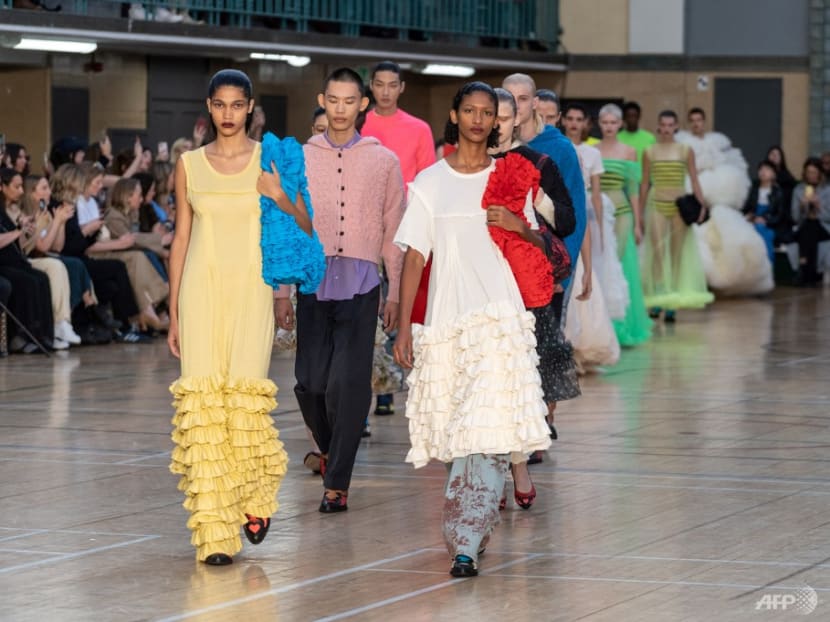 In the 24 hours after Queen Elizabeth II passed away, it looked as though London Fashion Week would not go ahead. Burberry immediately announced that it would pull its Saturday show (it has since been rescheduled for September 26), followed by Raf Simons. Dinners and parties were called off at the behest of the British Fashion Council.
In the end, shows that overlapped with the Queen's state funeral in London on Monday were moved or scrapped, but most designers stayed the course — "after two-and-a-half years of Covid, we couldn't afford not to", said designer Michael Halpern.
Instead designers acknowledged the Queen's passing by dedicating their collections to her, commencing with a moment of silence — or, in the case of Richard Quinn, sending out 22 black looks with film montages of the late monarch as a backdrop. (In 2018 Quinn became the first and only designer to host the Queen at a fashion show, where she awarded him the inaugural Queen Elizabeth II Award for Design.)
It was good that they did carry on, because it was a standout season. In spite of soaring inflation and the setbacks of the past two-and-a-half years, designers delivered strong collections that laid the foundations for future business growth. Having carved out space in the womenswear category with her darkly romantic clothes and reasonably priced accessories, Simone Rocha debuted her first full menswear collection under the frescoed dome of the Old Bailey. She fused the feminine with the utilitarian, softening a black nylon bomber jacket with dropped shoulders and full blouson sleeves over a frilly white skirt; embroidering a white shirt with pink camomile flowers; weaving thick harness straps through a shrunken black suit.
It was a translation, Rocha said backstage, of "trying to harness all of the emotions of the last two years". The customer for gender-fluid men's clothing is niche at best, but even if men don't take it up, her female clients certainly will.
Women have already been shopping from Steven-Stokey Daley's two-year-old menswear label SS Daley. The designer, who has steeped his brand in the lore of the early-20th century English upper classes, began this season with the letters that aristocratic author Vita Sackville-West and her childhood friend Violet Trefusis sent each other during their lengthy and tumultuous love affair, and so he peppered his show with a wider range of women's looks than he'd shown previously.
Artificial turf and clusters of white flowers called to mind Sackville-West's famous garden at Sissinghurst, around which models walked in what Daley described as "chic gardening gear": a striped seersucker suit stencilled with bluebells, botanical-print shirts layered over stiff canvas trousers and shorts, and a full-sleeved blouse under an apron-like black dress. These were fitted on a range of bodies: Women, for one, and also on larger men — while the women's catwalks have become more size-inclusive, the same has not happened on the men's, and this was a welcome step forward.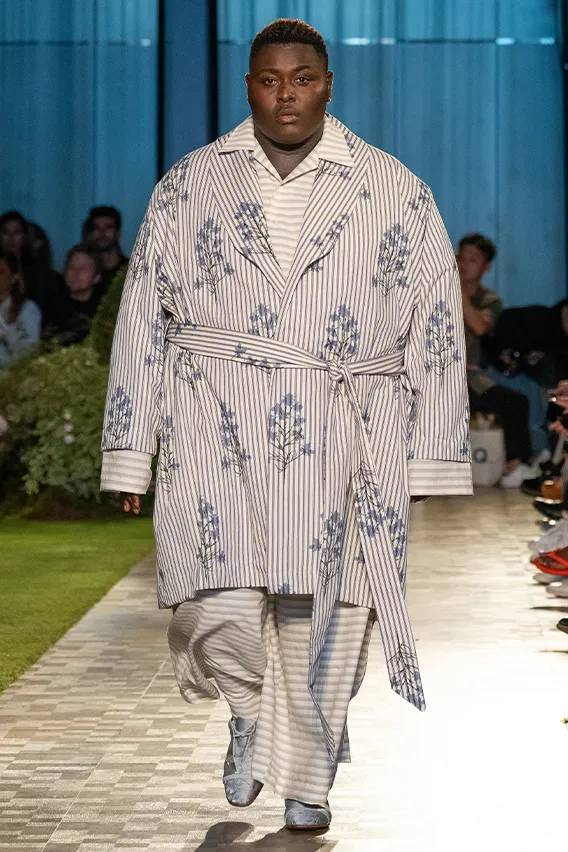 Daley is the most recent recipient of the prestigious LVMH Prize for young designers, and the superior fabrics and finishes of this collection is one good outcome of the €300,000 prize money. Another is the "quadruple" surge in interest from buyers wanting to place orders, though Daley is cautious about scaling too quickly. "You have to make sure you have customers before you distribute your clothes [to more retailers]," he said.
Fellow up-and-comers Chopova Lowena and Nensi Dojaka also made their mark in London. Designers Emma Chopova and Laura Lowena, who already have a considerable industry following, made their catwalk debut with a fun, eclectic — if not universally flattering — mish-mash of cartoon-drawn shirts, leather-belted kilts, tinsel vests and ruffled party dresses. Dojaka, who carried home the LVMH Prize the year before Daley, has been carefully plotting the growth of her nascent brand, adding to her signature black bra-top dresses and suits slinky dresses in pink and lilac, spliced denim and two styles of shoes, including smart laser-cut slingbacks studded with crystals.
In the early stages of the pandemic, most designers were obliged — sometimes under the guise of sustainability — to prune back their collections, homing in on reliable bestsellers. Now experimentation is again in the air. There was a wonderful simplicity to the lightweight dresses and softly draped cotton skirts Molly Goddard showed early in her line-up — a departure from the bright, voluminous tulle confections she is known for.
Halpern introduced sleek cocktail dresses in black and leopard-print velvet, the former adorned with gold sunbursts trailing from one shoulder, and sinuous, semi-sheer tulle dresses flocked in black, green and silver glitter. A customer who might have once found his rainbow-sequinned and feathered dresses too daring could easily find something to wear here.
While some were more pared-back in their approach, Erdem Moralıoglu went in the opposite direction. He and his team spent time observing art restorers at museums including London's V&A and the National Gallery, and under the towering colonnade lining the entrance to the British Museum, he showcased clothes that were sumptuous in their excess of fabric and decorative detail.
There was a floor-grazing trench coat cut from 20 metres of chartreuse cotton faille and embroidered in an 18th-century floral design, dresses cut from fringe cloth digitally printed to look like shredded paintings, and beaded flapper dresses shrouded in organza as if freshly pulled from storage at the V&A. The hems of some dresses were hand-painted to look like the run-over edges of canvases. These were not clothes for selling on shop floors, but collectors' items.
In contrast, Korean designer Rejina Pyo's clothes are firmly rooted in the here and now, and priced more competitively than those shown elsewhere at fashion week. Her muted, softly tailored suits were just right for the professional women who are her customers, but her high-slit and buttoned dresses and skirts were too sheer and strained uncomfortably on the models.
Designer Christopher Kane returned to the schedule for the first time since the pandemic, having devoted much of the past two-and-a-half years to painting, and his show at the Roundhouse theatre in Camden was a reminder of his immense talent.
Kane's clothes are conversation starters, cool rather than conventionally pretty. Using Roe vs Wade as a starting point, he delved into female anatomy and medical illustration, working anatomical drawings of arms and legs on to the fronts of silk evening dresses. He carried the theme further by highlighting in silver glitter the breasts on a semi-sheer black vinyl dress, and designing clear plastic bodices whose bands echoed the shape of the models' lungs underneath. It was, he said, a "brutal beauty".
It has been 10 months since Virgil Abloh died from a rare heart cancer, and Louis Vuitton has yet to announce his replacement as artistic director for menswear. After making an unexpected appearance at designer Martine Rose's menswear show in London in June, Louis Vuitton chief executive Michael Burke added further fuel to the speculative fires by appearing at Jonathan Anderson's Saturday night show — also his first in-person since the pandemic — held at a video arcade adjoining Anderson's Soho store.
Anderson, who is also creative director at LVMH-owned Loewe, has lately been grappling with questions around our relationship with digital technology — "Are we falling into the screen? Are we becoming our phones?" he shared afterwards — as well as the meeting of "fake and natural".
And so he printed stock photos of dolphins and palm trees on to bodysuits, and strung keyboard letters stamped with his initials on slim, sporty dresses of black and parchment-coloured crinkled silk. There were also one-shouldered dresses that looked as if they had been fashioned from a plastic bag carrying a goldfish, and a sculpted steel minidress shaped like the back of Apple's candy-coloured iMacs from the early 2000s. It was food for thought in a week of resilience and renewed creativity.
By Lauren Indvik © 2022 The Financial Times.
Source: Financial Times/bt