Los Angeles protests upend luxury retail's return to normalcy on Rodeo Drive
Just days after reopening, luxury stores such as Gucci, Prada and Louis Vuitton have boarded up their premises on the famed shopping precinct in Beverly Hills, out of fear of riots and looting.
Since the coronavirus pandemic, Beverly Hills's Rodeo Drive, a once bustling luxury shopping strip, has been quiet and empty as a result of the city's stay-home order. Now, just days after reopening, luxury boutiques have had to shutter again as thousands of demonstrators – protesting the death of George Floyd by a Minnesota police officer – moved to the Los Angeles (LA) area.
Before protesters hit Rodeo Drive on Saturday evening Pacific time (Sunday morning, Singapore time), brands such as Gucci, Prada, Louis Vuitton, Rolex and Dior had boarded up their stores and emptied all merchandise from the premises, out of fear of riots and looting. Stores on Rodeo Drive had begun reopening last Wednesday (May 27) after LA officials lifted the stay-home order, allowing shoppers inside.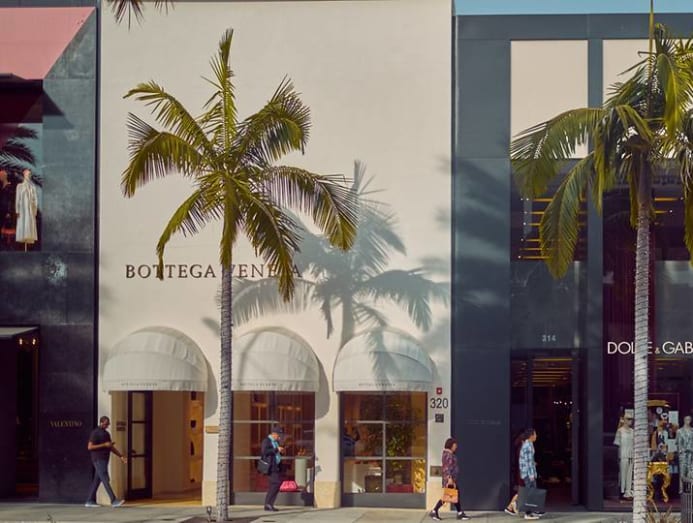 The Beverly Center, a mall in West Hollywood that houses a number of luxury brands, was also closed on Saturday in light of the protests. The mall had just reopened a day before. According to WWD, although brands such as Vuitton, Prada and Gucci were seeing shoppers spending money, the mall's luxury tenants did not want to take the chance by remaining open. 
At around 6pm on Saturday, the Alexander McQueen store on Rodeo Drive was broken into and looted after protesters managed to break the glass doorway, according to a local CBS station. Protesters were seen running out with handfuls of bags and other merchandise. The store had not been boarded up prior to the riots.
There was also an attempt to loot the Gucci store, which had been barricaded with blue plywood. Protesters were starting to break the glass facade behind the barricade before police took control. The blue plywood was vandalised with the words "Eat the Rich".
After a weekend of chaotic protests, citywide curfews were imposed throughout the Los Angeles area. Los Angeles was among a number of cities impacted by protests following the death of George Floyd. Thousands have taken to the streets in Minneapolis, New York, Chicago, Atlanta and other cities, citing racial injustice and police brutality.