How Louis Vuitton's new jewellery line champions freedom and femininity
Fronting the collection's ad campaign is a diverse cast that includes Game Of Thrones' star Sophie Turner and transgender actress/model Indya Moore.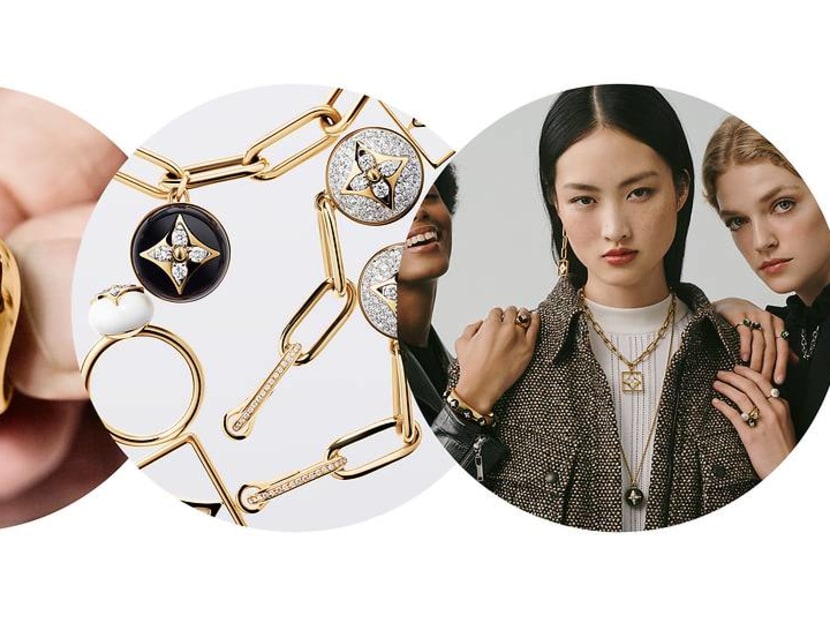 Much like Rihanna's new Fenty fashion line, Louis Vuitton's latest fine jewellery collection, B.Blossom, which includes rings, bracelets and cuffs, earrings, pendants and chain necklaces, feels very now.
While Fenty speaks to a seemingly gender-fluid audience as well as women who are proud of their curves, B.Blossom addresses a confident crowd – those who are unafraid to assert their identities.
Think "chunky rings and clanking bangles" – as The Financial Times described it – and logomania galore: The brand's iconic star-shaped flower, created by Georges-Louis Vuitton in 1896, is deployed to maximum effect across the entire range.
You can thank Francesca Amfitheatrof, Louis Vuitton's Artistic Director of Watches and Jewellery, for this feisty, assertive streak. The 51-year-old was last seen at Tiffany & Co, where she spent four years (2014 to 2017) as its first-ever female Design Director. There, she made waves by introducing a more urban, streetwise edge to the classic American jeweller – most notably in her Tiffany T and Tiffany HardWear collections.
B.Blossom is Amfitheatrof's debut collection since her appointment to the Parisian luxury house in March 2018.
She sought to inject a modern, youthful and impactful vibe by using a mix of pink and yellow gold, animated by malachite, onyx, white agate, pink opal, diamonds and pearls. (That colour palette, by the way, is also very on-trend in interior design).
Alongside pinks and pearls – traditional symbols of femininity – Amfitheatrof introduces chunky signet rings, which are considered the "gentleman's ring". These statement pieces are reinterpreted in carved hard stones or pave diamonds.
To give the collection even more nowness and street cred, the campaign is fronted by a diverse cast that includes Sophie Turner – aka Game Of Thrones' Sansa Stark aka Queen in the North aka Mrs Joe Jonas – and Indya Moore, a transgender actress/model currently breaking gender stereotypes as a Calvin Klein underwear model. She also appears on the cover of Elle magazine's June 2019 issue.
Perhaps Turner said it best when she told The Hollywood Reporter, "I think femininity is open to interpretation. If you're a woman or identify as a woman, then whatever you are, is feminine."
The Louis Vuitton B.Blossom collection will launch in the Louis Vuitton Marina Bay Sands Island Maison and ION Orchard boutique on May 31, 2019.