Do Louis Vuitton's New Classics bags encourage careful, considered spending?
In the wake of the discussion on sustainability, the release of Virgil Abloh's New Classics collection follows a burgeoning movement in which designers are redefining fashion's notions of timelessness.
It has been an eventful few weeks for Louis Vuitton. In October, the French luxury house opened a 100,000 sq. ft. production factory in Texas, with American President Donald Trump on site for its inauguration alongside LVMH Chairman and CEO, Bernard Arnault. Despite the latter's assertion that the move was to meet the growing demand for Louis Vuitton goods on American soil (the Louis Vuitton Rochambeau Ranch is also expected to employ 1,000 people over the next five years), President Trump's presence at the ribbon-cutting ceremony sparked an outcry from a segment of the industry.
Grab Your Wallet, an organisation that monitors companies with ties to the President, has called for a boycott against the French luxury conglomerate. Nicolas Ghesquiere, Louis Vuitton's Artistic Director of its womenswear universe, took to Instagram to voice his disapproval. Accompanying an album art of 80s dance hit High Energy by Evelyn Thomas, Ghesquiere captioned: "Standing against any political action. I am a fashion designer refusing this association."
Despite the brouhaha, it seemed like it was business as usual for Louis Vuitton, at least in Singapore. Days before the opening of the Texan plant, the French maison announced the launch of an e-commerce site dedicated to the Singapore market. For many of Louis Vuitton's loyal customers here, the move couldn't have come any sooner. Since its launch in France in 2005, the e-commerce service has been extended to 25 countries such as China, Brazil, Japan and South Korea over the years.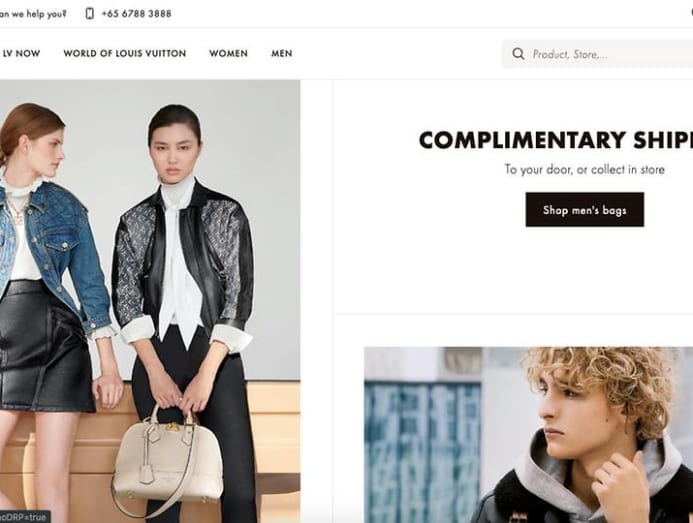 Available on web and mobile platforms, a wide range of products can be found online  – including Louis Vuitton's agenda-setting ready-to-wear pieces for men and women, its signature leather goods, as well as footwear, accessories, jewellery, luggage and fragrances. You may choose to collect your purchases from Louis Vuitton's Ngee Ann City store – but what's the point when the brand has one-upped its personalisation offering with a complimentary same-day delivery?
It shouldn't matter that Louis Vuitton's four outposts are easily accessible from any part of the island. If anything, the introduction of the site demonstrates an embrace of Singapore's digital landscape. According to Statista Portal, revenue from the city state's e-commerce market is set to hit US$4 billion (S$5.43 billion) by the end of 2019 – well on track of a ten-year forecast by Google and state investment firm Temasek Holdings that the sector will be worth US$5.4 billion (S$7.5 billion) by 2026.
Of course, convenience remains the biggest draw of the e-commerce site. And adding to the incentive to hit the checkout button is the release of the New Classics collection, a leather goods range conceptualised by Virgil Abloh, its menswear Artistic Director. Reminiscent of Staples Edited By Louis Vuitton – a pre-fall capsule that saw Abloh introduce a series of wardrobe staples elevated with the House's know-how – the new line consists of four iconic bags that have been tweaked slightly to suit the tastes and lifestyles of the contemporary male customer.
Save for the resin chains that have become an Abloh signature at Louis Vuitton, you'll be hard-pressed to pinpoint the exact updates the designer has made to the bags – now rendered in ultra-masculine black-and-grey shades of the Monogram Eclipse. That's because Abloh has applied his famous "3% approach" to the bags, a modus operandi which sees him altering a form to that number in order to update its relevance.
The release of Abloh's New Classics follows a burgeoning fashion movement in which designers are redefining fashion's notions of timelessness. In the wake of the discussion on sustainability, this anti-trend trend encourages careful and considered spending.
Is Abloh's "3%" enough to sustain interest in the collection? Time will tell. But the 39-year-old's track record has shown that he is adept at generating hype for all his endeavours, from his collaborations with brands such as Nike and Ikea, to his own work at Off-White. He is also one of the few designers of his generation who has managed to connect with a new legion of consumers on a quest for clout in the digital sphere – those will surely add the bags to their shopping carts.