A new showcase in Singapore shows how Louis Vuitton's trunks have evolved
Louis Vuitton's trunks may have had their roots as luggage pieces, but these days, their function is limited only by one's imagination, as seen at a new savoir faire (French for know-how) showcase in the Ngee Ann City boutique.
In the 19th and 20th centuries, a Louis Vuitton trunk was the ultimate status travel item, used by the well-heeled to tote around their most prized possessions as they journeyed on locomotives and steamer ships. And while they looked deceptively simple from the outside, the inside told a different story: The trunks could be opened up and transformed into dressers, wardrobes, and even beds.  
But these days, as globetrotters travel with luggage on wheels, travel trunks have become romantic symbols of yesteryear. Yet the house of Louis Vuitton, which revolutionised the travel industry by creating the first flat-topped trunk in 1858, continues to push the boundaries of what a trunk can be. 
From the lavish Monogram Afternoon Tea Box to the endearing Malle Maison Vivienne dollhouse, Louis Vuitton's modern trunks are valued as much for their functionality as they are for the craftsmanship that goes into their making. The company's made-to-order service means clients may also customise their trunks to hold their collection of timepieces, books, wines, cigars or even sneakers.
Louis Vuitton's range of trunks, some specially flown in to Singapore for the first time, are now on show at the maison's savoir faire (French for know-how) showcase, taking place at the duplex Louis Vuitton boutique in Ngee Ann City. The motivation for staging this showcase? To demonstrate how the art of savoir faire has been passed down the generations. 
The upper level of the duplex store has been redesigned to resemble a lush tropical oasis, embellished with hard-sided trunks in varying forms and functions. The experience is meant to be akin to stepping into a home, with the store divided into several different settings, namely a patio (teeming with foliage), a women's dressing room, a dining room and a men's lifestyle room.
Louis Vuitton's trunks may have had their roots as luggage pieces, but these days, their function is limited only by one's imagination, as seen at a new savoir faire (French for know-how) showcase in the Ngee Ann City boutique.
Alongside the trunks, art objects, exotic handbags, watches, jewellery and curated selections of designer furniture from the House's Objets Nomades collection are also on display.
Objets Nomades is a collection of limited-edition, collectible furniture inspired by Louis Vuitton's travel heritage. It weaves together Louis Vuitton's savoir faire with the skills of world-renowned designers to create a collection of inventive, yet functional furniture pieces.
The showcase takes place from Jul 20 to Aug 2. Here are some of our must-see favourites. 
MALLE COIFFEUSE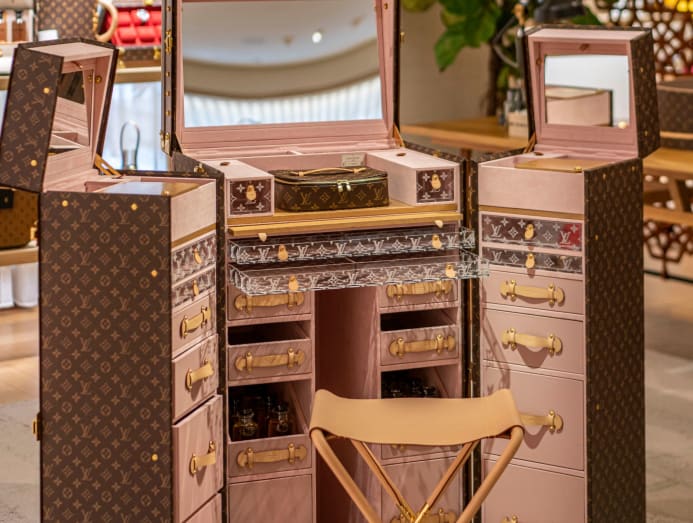 The Malle Coiffeuse trunk is inspired by historical pieces that were created as portable vanities. Away from home, women would use the trunks to store their lotions and potions, implements and accessories; the trunks accompanying their daily beauty routines. The contemporary version contains several compartments to house a complete beauty collection, with different sizes of drawers and trays. A pliable stool in natural cowhide leather is included with its own storage space within the trunk.

COURRIER LOZINE GREEN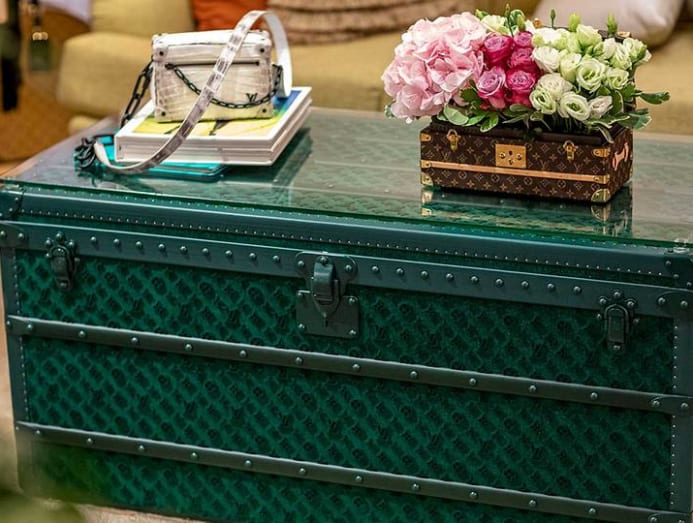 The Courrier Lozine Green, designed by Louis Vuitton's Men's Artistic Director Virgil Abloh for the Spring/Summer 2020 collection, has been flown into Singapore for the first time. The trunk, which can be used as a coffee table or flower trunk, comes with a "turfed green" finish (called the Monogram Tuffetage) created using a weaving technique where embroidery is layered over the canvas base. This gives the illusion of the Monogram growing as fine moss on the trunk.  
MALLE MAISON VIVIENNE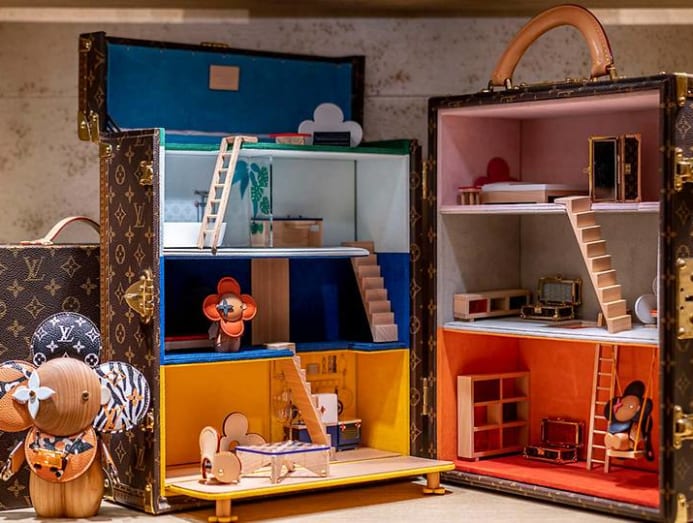 Also in Singapore for the first time, the Malle Maison Vivienne is a true collector's piece that showcases the savoir faire of the House with a touch of playfulness. Vivienne is the mascot of Louis Vuitton, whose creation was inspired by Louis Vuitton's grandson, Gaston-Louis's love of toys and other curiosities. The Malle Maison Vivienne is designed as a portable dollhouse for Vivienne, and features a terrace, bedroom, bathroom, office, living room, kitchen, and playroom. It comes complete with miniature versions of iconic trunks like the Courrier Lozine 110 and wardrobe trunk.
MALLE STRAPS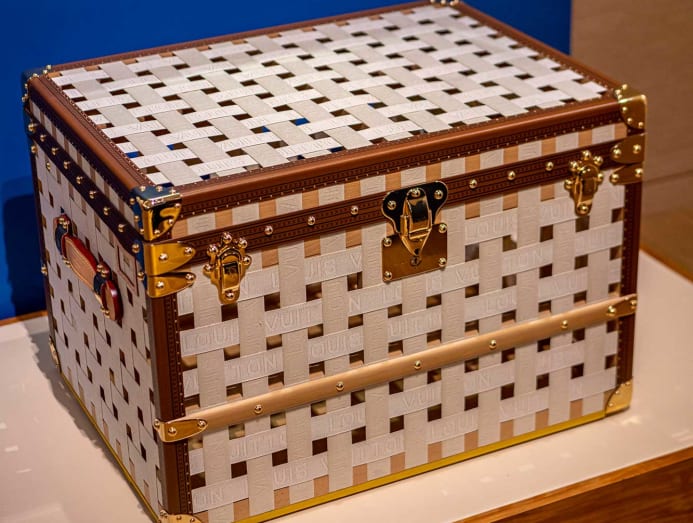 Embodying the evolving design of Louis Vuitton trunks is the Malle Straps Trunk, designed by Virgil Abloh in collaboration with streetwear designer Nigo of A Bathing Ape fame. The duo put a modern spin on the trunk. While the design retains the original leather edges and metal hardware elements, the usual wooden panels used in the construction of trunks are replaced by stretched cotton straps to create a graphic and thoroughly contemporary aesthetic.
LE BABYFOOT
Le Babyfoot, Louis Vuitton's version of a foosball table, is the star of the men's lifestyle room. Inspired by Gaston-Louis Vuitton's love of sports, the foosball table is an addition to the House's made-to-order games collection. Interestingly, the players featured on Le Babyfoot are inspired by the signature Louis Vuitton "Groom", a character harking from the brand's 1921 advertising images. Even the counting coins are embellished with the hand-painted Monogram flower.
BOMBOCA SOFA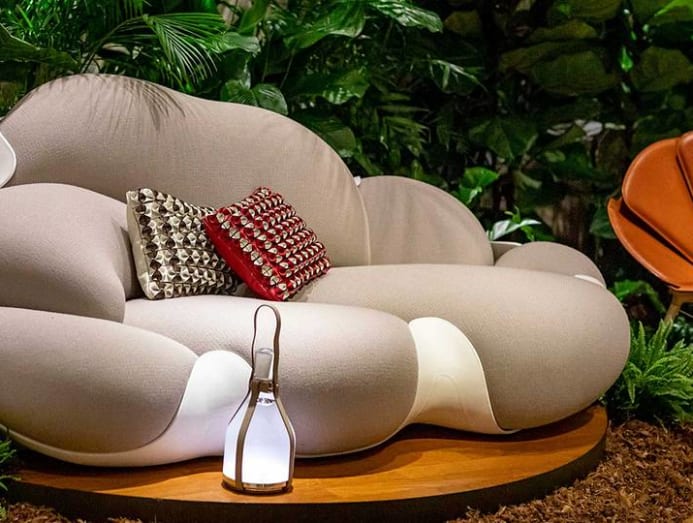 Part of the Objets Nomades collection, this modular sofa, originally inspired by cloud shapes and round sea apples, is named after sweets served at weddings and children's parties in Brazil. The sofa is akin to a puzzle – the eight cushions are removable, and can be used separately as pouffes. 
At the showcase, guests will also find an Artisanal Corner, where an in-house artisan demonstrates another aspect of Louis Vuitton's craftsmanship in the form of personalised inscriptions on the trunks. These can be multi-coloured stripes with the owner's initials, as well as iconography from the Louis Vuitton patches and stickers catalogue. Clients can also work with the artisans to create original designs including names, family crests or family photos, allowing a truly unique piece of their own. 
Louis Vuitton's trunks may have evolved to fit contemporary times, but they are still made to exacting standards – by hand – in the maison's workshop in Asnieres, location of the Louis Vuitton family home. Situated approximately 30 minutes outside of Paris, the workshop was officially opened in 1859.
Louis Vuitton's Savoir Faire showcase runs from Jul 20 to Aug 2 at the Ngee Ann City boutique and is by appointment only. Interested clients may contact their respective Client Advisors or book a private appointment via Louis Vuitton Client Services at +65 6788 3888