How the Tambour Spin Time gave Louis Vuitton a seat at the watchmaking table
It's easy for fashion houses to design beautiful watches, but Louis Vuitton was looking to put some actual mechanical muscle in their first "serious" timepiece – and it paid off.
A decade ago, Louis Vuitton was known for handbags, over the top trunks and one of the most counterfeited monograms in the world. Haute couture? Check. Haute horlogerie? Not so much. But a lot can happen in ten years, and the French fashion house spent that time building what would eventually become a respected, if a bit surprising, watch with a charming new way of telling the time. It's a decade later, and Louis Vuitton can add the Tambour Spin Time to its list of covetables.
Launched in 2002, the Tambour case helped the French fashion house make its first inroad into watchmaking. It was round (Tambour means "drum" in French), had distinctive lugs and became home to a variety of movements, from the basic to the complicated. But it wasn't until Louis Vuitton acquired movement maker La Fabrique du Temps in 2012 that things really started to (r)evolve.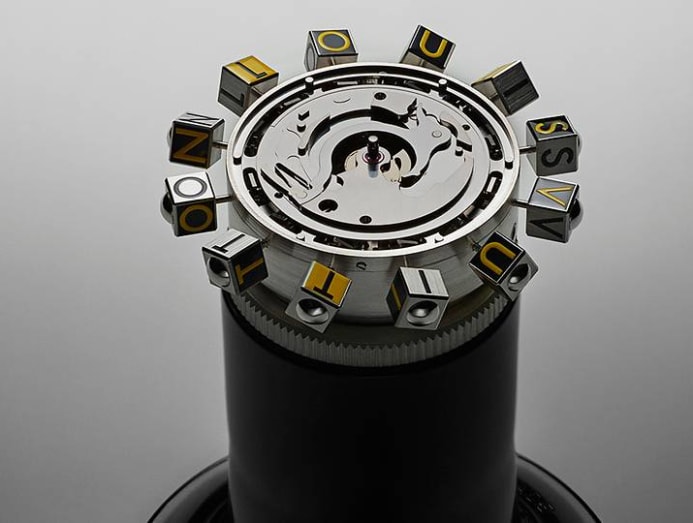 La Fabrique du Temps's founders, Michel Navas and Enrico Barbasini, had enough experience and watchmaking clout that within a year of setting up their own studio, Laurent Ferrier commissioned them to create his first – and now famous – tourbillon with double balance springs. Louis Vuitton is also among the pair's first clients and together they created the Tambour Spin Time, completed in 2009.
The Tambour Spin Time is like a jumping hour on crack. Rather than relegating the hours to a single window, all 12 hour cubes on the Spin Time are capable of, well, spinning. Every 60 minutes, one cube will instantly flip to reveal its distinctive side (achieved through a contrasting colour, pattern, or both) to indicate the current hour, while the preceding hour flips back to its plainer side. The minute hand is centrally mounted, though models with a dual time function share the axis with an hour hand.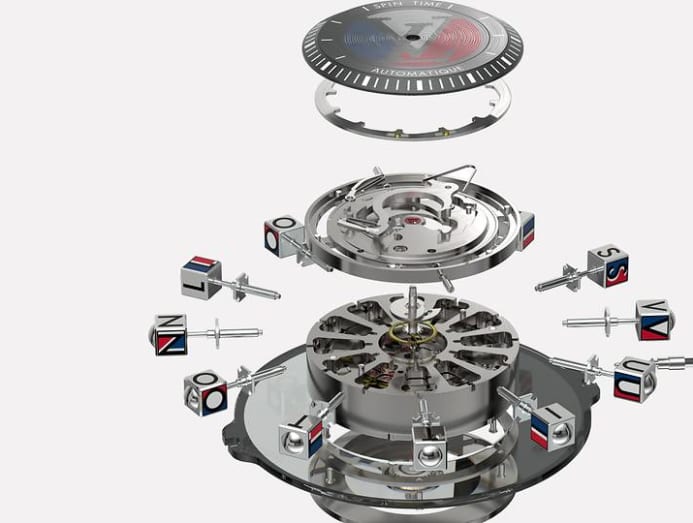 As a rule, anything that moves arrestingly on a watch face is difficult to make, but Navas and Barbasini started La Fabrique du Temps precisely so they could let expertise fuse with creative flair. While that ethos is evidenced in creations like the Geneva Seal-stamped Flying Tourbillon, Tambour Minute Repeater and hand-less Escale Worldtime, the Spin Time has also enjoyed numerous interpretations. The very first model bore a GMT, but the Spin Time quickly welcomed variations that included a five-minute regatta countdown, colourful and/or bejewelled faces and even a case from a different collection.
And it's not done revealing its many different faces. For the collection's 10th anniversary, Louis Vuitton has released seven different references of the all new Tambour Spin Time Air – four for women and three for men. The mechanics are the same, but the cubes appear to float between the sapphire crystals thanks to the entire movement being connected to the case only by the crown. The simplicity is sublime.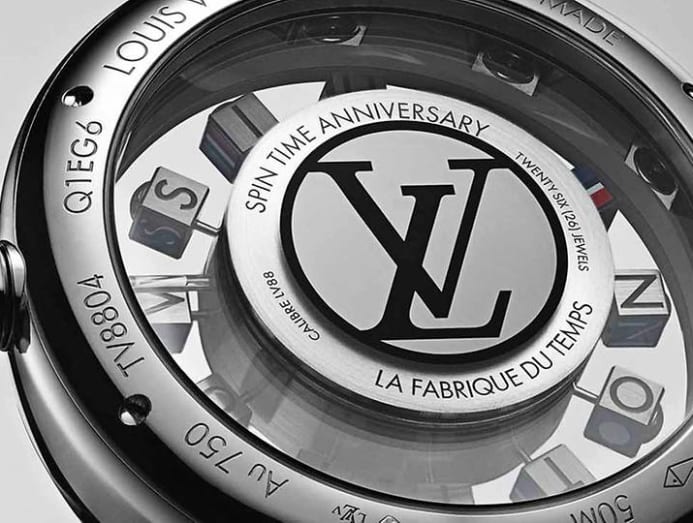 The men's versions have cubes that spell out "Louis Vuitton" and surround a disc emblazoned with the LV logo. The women's models are expectedly more elaborate, with a centre sporting the maison's monograms and cubes set with diamonds. The power reserve is somewhat modest at just 35 hours so it's fortunate that that calibre LV88 is a self-winding one. All are housed in a  42.5mm white gold case that is water-resistant to 50m.
Luxury fashion houses regularly achieve form and design with aplomb, but Louis Vuitton's decision to rope in experts in a field it's still new comparatively new to was an astute move that added much-needed credibility. And it all started by marching to the beat of a different drum.