Louis Vuitton packs on the drama with a trio of watches that bloom, glower and glow
The Tambour Opera Automata, Tambour Fiery Heart Automata, and Tambour Moon Flying Tourbillon timepieces are made to get tongues wagging.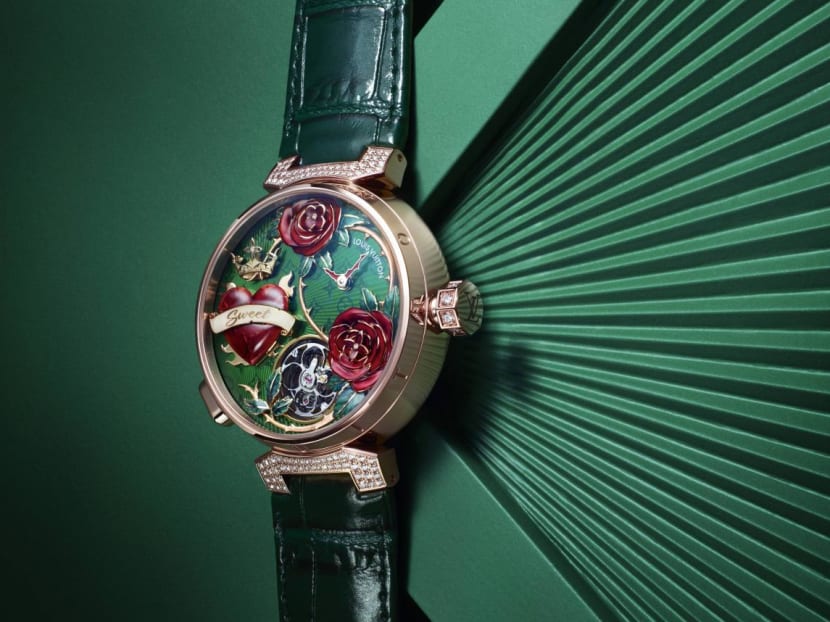 Louis Vuitton has proven time and again that it takes its timepieces as seriously as it does any product that bears its double-lettered logo – and that it does so with the same fearless sense of adventure, if not more. Its latest trio of watches runs testament to that expression in the most intriguing way, showcasing, once again, La Fabrique du Temps Louis Vuitton's insistence on playing the game with its own rules, others be damned.
The Tambour Opera Automata, for example, looks to the Sichuan Opera for inspiration and delivers the magic of its much-revered, closely-guarded secret art of "Bian Lian" (or face-changing) on a wrist-sized stage. Equipped with the manual-wind calibre LV 525 (the same movement that saw the Tambour Carpe Diem Automata timepiece bagging the Grand Prix d'Horlogerie de Genève 2021 Audacity Prize), the watch displays the time on demand through a 16-second performance that sees the dial come to life.
The pusher at the two o'clock position activates five dial animations. The dragon's head sways to reveal the jumping hours found at the forehead of the cloisonné enamel mask. The tail wags to indicate the retrograde minutes on the edge of a vermillion champlevé enamel fan. The mask changes its expression with a fluttering of the eyelid on the left, a contraction of its Monogram-flower iris on the right, and a vertical motion of its jaw that's not unlike that of a determined nutcracker. Adding further flourishes to the cultural exchange experience is a smorgasbord of Chinese symbols set against a subtle tone-on-tone Monogram background. A curved glass gourd for good health, prosperity, and longevity doubles up as an indicator of the watch's 100-hour power reserve. There's even a four-petalled Monogram flower to replace the inauspicious number four in the jumping hours.
It reportedly took master enameller Anita Porchet and master engraver Dick Steenman a combined time of approximately three weeks to complete the 46.88mm pink gold watch to perfection – resulting in an exquisite level of detail that is echoed in the Tambour Fiery Heart Automata watch.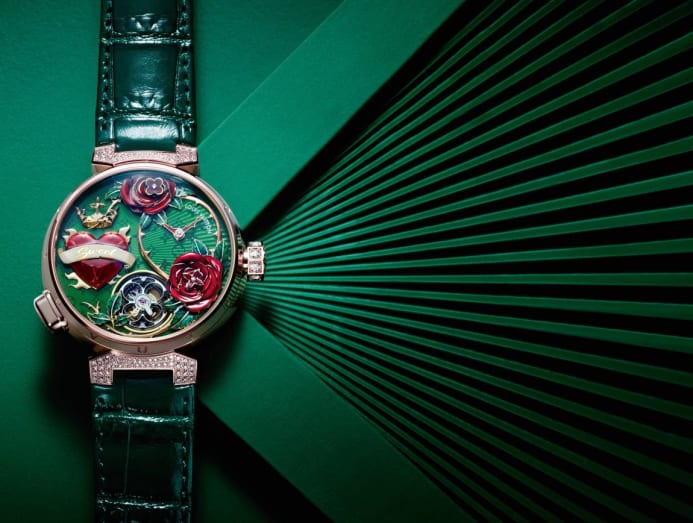 Though created expressly with Louis Vuitton's female clientele in mind, the Tambour Fiery Heart Automata could easily resonate with any 1980s rock fan. It's near impossible not to hear the opening riffs of Guns N' Roses' Sweet Child O' Mine or Poison's Every Rose Has Its Thorns with every glance, thanks to the blood-red enamel blooms and graphic thorns paraded on its album cover-like dial. Couple that with a classic heart-and-banner motif and you've got the edgy vibe of tattoo parlours delivered through the sophistication lens that the Maison is so famed for.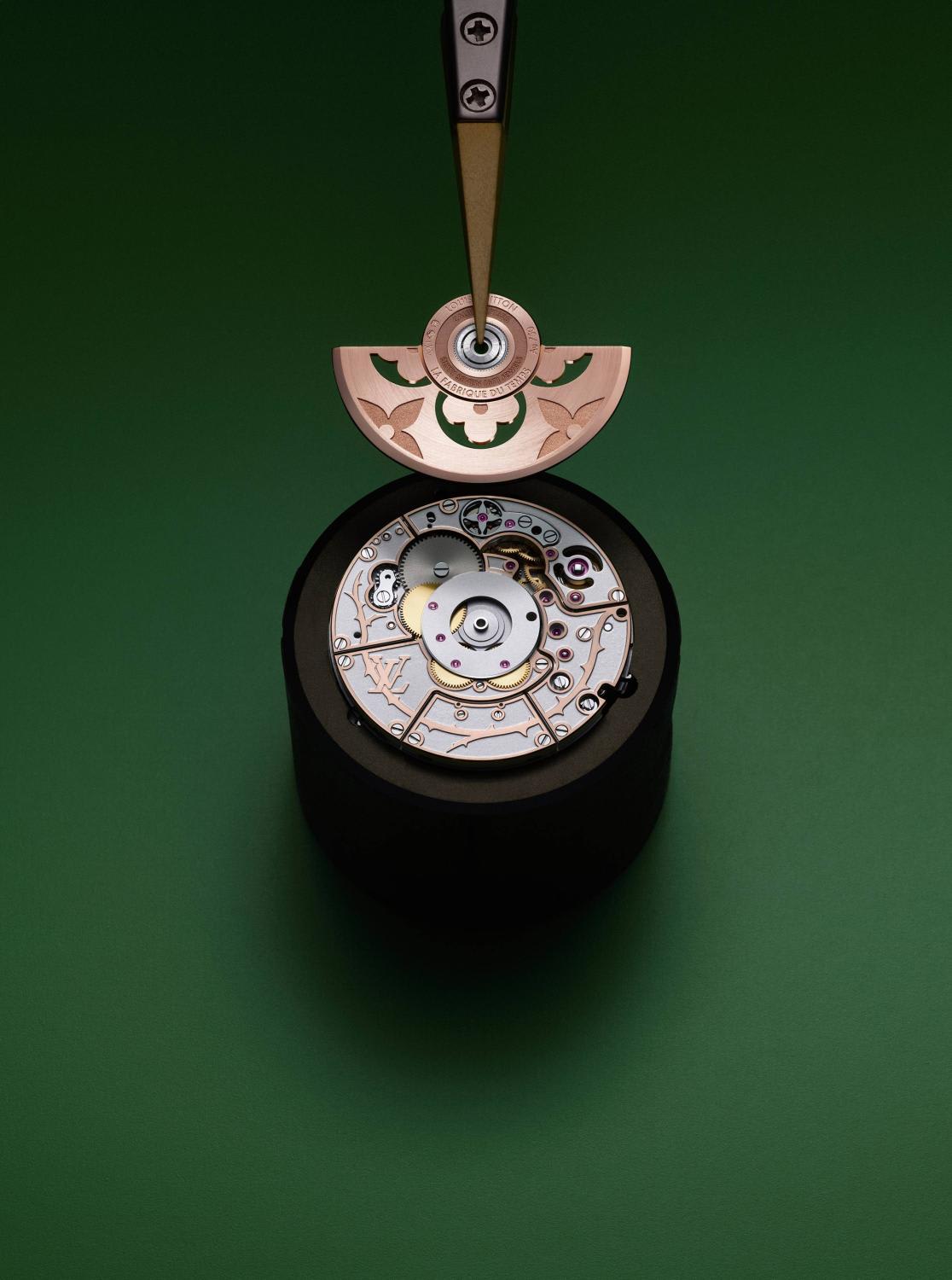 Here are two other reasons why horology aficionados would do well to pay close attention to this grit-meets-glam Tambour. For one, the 42mm pink gold watch is adorned with Louis Vuitton's first in-house enamel dial that inevitably marks the start of a long chapter of enamel dials for the brand. Then, there's the fact that the Fiery Heart is driven by the automatic LFT 325 calibre, the House's first in-house self-winding automaton movement – which also makes this emblematic piece LV's first watch to combine a flying tourbillon and a self-winding movement with dial-side automata. The LFT 325, comprising 325 components, took La Fabrique du Temps three years of research and development to achieve. One push of its diamond-studded button (located at the eight o'clock position) is all it takes to see what went into that process.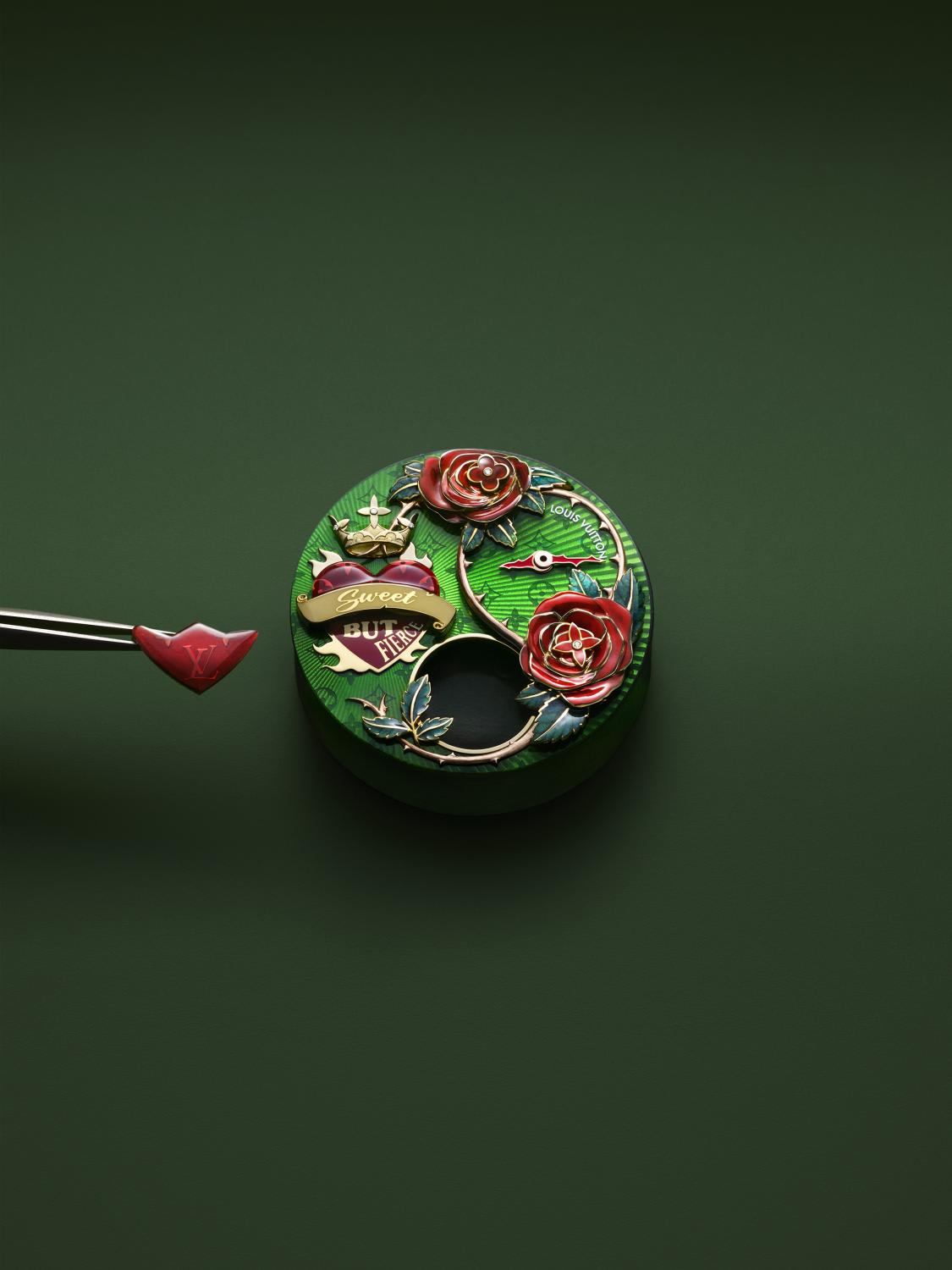 At the hour and minutes subdial lined with inward-facing briars emerges another halo of thorns as if through fairy tale magic of the Grimms variety. From atop the heart come dancing flames that seem to move with unfelt winds, while the heart itself cracks open to reveal the watch's full message: "Sweet but fierce". Last but not least are the two roses (at the 12 o'clock and four o'clock positions) whose diamond centres spin with glee in opposite directions before reversing directions for maximum light refraction. This 13-second refrain plays out against a grand feu enamel as the flying tourbillon (at six o'clock) beats out the seconds over the course of its one-minute rotation.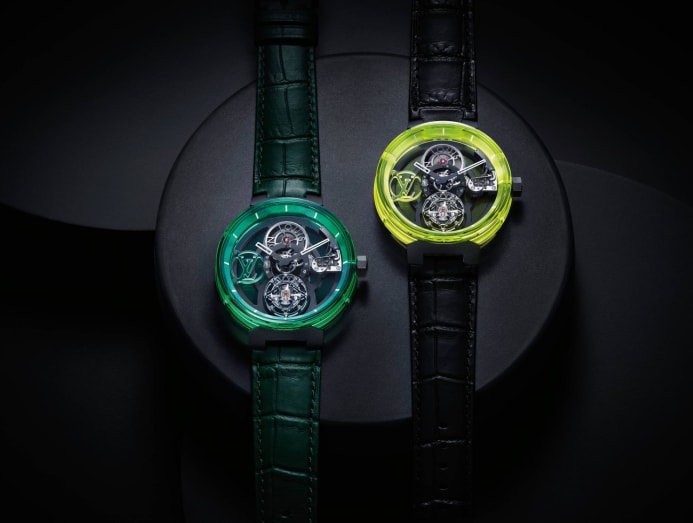 As visually captivating as these animated watches are, they are admittedly not everyone's cup of tea. And that is why Louis Vuitton's third Tambour release (for now) lies in a different genre: The Tambour Moon Flying Tourbillon "Poinçon de Genève" in fluorescent green or yellow, which boasts a comparatively subtler look but with a list of bragging points to do its owner proud – in a true embodiment of the stealth-wealth concept. The Tambour Moon Flying Tourbillon "Poinçon de Genève" was first launched in 2021 in clear, blue- and pink-tinted sapphire. It made headlines for being the world's first sapphire crystal watch to be stamped with the prestigious Geneva Seal, a coveted Swiss certification that guarantees a watch's exceptional ornamental finishing. (Chopard's L.U.C Full Strike Sapphire timepiece would come one year later.) And deservedly so.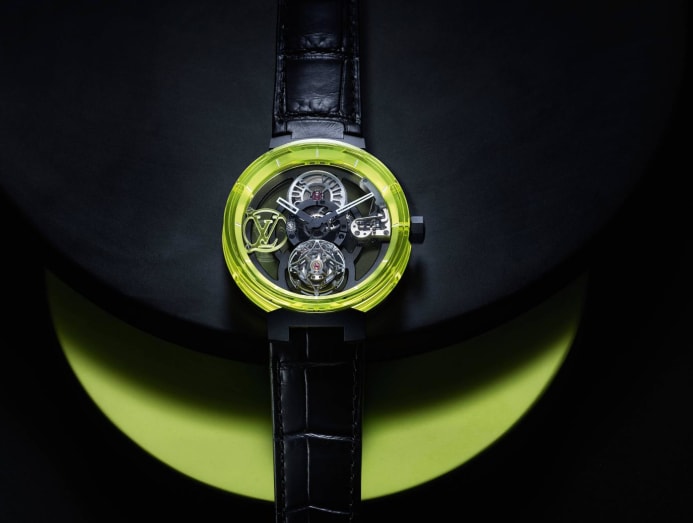 To ensure uniform colour throughout, the watch is crafted from a single cylinder of sapphire (50mm in diameter; 150mm in length) that's been extracted from the centre of a mass-tinted block weighing close to 200kg. From there, it moves into a 420-hour process that sees it being worked on by machines with diamond tools (the only material hard enough to cut through it) and polished before it reaches a stage that sees it ready for assembling.
The results are a watch with astounding tint-rich transparency that lets you admire every minuscule detail of its open-worked manufacture movement, the 160-component manual-wind LV 90 calibre with flying tourbillon and 80-hour power reserve; not to mention the all-important Geneva Seal found on the matt-black central bridge.
Three different watches with decidedly different feels executed with one unwavering vision and masterful hands. That is the Louis Vuitton way.