Louis Vuitton celebrates the 200th birthday of its founder with a special trunk exhibition in Singapore
In an interview with CNA Luxury, Benoit-Louis Vuitton, the debonair sixth-generation descendant of the luxury brand, shares the inspiration behind the 200 Trunks, 200 Visionaries, which is currently in Singapore.
In partnership with Louis Vuitton.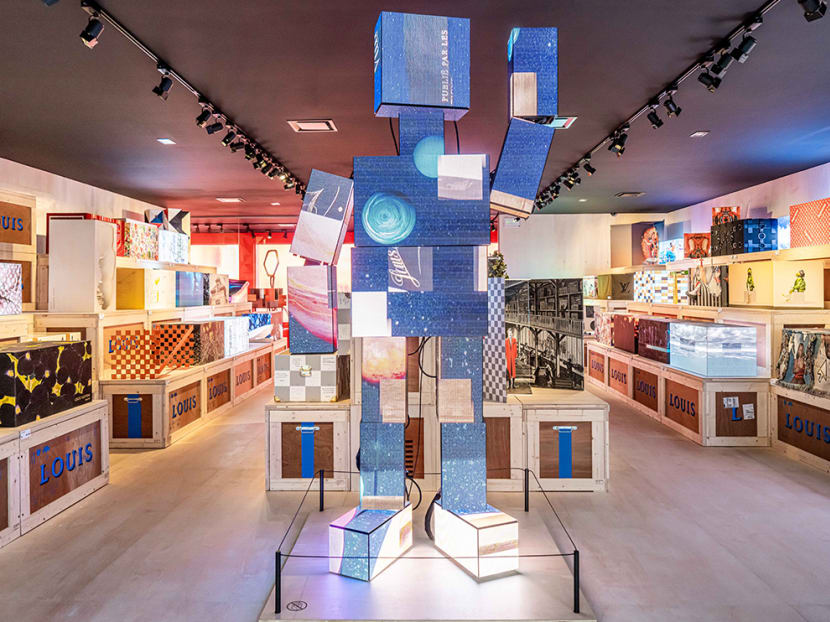 From Paris to Panama, Louis Vuitton has today entrenched itself within public consciousness as a household name, inexplicably a testament to the luxury French label founder's visionary spirit nearly two centuries ago.
Born on Aug 4 in 1821, the industrious and visionary Vuitton, who left home at the age of 13 to seek his fortune, famously transformed his talent for trunk-making into a thriving business dedicated to the art of travel in the mid-19th century. Along the way he acquired a wealthy clientele that included the likes of Napoleon Bonaparte's wife, Empress Eugenie de Montijo, who appointed him as her official packer and box-maker in 1853.
Guided further by the astute steermanship of his son George, who inherited the business acumen and innovativeness of his father, the business grew beyond the borders of France even before the turn of the century.
For the 44-year-old Benoit-Louis Vuitton, the great-great-great grandchild of the founder, who holds the title of corporate director, Art Culture and Patrimony at the brand, this spirit of innovation and daring is something that he embraces. Indeed it is what motivates him.
"As a member of the Louis Vuitton family, it is a part of my legacy to always be thinking about creativity and innovation. And I would say it is also in the DNA of the maison to respect its heritage, while always thinking about the future and constantly looking towards newness and innovation in a way that serves the needs of its clients," he told CNA Luxury with intense earnestness.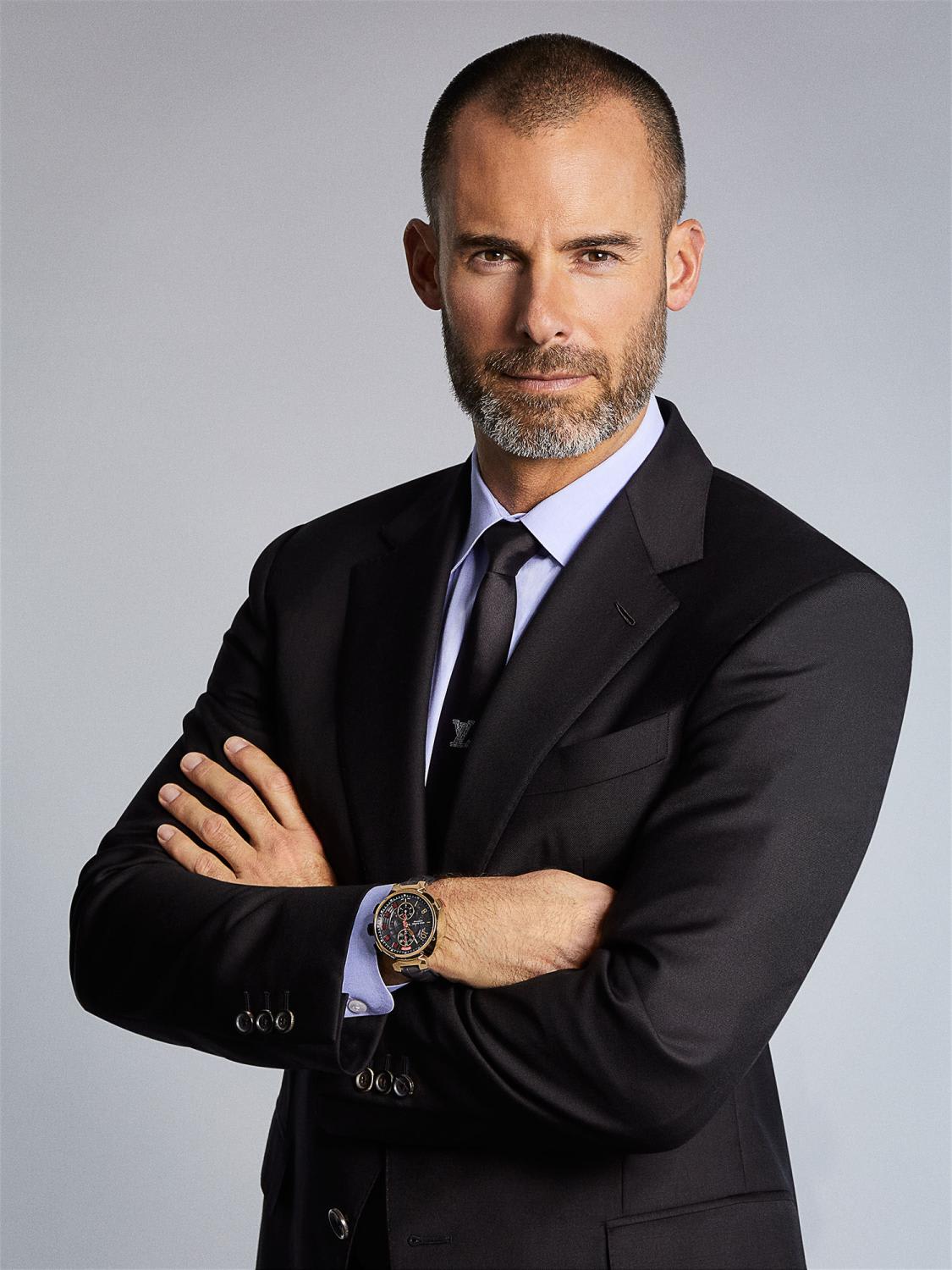 It is evident how proud he is of his roots, as he pointed out that for Louis Vuitton's 200th anniversary, it was apt to pay homage to the iconic Louis Vuitton steamer trunk. In line with the founder's visionary spirit, and encompassing a concept never before executed to this scale, the maison brought together 200 modern visionaries in a creative initiative that pays tribute to Vuitton's signature product that was first developed in the 1850s. The showcase, titled 200 Trunks 200 Visionaries: The Exhibition, is currently at Marina Bay Sands Event Plaza in Singapore.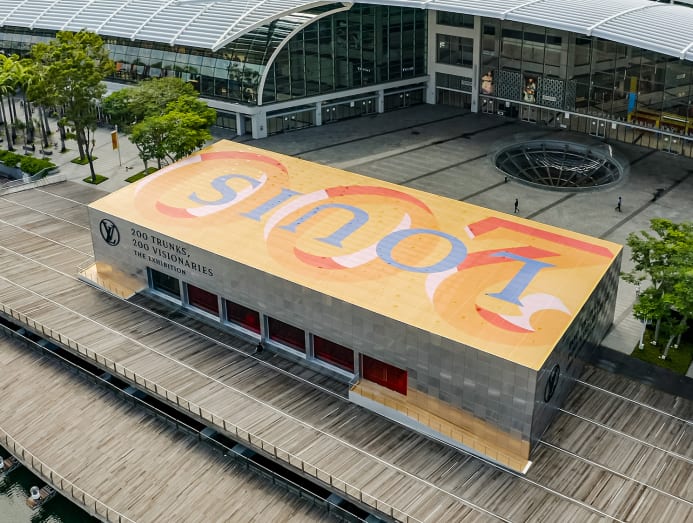 The collaborators come from a melange of interesting backgrounds that spans artists such as Jean-Michel Othoniel, Stephen Sprouse, Cao Fei and Jwan Yosef; architects Frank Gehry and Peter Marino; global lifestyle brands such as Supreme and Lego; as well as Korean boyband BTS and Paralympic swimmer Theo Curin. They were each given a box measuring 50cm x 50cm x 100cm, which is not only an ode to the original trunk that Louis developed but also a metaphorical blank canvas.
While the box serves as a starting point – much like the humble beginnings of the house itself  – each visionary was given free rein to explore their own innovations and imaginativeness. This has resulted in a spectacular spectrum of expressions of their dreams, fears, ideas, hopes and reflections that include an amalgamation of the past, present and future. And the results are spellbinding.
Explaining the intriguing mix of creatives involved, Benoit-Louis pointed out that even as the maison looks back on its founder's extraordinary life, the company is keen to leverage modern cultural capital and the most advanced technologies of our time.
"At Louis Vuitton we are a mix of history and tradition, innovation and modernity. We are always curious and we always want to explore and remain innovative," he said with a smile.
It is clear that this collaborative project is meant to extend beyond Louis' bicentennial, serving as an exploration of the past while looking towards the future, all the while keeping in mind the maison's iconic heritage. According to Benoit-Louis, whose job involves communicating the maison's values and maintaining synergy between all its high-end categories, this exhibition serves as a launchpad for a creative conversation that can transcend not just geographical boundaries but temporal ones as well.
Louis Vuitton's travelling show 200 Trunks, 200 Visionaries: The Exhibition is in Singapore until Apr 27. It features artistic takes on the iconic streamer trunk by some of the world's most famous brands and personalities. In partnership with Louis Vuitton.
While he finds it hard to single out one favourite trunk, Benoit-Louis laughingly confessed to a soft spot for the paralympian's contribution. "Theo Curin's design has such a strong message of hope and a positive mindset. You can conquer the world and overcome anything if you believe," he said.
Curin, 21, who took his first swimming lessons five years after having all four limbs amputated at the age of six following meningitis, was just 16 when he participated in the 2016 Rio Paralympic Games. The multi-medalled French swimmer has described his conceptual trunk as representing water going from an indoor pool to open water, showing the transition from clear calm water to the natural waves, incorporating a range of blue shades and reflections.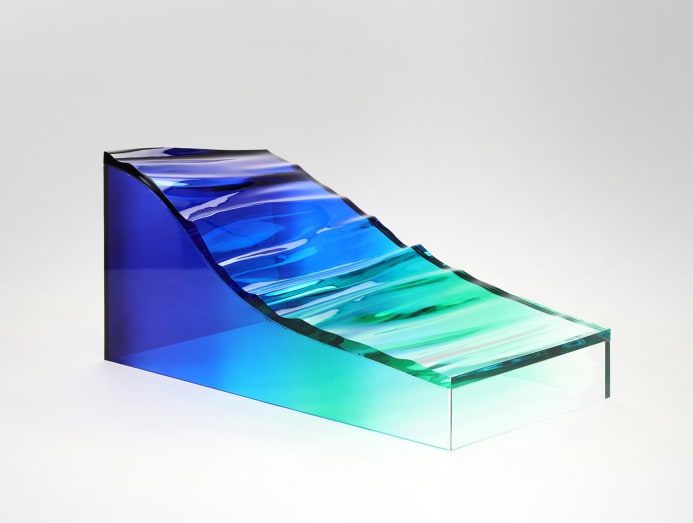 American fashion brand Supreme and Louis Vuitton's former men's artistic director Kim Jones recreated their iconic bright red monogrammed trunk for their contribution, while all seven members of BTS added their own individual stamps to their trunks with personalised illustrations. British music curator Benji B turned a genuine vintage second-hand trunk into a 200-track jukebox, and his creation is housed in its own individual speakeasy-like velvet-clad room that rounds off the exhibition.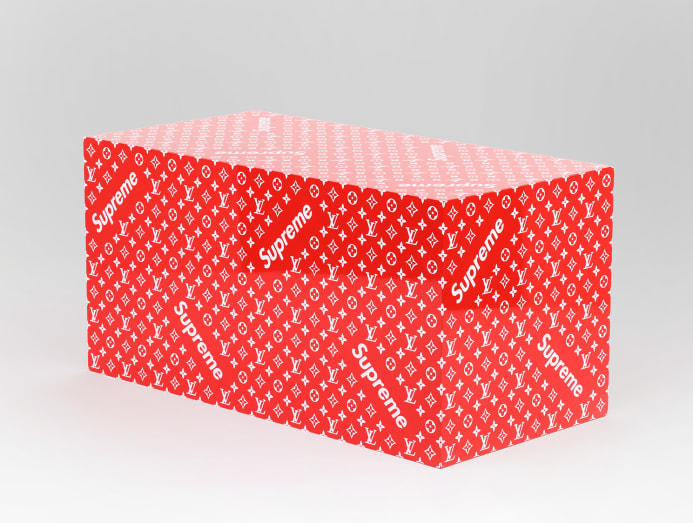 Benoit-Louis, who has observed the exhibition in its various stages of conception since it started its world tour at the Louis Vuitton family home and atelier in Asnieres, France, and who this week jetted into town to visit the Singapore iteration, said that he continues to be intrigued. "It was interesting to visit the exhibition again and again, and each day see and discover new aspects of every piece," he said. "All of them are wonderful as they all express and reflect something special."
For the exhibition in Singapore, a specially-constructed space occupies the esplanade at Marina Bay Sands, just adjacent to the brand's iconic floating boutique that looks out to the city's skyline.
The entrance takes a visitor through an optic briefing room that showcases a single trunk surrounded by floor-to-ceiling LED screens with a Damier carpet underfoot, which then leads to the first gallery named The Warehouse. Staggered at various heights and in random configurations, the creations are stacked upon real crates which are what will be used to carry the trunks each time the exhibition travels.
Because the visionaries developed their ideas in both physical and digital formats, the exhibition features a correspondingly provocative mix of the original art pieces and screen-panelled "magic boxes". Looking down upon this panorama is the robot-trunk, also known as Monsieur Louis, which represents a futuristic transfiguration of object and creator.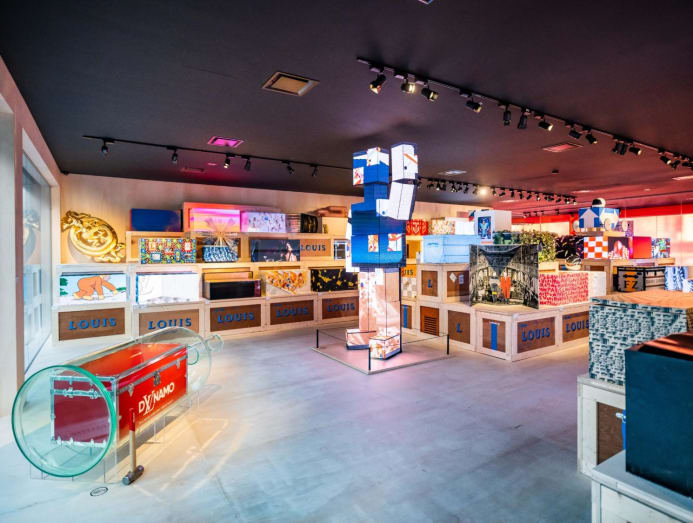 Far beyond art and heritage, the broader 200 Trunks, 200 Visionaries project aspires to be a fully philanthropic undertaking on a stupendous scale.
The first phase raised two million Euros (S$2.9 million) through the visionaries who collectively directed 100 per cent of their ten thousand euro fee each to one of 15 charitable organisations across 13 countries, which were pre-selected by the maison for their focus on uplifting young people through creative endeavours.
At the end of their journey in London, all the trunks will be auctioned. According to Benoit-Louis, the auction at Sotheby's and the sale of all trunks and exhibition collateral, such as books, will fund the creation of a scholarship program to bridge inequality gaps throughout different creative fields, with the aim of ensuring access to artistic studies and development regardless of the students' financial means.
"We are supporting charitable endeavours that speak to the brand's values, and it is wonderful to combine and create so much positivity in one brilliant project," said Benoit-Louis. "My father once said that each generation must bring something to the table," he continues, "so who knows what is next for the next 200 years?"
200 Trunks 200 Visionaries: The Exhibition runs until Apr 27, 10am to 10pm; Marina Bay Sands Event Plaza, 10 Bayfront Avenue. The exhibition is free of charge. Register here.