They jump, they spin, they light up: Louis Vuitton's newest watches bring the party to your wrist
The fashion house is back with four models that show off technical know-how with stylish, lighthearted flair.  
In partnership with Louis Vuitton.
Between kaleidoscopic world time discs, clubbing-ready smartwatches and laughing skull-shaped minute repeaters, Louis Vuitton is not readily associated with the strict severity that often permeates the world of high watchmaking.
Ever since the fashion house acquired movement specialist La Fabrique du Temps in 2011, it's been a whirlwind of frenzied fun with cases, dials and complications. Its latest drops are no different, so prepare yourselves for jumping, spinning ingenuity in some of the most playful timepieces you'll see this season.
SPIN TIME AIR QUANTUM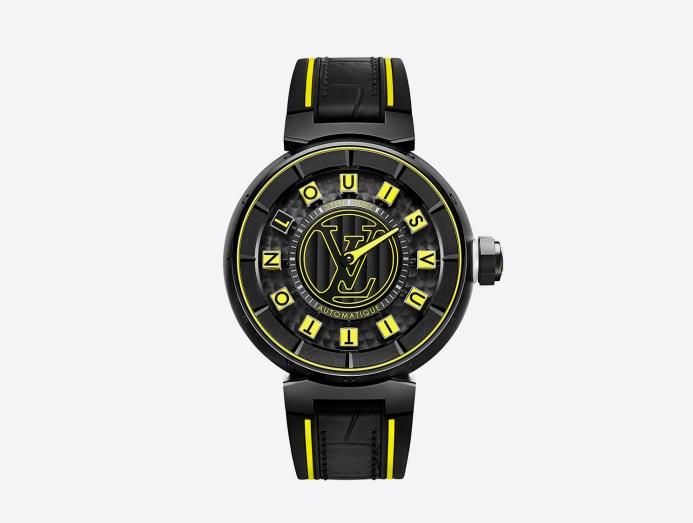 It's been 13 years since Michel Navas and Enrico Barbasini, the mad scientists behind La Fabrique du Temps, developed the Spin Time jumping hour display for Louis Vuitton.
We are still far from tired of watching those tiny cubes twist their way into the next hour – and now, you can admire the dial in the dark, too.
Granted, most watches come with lume-filled indices for low light conditions anyway, but the Louis Vuitton Spin Time Air Quantum throws in an additional bunch of tiny LED lights – one for each hour cube – to give its wearer a truly eye-catching light show on demand.
It took two years to add a battery-powered module to this still-mechanical watch movement. Inspired by nature's bioluminescence and light photons (which gave the watch its name), the lights can be activated via a pusher in the crown, and it will stay lit for as long as the pusher is depressed. Once you let go, the lights will stay on for three seconds.
A ring around the crown will start to flash when the battery needs to be recharged, which is estimated to be once every three years if the LEDs are triggered 10 times a day.
Happily, the watch dimensions remain the same as previous Spin Time Air models at 42.5mm by 12.3mm despite the additional battery pack, and its black DLC titanium case ensures it wears lightly and comfortably on the wrist.
The neon yellow elements on the watch are already coated with Super-Luminova, so the LEDs are less concerned with nighttime legibility than it is with straight-up flash factor.
In this model, the 12 cubes spell out the brand name, with a contrasting colourway representing the current hour. The Spin Time Air Quantum, however, uses cubes made with fused silica glass instead of milled aluminium to ensure maximum light distribution.
As far away from tradition as Louis Vuitton has tried to take this watch, it does still demonstrate a respect for classic details. The central dial plate (under which beats the LV 68 calibre) is decorated with Cotes de Geneve, the base plate under the cubes is finished with perlage, and the edges of the lugs and the rim of the flange show off anglage.
The Spin Time Air Quantum comes with a mixed rubber and alligator strap in black with contrasting neon stitching, and is limited to 100 pieces.
TAMBOUR SLIM VIVIENNE JUMPING HOURS
Meanwhile, house mascot Vivienne is dialling up the playfulness in three new models featuring a watchmaking first: Double alternating jumping hours.
Two apertures near Vivienne's hands take turns displaying the hour and a symbol that corresponds with the theme of the watch. So in the Casino version, for instance, a playing card will take the place of each new hour that jumps into view, while a zodiac symbol will show up in the Fortune model.
The minute indicator is similarly themed, and is centrally mounted via a nearly invisible hand that extends from the mascot's chest.
Each version is an exercise in gaiety. In the Casino, Vivienne is dressed as a croupier, surrounded by colourful diamond-studded chips and set against a dial made of skarn, a vibrant green mineral chosen to match the colour of casino tables. The yellow gold case is ringed with tsavorites and rubies, while the lugs are set with white diamonds.
In Fortune, mystic Vivienne appears to float in space thanks to an aventurine dial and a sprinkling of diamond and rose gold stars and floral motifs. Brilliant cut diamonds are set in a 38mm rose gold case.
Finally, the white gold Circus model shows Vivienne in the role of a juggler, the balls bearing Louis Vuitton's classic floral symbols. This feminine piece uses a backdrop of milky mother-of-pearl and is complemented by white brilliant-cut diamonds and paired with a red alligator strap. All three references have a rose-cut diamond set in the crown, with more diamonds set in the gold buckles.
The LV 180 calibre comprises 112 components, has a power reserve of 42 hours, and is water resistant to 50m.