Lust list: The hottest and sexiest cars in 2022
These lean, mean machines will definitely make heads turn.
Somewhat surprisingly, four British brands made it to our list of top six this year, joined by one Italian carmaker and one German manufacturer. Does this signal a British renaissance, perhaps? We're intrigued to see what 2023 heralds. But for now, these top six are a mix of luxury SUVs, hybrid supercars and ultra premium all-electric sedans, selected based on exceptional design, technological innovation and sophistication, how kind they are to the planet, and pure power. And their lust-worthiness, of course.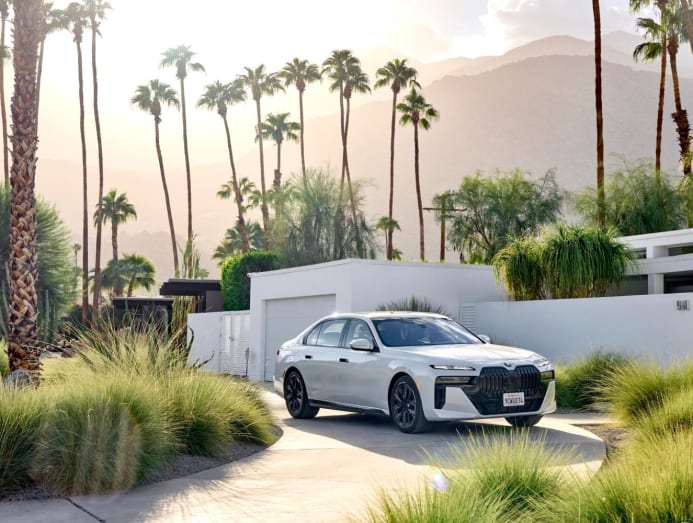 If the i7 kindles images of a Rolls-Royce in your mind, you might be onto something.
Something about the first all-electric i7's stately form recalls the regal if not monolithic disposition of a Rolls-Royce, and it's not a bad thing. The automated doors (activated by voice or button) and Swarovski crystal headlights, for instance, are ostensibly an ode to the British marque much favoured by its corresponding royal family, also a stablemate in the BMW Group.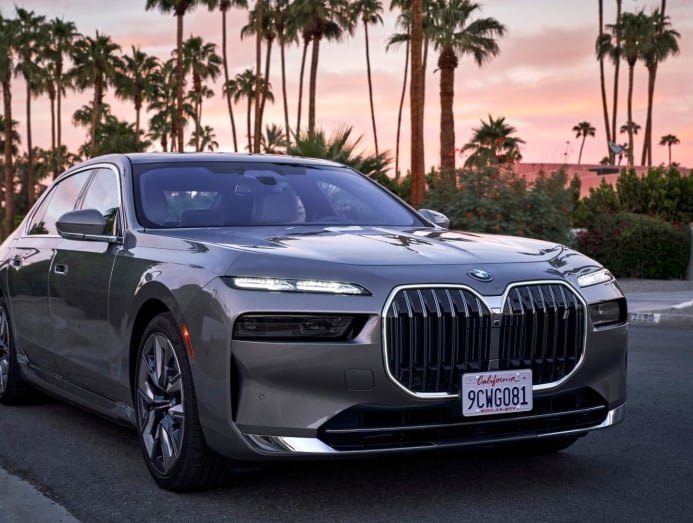 The i7 certainly wins on aesthetics and inside, a stunning display of tech wizardry that will leave you delightfully gobsmacked.
There's the 14.9-inch BMW Curved Display (one of the largest in the industry) snaking across almost the entire length of the cockpit. Below it, a cool BMW Interaction Bar makes its debut, giving you quick access to multi-functional controls.
There's a 31.3-inch BMW Theatre Screen (on models arriving in 2023) with Amazon Fire built-in to entertain rear passengers; its multimedia system conveniently controlled by 5.5-inch integrated touch screens embedded into the rear doors.
Add to that a soundscape designed by Hollywood film score extraordinaire Hans Zimmer and you've got some pretty futuristic vibes ensconced in luxury, all under the Sky Lounge panoramic sunroof.
The i7 offers a very generous range of 625km, propelled by 400kW of power from its sustainably-produced lithium-ion battery. Torque comes in at 745Nm and it takes just 4.7 to make that century dash.
A very fine way to enjoy emissions-free mobility, indeed.
MCLAREN ARTURA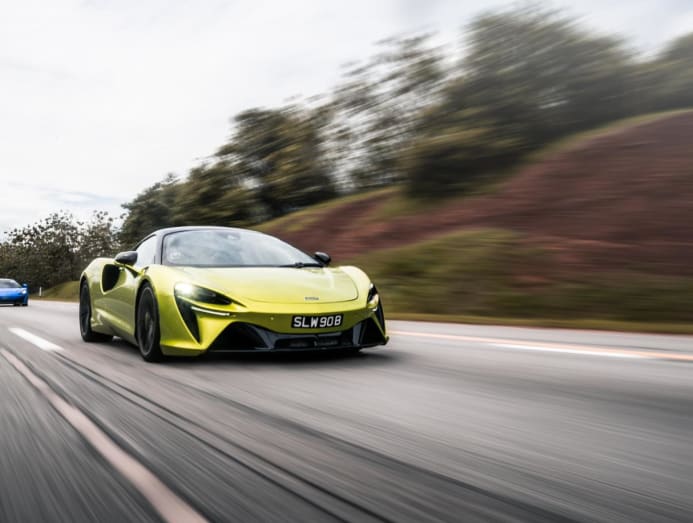 The best way to experience a supercar is, without question, on the track. And we had the immense pleasure of doing just that at the Sepang International Circuit, about an hour south of Kuala Lumpur, in November.
McLaren's hotly anticipated first series production petrol-electric hybrid proved an exhilarating ride defined by supremely elegant styling and unadulterated power.
On the track, the slick V6 rockets up to the 100km/h mark in an eye-watering 3 seconds, helped by a whopping 671hp of power and 720Nm of torque – cushioned by exceptional stability and sublime handling.
But it is its electric proposition that makes the S$1.2 million (without COE) Artura all the more attractive for urban environments. In electric-only mode, the British carmaker says the Artura can cover 31km, which could theoretically get you to work and back (in Singapore, at least). And with Apple CarPlay and Android Auto capability, this just might be an everyday McLaren for supercar fans. Just watch those beautiful swan doors in tight underground car park spaces.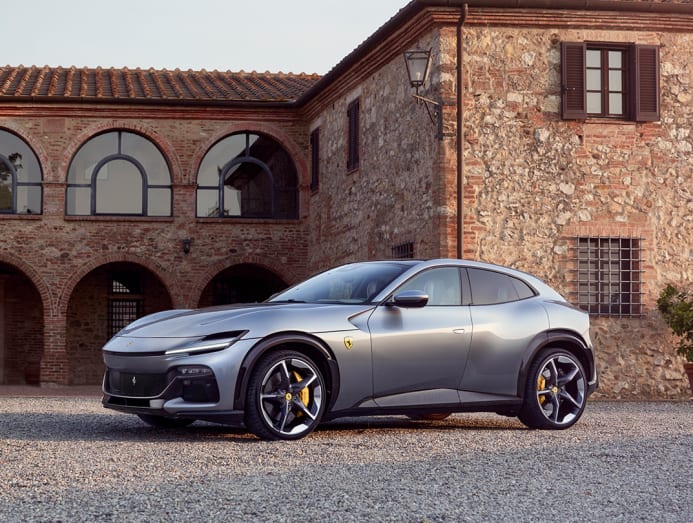 A purosangue is what they call a thoroughbred in Italian, and while it may flaunt the styling of an SUV, the Prancing Horse's first-ever four-door, four-seater in its 75-year history is a riveting piece of machinery that promises to be every inch a full-blooded Ferrari. 
This 6.5-litre powerhouse is equipped with a naturally-aspirated V12, which can unleash a whopping 725cv (715hp) of power (more than any other car in its segment), and gallops from 0-100km/h in a scorching 3.3 seconds – officially pipping Aston Martin's DBX707 as the world's most powerful SUV (see below).  Maranello's new mid-front-mounted V12 65-degree engine is designed to produce the highest amount of torque at low revs possible without losing the feeling of linear power typical of Ferrari's naturally aspirated V12s. This translates to 80 per cent of maximum torque on tap at just 2100rpm, peaking at 716Nm at 6250rpm. 
All to the tune of that unmistakable V12 growl, which we can't wait to sample when the car arrives in Singapore next year. The Purosangue also boasts the world's first Ferrari active suspension system, as well as, quite naturally, the largest boot (473 litres) ever seen on a Ferrari.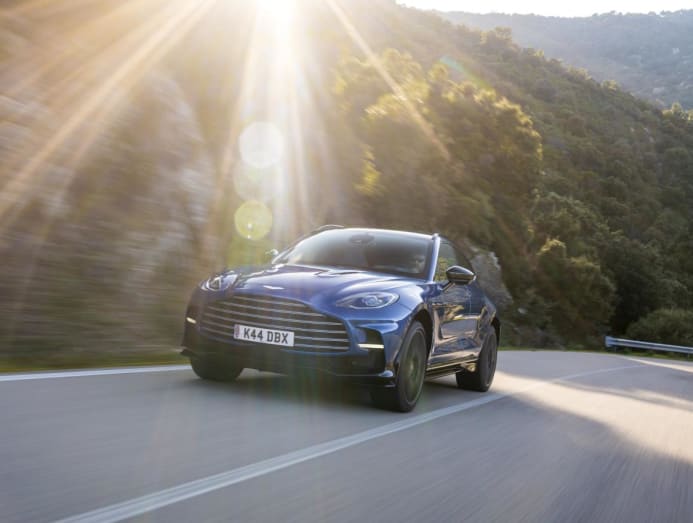 The DBX707 was, legitimately, the most powerful SUV the world had up until this year witnessed – until the Purosangue came along.
Still, the 4.0-litre twin-turbo V8 is no slouch with 707ps of power (697hp) driving its blistering performance. It rockets from standstill to 100km/h in a head-spinning 3.3 seconds – on par with the Purosangue.
Where it trumps the Purosangue, however, is in terms of torque with a whopping 900Nm on tap. The DBX707 features a 9-speed transmission as well as the first wet plate clutch in any luxury SUV, which fires 30 per cent faster gear changes and handles more torque than a typical torque converter. This makes for a sportier and more agile drive so you enjoy "needle-eyed precision at the twitch of an ankle", they say.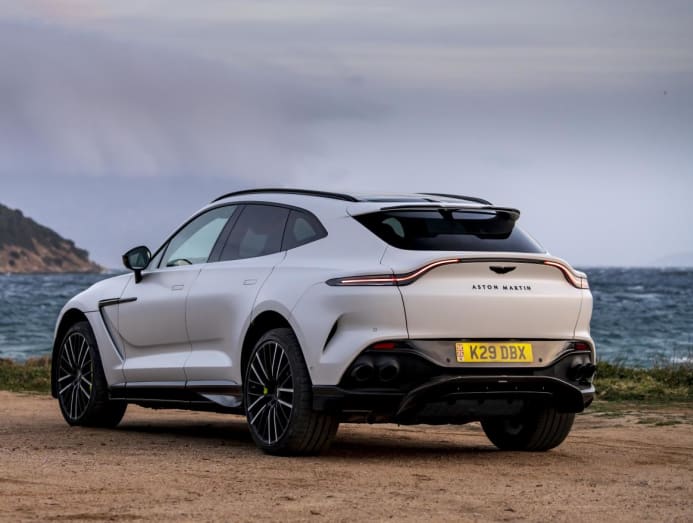 This also enables a fully-integrated, autonomous Launch Control system in Sports+ mode – another first for the DBX – allowing instant, 100% torque through the powertrain. Its dynamic presence is couched in sporty Aston Martin styling with a five-door body style on this five-seater SUV. But what really gets our pulses racing over the DBX707 is all that power and the intense driving experience it professes.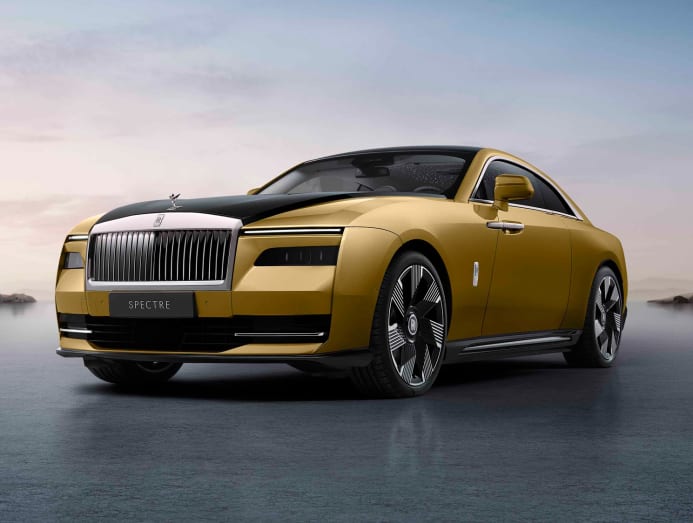 Electrification is not a transitional process for the brand at the pinnacle of automotive luxury. 
Instead of experimenting with electric hybrids, the British marque believes in going all in, straight to an all-electric vehicle, which it unveiled this September.
Spectre will be the first fully-electric Rolls-Royce in history when deliveries begin in Q4 of 2023.
The two-door, four-seater Spectre is said to be the most connected and digitally-forward Rolls-Royce ever produced. It will also be the most aerodynamic Rolls-Royce to roll out of its famed facility in Goodwood, thus promising more of that signature 'magic carpet ride' glide that Rolls-Royces are known for. 
Collectively inspired by modern yacht designs, haute couture and contemporary art, it flaunts a fastback sloping roofline that places it in the realm of a modernist masterpiece.
Spectre will also mark the first time Starlight Doors (an extension of its trademark Starlight Headliner interior roof concept) will feature on a series production Rolls-Royce – all 4,796 of them illuminating the door panels.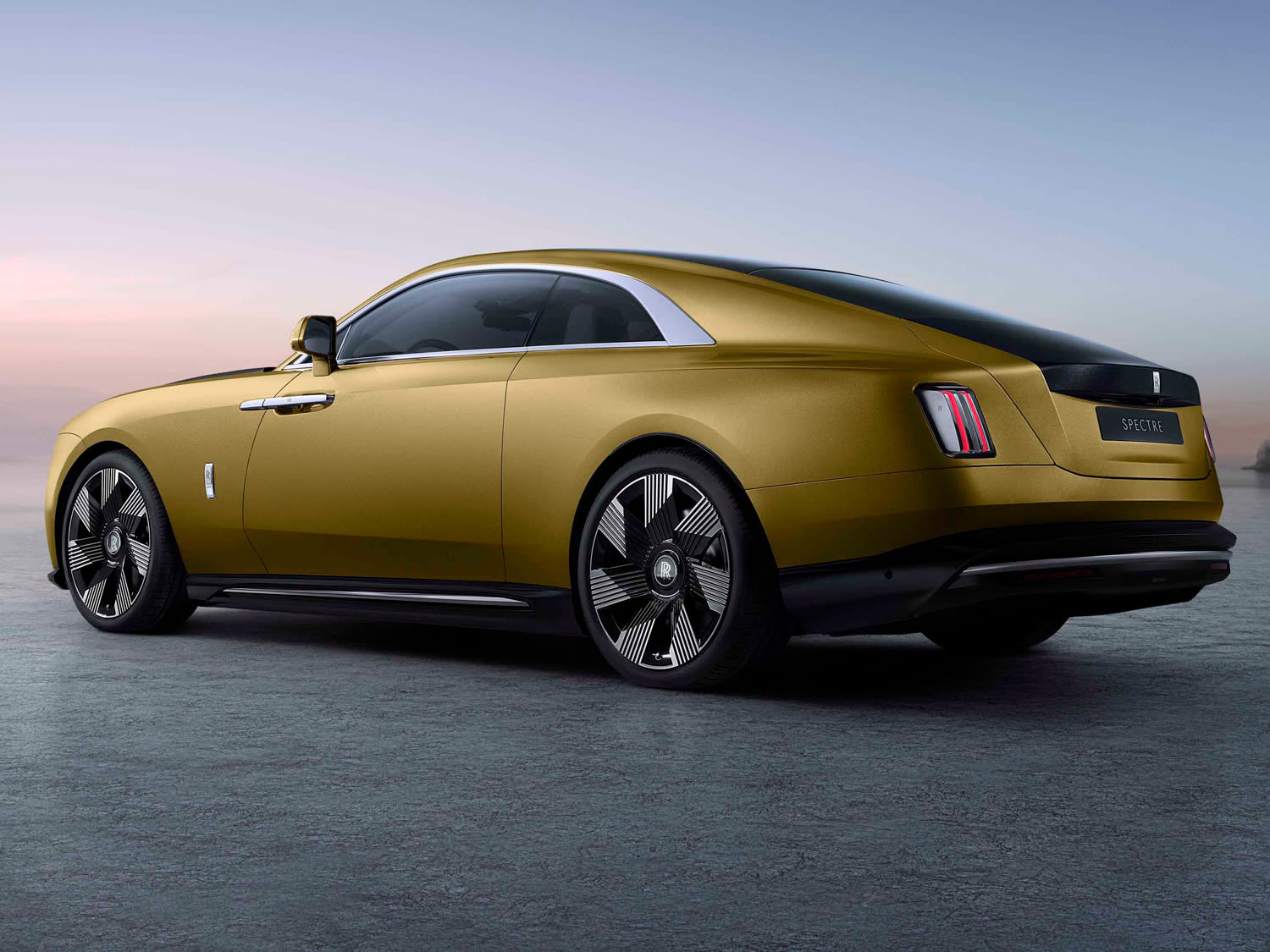 While the company is still in the midst of finessing performance figures, Spectre is expected to offer a more-than-decent all-electric range of 520km with 900Nm of torque on tap.
No one is likely to be racing in this gorgeous automobile but if you feel the urge, you could make that dash up to 100km/h in just 4.5 seconds, says Rolls-Royce.
"It's a magnificent Rolls-Royce first, and a brilliant electric car second," CEO Torsten Müller-Ötvös told CNA Luxury.
JAGUAR LAND ROVER RANGE ROVER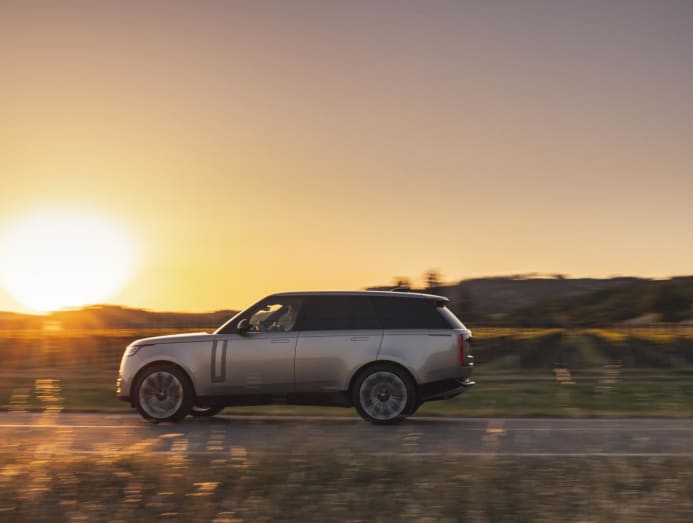 A curious thing is happening at Range Rover and we're here for it.
Parent company Jaguar Land Rover is taking the original luxury SUV (first introduced to the world 52 years ago) more luxe than ever with a fetching facelift seen in the fifth-generation rendition of its flagship model rolled out this year.
Sleek, stylish and especially striking in Satin Sunset Gold, the new Range Rover's "reductive" design reminds us of a solid gold ingot, smooth and flushed surfaces on all sides. Inside, the posh quotient has ratcheted up several notches, with handsome detailing not limited to bronze accents, ceramic controls and intricate mosaic marquetry finishing.
And, for the first time in Range Rover history, the company has produced a seven-seater SUV (four- and five-seat configurations are also available), which we had the opportunity to drive in California earlier this year.
As for a pure-electric Range Rover? We'll all have to sit tight till 2024.