Luxury brands face a dilemma as Hong Kong retail hits the skids
With no end in sight to the protests, high-end retailers that depend heavily on Chinese buyers have to tread with care.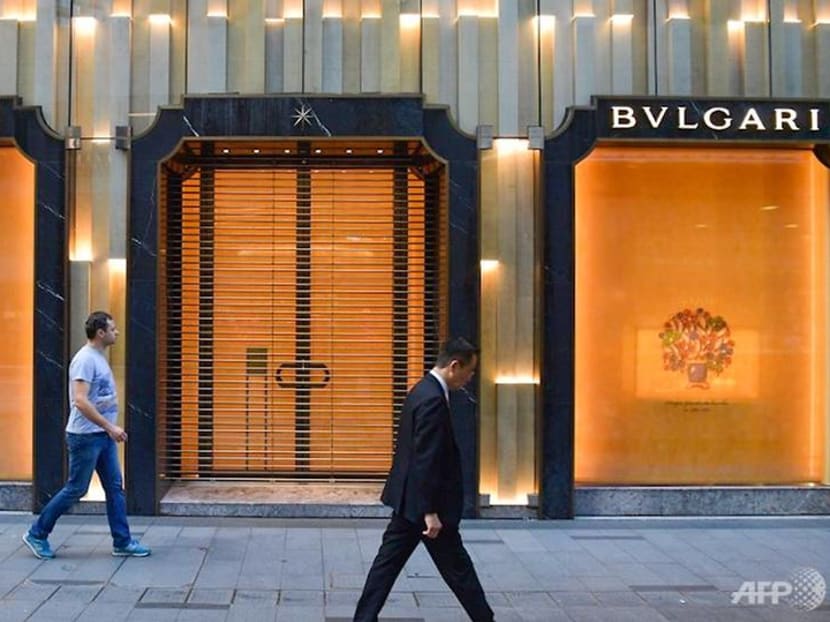 The Givenchy T-shirt cost more than US$500 (S$684), but the price tag was not the fashion faux pas that riled many Chinese consumers: It was the wording on the back that seemed to label Hong Kong and Taiwan as countries that prompted an outcry from China in August.
The French brand, owned by luxury conglomerate LVMH, publicly apologised and said it "firmly respects China's national sovereignty and territorial integrity". Other brands such as Versace and Coach have experienced similar run-ins.
The backlash underscores the pressure on global luxury houses to think carefully about how they present themselves to China, and its growing pool of luxury consumers, as political tension between Hong Kong citizens and China reaches new highs.
Beijing has been swift to rein in any international retailers and other businesses that mistakenly identify the city as an independent country. The general manager of the Houston Rockets basketball team recently provoked the ire of China when he tweeted his support for the Hong Kong protests.
"The relevance of Hong Kong as a centre for luxury is being called into question like never before."
Although Daryl Morey quickly deleted the tweet, the subsequent outpouring of anger resulted in several commercial partners – including sportswear brand Li-Ning and tech group Tencent – suspending or cutting off business with the team.
The semi-autonomous territory under Chinese sovereignty has been rocked by violent protests since June, sparked by a bill that would have allowed criminal suspects to be extradited to the mainland. The bill has since been withdrawn but the protests have morphed into a broader movement against Beijing and its grip on Hong Kong.
The unrest has already had a serious impact on the city's retailers.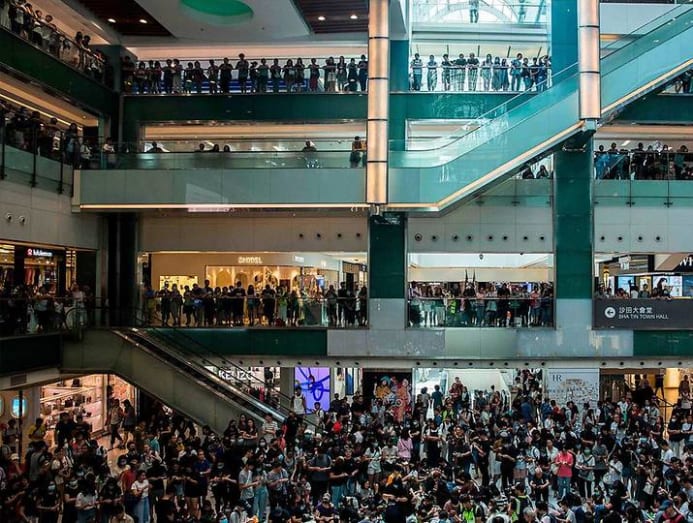 August saw the fewest arrivals of mainland tourists – which make up a large portion of retail sales in the city thanks to tax-free shopping – since 2012, according to the Hong Kong Tourism Board.
Big brands know that the future of luxury is Chinese and largely millennial, said Karine Szegedi, a managing partner and head of fashion and luxury at Deloitte in Switzerland. "Hong Kong is a hot topic and (brands) are discussing what they should be doing… but the Chinese consumer remains the most important (for sales)."
Figures show sales of jewellery, watches and other valuable gifts plunged by nearly half (47.4 per cent) in August compared with the same month in 2018, according to provisional data from Hong Kong's Census and Statistics Department – the biggest drop on record for the city. That was on top of a 24 per cent year-on-year fall in July.

"Brands can't do much about it except lie low and rethink their strategy."

"The relevance of Hong Kong as a centre for luxury is being called into question like never before," said Flavio Cereda-Parini, a luxury and brands analyst at Jefferies.
"Brands can't do much about it except lie low and rethink their strategy. If I am right, and a good portion of Hong Kong business from Chinese shoppers is lost for good, these companies need to rethink their retail footprint in the city."
The consequences have been particularly harsh for many of the Swiss watch brands. The Asian financial centre is the biggest foreign market for Swiss timepieces and the value of exports fell more than 12 per cent in August compared with the previous year, according to Swiss watch federation data.
In their July trading updates, both Swiss luxury powerhouse Richemont and Swatch Group said the demonstrations had dented their local sales.
But stronger performances in other Asian countries have helped brands offset the weakness in Hong Kong, according to Jules Boudrand, director at Deloitte Switzerland.
Japan experienced unprecedented growth in August, with Swiss watch exports up 34 per cent, the data show. And since the start of the year to August, China and Singapore jumped 14 and 12 per cent, respectively, compared with the same period last year.
"Hong Kong has been really impacted (by the unrest) but overall the Asian market for Swiss watch exports is doing well," Boudrand said.
The city's retail pain, however, is not caused purely by the tense relations with the mainland. Chinese visitor numbers were already dwindling at the beginning of the year as a weakened renminbi dented shoppers' purchasing power. Tax changes and lower custom duty rates have also kept Chinese buyers at home.
"There was already a risk of Hong Kong losing its status (with Chinese buyers) due to the shrinking price differential," said Cereda-Parini. "But that was previously a five-to-six-year concern for brands. The unrest has made it a one-to-three-year concern."
By Mercedes Ruehl © 2019 The Financial Times