A glass exercise bike that costs S$25,000: This Singapore company wants to build your dream home gym
Partnering with luxury fitness brands such as Ciclotte, Pent, NoHrd and more, each piece of gym equipment curated by Cycling Bears can be customised to match the interiors of any home – if one is willing to splurge.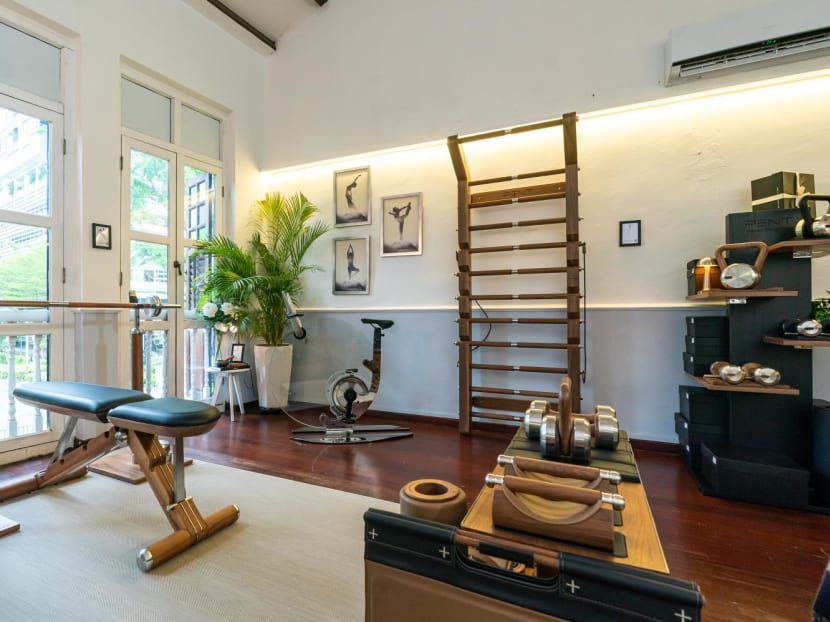 Step into a gym and you'll typically find yourself in a dark and dingy room, filled with exercise machines that are, more often than not, in standard (and boring) black or grey. Even in your own home, you've carved out a functional fitness zone, but with bulky and practical equipment that are admittedly a bit of an eyesore.
With such an uninspiring space, it's hard to find the motivation to exercise. A quick workout, and you're out.
But what if you could create your own home gym that does make you want to linger? Even if you're not that much of a gym rat, it doesn't hurt to pretend.
Fitness enthusiasts Debra Tay and Tudi Guillamot are shaking things up in Singapore's luxury fitness equipment space with the launch of Cycling Bears, a brand that curates and customises luxury fitness equipment for homes.
The company is a passion project for the couple, who opened their by-appointment-only showroom on East Coast Road in 2022. It partners with luxury fitness brands such as Ciclotte, Pent, NoHrd, Enigma and WaterRower to offer equipment that are handcrafted from materials such as wood, steel and leather. Clients are also able to pick and choose their preferred materials and colours to match the interiors of their home.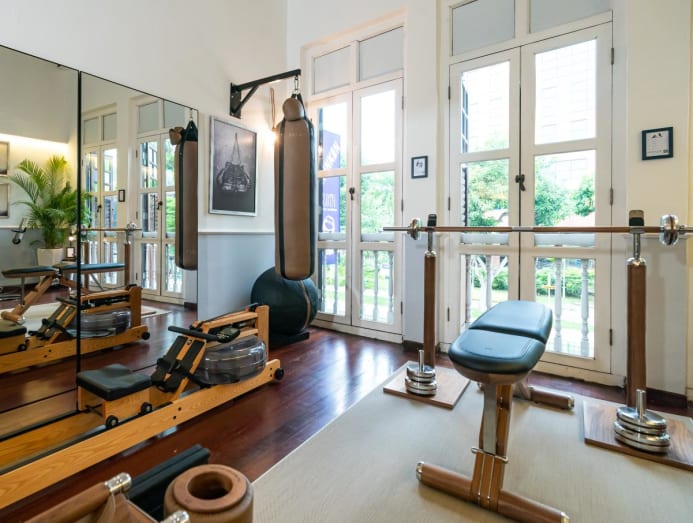 "We found that the last two pandemic years spent indoors increased our need for home workouts, especially when gyms were shuttered. Being avid fitness enthusiasts, we bought some fitness equipment for our home but realised we were scrambling to stow away the bulky and unsightly equipment whenever anyone visited. This inspired us to think, how can we offer gym equipment that is functional yet beautifully designed to blend in seamlessly with its surrounding aesthetics?" shared Tay, a private banker, trained interior designer and certified National Academy of Sports Medicine home gym designer.
The name Cycling Bears was inspired by Guillamot's moniker "Tudi Bear". An avid cyclist, Guillamot, who is engineering-trained, also helped friends repair their bicycles.
The choice of brands and products offered at Cycling Bears are sustainable and ethically produced, the company said. For example, eco-certified Pent uses leather scraps as fill for their punching bags. NoHrd and WaterRower use sustainably and ethically sourced wood to power their machinery with production residue and solar energy.
"We like working with brands which have strong environmental, social and governance (ESG) values to ensure a strong continuity. Our role and impact go beyond the sale transaction; our business cycle starts when the manufacturer sources for the raw materials to produce the equipment, and the cycle ends when these equipment are discarded. We are passionate about leaving as little footprint on this planet as we can – so we ensure that our manufacturers only use sustainably sourced materials," the couple shared.
Handcrafted gym equipment, built from exquisite materials, naturally, come with eye-watering price tags. Take for example the Ciclotte Teckell Glass Exercise Bike, a statement piece in any room. What accounts for its price, which starts from S$25,455?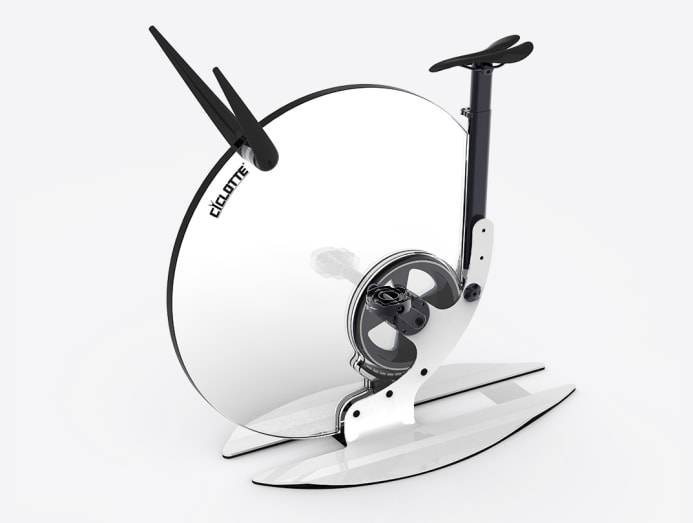 Conceptualised by Milan-based designer Luca Schieppati, the bike boasts an iconic circular shape crafted from crystal. According to Ciclotte, the bike is no delicate machine. It's able to replicate the sensation of pedalling on the road for high intensity workouts.
For yoga enthusiasts, the ASA luxury yoga and fitness mat, handmade with natural Italian leather and cork, imbued with gold or silver threads, is giving Lululemon a run for its money. The price tag? S$830, so you better be hitting all your asanas.  
Meanwhile, Colmia is a set of luxury dumbbells from Pent made from stainless steel and natural woods. From S$5,970, customers can customise their sets by selecting their preferred type and shade of wood. They can also engrave their initials on the wooden stand, because, why not?
And for your cardio workout, why get a standard bike or treadmill if you can get the WaterRower? Priced from S$3,680, this hydraulic machine gives you the feel of water resistance. It can also be stored in an upright position for when you need to clear up space.
If you're shelling out thousands on gym equipment, you'll want to make sure they last. Cycling Bears offers comprehensive white-glove service for customers to get their equipment thoroughly cleaned and serviced every quarter. This also includes nourishing the leather to ensure they withstand Singapore's climate and to check on any potential defects.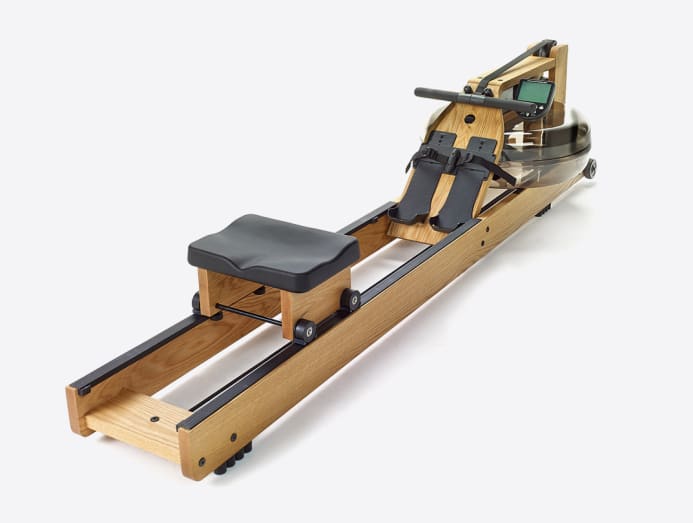 When asked about the most unusual requests the company has received so far, the couple said: "All of our projects are unique as they are tailored to our customers' requests. One interesting anecdote we can share would be a client who wanted to place the Ciclotte bike in his living room, next to his crystal grand piano. And he wanted them both to match! Thankfully, we do have an exercise bike that is made of crystal."
Aside from home gyms, the company is also able to help clients design and set up fitness centres or dedicated gym areas in hotels, offices and yachts. Following the launch in Singapore, Tay and Guillamot have their eyes set on expansion within the region.
"Because of our family in Australia, this is a natural next step for us. The target is to expand into Malaysia, Indonesia and Australia in 2023," they shared.