This spacious good class bungalow in Singapore is a tropical oasis filled with ponds and plants
The homeowners wanted a peaceful space in this good class bungalow where they can relax and tend to their plants after retirement.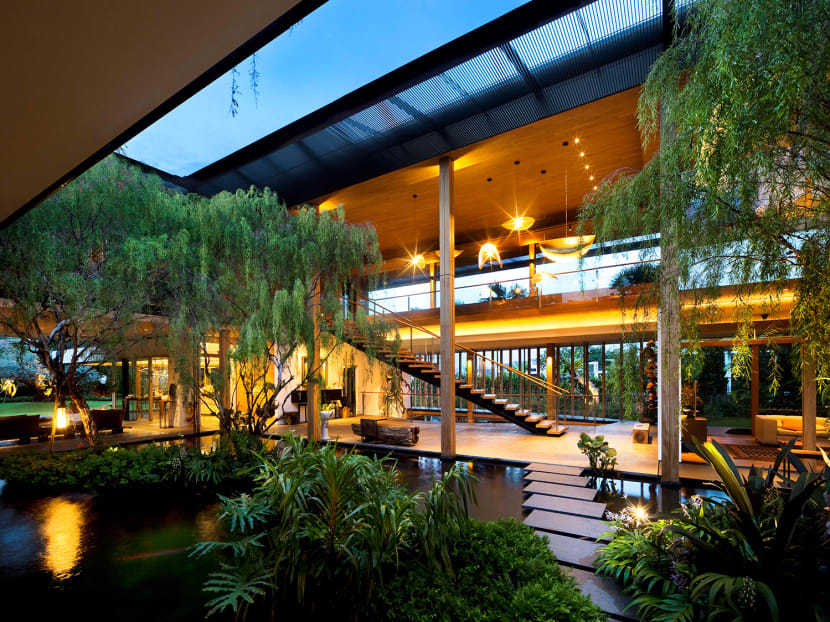 It's most beautiful when it rains," said the homeowner Teo, looking back at the house. "There are waterfalls everywhere."
We are standing in one of the gardens on his property, a good class bungalow in District 10, and he is describing how when it pours, the rain forms water curtains that cascade down over the eaves and overhangs around the house.
Architect Guz Wilkinson points out the rain chains over the pond; a valley gutter on the roof collects and guides the water down these metal links. The sky is clear and in Singapore today but it is not hard to imagine this place in the middle of a wet storm — and the feelings the scene evokes. It leaves one wondering why more houses don't have these features, given the amount of rainfall we are blessed with.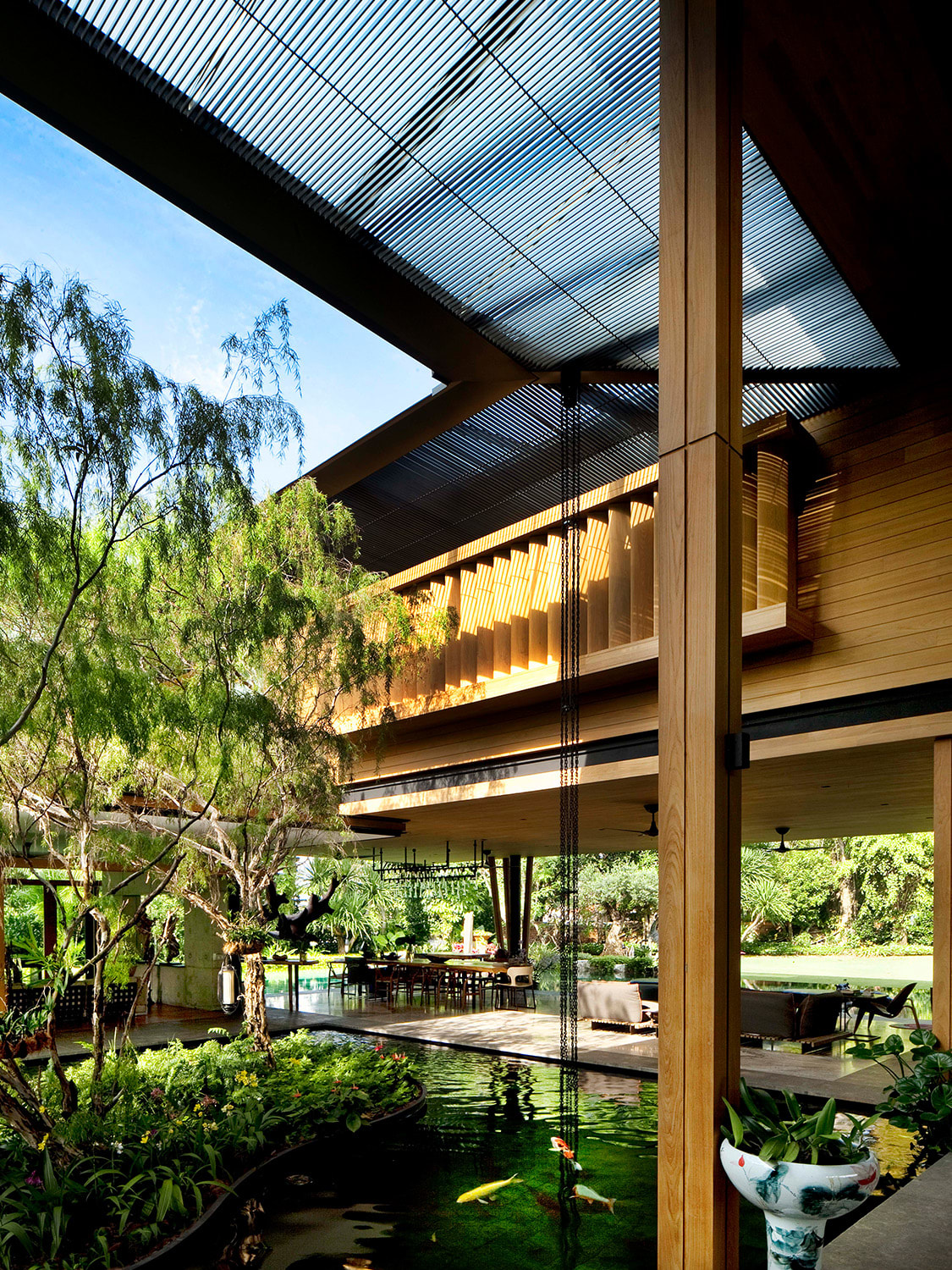 On this bright afternoon, a team of men is working on the property's many gardens. Among piles of leaves and branches, they are busy and noisy — mowing, pruning and tending to the thousands of plants here. Teo couldn't be happier watching them. "I just love the smell of freshly cut grass," he said, standing beside his olive tree.
Teo has lived here with his wife for seven years. When they took over the 2,463 sq m plot, they worked with Wilkinson, also a nature-lover, to keep 56 of the 84 trees on site, including acacia and fig trees. They then added even more plants and trees.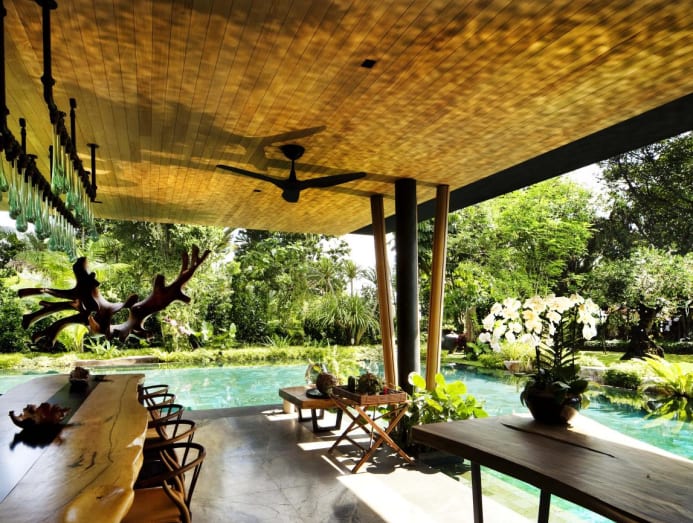 The site has a road that is lower on one side. Wilkinson located the main entrance on this lower road, creating a basement level where the cars can be parked. This frees up the ground level for living spaces including ponds, pools, and gardens.
The living areas are conceived as pavilions set around water courtyards. The design allows airflow, and the water features cool the house, keeping it comfortable in the tropical heat and humidity. It also creates a feeling of openness.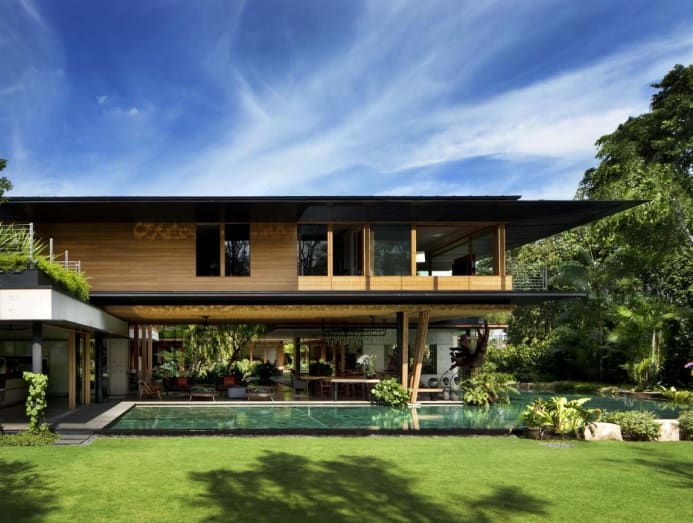 "I grew up in a kampung and I like that kampung feeling," Teo explained. "And even if I don't go out for the whole day, I don't feel cooped up," added Mrs Teo.
Remarkably, this is the couple's 14th house move. They had lived in almost every local housing type, from a HDB flat to a bungalow on Sentosa island.
"Sentosa gave us the space; we could see the golf course and the sea beyond, but that was an existing house we'd bought and it wasn't designed by us. The insides didn't fit our lifestyle," said Mrs Teo. 
The couple wanted a house to enjoy their retirement. "I wanted a peaceful environment where I can get involved with a little bit of gardening," Teo continued. He let in that he wants to get into bonsai and rare orchids next.
"We knew our daughters would all be moving out so I told my husband back then that we needed a house that is more beautiful than theirs — then they will come here often," Mrs Teo added.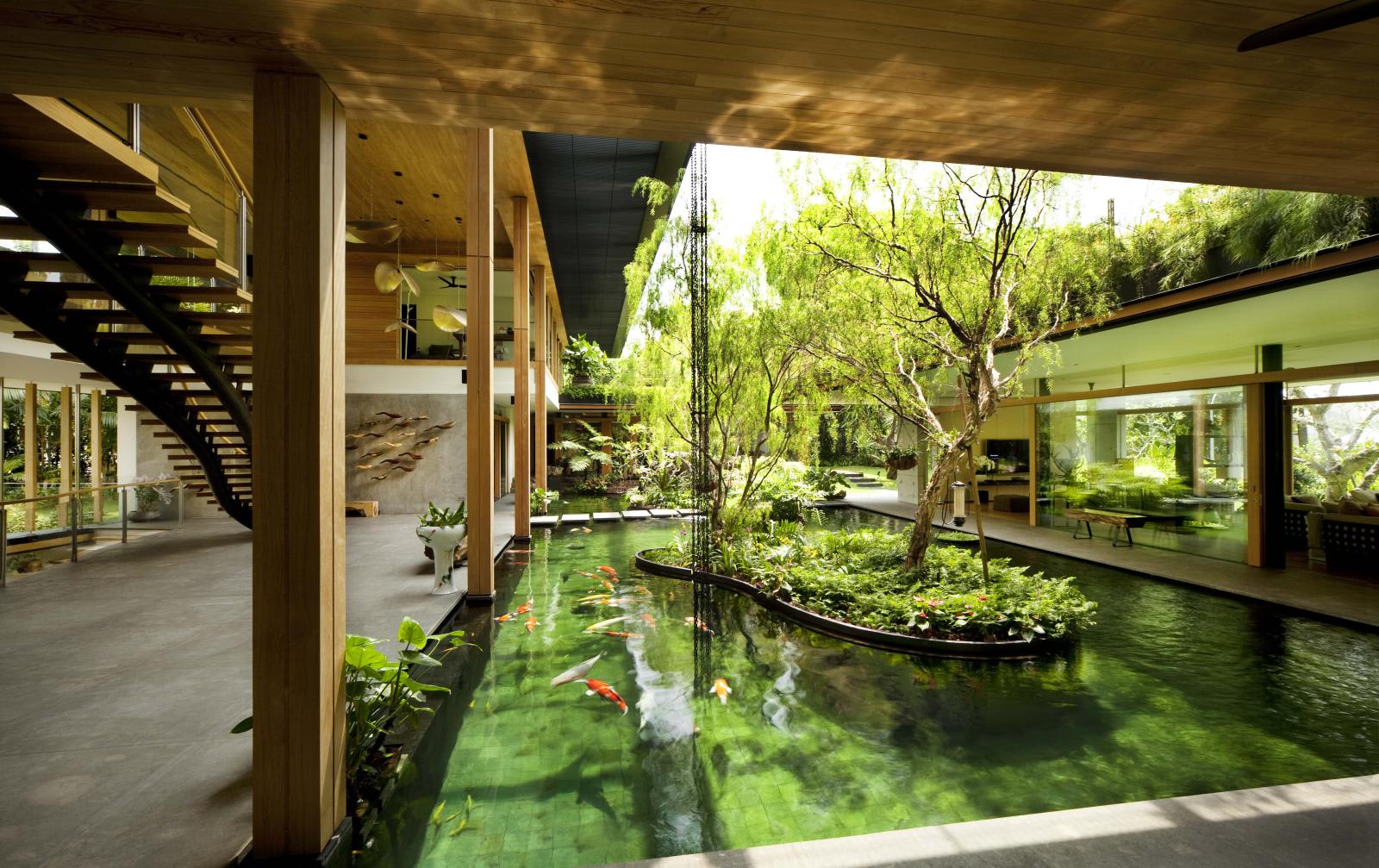 Mum knows best, certainly. The grandchildren have made this house a favourite playground — they come here to splash about in the pool, and sometimes with the swimming turtles and fish in the pond. 
"Sitting here in the living room, I can keep an eye on the kids around the water," said Mrs Teo. "We have a good-sized garden. I play badminton and lawn tennis with my granddaughters here too," she added.The couple's daughter also held her wedding ceremony in this house and walked down the golden teak stairs on the big day. There couldn't have been a more beautiful or meaningful venue.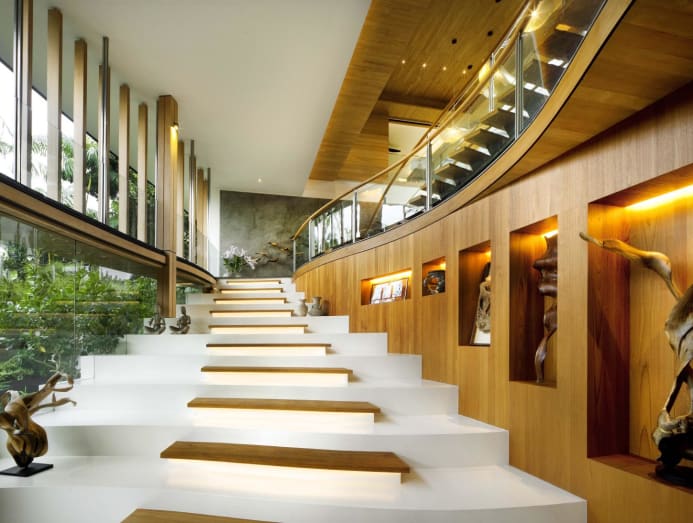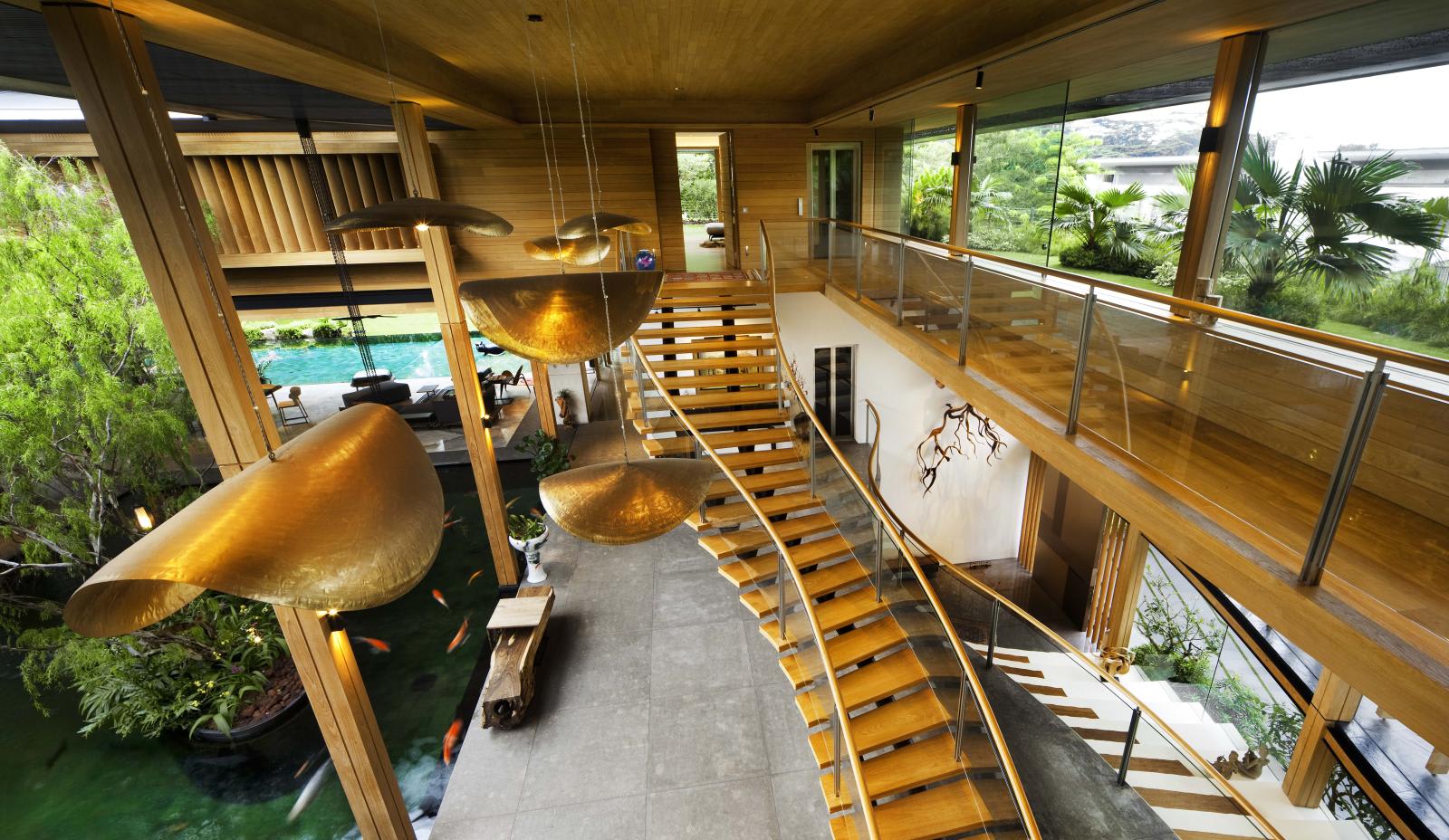 This tropical Eden attracts not only family and friends; stranger creatures flock here too. Hornbills, cockatoos, jungle fowl, and civet cats are frequent visitors. "Actually Singapore has a lot of wildlife. We can see it, living here," Teo offered. 
The bedrooms are upstairs, each conceptualised as a single-storey bungalow with its own garden so there is plenty of greenery on this upper floor too. On cooler nights, Teo enjoys the jacuzzi tucked in the lush greenery outside the master suite.
For the couple who have lived in so many houses, this property is their best yet. "I still don't get tired of the views. Usually after a few years it becomes stale, but it still feels new for me here, even after seven years — this is the highest compliment I'd pay my architect," said Teo.
Feeding his empuraus and kois (another favourite pastime of his), Teo added: "It's a tranquil house with a lot of life—whether plants or fish or animals." And children and grandchildren, of course.