Mums and dads: Deluxe skincare is the new thing to pamper your children with
Lucky tots don't just get showered with love, they are bathed with organic body products that are made by well-known brands and with the finest natural ingredients.
Any business to do with babies and children is big business – no surprise there, as more and more parents these days are willing and better able to pay for the best for their children. Luxury brands have of course been capitalising on this fact and are making every product a baby or child could possibly need.
We aren't just talking about what junior sits in and wears – it's also what he or she eats, learns and uses on a daily basis. Along with Gucci rompers, Moschino blankets and Aston Martin prams, luxury skincare products for babies and children have become a recent trend that has caught the attention of parents with deep pockets.
Spending S$50 on a tube of baby body cream may seem much more acceptable than splurging over S$5,000 on a luxury stroller, but consider that expenditure next to a S$10 bottle of Johnson's Baby Lotion and you'll see how wide the price disparity is between regular and premium.
Beyond their chic, beautifully designed packaging, surely there must be something about  these lavish lotions that separate them from those sold in the pharmacy. These luxury skincare products boast formulations made with the finest ingredients from nature that promise to treat young skin in the gentlest way possible. They also do not contain chemical additives that contribute to a problem that's increasingly common among young children today – eczema and other forms of skin irritation.
Some parents think that there's something about clean skincare from the luxury category that just doesn't exist in lower-priced alternatives. "The feel and texture of the products indicate a higher quality, plus the organic certification gives me the assurance that I'm putting the best possible things on my baby's skin," said Annabelle Wong, 36, who has a nine-month-old baby girl. "I'd usually buy the items that 'go a longer way' or are multifunctional, such as a moisturising balm, which can used head-to-toe on my baby and that I can even use on myself too."
Others, however, feel differently. Susan Lee, 33, a mother of a two-year-old girl and five-year-old boy, believes that natural and organic skincare is better for her children, who both have sensitive skin. "While I would love to try these luxury children's toiletries, the prices are a little steep for daily use – and kids, especially babies, go through a lot of such products on a daily basis. Instead, I would look for organic products that are more pocket-friendly – you can easily find these at mid-tier price ranges in the drugstore," she said.
Branding, admittedly, is everything in luxury, and it's no different in skincare territory. It definitely helps that most of these names here already have established adult skincare lines. Children's skincare is simply a natural extension – the majority of them were started when their founders became mothers and wanted to create the best products for their own little ones, as well as for the benefit of kids and children around the world.
CHANTECAILLE BEBE
When Olivia Chantecaille, who is from the second generation of the family behind the luxury French beauty brand, couldn't find high-quality skincare for children when she had her daughter in 2014, she started Chantecaille Bebe just two years after.
Bebe products are allergy and dermatologically tested, PETA-certified to be cruelty-free, COSMOS-certified organic, and do not contain chemical additives, phthalates, sodium lauryl sulphate or dyes. The line includes a body lotion, face cream, hair and body wash, and a new multipurpose balm that are all delicately scented with floral essential oils.
Chantecaille Bebe Orange Blossom Face Cream, US$48 (S$82); Flower Petal Hair & Body Wash, US$49;  Camellia & Lavender Balm, US$42.
DR BARBARA STURM BABY & KIDS MINI MOLECULAR COLLECTION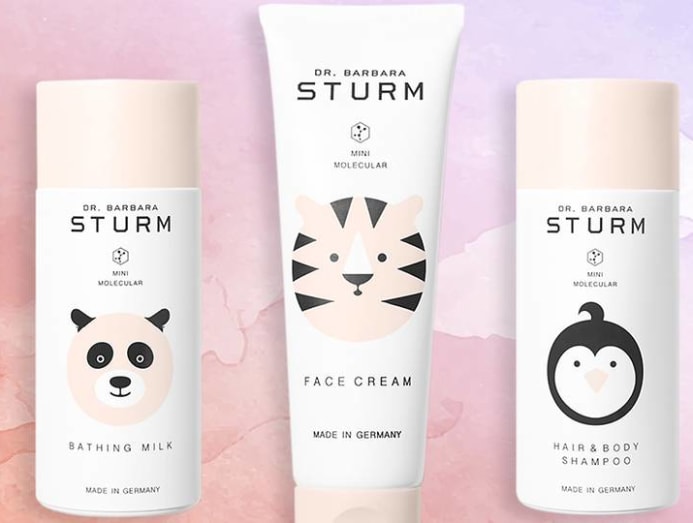 Like Olivia Chantecaille, skincare guru to Hollywood stars Dr Barbara Sturm started her own line of children's skincare after giving birth to her daughter in 2014.
Her dermatologically tested products are formulated without harmful and aggressive irritants and are gentle enough for daily use. They feature natural ingredients such as marigold and almond blossom extract, chamomile, calendula and jojoba oil to soothe, hydrate and protect sensitive baby skin.
Dr Barbara Sturm Baby & Kids Face Cream, US$65; Bathing Milk, US$40; Hair & Body Shampoo, US$45; Set, US$255.
Aurelia Probiotic Skincare's founder, Claire Vero, also had a baby in 2014, and was subsequently inspired to create this range of organic, cruelty-free-certified luxury skincare for little ones.
The Little Aurelia line utilises shea butter, oat kernel, calendula, chamomile and lavender extracts to nourish kids' and babies' skin and calm them with their natural scents so as to help them sleep soundly.
Little Aurelia Sleep Time Top To Toe Wash, £22 (S$38); Top To Toe Cream, £26; Woodland Friends Gift Set, £150.
SOPHIE LA GIRAFE COSMETICS
It all began with a giraffe-shaped teething toy that took the baby-product market by storm near the turn of the millennium. With the BPA- and phthalates-free Sophie being practically an icon and still a best-selling toy around the world, it made good business sense for its owner to extend Sophie's reach into fine, natural toiletries for children.
The Sophie la Girafe bath and skincare line has Ecocert certification – 99.4 per cent of the ingredients that go into it are natural and the remaining 0.6 percent is made up of Ecocert-approved synthetic substances.
Sophie la girafe Baby Body Lotion, €18.98 (S$29); Hair & Body Wash, €16.98; Baby Oil, €19.98.