If you thought the luxury smartwatch was a one-off gimmick, think again
They're not for everyone, and certainly not even in the interests of most traditional watch brands, but the ones that are bravely forging ahead in the smartwatch space are actually, well, pretty smart about it.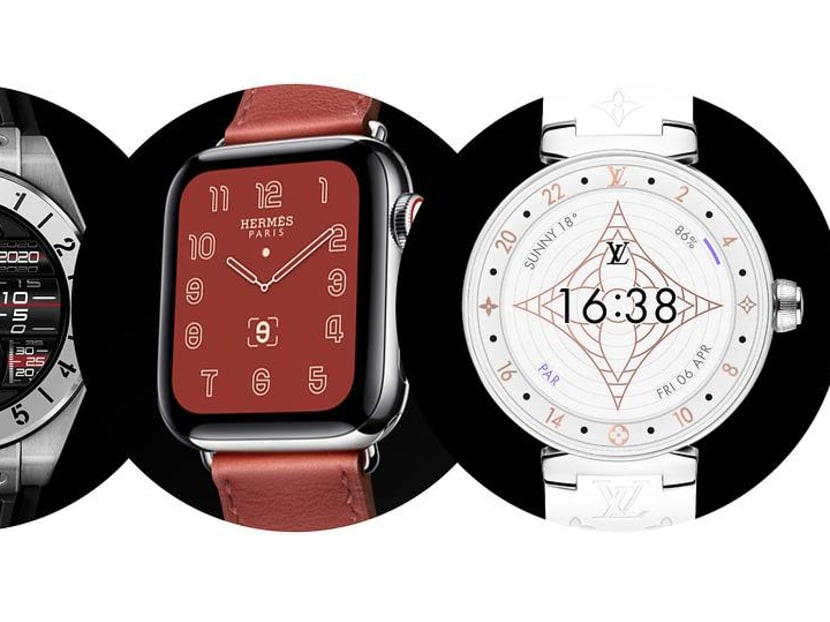 Let's get this out of the way quickly: Luxury smartwatches are not a good investment. It's ludicrous to think otherwise, because unlike their analog counterparts, they will be outdated and obsolete by the time it reaches the average wearable tech lifespan of a few years. People don't even keep smartphones that long, so you can forget about keeping a smartwatch safe for the next generation.
There's nothing smart about buying a four-figure smartwatch. It's really just a hedonistic exercise, but one with big payoffs to the buyer who knows exactly what they're paying for. Because as seemingly unnecessary as they are – and the same argument might be applied to many things under the luxury umbrella – these watch brands know how to build a product that looks and feels really good. What the upmarket choices offer over their much more affordable counterparts is craftsmanship, design, brand affiliation and bragging rights (or the chance to develop resilience against mockery).
And it's a stretch, but these electronic antipodes of haute horlogerie might even act as a gateway to the real deal for mechanical neophytes.
Whatever the brand strategy, it's apparent that some watchmakers were only testing the waters of novelty when the first high-end connected watches first came on the scene about five years ago when Apple released the Apple Watch.
Subsequently we had the Bulgari Diagono Magnesium Concept Watch, Breitling Exospace B55, and even a diamond-dusted Samsung Gear S2 courtesy of De Grisogono. They were all handsomely made and displayed the kind of forward-thinking you don't expect to find in an industry that prides itself in its disdain for electronics. It's just too bad many went back to doing what they did best.
There are however, a few outliers that have committed to the long-term connected plan. Given how they are largely targeted at a younger, more branding-driven crowd, they are obviously a niche category of accessories, but still worth a consideration if you have cash and fancy to spare.
APPLE WATCH HERMES SERIES 5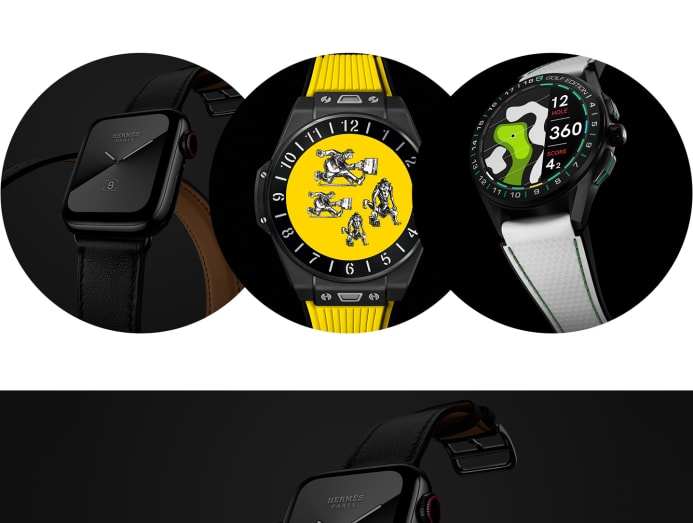 Apple sold 30.7 million Apple Watches last year, and now has the leading smartwatch market share of 55 per cent. With a product so overwhelmingly dominant, it makes more sense for some brands to simply hitch their wagon to Apple and let the tech giant do all the heavy lifting.
And that's just what Hermes has been doing since the first generation of Apple watches. The French luxury house knows its strengths lie in leather goods, metiers d'art and, more recently, traditional fine watchmaking, so by combining this know-how with the most popular smartwatch in the world, Hermes has given its discerning clientele an easy way to upscale the otherwise accessible watch.
Everything about the Apple Watch Hermes Series 5 was made to feel premium. It comes in a  stainless steel case with a steel charging puck (instead of aluminium and plastic respectively of the standard Apple Watch), an Hermes-branded Sports Band, as well as a double tour leather strap for the 40mm models and single tour for the 44mm. The customisable watch faces are also unique to the Hermes editions.
There are of course more elaborate strap options available on Hermes's website, allowing the ubiquitous Apple Watch to become a rather deluxe fashion statement.
HUBLOT BIG BANG E
Another brand to wisely use an established design is Hublot, with the launch of its Big Bang E. It had experimented before with the smartwatch concept when it introduced the Big Bang Referee in 2018 for the World Cup in Russia, but it was a beast of a thing at 49mm wide and 13.9mm thick.
These dimensions made sense given the watch's purpose, which was to cram as many football match-related data into a highly legible (if extremely specific) wearable.
But this year Hublot has taken the experience and formula it gained from the Referee and tweaked it for mass appeal. The Big Bang E measures a more sensible 42mm by 12.8mm and, using the Qualcomm Snapdragon Wear 3100 processor running Google's Wear OS (same as the TAG Heuer Connected), presents such fun extras as a perpetual calendar with precise moon phase display and GMT complication.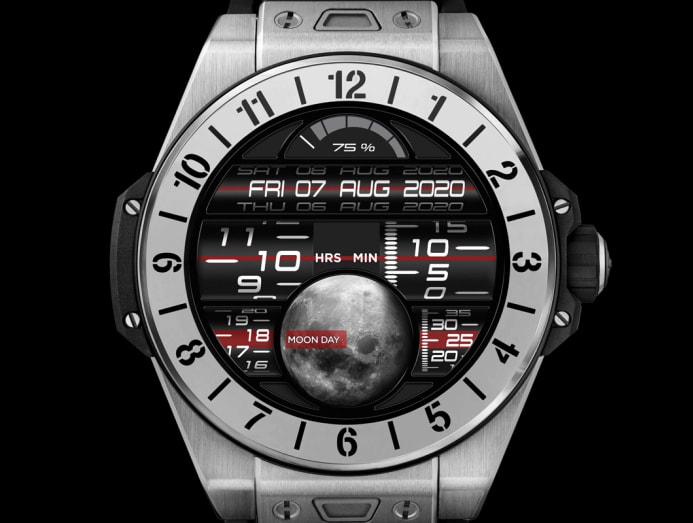 The real draw is the fact that it's all housed in a faithful Big Bang case – in titanium or black ceramic – complete with the "sandwich" construction Hublot is known for. Wearers can choose from a straightforward digital time display or a chronograph-style analog one, but Hublot has also thrown in eight beautifully rendered dials by artist Marc Ferrero.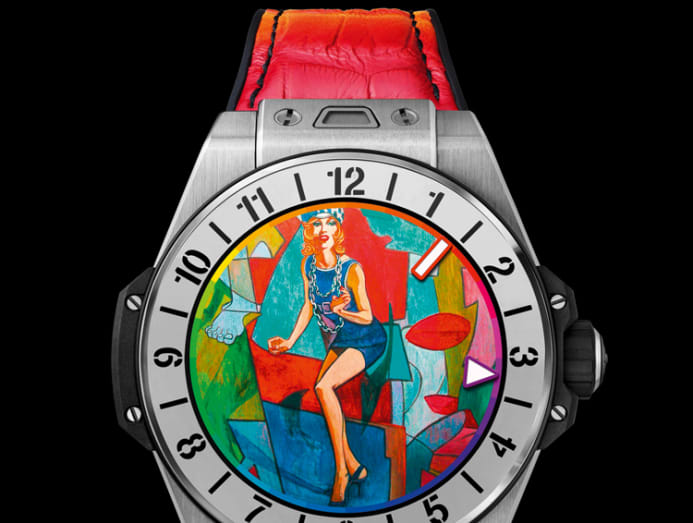 Each of these colour-themed displays will rotate over a 24-hour period and will be marked with a five-second animation. The Big Bang E won't blow you away with functionality, but the prospect of owning an extremely lively Big Bang watch is appealing in its own right. It is currently available on the Hublot website as well as on China's WeChat network, with plans to retail in boutiques and stores at a later date.
LOUIS VUITTON TAMBOUR HORIZON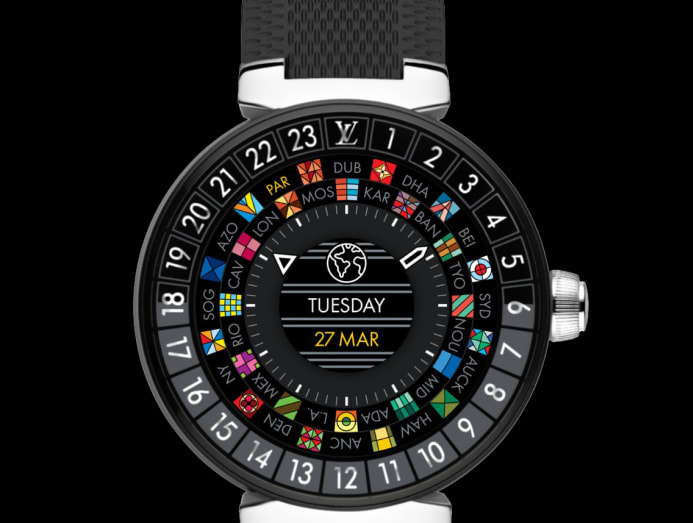 Louis Vuitton has been quite savvy with its tech offerings in recent years, expanding from simply making beautiful phone cases and gadget pouches to launching its first smartwatch, the Tambour Horizon, in 2017, followed by its own wireless earbuds last year. So the fact that it has continued down the path with an upgrade to the Tambour Horizon isn't a surprise.
Neither is the fact that it is still one of the most stylish wearables around. There are five case finish options, including steel, matte PVD and ceramic, and a variety of vibrant watch faces to choose from, many of which are inspired by Louis Vuitton's fashion shows.
Thankfully, the software is catching up, too. Now powered by a Snapdragon 3100 processor, the Tambour Horizon finally includes NFC payment via Google Pay and a step tracker. Like its predecessor, the watch is aimed at the luxury traveller, so it still comes installed with the brand's My Flight and LV Guide apps. The former has also been updated to include train and hotel bookings on top of flight schedules.
MONTBLANC SUMMIT 2+
The Montblanc Summit, first released in 2017, has come a long way from its lacklustre offerings. At the time, its biggest draw was that it looked like a well-made Montblanc watch, but now that the Summit is in its third generation, those good looks now accompany an array of small but welcome upgrades.
The recently launched Summit 2+ may be running the same Snapdragon Wear 3100 processor as the 2018 Summit 2, but it comes with a longer battery life to handle the demands of cellular connectivity. That's right, the Summit 2+ is an LTE watch and, if you don't count the Apple Watch Hermes, it is the only luxury smartwatch with this capability. Interestingly, the Summit 2+ also happens to be one of the rare Google Wear OS-running smartwatches to have eSIM tech.
There's a mic and speaker built into the side of the case to make calls with, but those who'd prefer to let their phones handle that can enjoy the Summit 2+'s other new features: The jet lag-beating Timeshifter app, stress-tracking app and additional training features, to name a few. Previous features like GPS, altimeter, compass and barometer have been carried over from the Summit 2 as well.
Undoubtedly, the watch scores high in the looks department. The 43.5mm steel case has four different finishes to choose from and a variety of interchangeable straps to suit any mood. The always-on AMOLED screen can be personalised with the wearer's desired backgrounds and "complications". In terms of design and functionality, Montblanc should be commended for giving us the whole package.
TAG HEUER CONNECTED
The TAG Heuer Connected watch has been around for five years, but this year the brand proves that it hasn't been idling since the Connected's debut. While the first Connected watches had a modular build that allowed buyers the choice to replace the digital module with a mechanical movement, the third-generation model does away with that option in favour of a slimmer, more streamlined case. Its sapphire crystal OLED touch screen, Carrera-style steel or titanium case, pushers, crown and ceramic bezel make it an extremely close cousin to TAG Heuer's mechanical timepieces.
The functions have also been upgraded to include heart rate monitoring, accelerometer, a compass and a slew of added sensors to help with tracking sports and fitness activities. The companion app is compatible with others like Apple Health and Google Fit, and will soon be updated to allow wearers to choose from a variety of different watch faces.
There is also a new limited edition made specially for golf lovers – a shrewd move that targets the fashionably stunted world of golf. But the Golf Edition doesn't just look smart on the green, it's also surprisingly useful in the actual game by offering shot tracking, hazards distance, scorecards, and interactive 2D maps of 39,000 courses worldwide with a constantly updating database.