LVMH profits fall worse than expected as COVID-19 pandemic hits sales
The luxury leader's biggest brands, such as Louis Vuitton and Dior, hold up better than smaller ones.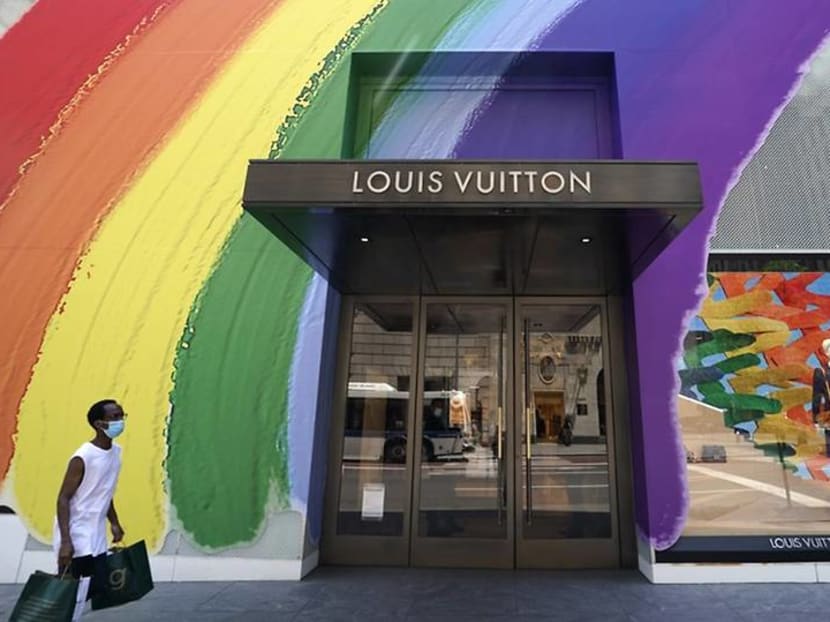 Luxury giant LVMH's operating profit dived 68 per cent in the first half of the year even as the world's biggest luxury group slashed spending on store leases, hiring and advertising to cope with the pandemic.
The group, controlled by French billionaire Bernard Arnault, delivered weaker than expected operating profit of €1.67 billion (S$2.7 billion) and an operating margin of nine per cent as store closures and travel restrictions gored its business, which relies heavily on Chinese and US tourists shopping in Europe's fashion capitals.
Analysts had forecast first-half operating profit of €2.7 billion, according to FactSet consensus.
Sales of fashion and handbags, led by the group's biggest brands Louis Vuitton and Dior, held up better than those of watches and jewellery from brands such as TAG Heuer and Bulgari. Second-quarter sales fell 38 per cent on a like-for-like basis to €7.8 billion, worsening after a 17 per cent like-for-like decline in the first quarter.
"Our big brands have proven quite resilient, often more than the smaller ones, in terms of top and bottom line," said Chief Financial Officer Jean Jacques Guiony. "But travel restrictions have hit parts of our business, such as DFS, quite hard," he added, referring to LVMH's unit that operates duty-free stores in airports.
"We cut costs by about 30 per cent in the second quarter but we do not want to cut too deeply so as to be ready for the recovery when it inevitably comes," he said.
"Our big brands have proven quite resilient, often more than the smaller ones, in terms of top and bottom line." – Jean Jacques Guiony

LVMH does not issue financial forecasts so has declined to give specifics on the prospects for the recovery. But it said there were "strong signs of an upturn in activity since June", driven by places such as China and Japan where outbreaks have calmed, adding that it hoped the trends would be confirmed in the second half of the year.
Analysts at Bain have forecast that sales of personal luxury goods will contract by 25 to 30 per cent this year, and that they will not return to last year's level of €281 billion until 2022 or 2023.
Although the ultra-wealthy have continued to spend on everything from diamonds to art during the pandemic, the luxury sector depends on a much broader swath of aspirational customers tempted by the allure of a Louis Vuitton wallet or Bulgari perfume. Those were the consumers who often trade down or do not buy when an economic crisis hits, analysts said.
Much will depend on Chinese shoppers, who accounted for roughly 40 per cent of sales globally last year but drove 80 per cent of the growth, according to Jefferies. The pandemic has changed how they shop by limiting travel and accelerating an earlier trend of "repatriation" of sales to the mainland.
"The rules of the game are changing – the demand shift to China will not reverse," said Jefferies analyst Flavio Cereda. "But LVMH are well equipped to deal with this once the time is right."
Asked whether LVMH would be opening more stores in China, Guiony said it was too early to commit to such investments. Instead, LVMH will initially focus on expanding e-commerce in China, and improving "clienteling", which refers to developing relationships with regular customers.
LVMH shares have held up better than some rivals this year, falling four per cent compared with a 15 per cent drop for Kering and 22 per cent for Richemont. Shares in Hermes, maker of the Birkin bag, have risen 11 per cent, although it has a more limited free float.
Separately on Monday (Jul 27), Italian luxury group Moncler reported second-quarter sales down 52 per cent to €93.2 million. The maker of high-end puffy coats also swung to a loss of €31.6 million in the first half compared with a €70 million profit in the same period last year.
By Leila Abboud © 2020 The Financial Times