Malaysian fashion designers to produce hospital gowns for healthcare workers
Malaysia's top fashion designers have rallied together to sew Personal Protective Equipment (PPE), which are in short supply, for the country's medical frontliners. Here's how the collaborative effort took off.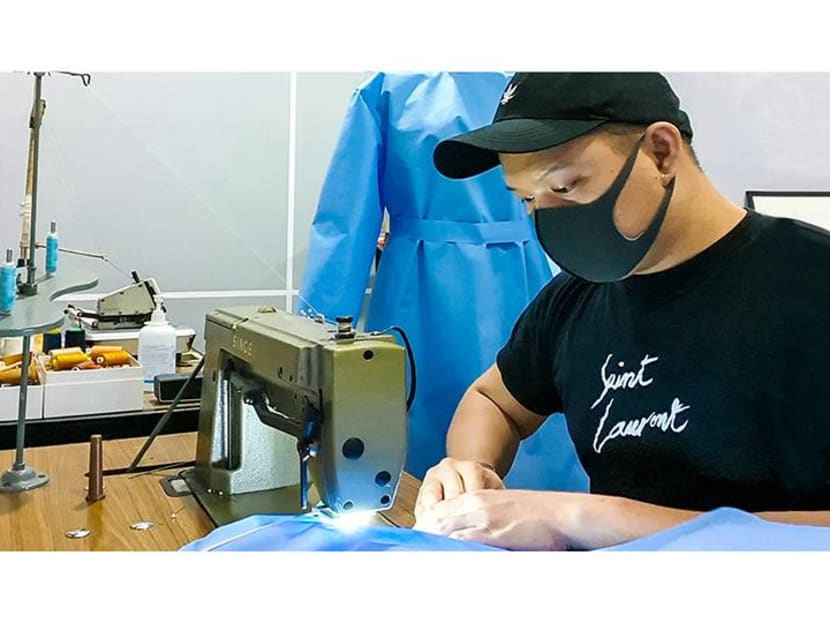 It's been said that man never made any material as resilient as the human spirit. The human spirit is fine fighting fettle among the Malaysian fashion designers who are mobilising their workshops to make much-needed PPE (Personal Protective Equipment) gear for hospitals.
Taking the lead is renowned fashion designer and newly appointed President of MODA (Malaysia Official Designers Association) Melinda Looi, who's more accustomed to making clothes for fashionistas and socialites rather than utilitarian gowns, face masks, head and shoe covers.

When the country's Movement Control Order (MCO) was implemented on March 16, Looi took to Instagram to announce that her Bangsar, Kuala Lumpur boutique would be shuttered.
The irrepressible designer, who's been in the business for over two decades and built a fashion empire with her husband, Dirk Luebbert, utilised the social media platform to post daily tips and how-to videos on making masks with limited supplies, as well as other things to do at home.
But then Kementerian Kesihatan Malaysia (Ministry of Health) medical frontliners also started posting on social media that that they had to use garbage bags as an alternative to cover their heads and shoes because of a shortage of PPE gear. Other postings also surfaced: Exhausted but resourceful frontliners sewing their own PPE gear because they had to be disposed of after each use.
This spurred Looi and her other fashion designer friends like Datuk Radzuan Radziwill, Salikin Sidik, Khoon Hooi, Alia Bastamam, Key Ng, Celest Thoi and Kit Woo to start posting on social media urging their followers to help by donating funds to buy the fabric to sew hospital gowns and other items.
Then Vivy Yusof, co-founder of modest fashion site Fashion Valet, entrepreneur extraordinaire and super-influencer with 1.8 million followers on Instagram, got in on the act and set up an online fundraising page via KitaFund. (As of Friday, April 17, MYR 1.4 million – S$460,000 – has been raised, according to the site).
The group also started working with IMARET (IMAM Response & Relief Team), a medical NGO that provides humanitarian aid locally and internationally, to assist in the distribution of the PPE to their network of hospitals. 
"We started very small. It was only MODA members who were [helping to] get PPE items to the frontliners. Then… we started getting more materials and friends [helping] with more money to buy the materials. Designers and [home-based seamstresses] started calling in too. It was a very humble beginning but now we have Fashion Valet and IMARET on board to raise more funds," said Looi.
To ensure that the funds are raised and disbursed in a transparent fashion, a project flow was put into place. The first batch of funds raised through KitaFund allowed MODA to commence operations – such as buying materials – by April 6.
When the materials arrived about a week later, MODA sent them to its team of designers and volunteers to be sewn into gowns. The entire operation (sourcing, purchasing, logistics, cutting, sewing, QC, packing and transporting) was to take around two weeks, because materials were in short supply and becoming increasingly expensive.
Despite this, Looi and her team projected that the PPE gear would be distributed to hospitals and clinics by the third week of April.
The process – and progress – of making these gowns, head- and shoe covers can be tracked on Instagram using the hashtags #MODAforFrontliners and #FashionFightsCOVID19.

It's fascinating (and heart-warming) to see these designers, who are usually impeccably suited and booted whenever in the public eye, clad in gloves, face masks and shower caps when cutting patterns and sewing the items. To avoid contamination, all designers and volunteers were briefed on how to deal with the material and to be geared up appropriately when processing the PPE.
Despite the long days of cutting and sewing, all the designers involved are doing so on a voluntary basis. On their respective social media channels, they expressed that being able to help in any way in this time of crisis is reward enough.
MODA's initiative attracted much interest, and soon more fashion designers – such as Jovian Madagie and Izrin Aziz of Innai Group, Fizzi Woo, Mimpikita, Dato Rizalman Ibrahim – and many volunteer seamstresses came on board.
Meanwhile, local celebrities such as Neelofa and ex-Miss Malaysia Deboray Henry contributed donations or in practical ways (Henry drove Looi around to deliver PPE to government hospitals, for example).
By April 8 – ahead of schedule – about 1,200 gowns, 1,500 pairs of shoe covers, gloves and face masks had been sent to the Hospital Kuala Lumpur (HKL) and Klinik Kesihatan Daerah (District Health Clinics).
On April 11, a day after the Malaysian Prime Minister announced that the MCO would be extended until April 28, Yusof beseeched her Instagram followers to donate to the More PPE Hospital Gowns Urgently Needed for Our Frontliners campaign. The target of MYR 300,000 was achieved just five days later on April 15.
"How can we sit tight at home while hospital staff work multiple shifts and overtime to care for infected patients that are increasing in number. Now is the time for us to do something that's bigger than us," said Yusof. Malaysia has over 5,000 cases and 83 deaths as of April 17.
Currently, around 1,000 gowns are being made per day, with the designers working non-stop to produce another 8,000 PPE over the next two weeks.