Now in Singapore: The MB&F Legacy Machine is back and yes, it's still weird
To celebrate 10 years of Legacy Machines, the LMX serves as a summary of the series' favourite features. A retrospective exhibition is now on at The Hour Glass.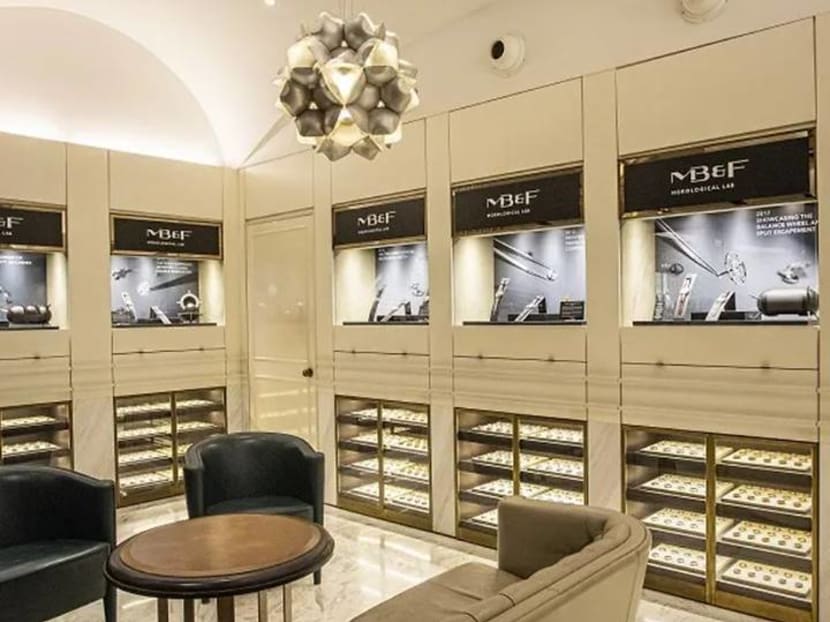 Maximilian Busser, known for collaborating with friends to create watches that don't look anything like watches, likes to refer to his more classically designed Legacy Machines as his "psychotherapy". 
Compared to the avant-garde Horological Machines, that have over the years taken on forms ranging from frogs to jet turbines, the Legacy Machines are – gasp – round, and meant to express a different side of Busser's personality: "They are what I would have created if I had been born in 1867 instead of 1967 – my tribute to 18th and 19th-century watchmaking."
It's been 10 years since the first Legacy Machine was unveiled and the celebratory model, the LMX, is a steroidal tribute to 2011's LM1. Like its progenitor, the LMX reveals two fully independent time zones on lacquer dials, but pays tribute to the more recent LM FlyingT and LM Thunderdome by inclining those dials at 50 degrees for dramatic effect.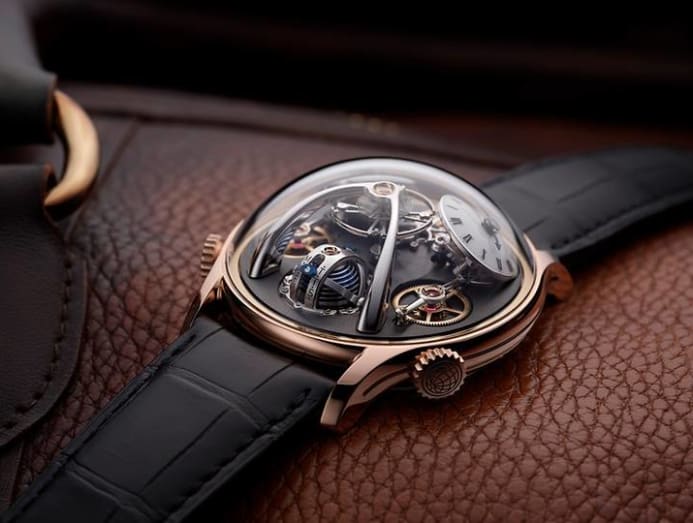 Floating above them is a flying balance wheel, a signature of the collection, that has been upgraded from regulating screws to inertia blocks.
What's unique to the LMX is its power reserve indicator. It borrows the LM1's vertical construction and adds to it a corresponding day-of-the-week scale on the opposite side, making it the world's first rotating hemispherical power reserve indicator. 
If you keep winding the crown at 2 o'clock, the indicator eventually turns and you will be able to choose to face the numerical scale or the Monday-to-Friday scale.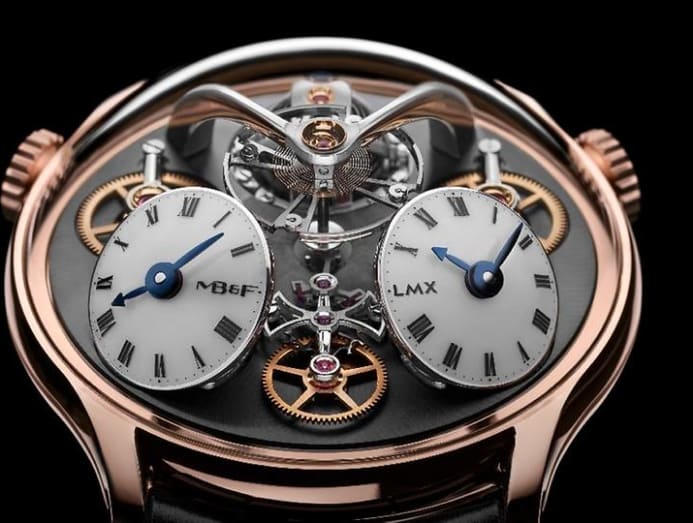 This means that if you fully wind your watch on a Sunday night, the power reserve indicator can also double as a day indicator. It's not exactly the most useful feature, but it's fun to play with and beautiful to look at, and that's often the point of MB&F machines.
The stunning movement can be viewed from the exhibition caseback, and its various polished bevels, gold chatons, Geneva waves and symmetrically arranged barrels are a reminder that this is still very much a serious piece of horology.
Measuring 44mm wide and 21.4mm high, the LMX is available in two limited launch editions: 18 pieces in 18K red gold with black NAC-treated plates and bridges, and 33 pieces in polished titanium with green CVD treatment on the plates and bridges.
The LMX's artistry is best admired up close and alongside the all the genre-defying models that came before it. And thanks to The Hour Glass, you can see them all in the metal. 
The retailer is currently presenting "10 Years of Legacy Machines, a Retrospective Exhibition" at its ION Orchard boutique from now until Apr 15.