The S$890,000 supercar built for driving on Singapore's roads
Smooth like butter, the McLaren GT is a practical supercar engineered and optimised for daily driving on city streets. We took her out for a spin to test her mettle.
It's only when you get behind the wheel of most supercars that you realise they're not really engineered for urban roads. They're supreme powerhouses, sure. But for everyday driving in city traffic? Not so much.
This can be infuriatingly frustrating for those who cough up handsome sums only to find themselves unable to coax the maximum performance these sports cars were designed to deliver in Singapore's stop-and-go traffic.
But not the McLaren GT.
They were right – it is remarkably easy to drive.
One of the misconceptions about driving a supercar is that it can be intimidating – in general – and this is absolutely not the case with the McLaren GT.
You get fun, you get power, you get performance, you get thrills – without running into those vexing limits at every turn.
Don't get me wrong, I would have loved to take this grand tourer on long stretches of clear and winding roads through the countryside overseas, as we might have done pre-COVID-19. That, surely, would be bliss. But lacking which, it was a delight to find the McLaren GT already primed for everyday drivability along our city streets.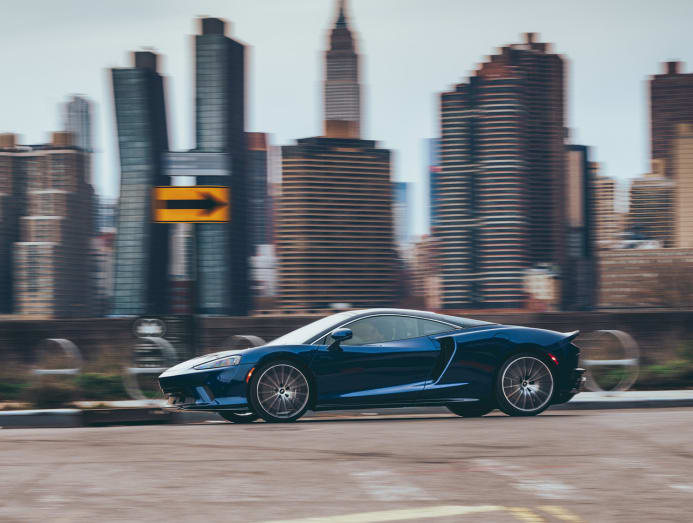 Here's where the distinction lies: The McLaren GT is smooth like butter, even at low speeds, in lower gears. Whereas with some supercars, the ride grows more sublime only as the vehicle shifts into higher gears at speeds you can't quite hit as easily on most roads here.  
With the McLaren GT, much of its deep reserve of torque – 630Nm of torque from 5,500rpm to 6,500rpm – is also easily available from low revs, making it ostensibly one of the lightest, fastest and quickest accelerating car in its class.
How quick are we talking?
It hits the century dash in a blistering 3.2 seconds.
Traditionally, grand tourers have front-mounted engines, but this GT breaks convention.  
Mid-mounted on the bespoke lightweight carbon fibre MonoCell II-T chassis for optimum weight distribution and handling balance is a new McLaren 4.0 litre twin-turbocharged V8 engine generating 620PS (612hp) of power.
Stronger than steel or aluminium, this new carbon fibre chassis is inherently safer and makes the car hundreds of kilograms lighter compared to a traditional chassis.
How light are we talking?
It boasts the lightest-in-class kerb weight at 1,530 kg.  
The use of this new ultralight chassis also allows for more cabin space and luggage capacity so you can even throw in a golf bag or two sets of skis in the rear. Lovely.
Now with the McLaren GT, you choose how intense you want your ride. Use the seamless dual-clutch seven-speed gearbox in Sport or Track mode and gearshifts quicken, and the roar from the exhaust rises.
But if you don't want to wake the neighbours, there's even a "quiet start" function for more discreet getaways, bespoke Pirelli tyres engineered with a unique noise cancelling technology, plus a softer exhaust note when cruising at top speed in Comfort mode. A supercar for gentlemen, if you will.
Loved the nicely weighted steering but what I did miss, though, was a gear knob to wrap my hand around, particularly for a sports car such as this. Instead, there's a flickable gear selector that's more modern and streamlined, sure, but just doesn't transmit the same level of joy.
TACTILE LUXURY
The way those lines flow, the McLaren GT is beautiful from any angle. It's sleek, graceful, and refined form comes together for a captivating profile.
Let's start with its jewel-like LED headlights. They feature discreet McLaren branding and are equipped with automatic rain and light sensors. And they are also built with an intelligent "tourist function", which instantly adapts the direction and distribution of light to maintain optimum illumination – when travelling in countries that drive on the other side of the road. Not that we'll ever need it here, but good to know, as this is a supercar you could actually take a road trip in.
The body of the McLaren GT is longer than all other McLaren models at nearly 4.7m, but these elegant overhangs are there for good reason. Externally, to aid aerodynamics. And internally, to create usable space.

Then, of course, there are those butterfly doors (officially called dihedral doors by the brand). Love 'em or hate 'em, they take your breath away, either way.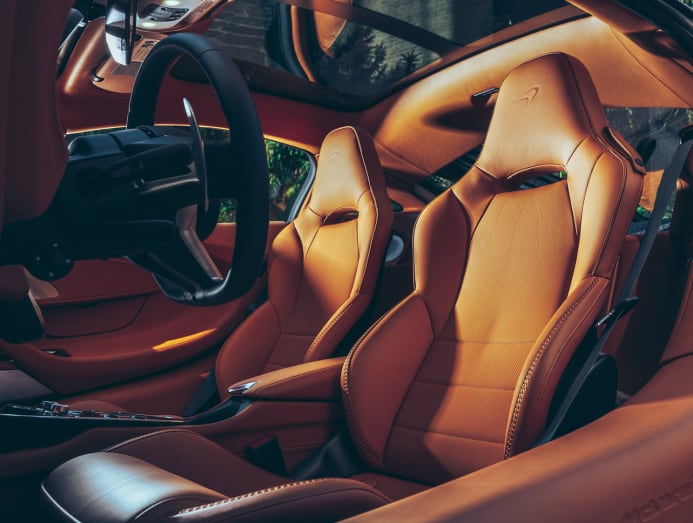 Inside, expect a level of refinement and tactile luxury with finely crafted details throughout. Sill finishers trimmed in soft-grain leather meet soft, cosseting cashmere, as Alcantara meets next-generation materials such as SuperFabric® – an ultra-durable innovation to line and protect the luggage bay.
The floating centre console enhances the sense of spaciousness within the cabin, comprised of an intuitive infotainment system, with surrounding decorative elements and air vents finished in satin silver and piano black.
Meanwhile, the Power Adjusted Heated Memory Comfort Seats feature intricate perforations, double piping and bespoke stitching.
The luxuriousness continues underfoot, with loop pile carpet covering the floor.
And overhead, the electrochromic roof (optional) tints itself at the touch of a button; from opaque to transparent, with several subtle grades of shade in between, allowing you to fine-tune the precise amount of light you'd like to let in.
The McLaren GT is positioned as a practical, daily supercar and I'm inclined to agree. Having driven it to the coffeeshop in my neighbourhood which I frequently patronise for my favourite Hokkien mee, when those butterfly doors swing open and seeing those jaws drop… This is one supercar worth a splurge for the nouveau crypto riche.
MCLAREN GT SPECIFICATIONS
ENGINE: 3,994cc twin-turbocharged V8 engine
POWER: 620PS @ 7,500rpm
TORQUE: 630Nm @ 5,500 – 6,500rpm
TRANSMISSION: Seven-speed dual-clutch with manual select
ACCELERATION (0-100KM/H): 3.2 seconds

ACCELERATION (0-200KM/H): 9.0 seconds
TOP SPEED: 326 km/h
FUEL CONSUMPTION (combined): 10.8 L/100km
PRICE: From S$890,000 (without COE)