Loosen up and go soft: Menswear heads in a decidedly slinky direction
Comfy fabrics, relaxed silhouettes and ambiguous design elements – perfect for livening up your Insta feed, and maybe sharing with your better half.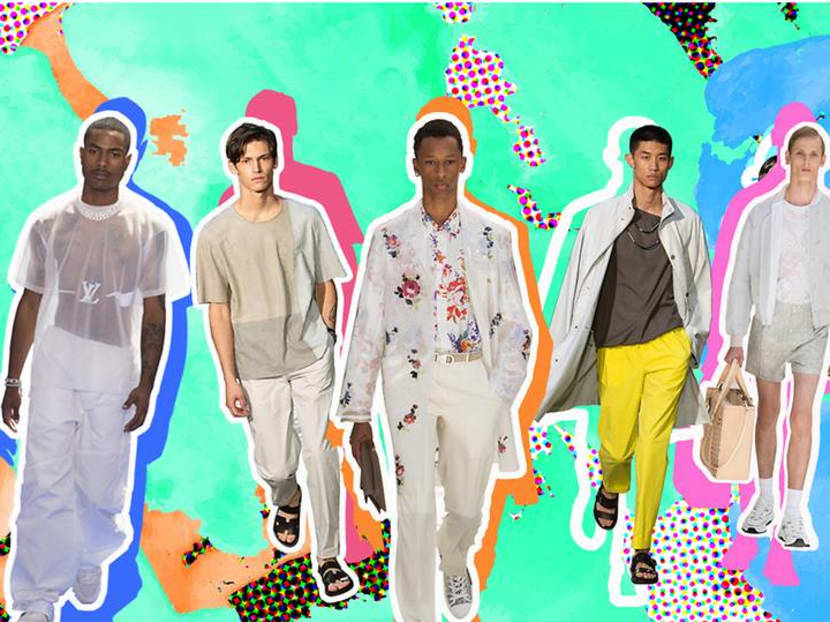 With role models such as rappers, DJs, start-up upstarts, celebrity chefs, hipster mixologists, YouTubers and digital nomads leading the pack, the modern male no longer needs to – or perhaps wants to – be a neck-tied, office-bound cubicle beaver gnawing his way towards the C-Suite.
Correspondingly, the idea of what constitutes a well-dressed male has moved beyond the corporate raider in a sharp suit, to the louche lad who appears to conduct his daily business anywhere and everywhere – except in the boardroom.
That's probably why, according to market research firm Euromonitor, sales of men's suits fell by S$953 million between 2012 and 2017 in western Europe. At the same time, men's fashion is expected to outperform women's between 2017 and 2022, with demand mainly coming from more casual clothing.
Yes, it seems traditional, stiff suiting fabrics are out of favour. In their place, something altogether, well, nontraditional.
Buttery soft, paper-thin leather, sheer fabric such as organza, sensuously slinky silk, and light-as-air knits. In pales or brights diametrically opposed to the old-school sober menswear palette of grey-navy-black, and even prints such as florals, and treatments such as embroidery, that are more associated with womenswear.
It's been several years since Alessandro Michele took over the reins at Gucci and sent boys down the runway in chiffon, silk, lace, and floral prints, while Jonathon Anderson opted for silky tunics worn over matching pants, and blouses with scarf-like ties at the neckline.
This SS2019 season, it seems that top designers are gunning for more men to go soft – in the wardrobe department, that is.
DIOR MEN
For his debut collection as Dior Men's artistic director, Brit designer Kim Jones translated key elements from the house's history in haute couture into menswear, choosing to describe it as "romantic", rather than "feminine".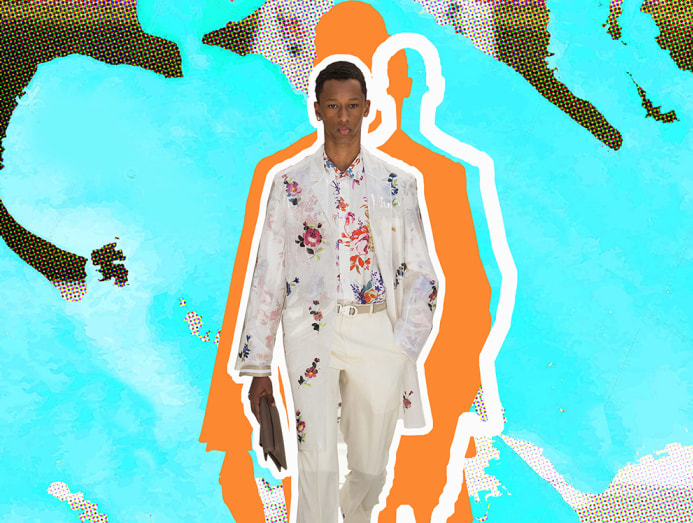 As such, shades of rose pink and grey, long associated with the brand, appeared on soft suits; small feathered blooms inspired by brand founder Christian Dior's patterned dinner plates appeared on jackets; toile de Jouy patterns akin to those that used to line the walls of the first Dior boutique, which opened  in 1947, featured on sports jackets and baseball caps.
A sports blouson and trouser combo came in sheer grey-and-white striped organza, while a weekend short in soft grey jacquard was paired with a sheer white burnout tee and an ethereal-looking organza bomber in off-white.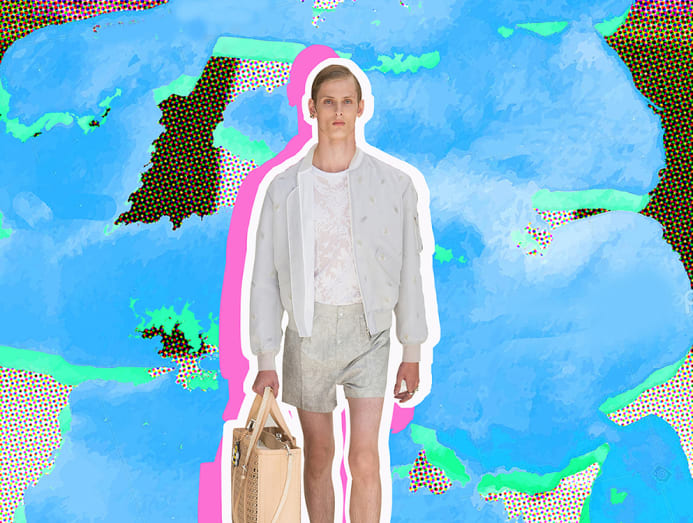 While the eye-catching floral plastic trench and shirt might be a little hard to pull off, the trench would be well paired with a grey marl tee and dark jeans, lending a whimsical, visual pop of colour.
Jones has kept to a clean, sporty silhouette for the entire collection, making it easy to wear entire head-to-toe looks, or to incorporate individual pieces into your existing wardrobe staples of say, black joggers, blue jeans and so on.
HERMES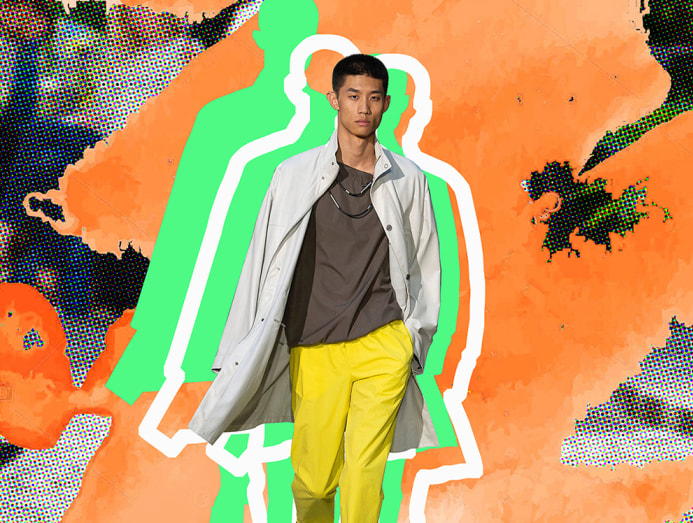 Always sublimely understated, and in unexpectedly sublime colour combos, standout items included a tissue-thin suede tee in various shades of grey, a blue-black tracksuit in etriviere lambskin, and long-sleeved zippered polo tees with colour blocking.
A button-down knit cardi featuring panels of snakeskin down the front also made an showing, aling with draw-string cotton trousers with zippered cuff hems, and boat-necked "man-blouses" with a zipper on one shoulder for baring some skin.
GUCCI
Alessandro Michele has championed a gender-bending time warp fashion aesthetic at Gucci since he became the Italian house's creative director in 2015, and this collection is no different. Perhaps it's why he decided leather codpieces were a necessity to accompany some of the male looks in case, you know, people mistook them for womenswear.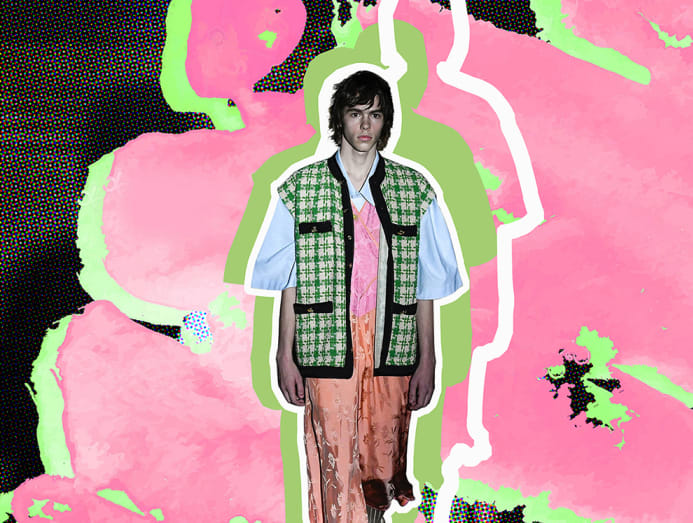 From kimono jackets lavishly embroidered with flowers, paired with slouchy velvet joggers, to an undeniably dandy-looking velvet and lurex dinner suit emblazoned with oversized, sequinned interlocking-G monograms, to a checked shirt as soft and slouchy as a woman's blouse, and a slinky silk brocade jumpsuit in salmon and pink hues, worn under a green-and-white tweed gilet, Gucci is not for the faint-hearted male dipping his toes into this trend.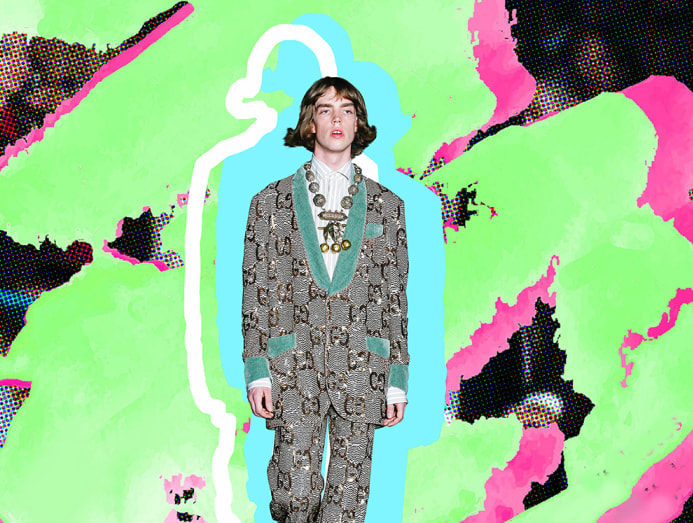 Either proceed with extreme caution, or with complete abandon.
LOUIS VUITTON
Luxe streetwear label Off-White founder Virgil Abloh's first collection for Louis Vuitton, in his new role as the French maison's menswear creative director, sees him take inspiration from the classic movie, The Wizard Of Oz.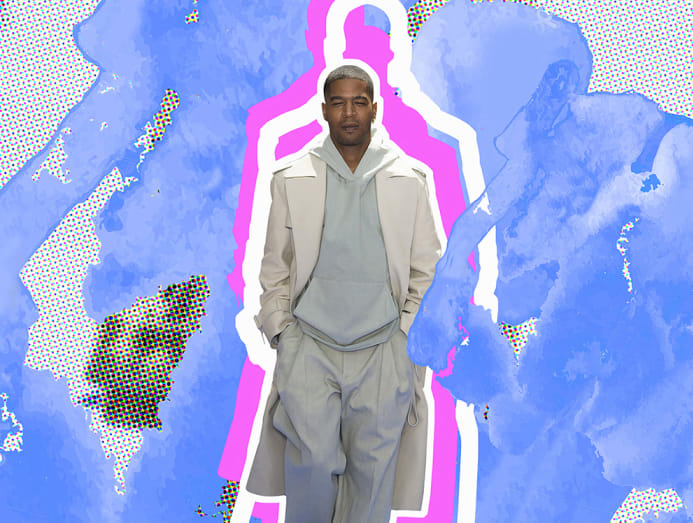 Abloh interprets motifs that appear in the movie, such as rainbows and poppies, by sending a series of white outfits down the runway that segue into beiges, greys and eventually, multi-colour extravaganzas.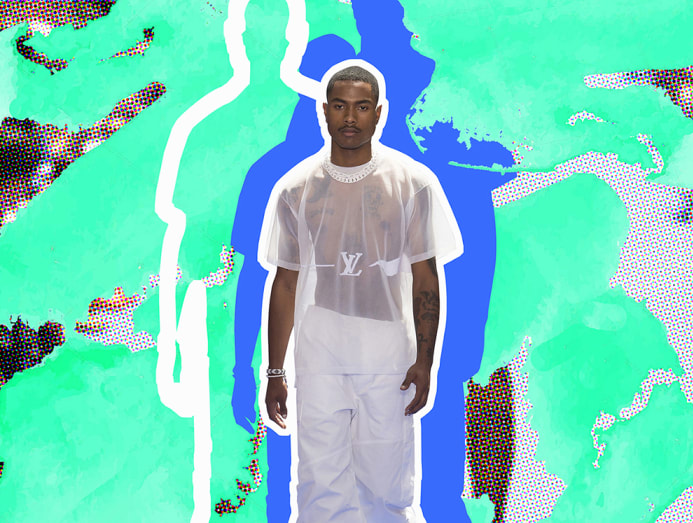 Pants are cut loose and slouchy like trackpants; streetwear-inspired hoodies feature heavily, while sheer white mesh tees, tie-dyed paper-thin leather pants, and a vibrant poppy-print hoodie in the softest velour, caress the body like hugs and kisses from Auntie Em.