Post-pandemic joy: Men's summer fashion for 2022 is a breath of fresh air
Rompers, cropped blazers, crystal shirts and lightweight suits. At Milan Fashion Week, menswear returns with Spring/Summer styles meant to be seen outside the home.
If you're dreaming of days when you can leave your dreary sweatpants and loungewear behind (and we mean for good), those days are not too far away. At Milan Fashion Week, designers presented their menswear collections for Spring/Summer 2022 – a time when the dark days of isolation are (hopefully) far behind us.
After the difficulties we've all been through, designers offered some form of escapism and freedom in their collections. Dark colours made way for lighter hues, constricted clothing gave way to heightened hems.
Prada, for one, took its boys to the beach. In a show titled Tunnel to Joy, Miuccia Prada and Raf Simons explored a "utopia of normality". In the collection film, models first walk through a red tunnel, before eventually emerging on a Mediterranean beach.
They're dressed in romper suits, bucket hats (some with functional slits to hold sunglasses), knitted bibs, big shoulder bags, oversized blazers and swim-ready short shorts. It was a seamless transition from the indoors to the outdoors with clothes one might dream about wearing on one's next summer paradise trip, whenever that will be.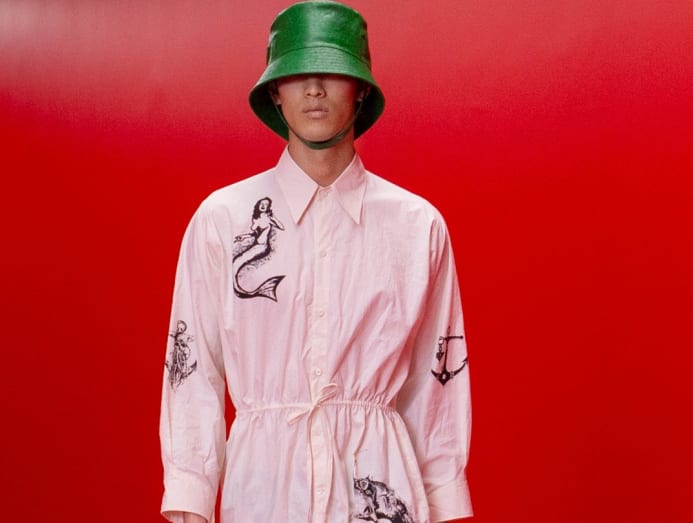 At Fendi, the Roman city landscape informed the collection's colour palette. Earthy nudes featured alongside hints of neon, pink, grey and black. The midriff-baring cropped tops and jackets were a highlight (although this means shedding that pandemic belly bulge), paired with cargo shorts or low-rise trousers.
Dolce & Gabbana took a more dramatic approach. It held one of the few fashion shows that took place live, with a thousand-coloured lights illuminating the old Metropol cinema in Milan. Poplin shirts, knit sweaters and denim pants were embedded with crystals. These are clothes surely designed for life outside the house.
The suit remained at the core of Brunello Cucinelli's collection, albeit reinvented in a fresh and relaxed manner. With a neutral colour palette, single or double-breasted jackets are paired with roomy trousers. These suits are "synonymous of elegance, but not the Wall Street kind of business suit", said Cucinelli. The collection also features denim jeans, suede vests, plaid shirts and knitted jackets, offering the flexibility to dress up or down.
Armani on the other hand opted for a colour palette of navy and black, with pops of white, red and green. The collection – which featured trousers, sweaters, vests and button-up shirts – took inspiration from sportswear for a casual yet sophisticated feel. 
"The overall attitude is very light, because I think we have all learned to be informal and more relaxed in the way we dress. Reimagined, so it is no longer composed of a blazer and a pair of trousers," Armani said.