Gender-bending, multi-functional styles: Menswear gets experimental in Paris
There were huge moments at Paris's Spring/Summer 22 menswear showings. Here's a look at what went down the runway.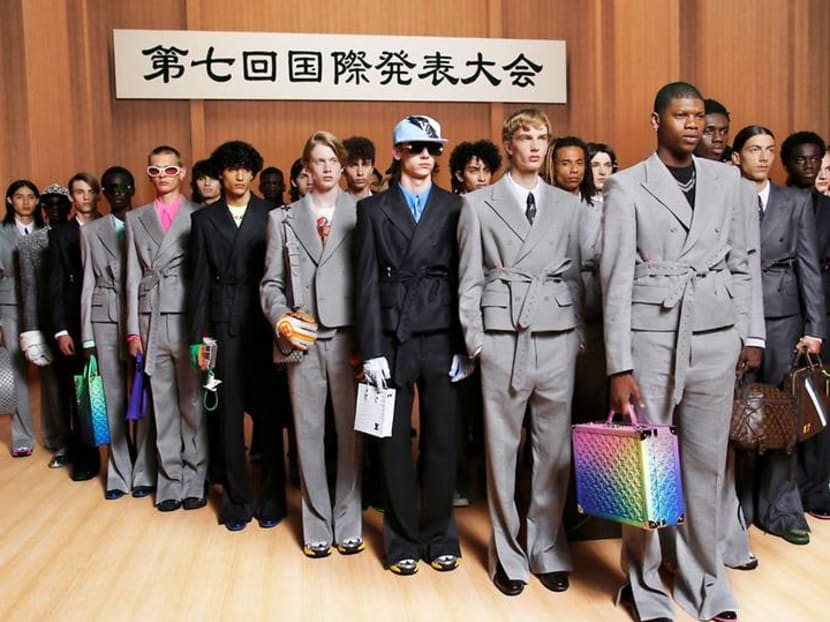 If there's one thing that Milan Fashion Week has shown, it's that menswear is definitely getting more and more experimental. There was Prada's rompers, Fendi's cropped blazers and Dolce & Gabbana's crystal-studded suits. At Paris Fashion Week, this trend seemed to continue as French fashion heavyweights revealed their Spring/Summer 2022 collections.
What do you get when you blend formalwear with streetwear? Or menswear with womenswear? The answer – Louis Vuitton's latest collection. For creative director Virgil Abloh, there's no holding back. The collection was an exploration of cultural nuances, from chess to boxing, martial arts, rave and more. 
Boxing gloves were paired with blazers, suits were cinched at the waist with kung fu-style belts. Blurring gender lines, knitwear was styled with poofy skirts. For accessories, there were soft trunks and Keepall bags in neon and rainbow-coloured palettes.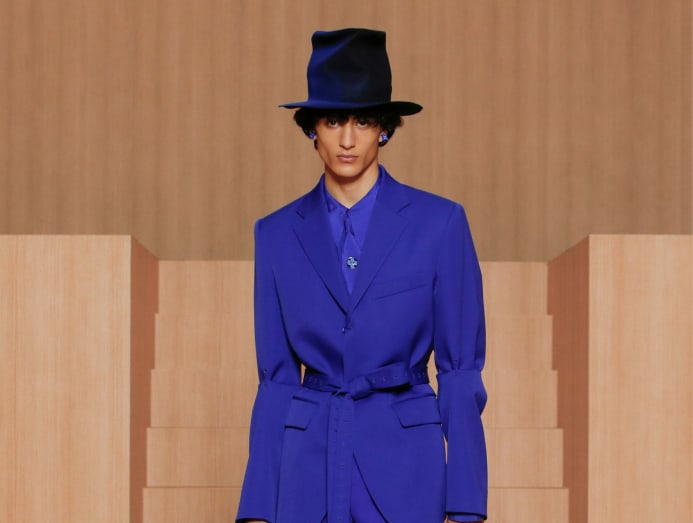 In true Abloh style, there was a lot to unpack throughout the show, including the debut of Louis Vuitton's Nike Air Force 1 collab.
Over at Dior, creative director Kim Jones revealed a blockbuster collaboration with rapper Travis Scott, whom the designer described as a "cultural phenomenon". It was the house's first time collaborating with a musician on a full collection.
Dior's house codes were mixed with Scott's Cactus Jack motifs. In a bold move, Dior's Oblique was reworked to spell "Jack", featuring on pieces such as knitted vests. Other pieces in the desert-themed collection (a nod to Scott's hometown of Texas) included snake-printed Saddle belt bags, cactus-shaped jewellery, sequined varsity jackets and flared trousers.
For Loewe's Spring/Summer 2022 men's collection, designer Jonathan Anderson explored the theme of hedonistic freedom. Inspired by early club culture, the collection featured everything from tinsel-fringed tank tops to zebra motif shorts, neon knits and cotton ribbed vests. 
"The mood of the collection for this season was the idea of awkward beauty, and how we're in the optimism stage. This season is more about the action; the action of going out, the action of having fun," Anderson said in the film.
Hermes's menswear artistic director Veronique Nichanian presented a collection that was a little more pared back, but probably the most wearable of all. 
Once again, Nichanian proved that the devil is in the details. Named Double Game, the collection featured several reversible pieces (including reversible parkas) for multi-functionality. A neutral colour palette was enlivened with blasts of yellow, pink and green. 
"Suffused with optimism and energy, this creative collection is bursting with the vitality of a world reclaimed," read the show notes.
Pieces that caught our eye included a knit sweater in orange and pink ombre, and a poplin shirt with a double 3D Mors et Gourmettes print. Accessories included casually chic rope belts, plus a weekend bag built on top of a skateboard.