Finally, an EV from Mercedes-Benz. Is it worth considering?
Mercedes-Benz rolls out its first fully-electric vehicle and we test-drove the all-electric SUV recently. Here's our verdict.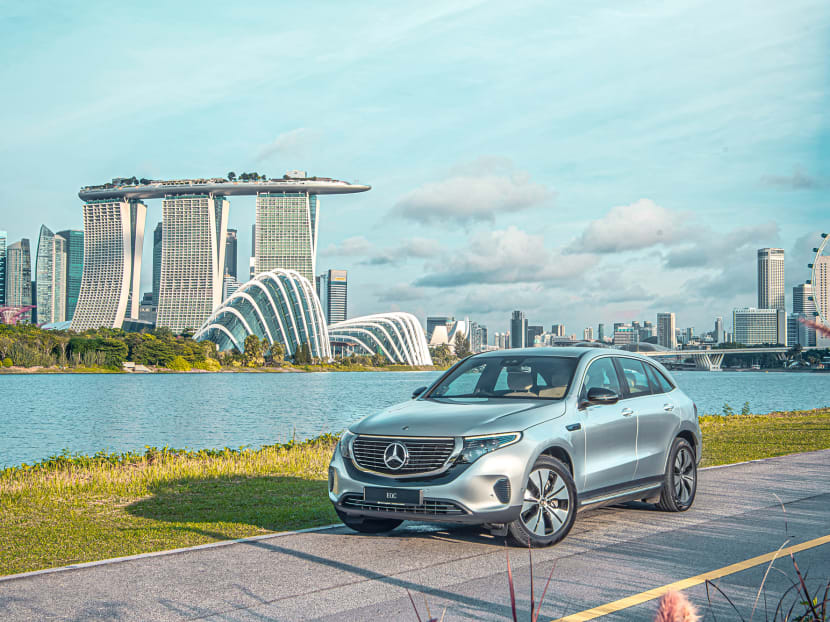 If you thought Maserati was late to the electric party, well here comes Mercedes-Benz with the new EQC, its first fully electric vehicle (EV) – finally.
As the first emission-free vehicle to roll off the production lines at the carmaker's brand new sub-brand, Mercedes-EQ, the EQC marks the first milestone in Mercedes-Benz's Ambition2039 plan to have a fully networked and completely carbon neutral new car fleet by 2039. But first, the carmaker aims to have plug-in hybrids and EVs make up more than 50 per cent of its global car sales by 2030.
Now the EQC is an all-electric SUV that moves to the tune of 408hp of power, 760Nm of torque, and nips the century dash in a respectable 5.1 seconds.
Its range is not to be sniffed at, either: Jostling for top spot among all EVs produced today at an impressive 423 km.
This should take you twice round the outermost edges of Singapore before you'll need a recharge. But based on past experience, estimating an EV's real range is often a dicey affair.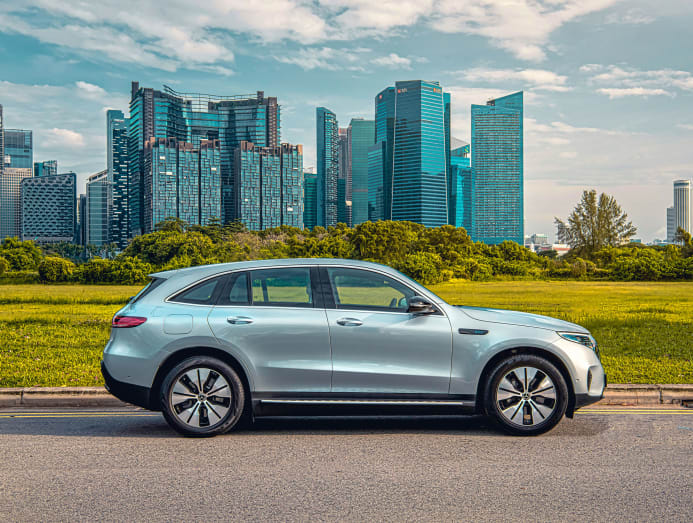 MANAGING RANGE ANXIETY
I'll be honest: Each time I get behind the wheel of an EV, I suffer from acute range anxiety. So I was rather assured to learn of the EQC's very comfortable range thanks to its large high-voltage lithium-ion battery, arranged in the vehicle floor, between the two axles.
In reality, though, the actual range you manage often depends largely on the drive mode you select, paired with your personal driving style.
The all-wheel drive EQC comes with four drive programmes: Comfort, Eco and Sport plus an individually adaptable program. Sport mode is undeniably the most fun but undoubtedly sucks up the most energy; Eco focuses on efficiency in a bid to max out your range but your SUV grows more sluggish and you feel the heft of this two-and-a-half tonne car. So Comfort is, of course, the most comfortable compromise. Oh, and if you chuck your phone on the wireless charging tray, it's going to drain even more juice from your electric ride.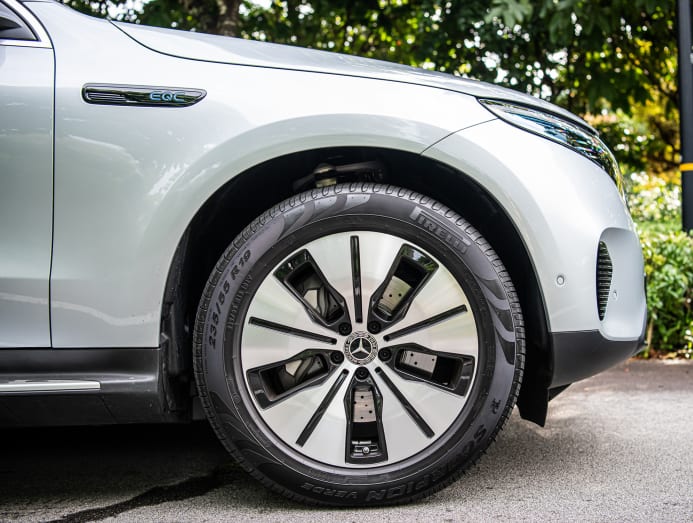 Energy management is therefore the name of the game and the EQC amps up the fun for sport.
They call it intelligent recuperation: A regenerative braking function that charges the EQC's batteries on the move to help optimise range.  
So whenever you lift your foot off the accelerator or step on the brake, the electric motors function like generators, effectively converting the mechanical rotation into electrical energy – and, for kicks, you'll enjoy watching the dynamic percentage fluctuation of recuperative deceleration displayed on the digital dashboard as you drive.  
It gets even more interesting – the driver gets to decide the level of regenerative braking you desire. Just flick the paddles behind the steering wheel: The one on the left increases the level of recuperation, and the paddle on the right reduces it. There are four settings: D + completely removes the recuperation so the vehicle rolls freely; D shifts to normal recuperation; D - results in strong deceleration in overrun mode such as when driving downhill; and D - - offers maximum recuperation and deceleration in overrun mode.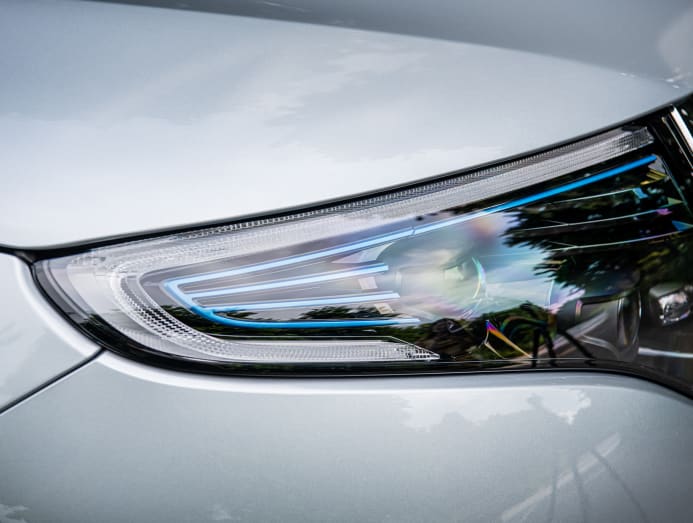 It's all very clever but unless you're at risk of growing dangerously low on energy, anything other than D + feels rather jarring and takes quite some getting used to if you've just made the leap from a combustion engine drive.
Outside of normal recuperation D mode, you almost have to unlearn and relearn a new style of driving, which is particularly niggling for drivers of the heavy-footed variety – and even less fun for passengers onboard. So no recuperation for me, thank you very much.
That said, you can also just set it to auto and let your smart car do its thing.
As for charging your EQC, there's the option of AC charging at 11kW, which is more suitable for home charging because it takes forever. Or the swifter alternative of DC charging at 110 kW, which can juice your EV up to 80 per cent in just 40 minutes – provided you can find an available EV charging station on this island, which is still sorely lacking in EV infrastructure.
There are, however, several apps that can help you locate EV charging stations and check their availability in advance, such as Greenlots by Shell.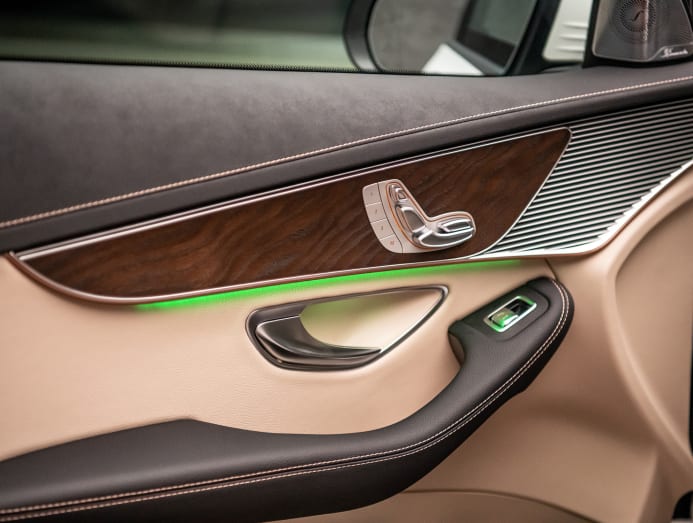 ELECTRO STYLING
By virtue of its muscular proportions, the EQC is classed as a crossover SUV. An extended roofline meets a low waistline and shorter wheelbase compared to comparable SUVs, while its coupe-like roof recesses at the rear to visually position the EQC between an SUV and an SUV coupe.
There's currently only one engine variant available – the EQC 400 4MATIC – but it comes with the option of Electric Art or AMG Line design models, both distinguished by their "electro" styling where blue trims and lettering reflect its electric lineage.
The former features a tad more classic cues while the sportier latter flexes a distinctive front apron in an unmistakable jet-wing AMG design with MULTIBEAM LED headlamps, accentuated by several new AMG wheel designs of 20 and 21 inches.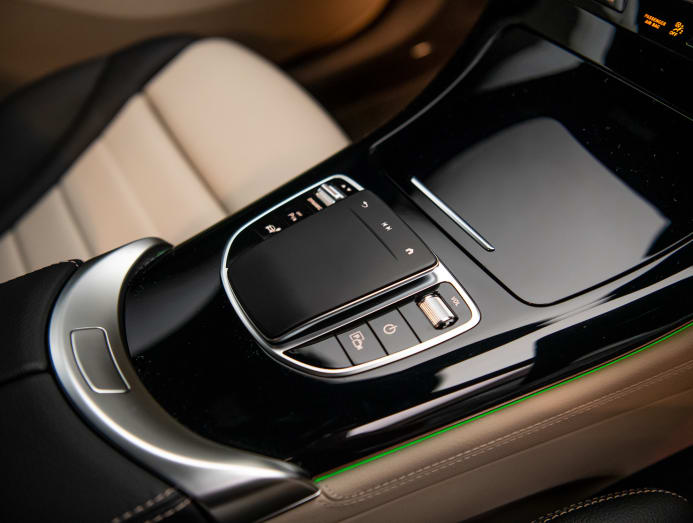 CLIMATE AND OTHER CREATURE COMFORTS
On the inside, the EQC's attractive multimedia complex rules; a 10.25-inch touchscreen central media display houses the automaker's MBUX (Mercedes-Benz User Experience) multimedia system, which supports both Apple CarPlay and Android Auto.
Alternatively, you can also send operating controls via finger scrolls on the touchpad located in the centre console.  
Of all the thoughtful creature comforts, the pre-entry climate control, which sets your desired temperature for the time of your intended departure (programmable via the Mercedes me App), is perhaps the most appreciated given the blazing heat of late.
The 4-way electro-pneumatic lumbar support seat adjustment comes a close second. And, with a view to sustainability, seats are upholstered in man-made ARTICO leather.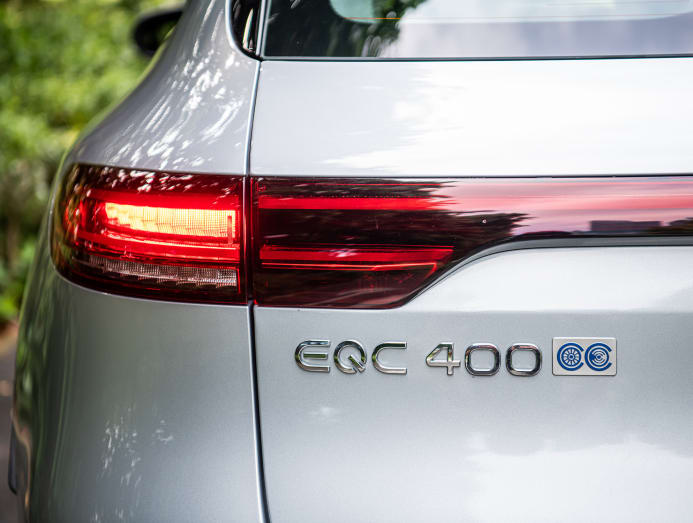 There's also a 13-speaker Burmester surround sound system delivering first-class surround sound and 64-colour ambient lighting to help set the mood. And the ventilation outlets with rose gold-coloured louvres are a nice touch.
 
You can also be assured of the latest-generation safety and driving assistance systems plus a 360-degree camera onboard, including active brake and blind spot assists, with many more assistance programmes available as optional.
Ultimately, the question is, is the new Mercedes EQC worth rocking down to electric avenue?
Well, with the range on this baby, it's a resounding yes for me.
MERCEDES EQC 400 4MATIC TECHNICAL SPECIFICATIONS
DRIVE SYSTEM: two asynchronous motors, all-wheel drive
POWER: 408hp
TORQUE: 760Nm
RANGE: 423km
ACCELERATION (0-100KM/H): 5.1 seconds
TOP SPEED: 180km/h
BATTERY: Lithium-ion
POWER CONSUMPTION: 21.5kWh/100km
PRICE: from S$303,888