Why are fashion brands still staging physical shows, despite the risk of COVID-19?
It was supposed to be Milan Digital Fashion Week, but designers like Dolce & Gabbana and Etro couldn't wait to get back on the catwalk. There was something disconcerting about seeing this attempt to keep calm and catwalk on.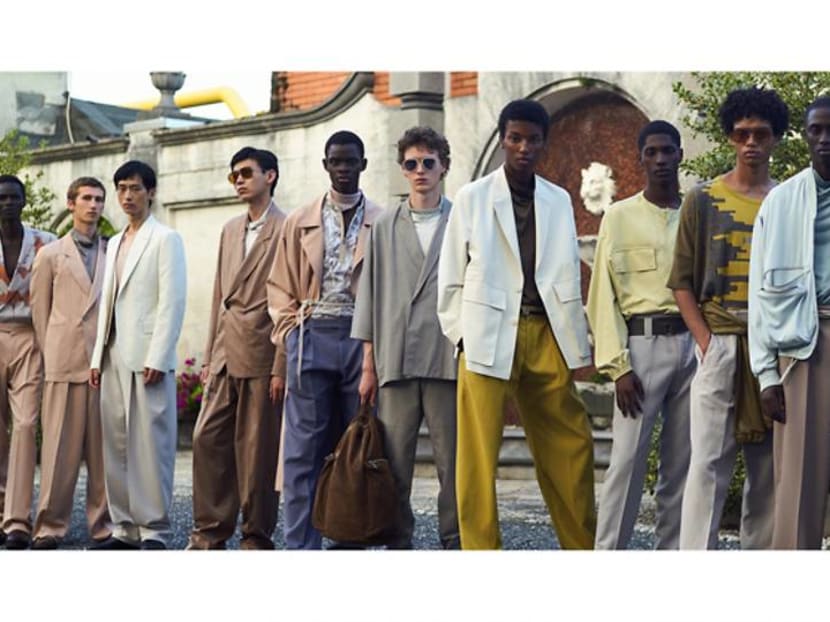 Milan's first allegedly "digital" fashion week ended last Friday. I say allegedly, because despite hurrah-ing the online future of the catwalk, Etro and Dolce & Gabbana both hosted physical shows, attended by a smattering of press, influencers and local celebrities.
Then, for some of those same attendees, it was a drive of several hours to a region north-west of Paris to watch a bucolic out-of-season show by the young French designer Simon Porte Jacquemus, staged in a field of wheat – a loaded symbol of prosperity and renewal.
With fashion heading back to not-so-basic shows of several hundred people watching several dozen models, it all felt like business as usual.
Except, of course, it isn't. Economies are tanking, luxury takings are down and fashion brands are closing stores and cutting staff, and as of Friday face coverings while shopping in the UK will be mandatory. Which is why there was something not only incongruous but downright disconcerting about seeing designers attempting to keep calm and catwalk on.
While the fashion business should continue – as a US$2.5 trillion (S$3.46 trillion) global industry employing some 890,000 people in the UK alone, it must – it feels wrong for shows to carry on as if nothing were happening. Many hastened to add that social distancing was in place for the audience, but looking at the waving ears of wheat backdropping Jacquemus's wandering figures, I kept thinking of the cramped spaces traditionally allotted to models, hair and make-up artists and dressers labouring to assemble looks. Not to mention the cars ferrying those people, and the audience, back and forth.
The show Etro staged in Milan was even more disconcerting: It was in the interior courtyard of the Four Seasons Hotel, a space I know and one that, though lovely (and open-air), is undeniably contained. It felt, if not unsafe, then unnecessary.
Domenico Dolce and Stefano Gabbana took inspiration for their menswear show from the Parco dei Principi hotel in Sorrento, designed in 1960 by Gio Ponti, and there was a kind of mid-century, mid-tempo, "Jackie Kennedy having an affair with an Italian poorboy" vibe to their mostly Mediterranean blue, predominantly printed and highly saleable offerings.
As opposed to Etro or Jacquemus, this show, at least, had a stated point other than hawking clobber: Since February, Dolce and Gabbana have been financing a study at Milan's Humanitas University on COVID-19. This time, they stated they would donate a part of the income from e-commerce sales of a handbag, and double donations made via a crowdfunding platform. The workers on the show also donated their time for free, and the university was the venue.
That, at least, has an element of altruism. But, given the prospect of second spikes and the continuing need for citizens to maintain distance and sport masks, clustering people together – even outdoors – to watch a bunch of unmasked models swaggering about feels foolhardy. It simply doesn't feel like the moment for these images.
But besides all that, it feels reductive for designers to immediately stumble back into the same old means of showing fashion – especially when none of us knows what the future will bring. And, indeed, when we do know that we can't all socially distance outside at shows in Europe in January without succumbing to frostbite. Shouldn't that give an impetus to designer brands to investigate and invest in new and sustainable means of communicating their message?
Miuccia Prada did just that. She surrendered her clothes – comprising her final collections before those created in partnership with Raf Simons, which will be unveiled, in some way, in Milan in September – to other creatives. A quintet of artists and photographers – Willy Vanderperre, Juergen Teller, Joana Piotrowska, Martine Syms and Terence Nance – created individual films, entirely divorced from one another in style.
It actually reminded me of those good old-fashioned fashion shows, where afterwards you talk to the person who was seated alongside and marvel at their entirely different point of view. Although here, with each artist showcasing different cinematography, music, models and ultimately intention – it was like five fashion shows in one.
The clothes, however, remained constant, and were great – a reminder of 1990s Prada: Skinny silhouettes in tech fabrics, unadorned and streamlined, minimally coloured, "an antidote to useless complication", Prada said – not complication as a whole, just the pointless stuff. It felt as if she was really drilling down into the essence of what Prada means, both for her and for the history books.
And she's about to rip it apart with an outside pair of eyes. So, regardless of pandemics, lockdowns and alternative ways of showing, this was a fascinating moment to examine Prada.
The collection was also commercially savvy. It was a bunch of great tailoring, slick black coats, party dresses that managed to avoid being brainless or off-brand, and a single, simple handbag. The message was direct and pure, which – in times of "useless complication" – is exactly what you want.
There was also something simple and pure to what Alessandro Sartori did at Ermenegildo Zegna: It was the best collection he has shown for the brand, integrating his interest in twisting and evolving tailoring with the often diametrical opposite aim of dressing real men. There was something modern to his ideas of soft, gently coloured tailoring, mostly worn over collarless shirts or silky T-shirts, more often than not with trousers and jacket mismatched.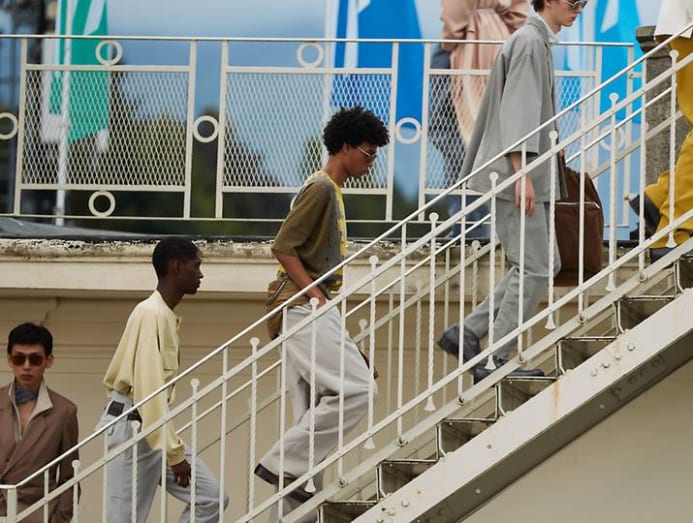 Sartori's accompanying film for Zegna was great: It showed men (they were models, but didn't look like it) striding through the Italian countryside, kicking up dust, on their way to Zegna's manufacturing base in Trivero, Piedmont. It had an appealing directness – making you want to buy the clothes and go running up that Piedmontese hill. The Italian tourism office should be paying Sartori a royalty.
He dubbed the show "phygital", a fairly obvious portmanteau word, because part of the footage was pre-filmed and some recorded live. In a preview, I asked Sartori if an audience would be present for the live portion, and he blanched. There were 30 models and a whittled-down crew of 40 – the maximum the space would permit. He had worked within those limits to create something special for the moment.
Alessandro Michele's Gucci presentation had a similar feel. His clothes were shot as a lookbook, worn by his design team – and if people sometimes sneer at the designers proposing strange and archaic costumes as fashion when they themselves sport black sweaters and trainers, the Gucci crew were the perfect riposte. Of course, they were dolled up for a means to an end, but it did feel natural.
Michele showed his collection not in a 15-minute video but over a 12-hour livestream on Friday, during which the advertising campaign was shot. About halfway through, the photographs of the collection – of checked and geometric printed coats, of florid 70s-style floral dresses and shirts, and plenty of Gucci-logo canvas on hats, bags and shoes – flashed up on screen in retro-seeming Windows 95-ish frames "like a Peeping Tom", said Michele.
It sounds like one of Miuccia Prada's useless complications but it actually felt easy, engaging and relevant. I wound up watching the livestream of people flitting around the garden of a grand Roman palazzo for an hour or so – and in these strange times, being able to hold someone's attention for any period feels like a major achievement.
By Alexander Fury © 2020 The Financial Times