Where is menswear headed? Comfort takes centre stage at Prada, Zegna and others
With the pandemic still raging, and a huge proportion of the global workforce still working from home, men's fashion is increasingly blurring the lines between formal and casual, a move that's certainly apt for the times.
It's been a year since the last COVID-free fashion show took place in Milan. With lockdown restrictions still gripping Italy, and the pandemic across Europe showing no signs of letting down, it will be a while before Milan Fashion Week returns to normalcy. 
Regardless, the Fall/Winter 2021/2022 menswear show must go on, albeit without the usual fanfare of buyers, influencers, celebrities and media in the audience.
This year, the presentations were rolled out from Jan 13 to Jan 19. While some brands opted for pre-recorded digital presentations, others went ahead with staging physical shows. Some decided to hold a hybrid between the two, also known as a "phygital" format. Dolce and Gabbana, however, pulled out of fashion week completely.
As the pandemic continues to change shopping habits, menswear is now retreating back to the casual wardrobe. Tailoring has taken a softer approach, blurring the boundaries between formal and leisurewear.
Menswear powerhouse Ermenegildo Zegna opted for a phygital presentation titled The Re(Set). The clothes focused on generous, loose silhouettes, crafted from comfortable jersey fabrics, suede and cashmere. Shawl collars, belted coats, track pants and hand-cut jersey slippers reshaped the idea of formality.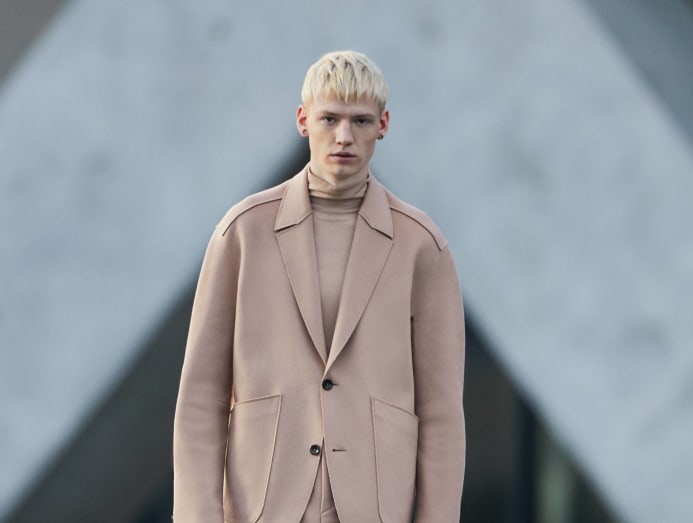 "Outdoor and indoor come together and a new way of dressing takes hold, where comfort and style blend to create a new aesthetic," said artistic director Alessandro Sartori in a press statement.
Raf Simons' much-anticipated Prada menswear debut echoed similar sentiments. The collection was dominated by a single garment – cosy long johns. This warming undergarment was worn under every outfit in the collection. They came in different patterns and textures, from art deco to jacquard motifs.

Outerwear such as pin-striped blazers, lapel-less peacoats, re-nylon parkas and oversized bombers were layered over the long johns.
The clothes played around with colour juxtaposition, but other than that, there was nothing about the collection that was over-the-top in any way. "We don't feel it's right, now, to be too exuberant," Simons said.
Meanwhile, Silvia Venturini's Fendi collection mixed wearable minimalism with pops of colour. The bright colours injected a sense of optimism into a Fall/Winter collection, which typically favours a darker, sombre palette. Many of the garments were reversible, indicating that functionality is key. 
While certainly wearable, we found the garments bordering on the unimaginative. It was the accessories line, where crossbody bags, satchels and totes were offered in luxurious colours and materials, that piqued our attention.

Since most of us are spending more time at home, leisurewear has become our go-to style. It's heartening to see then, that designers are taking cues from this. 
After all, fashion should make sense for our daily lives.