5 standout car debuts at Monterey Car Week 2023
Here are five stunning cars that caught our eye at the Monterey Car Week 2023.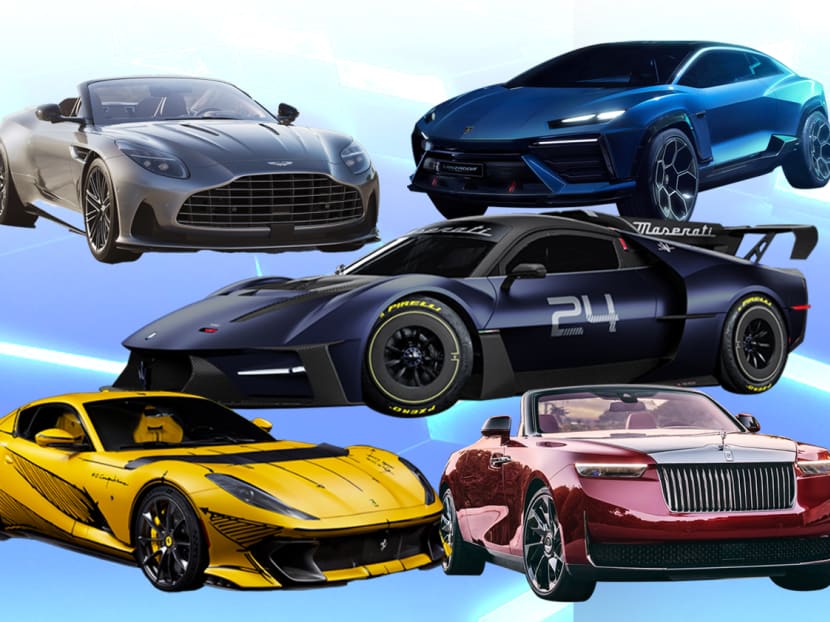 A US$30 million Rolls-Royce. The first all-electric Lamborghini. A graffiti-covered Ferrari. A Maserati you can't legally drive on the roads. And a gorgeous Aston Martin drop-top we'd love to get behind the wheel of. These are just some of the cars that caught our attention at Monterey Car Week 2023, a world-class gathering of car enthusiasts and one of the most influential events on the automotive calendar held in California each year.
LAMBORGHINI LANZADOR
What is it about high-performance electric cars that require them to look so space age-y? Yes, we know electric cars are the future, and the future is here. So let's borrow some inspo from the outer limits?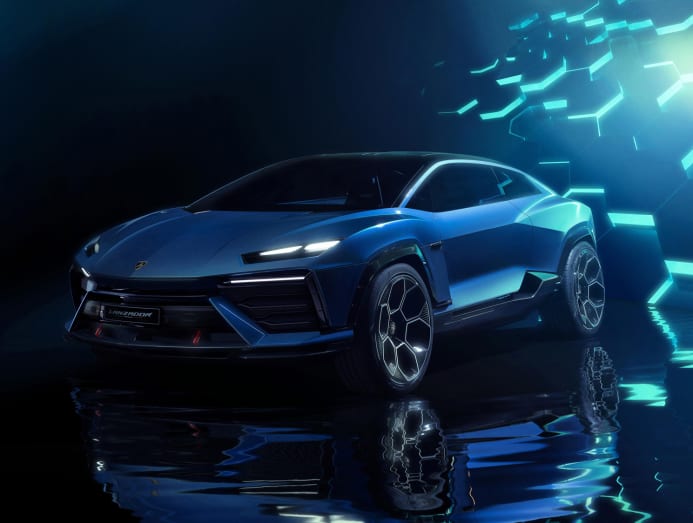 Well, Lamborghini just dropped its highly-anticipated, first all-electric concept car at Monterey Car Week and it appears to be a cross between what you'd imagine a Lamborghini spacecraft would look like, and Tesla's Cybertruck.
The celestial skies were, indeed, the starting point for the Lanzador's design process, said Mitja Borkert, Lamborghini's head of design.
Officially, the Lanzador – Lamborghini's fourth series model that will go into production in 2028 – slides nicely between the Raging Bull's new flagship V12 plug-in hybrid Revuelto, and its popular SUV the Urus, combining the ultra-high-performance elements of the former with the versatility of the latter.
It's possibly the high ground-clearance (sitting on 23-inch wheels) and muscularity of the 2+2-seater that remind us of the Cybertruck but the Lanzador's profile is still unmistakably Lamborghini.
Conceived with a "fun-to-drive" personality, the Lanzador arrives in a surprising new body style and entirely new proportions paired with an unprecedented on-board experience in terms of interior space and new infotainment features.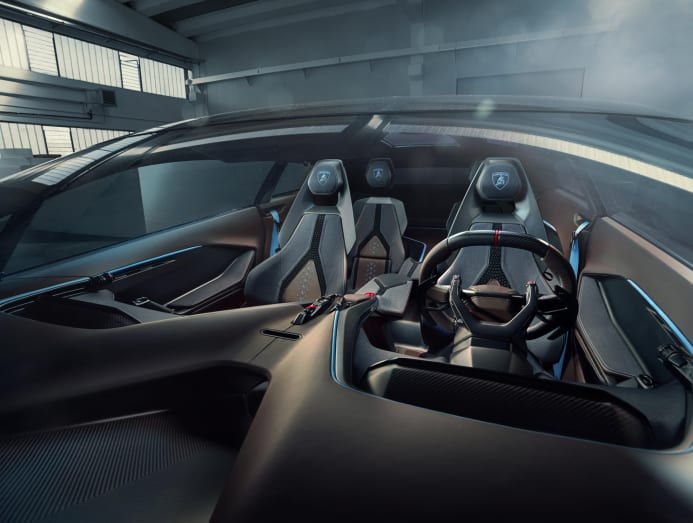 "With Lanzador, we are looking into our future without forgetting our DNA. This fourth model concept opens a new car segment, the Ultra GT, and leverages our philosophy of super sportiness combined with brave new technologies and fearless design," said Lamborghini CEO Stephan Winkelmann.
Will the Lanzador remain true to the heart and soul of the brand? We'll have to wait five years to find out.
ROLLS-ROYCE LA ROSE NOIRE DROPTAIL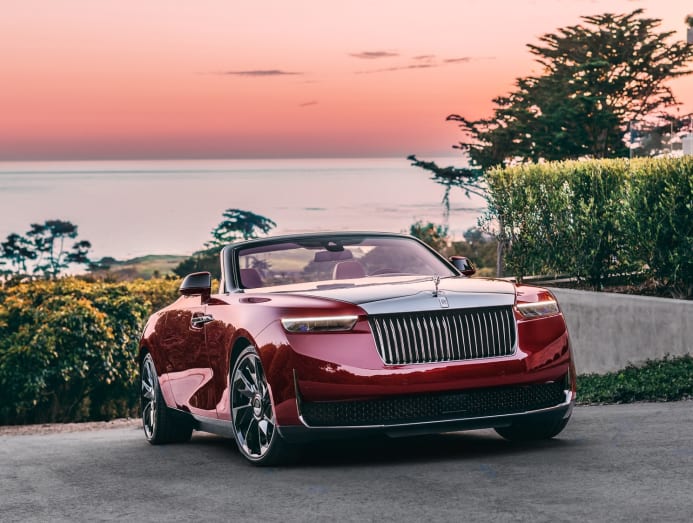 A stirring work of art. A daring coachbuilt masterpiece. A love story.
Representing the first of four unique Rolls-Royce Droptail commissions, the Rolls-Royce La Rose Noire Droptail is a magnificent open-top roadster inspired by the allure and mysterious nature of the Black Baccara rose.
"Rolls-Royce La Rose Noire Droptail is glamour distilled," said Alex Innes, head of Coachbuild Design, Rolls-Royce. "The Black Baccara rose was a significant point of affection for the client and a source of fascination for the design team. Its rich and complex character informed our creative exploration, influencing the palette, composition, and intricate detailing of the motor car. It led us to blend radically modern design concepts with age-old exquisite craft techniques, while using materials that subtly reinforce the clients' deep connection to France."
The dark pomegranate colour of the Black Baccara rose petals appears almost black in shade, but in direct light, a red, pearlescent shimmer is revealed on the dark surface. These two colours form the primary palette of La Rose Noire Droptail: The lustrous red shade named True Love in recognition of the romance the client wished to capture in this commission, and the darker tone, Mystery, appears to change colour when viewed from different angles.
To achieve this rich variation, surface finish specialists developed a completely new paint process, which was perfected over 150 careful iterations. A base coat, the colour of which is a closely guarded secret, was followed by five layers of clear lacquer, each blended with a slightly different tone of red.
Rolls-Royce's latest opus also proffers the most complex expression of parquetry in Rolls-Royce history. A product of intensive hand craftsmanship over a two-year period, 1,603 delicate cuts of black and red wood veneer triangles form an abstract expression of falling rose petals in the interior. Made from Black Sycamore wood sourced in France as a subtle tribute to the French provenance of La Rose Noire, each triangle is cut, sanded and precisely positioned by hand. 
Another masterstroke is to be found on the dashboard, where an Audemars Piguet Royal Oak is embedded in the fascia: The 43mm Royal Oak Concept Split-Seconds Chronograph GMT Large Date powered by a unique self-winding Calibre 4407 movement featuring a flyback chronograph and a split-seconds mechanism.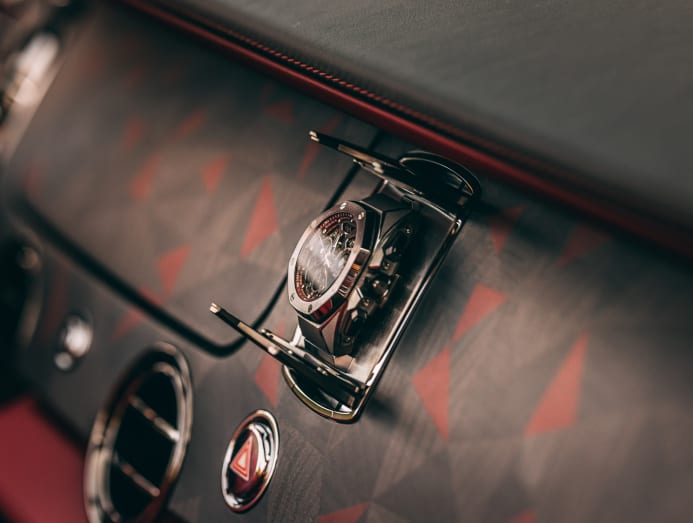 The unique piece specially commissioned by the client is masterfully matched to the car's colourway, incorporating red counters and a red inner bezel, which provide a striking contrast to the black openworked dial. Beyond this magnificent display, the timepiece can be removed, attached to a strap and worn by its owner.
"Rolls-Royce La Rose Noire Droptail is a love story, thoughtfully captured and stunningly projected onto the canvas of a Rolls-Royce motor car. It is an expression of the deep and passionate partnership between a husband and wife who are the heads of a prominent international family – to be part of their remarkable story is a privilege," said Rolls-Royce CEO Torsten Muller-Otvos.
FERRARI 812 COMPETIZIONE TAILOR MADE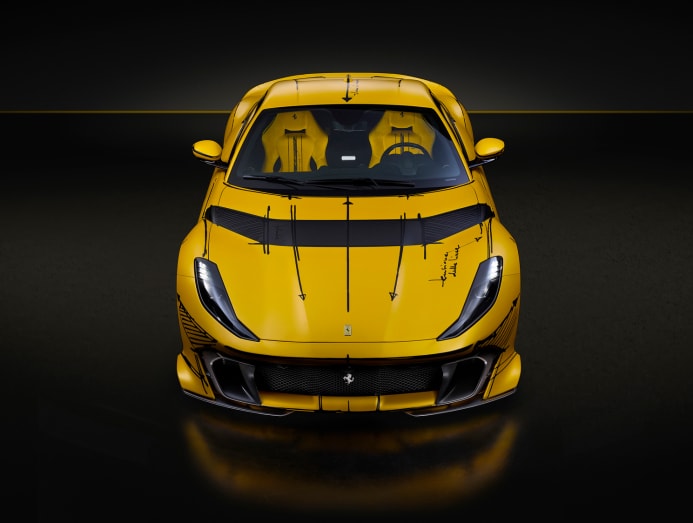 The Prancing Horse made a big splash at Monterey Car Week, with a S$30 million Ferrari leading a parade of trophy cars in its annual Ferrari Procession through Pebble Beach. 
The cavalcade ended at Casa Ferrari, the Italian marque's dedicated Ferrari lawn that saw the debut of the SF90 XX Stradale and Spider Special Series. But it was the one-of-a-kind Ferrari 812 Competizione that stole the show. 
Ferrari's Tailor Made concept is applied to only one of 999 Ferrari 812 Competiziones, already a limited and extremely exclusive series intended for collectors and V12 enthusiasts to personalise every aspect of their Ferrari. 
Taking inspiration from Ferrari Chief Design Officer Flavio Manzoni's sketches, the car appears to be covered in graffiti – very tastefully, meticulously and precisely airbrushed and finished manually on a matte Giallo Tristrato (bright yellow to us lay folk) base.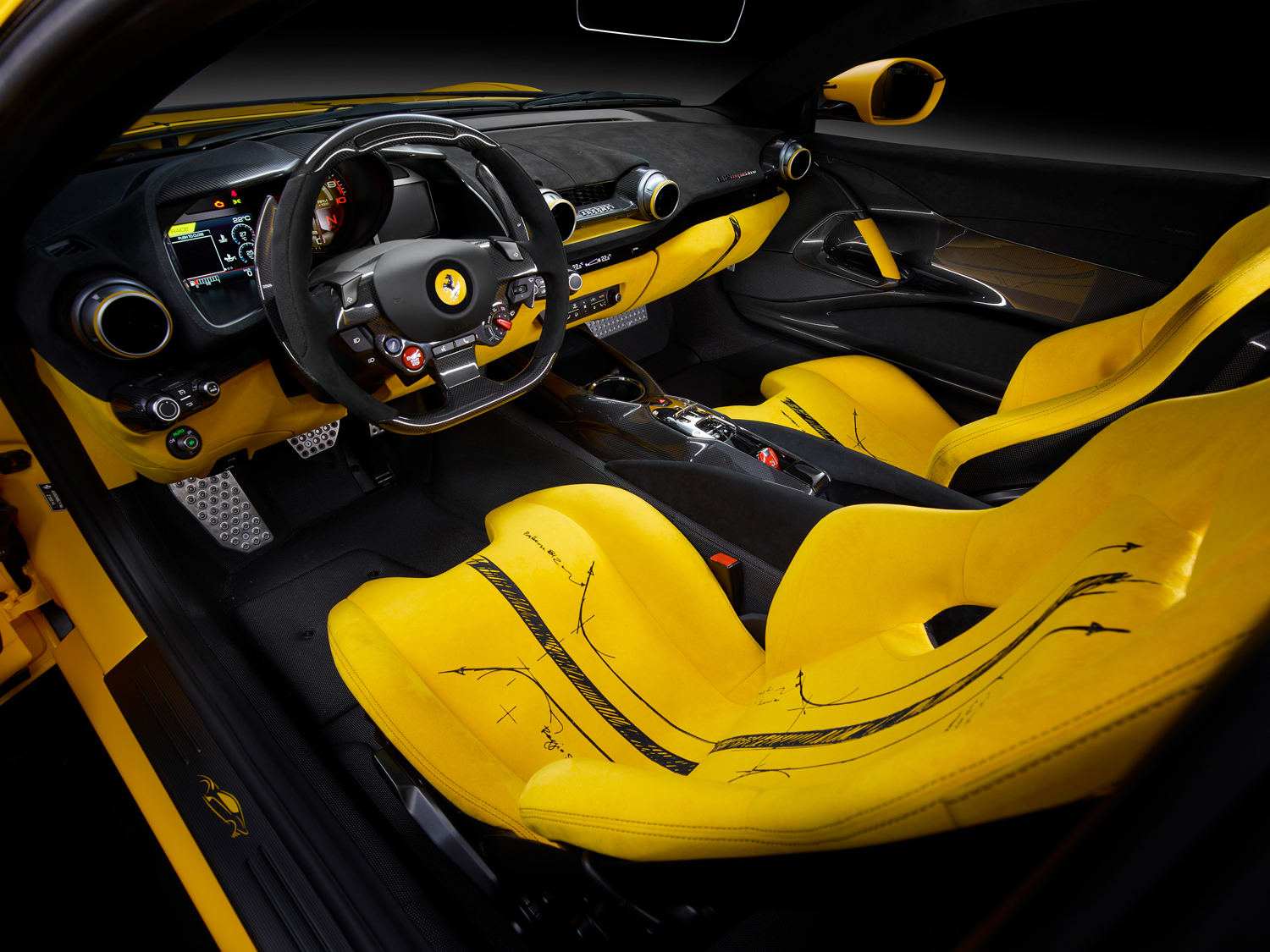 It took months to map out the lines, said Manzoni, and the edgy street art vibe continues on the interior with the design sketches embroidered directly onto the Alcantara upholstery composed of 65 per cent recycled polyester and first seen on the Ferrari Purosangue.
This 812 Competizione Tailor Made will be auctioned at the Ferrari Gala to be held in New York City on Oct 17, with proceeds to be donated to charity. 
ASTON MARTIN DB12 VOLANTE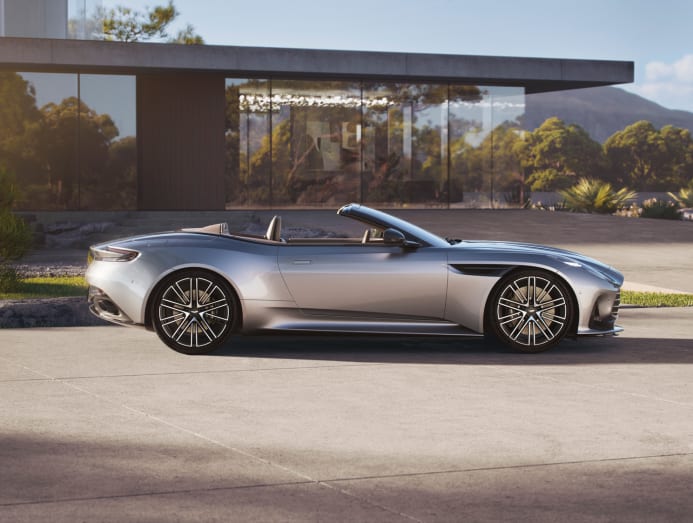 How does Aston Martin best itself when it has already created the world's first super tourer, a sensational 4.0-litre V8 in the DB12 Coupe that debuted several months ago?
And how do you further impress a journalist who's already had the great pleasure of test-driving the two-door sports car on the historic Route Napoleon in the South of France?
By introducing an open-top version, of course.
The DB12 Volante promises to deliver the same intense performance and pinpoint handling with 680PS (670hp) and 800Nm torque on tap, just as with the DB12 Coupe. It also rockets up from standstill to 100km/h in just 3.6 seconds.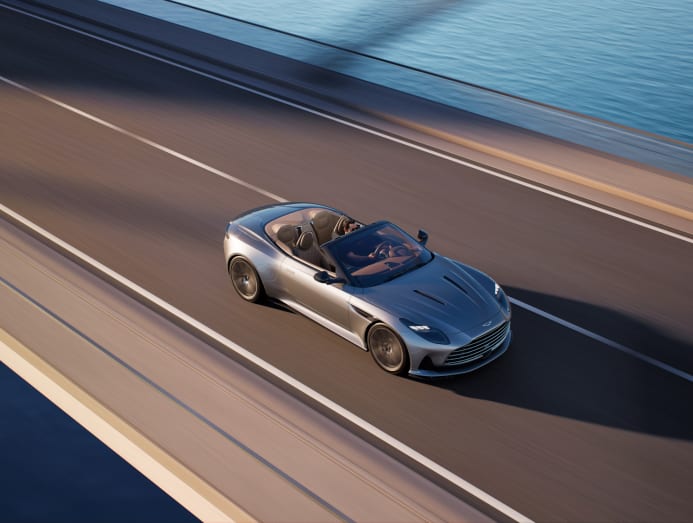 But now, you also get the intoxicating pleasure of roof-down driving to better hear the fabulous soundtrack of the exceptional hand-built twin-turbo engine. 
The electrically-operated 'K-fold' fabric roof canopy is made from eight layers of insulation acoustically enhanced for improved interior cabin comfort. When raised, the beautifully sculpted roof line maintains the DB12's immaculate profile. When lowered, the K-fold mechanism sits low beneath a hard tonneau cover to create a beautifully elegant tail.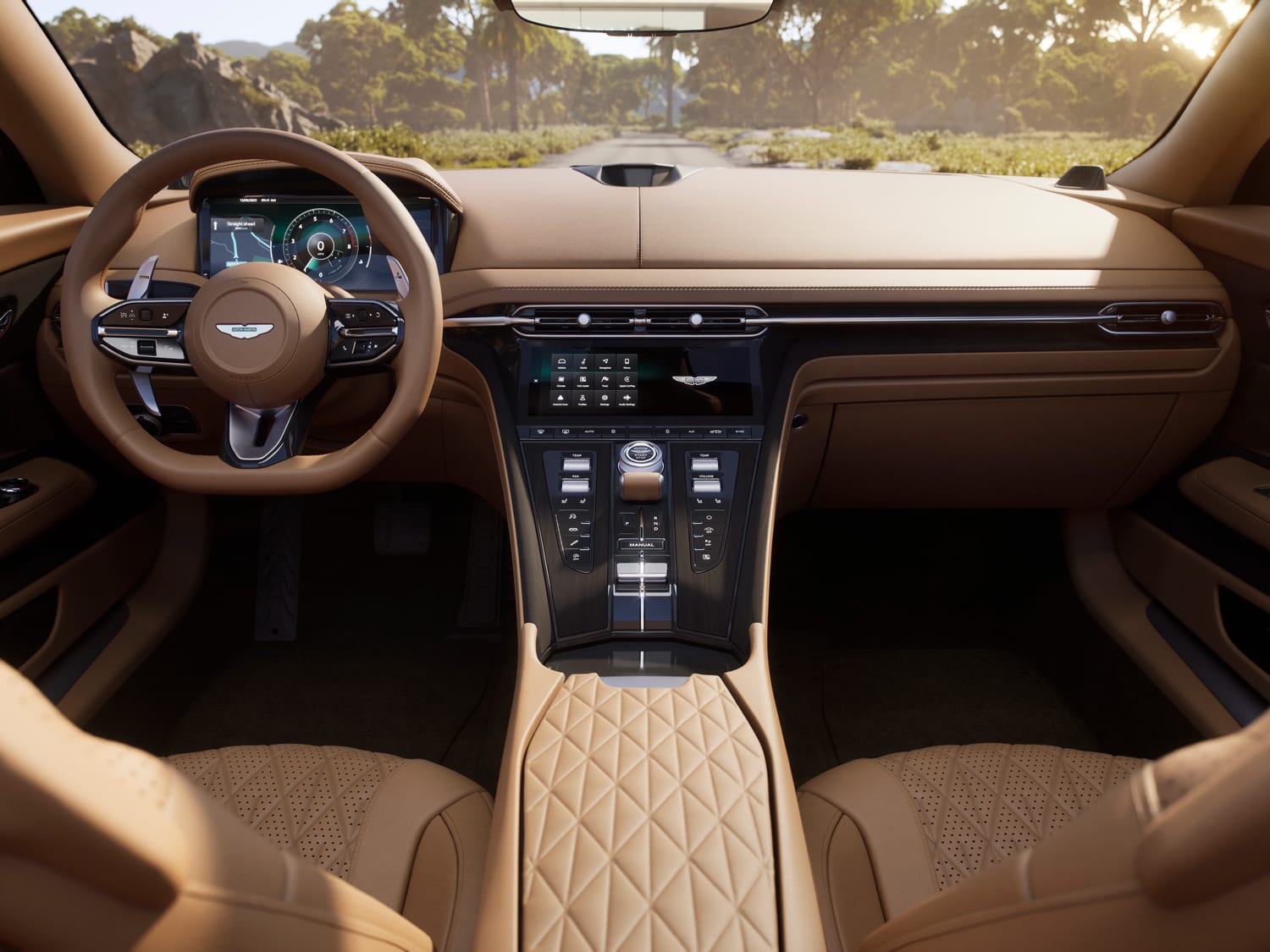 The roof opens in 14 seconds and closes in 16 seconds, deployable while travelling under 50km/h. And, for added convenience and a touch of theatre, can be operated via remote keys within a two-metre radius of the car. Clients have a choice of four different exterior hood colours with black as standard accompanied by red, blue and black-and-silver as options to better complement – or contrast – the breathtaking body and elegant interior of their DB12 Volante. Deliveries are scheduled to begin in Q4 2023.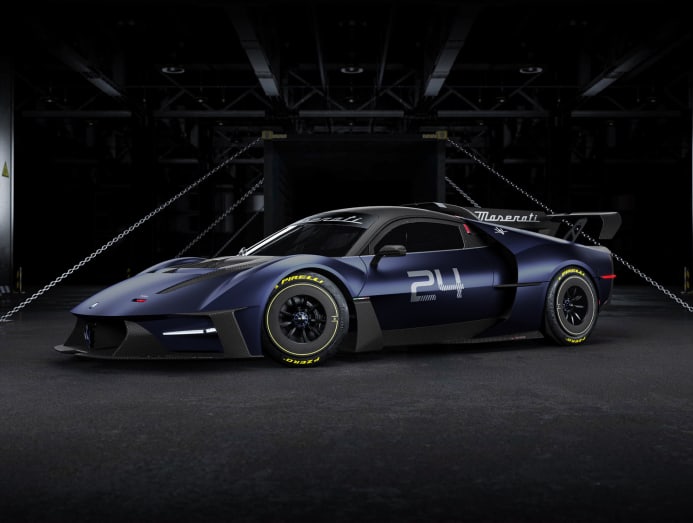 Maserati's audacious march back towards its racing roots continues with the world premiere of the MCXtrema conceived as the Italian carmaker's most powerful car designed for the track. The track-only homologated racing car, which was secretly known as "Project24" until this unveiling, is not a street-legal car – and was never intended to be.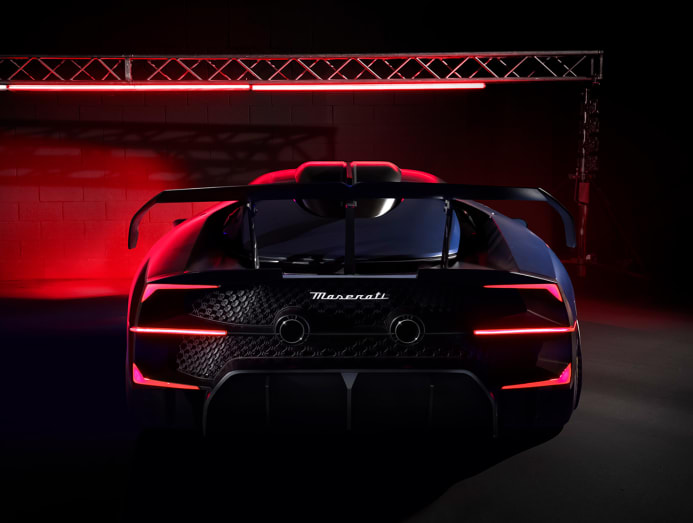 Like its name suggests, the MCXtrema is for purists looking for an extreme driving experience in a single-seater cockpit.
Its V6 3.0-litre twin-turbo Maserati Nettuno engine unleashes a whopping 730 hp of power (about 110 hp more than the Maserati MC20) and 730 Nm of torque, making the MCXtrema a boundary-pushing powerhouse that sets the pace of Maserati's desire to return to racing supremacy – and inspire the carmaker's future production of racing cars. And its super limited production run of just 62 units worldwide suggests this is for brand loyalists looking to add a new big boy toy to their garage. All have already been spoken for.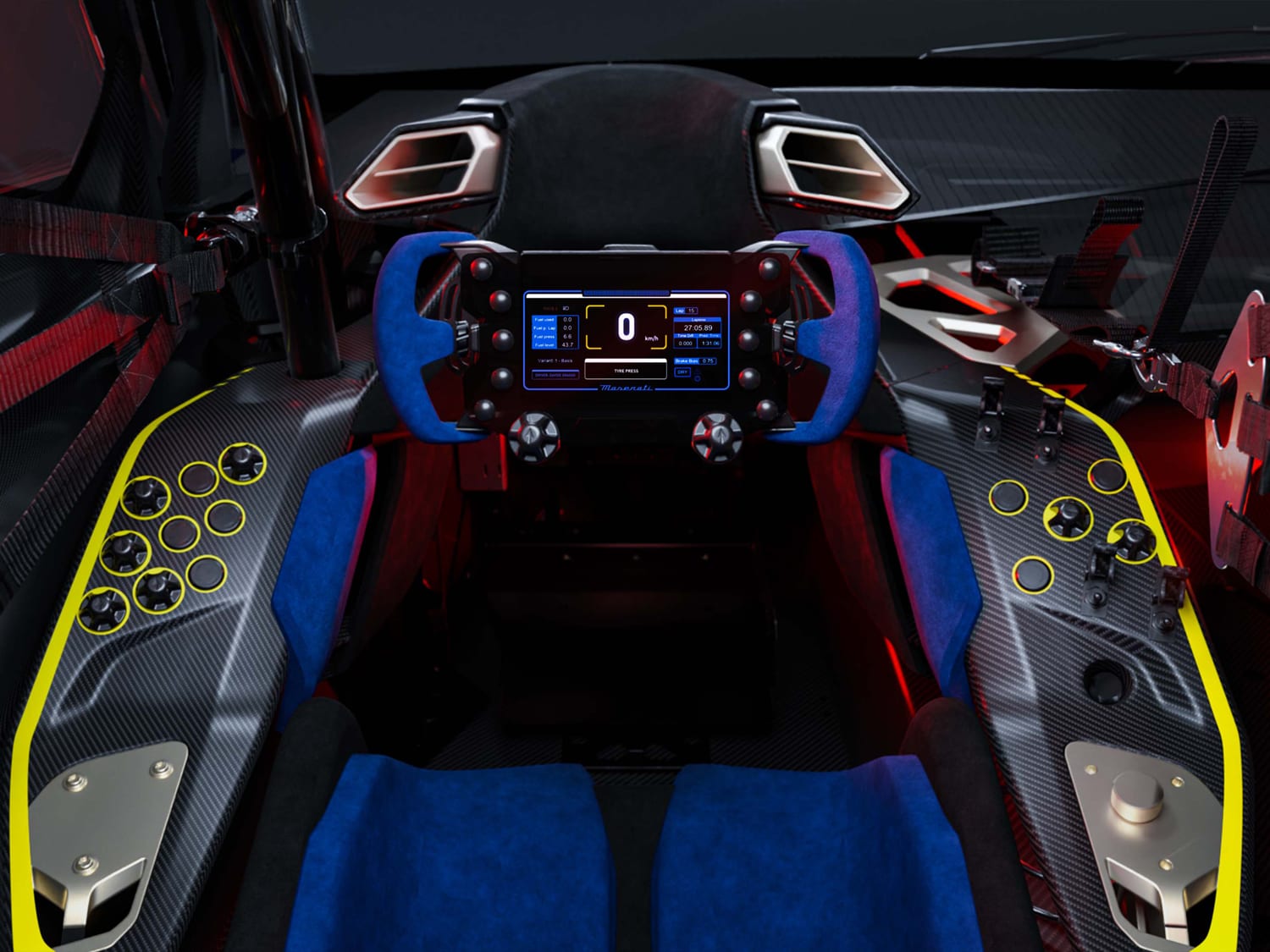 "Maserati MCXtrema was created with the aim of setting a new paradigm for our track cars. It embodies the sporting spirit typical of Maserati's DNA, a declaration of a new pathway for our brand," said Maserati CEO Davide Grasso.