Now in Singapore: A vintage-looking car with a powerful, modern engine
Looking right at home on the set of Downton Abbey, British carmaker Morgan marries a vintage aesthetic with a turbocharged BMW powertrain. We test-drive the Morgan Plus Four to see how well it handles on Singapore's roads.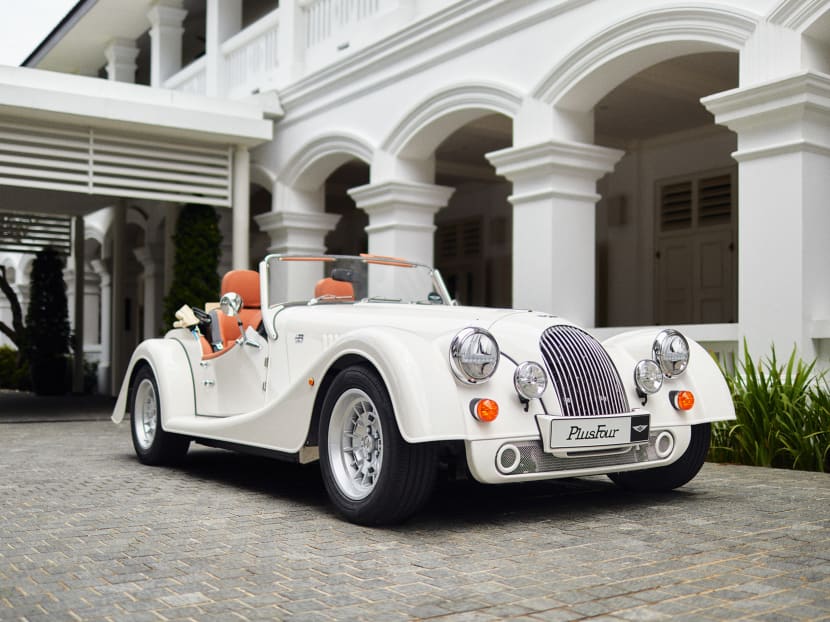 What else do you get when you already have a Porsche, a Lamborghini and a Rolls-Royce in your driveway?
A mighty fine Morgan, it seems.
There's nothing quite like it and a Morgan is guaranteed to turn heads faster than a Ferrari with its unique character and vintage styling sending shivers of sheer novelty to anyone lucky enough to spot one on Singapore roads.
In an era of mass production where the inevitability of electrification heralds the threat of homogeny, a hand-built Morgan stands as a symbol of individuality.
"With electric vehicles (EVs), there's no sound, no soul. And there's a group of people who aren't as yet convinced by EVs and they're looking for the last great combustion engines before EVs take over everything," said Douglas Ng, director of NB Auto, which brought the British motoring icon to Singapore as its official distributor earlier this year.
A beautifully handcrafted Morgan, therefore, is almost an act of rebellion against relentless modernity; a salve for those weary of the contemporary.
"A Morgan is not just a statement but a piece of moving art," Ng affirmed.
Quintessentially British, they radiate much character and charm but under its hood, however, sits a turbocharged BMW powertrain, propelling Morgan firmly into the 21st century and rendering the classic-looking automobile a veritable sports car by far.
It's an alluring juxtaposition that makes for an endearing proposition, with the partnership between the German automaker and the family-owned Morgan Motor Company enduring some two decades of the British marque's 111-year history.
As the first official Singapore importer of Morgan motor vehicles in history, NB Auto has sold three units since the brand arrived in February, with three more orders on the books and the company on target to fulfil them by this Christmas season.
"A Morgan is not just a statement but a piece of moving art." – Douglas Ng
Prices range from about S$330,000 to S$450,000 (without COE), and Ng is forecasting "single-digit" sales in the first year of business.
Buyers tend to be businessmen in their 40s to 60s.
"They are car collectors and driving enthusiasts who love the simplicity and timeless design. These buyers have a number of cars in their garage including Porsches, Ferraris and Rolls-Royces so this is something new and refreshing and they love it typically as a weekend car," shared Ng, whose own passion for classic cars began with the 1964 Mercedes-Benz 230SL Pagoda nine years ago.
According to Ng, Morgan's customer profile here is trending younger, as he's starting to see more interest from prospects in their 30s, particularly from those "who have studied in the UK, have seen it there, and are excited to discover that Morgans are now available here," he said.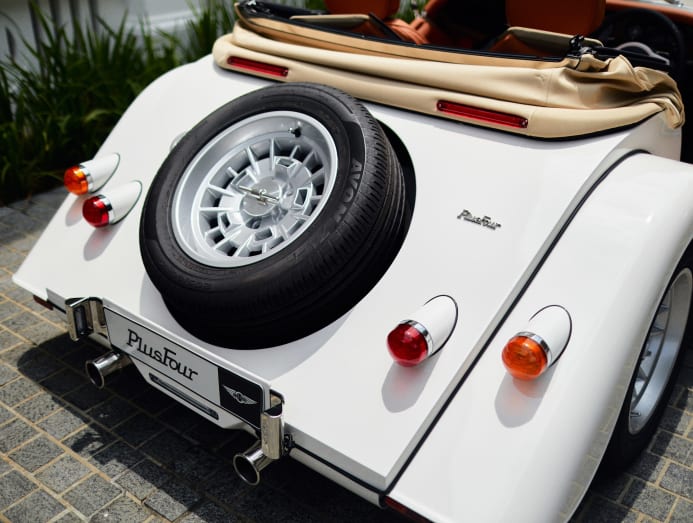 Owning a Morgan also puts you in the league of the ultra elite, as production numbers no more than 800 cars per year, spread across a collection comprised of just three models: The 3 Wheeler, the Plus Four and the Plus Six.
Of those, only about 10 per cent are designated right-hand drives for markets like Singapore's, making these vehicles all the more exclusive.
"Morgans are therefore such a rarity and with demand outstripping supply in the market, their international prices have all gone up," said Ng, noting how their paucity contributes to Morgan cars appreciating in value over time, even in Singapore's COE-based market.
"There's a group of people who aren't as yet convinced by EVs and they're looking for the last great combustion engines before EVs take over everything." – Douglas Ng
THEY DON'T MAKE THEM LIKE THIS ANYMORE
She's a beaut, this Morgan. Stunning in essence like a classic starlet from days of yore and especially regal in white; the shade of the MY22 Morgan Plus Four from model year 2022, which we had the pleasure of being one of the first in Singapore to test-drive for a day several weeks ago.
Fluid lines dip and flow with sylphlike elegance as the Morgan Plus Four sits real low.
A large chunk of these lightweight ash wood doors can be removed from the outside using an Allen key, thereby further opening up the two-seater convertible to the elements. It's all so wonderfully manual (if you like that kinda thing) – or a wee bit troublesome if you don't. But it's certainly worth the extra effort as nothing else comes close to bringing you this close to the tarmac while driving, save for sitting in a sidecar, perhaps.
It can be a little unnerving at first – or utterly exciting – but it's nice to relive a slice of yesteryear in this exceedingly charming automobile that looks like it belongs on the set of Downton Abbey.
Thankfully, the manufacturer has made some major adjustments to the physics side of things, so it's far easier to get in and out of the automobile than before.
The entire contraption is also now fashioned on a bonded aluminium CX-Generation platform, which the carmaker says is exponentially more rigid than the outgoing steel ladder chassis.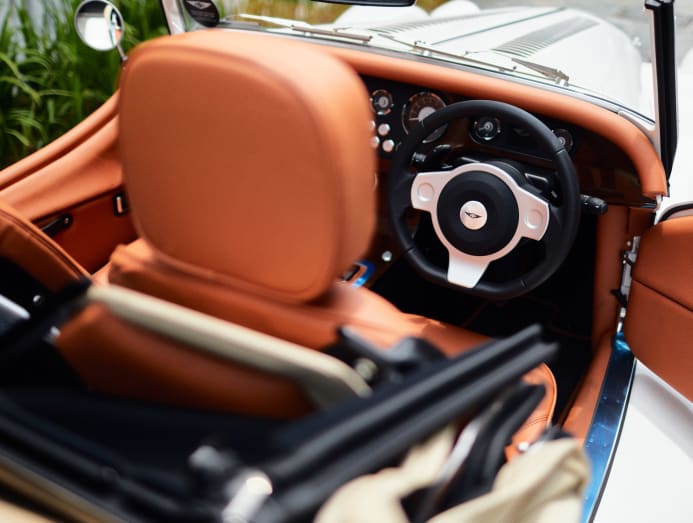 All this sits grandly on a set of old-fashioned wheels, with designs referenced from sports cars of the 1960s and 1970s, while even more retro 15" wire wheels are also available.
Inside, it's all very analogue as one might expect. A classic dashboard meets windows that slide shut but can't be locked, making security a bit of an issue so as a workaround, the carmaker has now included a lockable storage compartment to secure your valuable items when the car is left unattended.
One item features firmly at the top of my wishlist: A skinnier steering wheel. The current one is a bit too fat for my liking and I wish the manufacturer had gone the whole hog and ratcheted up the retro vibes with a reed thin steering wheel like in real vintage models instead.
Correspondingly incongruent is the signature BMW-style gear selector paired with an old-school handbrake that creaks with just the right acoustics.
That said, I was rather chuffed to discover a USB charging port and there is, apparently, Bluetooth connectivity that allows you to connect and play your Spotify playlist, which we did not manage to try during our roofless ride.  
It's in the interior, however, where you really notice the handcraftedness of it all.
While the hand-beaten aluminium panels encasing the exterior frame is impeccable and the hand-trimmed leather interior just lovely, you do get a sense that the overall finishing can be improved upon. But you're quick to forgive these niggles because you know it's part of Morgan's hand-assembled charm.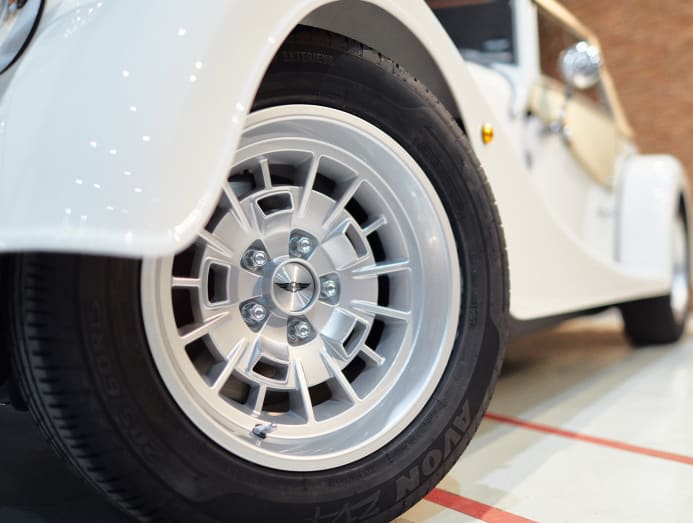 Because what these modern-day Morgans are really about, is the drive experience, not the frills. There are no cup holders, no boot space, and no sensors and safety assists for goodness sake.
A Morgan takes you back to basics so it's just you and the road with the wind in your hair.
It's about that four-cylinder BMW turbocharged engine pumping 255hp of power and 400Nm that, when coupled with a weight of just 1,009 kg, makes 90km/h feel like 120km/h, and that's half the fun, really.
It does, however, take the mind a minute to compute the power propelling this otherwise vintage-looking vehicle from standstill to 100km/h in just 4.8 seconds without rocking a little wrong. Well, the British manufacturer does have some motorsports pedigree, after all, as a Morgan once won its class at the punishing 24 Hours of Le Mans.    
In Sport and Sport+ mode, the horses in our Plus Four giddy-up faster, unleashing more power yet the car stays strong and sturdy when negotiating corners and bends, when you might imagine it getting a little rickety instead.
And the engine even crackles and pops, courtesy of the optional Active Sports Exhaust System, which also offers the option of a more subtle acoustic profile in urban environments.
Now if you loved all of this so far, how about a manual version with matching power to ratchet up the excitement a notch?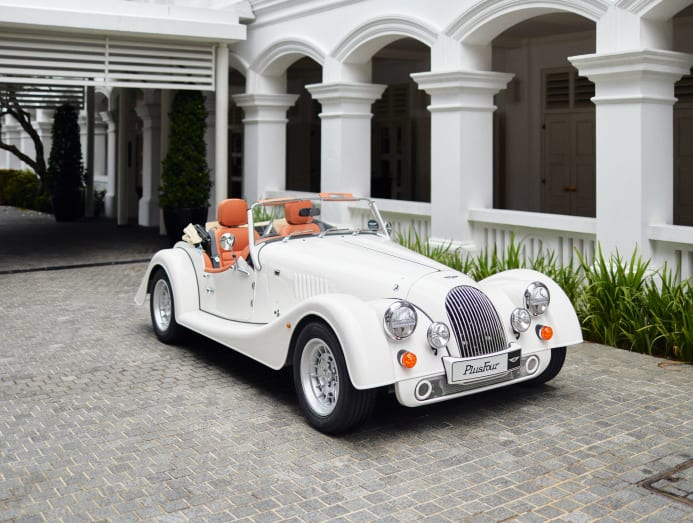 "[Buyers] are car collectors and driving enthusiasts who love the simplicity and timeless design. These buyers have a number of cars in their garage... so this is something new and refreshing and they love it typically as a weekend car." – Douglas Ng
MY22 MORGAN PLUS FOUR TECHNICAL SPECIFICATIONS
ENGINE: BMW 2.0-litre TwinPower Turbo, inline-four cylinder
POWER: 255 bhp at 4,400 rpm
TORQUE: 400Nm at 1000 – 4,300 rpm
TRANSMISSION: Eight-speed automatic with paddle shift  
ACCELERATION (0-100KM/H): 4.8 seconds
TOP SPEED: 240km/h
FUEL CONSUMPTION (combined): 7.0 l/100km
PRICE (Automatic model): S$330,888 (excluding COE)