Air purifiers, levitating stress balls: The most creative Kickstarter projects
From the quirky to the ambitious, we round up the most creative Kickstarter campaigns running right now.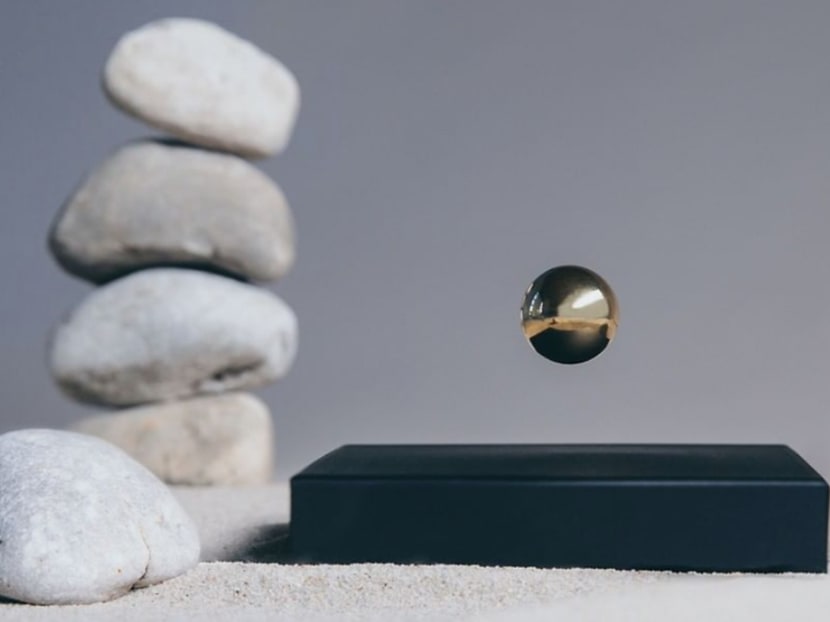 Since its launch in 2009, Kickstarter has been the go-to crowdfunding platform for inventors with innovative ideas to get their projects funded. With worldwide lockdowns keeping inventors indoors, the platform has witnessed an outpouring of creativity. There are some truly unique projects on the platform, including some nifty tech ideas, as well as some unconventional concepts.
Do you need special work-from-home pyjamas that's half business, half lounge-wear? Or maybe a levitating ball that can lower your stress levels? Here are the most interesting projects that caught our attention.
WORK-FROM-HOME JAMMIES
Has working from home given you an outfit dilemma? You'd very much like to stay in your comfortable pyjamas all day but what if you need to take a Zoom call with your clients?
Japanese creative agency and design studio Whatever Inc has created what it calls the "remote workers jammies" that looks formal on video, but is loose and comfortable at the same time. Only the top part of the pyjamas is designed as a formal button-down shirt, the only part of your outfit that will be visible in video frame. The rest of the outfit turns into a sweatshirt, paired with breezy sweat pants. You can even throw on a tie for good measure.
Check out the project here

AN INSIDE-OUT PLANT
Growing a plant is a no-brainer. You place some seeds into a pot of soil, water it regularly and give it adequate warmth and light. In no time, your seedlings grow into full-grown plants. But what if you didn't need any soil? And your plant can grow outside its pot?
Terraplanter seeks to challenge the way we grow our greens. Seeds go onto the Terraplanter's porous exterior, and water goes inside. The seeds will then soak up as much water as they need and roots develop on the pot's interior, allowing the plant to grow on the outside of the Terraplanter pot. Interestingly, no soil is needed.
The Terraplanter is one of the most popular projects on Kickstarter at the moment. It has already raised more than S$3 million, far above its original goal of S$28,510.
Check out the project here
A LEVITATING STRESS BALL
Whenever we're in need of a stress reliever, we usually turn to a squishy stress ball. Somehow, Flyte, a design company from Latvia, thinks that a levitating sphere could do the trick just as well. 
The company has created the Buda Ball, a magnetically levitating sphere that hovers in mid-air. Designed to lower stress levels, the Buda Ball floats and rotates hypnotically in a magnetic field, creating a soothing visual experience.
Check out the project here
HOME ON THE MOON
This one's a truly ambitious project. Two Danish space architects, Sebastian Aristotelis and Karl-Johan Sorenson, are designing a lunar home with the vision that in 2024, humans will live on the moon. This Kickstarter campaign will raise funds for the two architects to build the Lunark Habitat, a simulated moon habitat for research, with the aim that one day it can sustain life on the moon.
Aristotelis and Sorenson will embark on a journey to Northern Greenland, where they will live for three months to build and test the Lunark. While living in solitude, the architects will brace the -30°C cold, hurricane winds as well as polar bears in order to test their invention.
Check out the project here

THE BETTER BUTTER DISH
Often, the best inventions are those you never knew you needed. Ever experienced the lid of your butter dish slipping from your fingers? Have you had nowhere to place your butter knife after using it, except on your countertop?
The Brown Inventors have created the Better Butter Dish, a covered butter tray with two vital improvements: A magnetic knife holder to put your butter knife on, and a handle that will never slip out of your fingers. Sometimes, it's the simplest of inventions that can change our lives.
Check out the project here
ALL-NATURAL AIR PURIFIER
Current air filters are harmful to the environment, as the plastic HEPA filters, which need to be changed often, produce tons of waste. The Briiv air purifier takes getting clean air back to the basics. It uses 100 per cent natural materials to clean the air we breathe, just as nature intended. It claims to be as powerful as 3,043 medium-sized houseplants and the best part is, you don't have to water it.
The Briiv air purifier utilises the natural micro-structures of moss, coconut, carbon and wool to filter the air. It gets rid of harmful fine particles, harmful gases, pollen allergens as well as bacteria and mould spores. It is also 96 per cent plastic free, so most of the product is completely recyclable or biodegradable.
Check out the project here