Wheeling and dealing: The 10 most expensive cars ever sold at auction
Ferrari rules the roost with six cars in the top 10.
Old is gold, they say. And that's no more apt embodiment of that saying than on the classic car auction circuit. Arguably the most famous of them being the ones that happen during the annual Monterey Car Week in California – an extravaganza of all things motoring, from racing to Concours d'Elegance to, you guessed it, auctions.
In recent years, the Monterey Car Week has also been a venue for new car launches, with carmakers choosing to debut new production models or concepts there, away from the traditional motor show circuit. But that's another story for another time.
Back to auctions. RM Sotheby's had a bumper year at Monterey in 2018. Held over two days, the auctions generated recorded grosses for the auction house, pulling in almost US$158 million (S$217 million).
What's even more amazing is just one car was responsible for roughly a third of that total gross. Incidentally, that car now wears the crown of the most expensive car ever sold at auction.
JAGUAR D-TYPE
US$21.8 million (S$30 million)
RM Sotheby's Monterey, Aug 19, 2016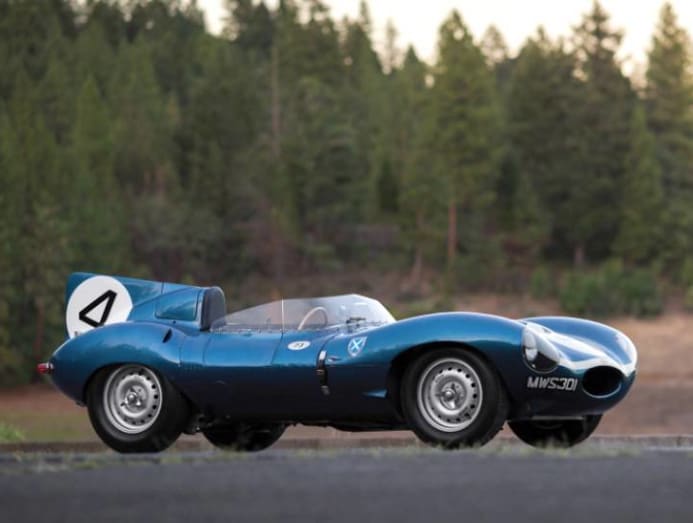 The Jaguar D-Type endurance race car was designed by Malcolm Sayer, whose work with cars was preceded by his work with aircraft during the war years. The aerodynamic bodywork, typified by its flowing lines, small frontal area, underbody optimisation and most obviously a fin behind the driver, was revolutionary at the time. Fitting then, that Ron Flockhart, one of the drivers who piloted the D-Type put up for auction in 2016 to an overall Le Mans victory in 1956 was himself a keen aviator. Adding to the richness of this D-Type's story is how the 1956 race was run in abysmal conditions – only a third of all entrants finished the rain-sodden, mist-caked race, with one driver losing his life.
DUESENBERG SSJ
US$22 million (S$30.3 million)
Gooding & Company Pebble Beach, Aug 25, 2018
To be certain, 400hp isn't a lot of power these days, with the next-generation Mercedes-AMG A45 S hot hatchback rumoured to pack 421hp. But in 1935, when the Duesenberg SSJ made its debut (two years before the carmaker folded), that must have been akin to driving a Saturn V rocket. Key to that performance was its 6.9-litre inline-eight engine, supercharged in SJ models for extra oomph. One of only two built and formerly owned by silver screen pioneer Gary Cooper, that SSJ hammered for US$22 million last year and today holds the record of being the most expensive American car ever auctioned.
ASTON MARTIN DBR1
US$22.6 million (S$31.1 million)
RM Sotheby's Monterey, Aug 19, 2017
The Aston Martin DBR1 is most expensive British-made car ever sold at auction, and it's not difficult to see why. Built from 1956, the DBR1 was a clean-sheet design not based on any road-going car (owing to rule changes from that year) and still holds the distinction of being Aston Martin's only overall victory at the world's premier endurance race, the 24 Hours of Le Mans. Chassis number one (of five) was put up for sale in 2017 – while it may not be the Le Mans-winning car from 1959 and retiring in all three of its attempts at the endurance classic, it is nevertheless hugely important. Racing legends Jack Brabham, Sir Stirling Moss and Carroll Shelby once warmed chassis number one's seat.
MERCEDES-BENZ W196
£19.7 million (S$34.5 million)
Bonhams Goodwood, Jul 12, 2013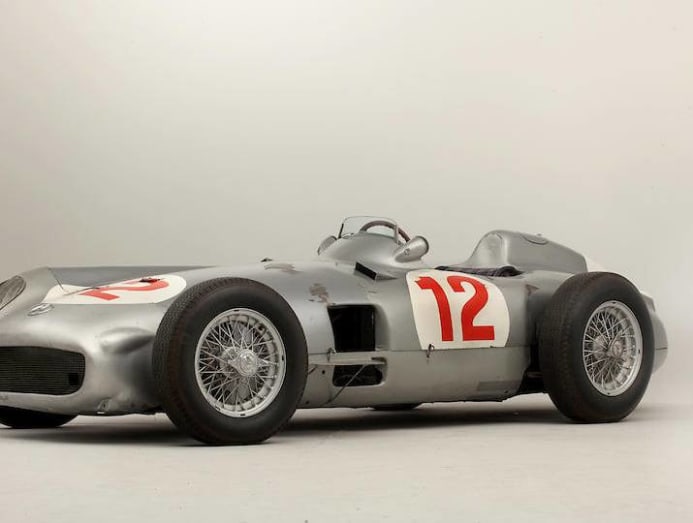 The very same car piloted by post-war racing legends Juan Manuel Fangio and Sir Stirling Moss to two consecutive world championships, and the only one believed to be in private hands (the rest belong to the factory or museums) was put up for sale at the 2013 Goodwood Festival of Speed. And the winning price, as you'd expect, was astronomical and a record at the time. In addition to its exceptional race pedigree, winning nine of the 12 races it entered, the W196 was the last Formula One car entered by the Mercedes-Benz factory before it pulled out of the championships. A factory-backed Mercedes-Benz car would only return to Formula One some six decades later in 2010.
FERRARI 275 GTB/C SPECIALE
US$26.4 million (S$36.3 million)
RM Sotheby's Monterey, Aug 16, 2014
Despite being far, far rarer than the Ferrari 250 GTO, its successor, the 275 GTB/C Speciale, of which just three were made, doesn't quite command the same sort of fervour. The auction sheet for this particular 275, the first of three factory-built cars, calls this an "unrepeatable opportunity to acquire such an important automobile". While auctioneers are prone to bouts of hyperbole, we think it's entirely apt in this case. And possibly the only reason why it doesn't send buyers into a frenzy as a 250 GTO does is perhaps the fact it doesn't wear the hallowed GTO badge.
FERRARI 275 GTS/4 NART SPIDER
US$27.5 million (S$37.8 million)
RM Sotheby's Monterey, Aug 17, 2013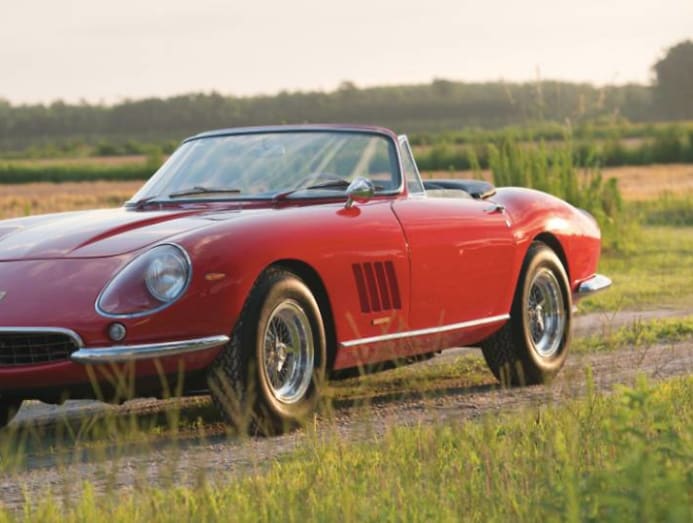 It's often said that the only reason Enzo Ferrari built road cars is to fund his racing endeavours, so it's perhaps not shocking that he appointed one Luigi Chinetti, an Italian emigre and former racer himself (Chinetti would also later go on to found an American racing team), as his North American importer. But perhaps most important is the clout Chinetti had with the factory, resulting in numerous special-edition cars, including this, the 275 GTS/4 Spyder, with an intended run of 25 cars, though just 10 were built. The one that sold in 2013 was a one-owner car from new since 1967, kept in the same family for three generations, and its owner, Eddie Smith Sr., was personally invited to buy it by Chinetti.
FERRARI 290 MM
US$28 million (S$38.5 million)
RM Sotheby's New York, Dec 10, 2015
Built in a time when the racing was hard and the men who raced them even harder, the Ferrari 290 MM was a purpose-built race car designed to compete in the Mille Miglia road race, hence the "MM" appellation. The particular example sold in New York in 2015 didn't exactly have the sort of all-conquering race pedigree that some other cars on this list might have only finishing fourth in the 1956 Mille Miglia, but it certainly didn't have any trouble attracting buyers, selling for US$28 million. Perhaps a clue to that particular car's appeal is how the person who once occupied its driver's seat was the all-conquering Juan Manuel Fangio, a man who won 46 percent of all the races he entered, a record that stands to this day.
FERRARI 335 S SPIDER SCAGLIETTI
€32.1 million (S$49.4 million)
Artcurial Paris, Feb 5, 2016
Is €32.1 million a lot to pay for a car? Sure it is. Is it a lot to pay for a race car that you can never drive on public roads? Most definitely. Is it a lot to pay for one of the four examples ever made, with that particular one sitting in a private French collection for over four decades? Well, that depends on your point of view. Adding to the significance of the car and its mystique is that the 335 S was a key factor in the cancellation of the Mille Miglia road race after 1957. During that year's race, a fatal accident involving the 335 S killed 14 spectators, along with the car's driver and co-driver.
FERRARI 250 GTO
US$38.1 million (S$52.5 million)
Bonham's Quail Lodge, Aug 14, 2014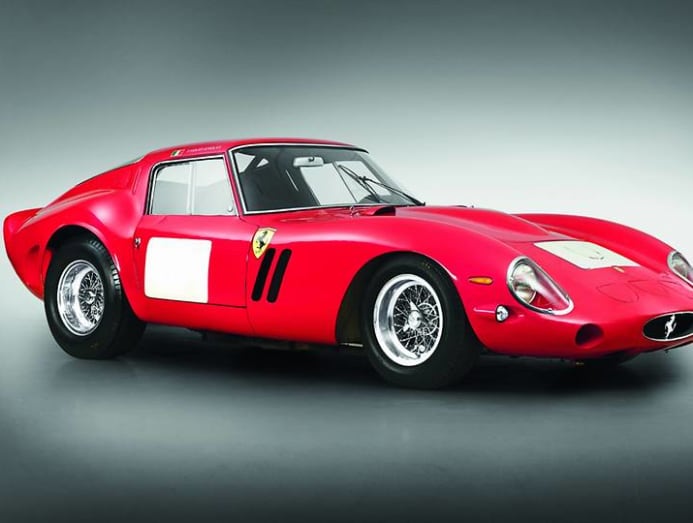 Is it really any surprise that the number two car on this list is also a Ferrari 250 GTO? When the hammer fell for chassis 3851GT in 2014, it was then the most expensive car ever sold at auction at US$38.1 million – "[the] auction pavilion was filled to total capacity with overflow on the lawns watching the happenings live on the numerous television screens", according to auctioneers Bonhams.
FERRARI 250 GTO
US$48.4 million (S$66.7 million)
RM Sotheby's Monterey, Aug 26, 2018
With just 36 examples built between 1962 and 1964, that should already guarantee desirability, but add this car's provenance to that and it's no wonder this 250 GTO broke the previous record by US$10 million. Chassis number 3413GT participated and won in its class at the 1963 and 1964 Targa Florio, plus a slew of other victories. It should also be noted that chassis 3413GT's erstwhile owner, Gregory Whitten of Microsoft (he was employee number 15), reportedly bought the car in the year 2000 for a tenth of its record-shattering price.