What does nature have to do with how jewellers shape their creations?
What if you could hold the world's most magnificent creations in the palm of your hand? These breathtaking jewellery creations honour some of nature's intriguing wonders.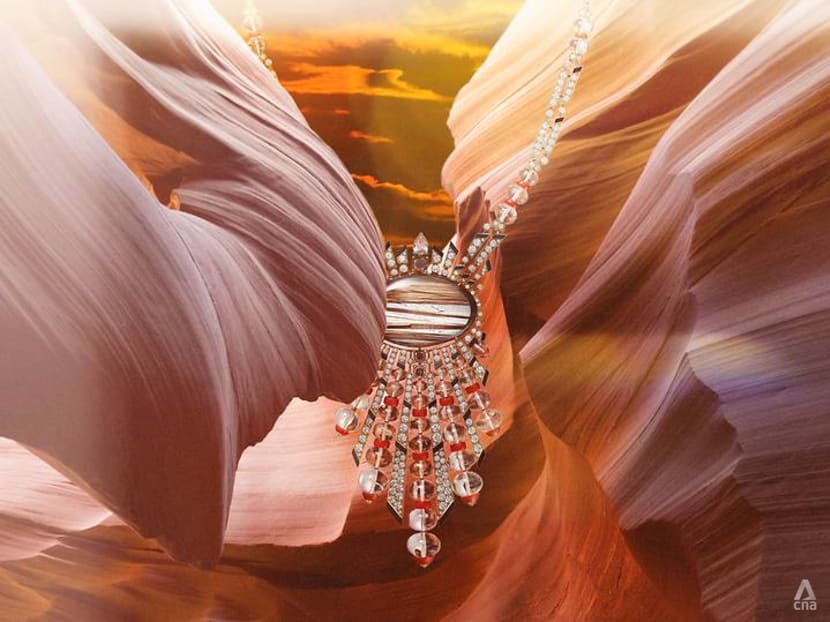 Some things in life are constant. Nature is one of them. Amid these unpredictable times, it's heartening to know that the Earth continues to spin on its axis, the sun will rise at dawn and set at dusk, the stars will twinkle in the night. Trees sway in the breeze, birds chirp, and flowers continue to bloom.
During times of upheaval, humans have found comfort in nature. This holds true in today's pandemic-stricken times. When we found ourselves holed up at home for weeks on end, we sought solace by taking walks in parks, or by looking up at the sky.
Man's fondness for nature is something that the jewellery world has long recognised. Nature-inspired jewellery is a design trope that has endured for decades. After all, what could be better than holding a piece of the world in your hands? These six designs surely attest to that.
CHAUMET NUAGES D'OR NECKLACE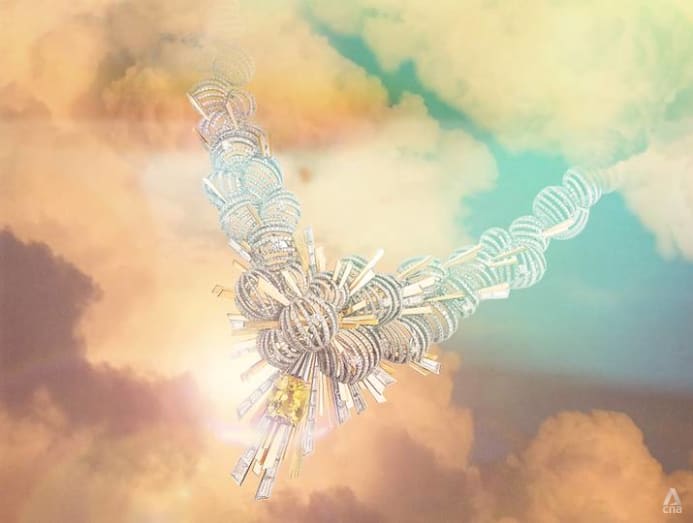 In life, there are times when we experience stormy days when nothing seems to be going right. But the clouds clearing up after a thundery shower, with sunlight breaking through, bring about a sense of optimism. 
This one-of-a-kind Nuages D'Or necklace by Chaumet is set with an array of white and yellow diamonds. With harmonious soft curves and steely "rays", the necklace is reminiscent of clouds glowing in the sky after a storm. 
The necklace is graced with a 12.88‑carat golden yellow Ceylon sapphire, which represents sunlight streaming through the clouds.
CHOPARD GINKO EARRINGS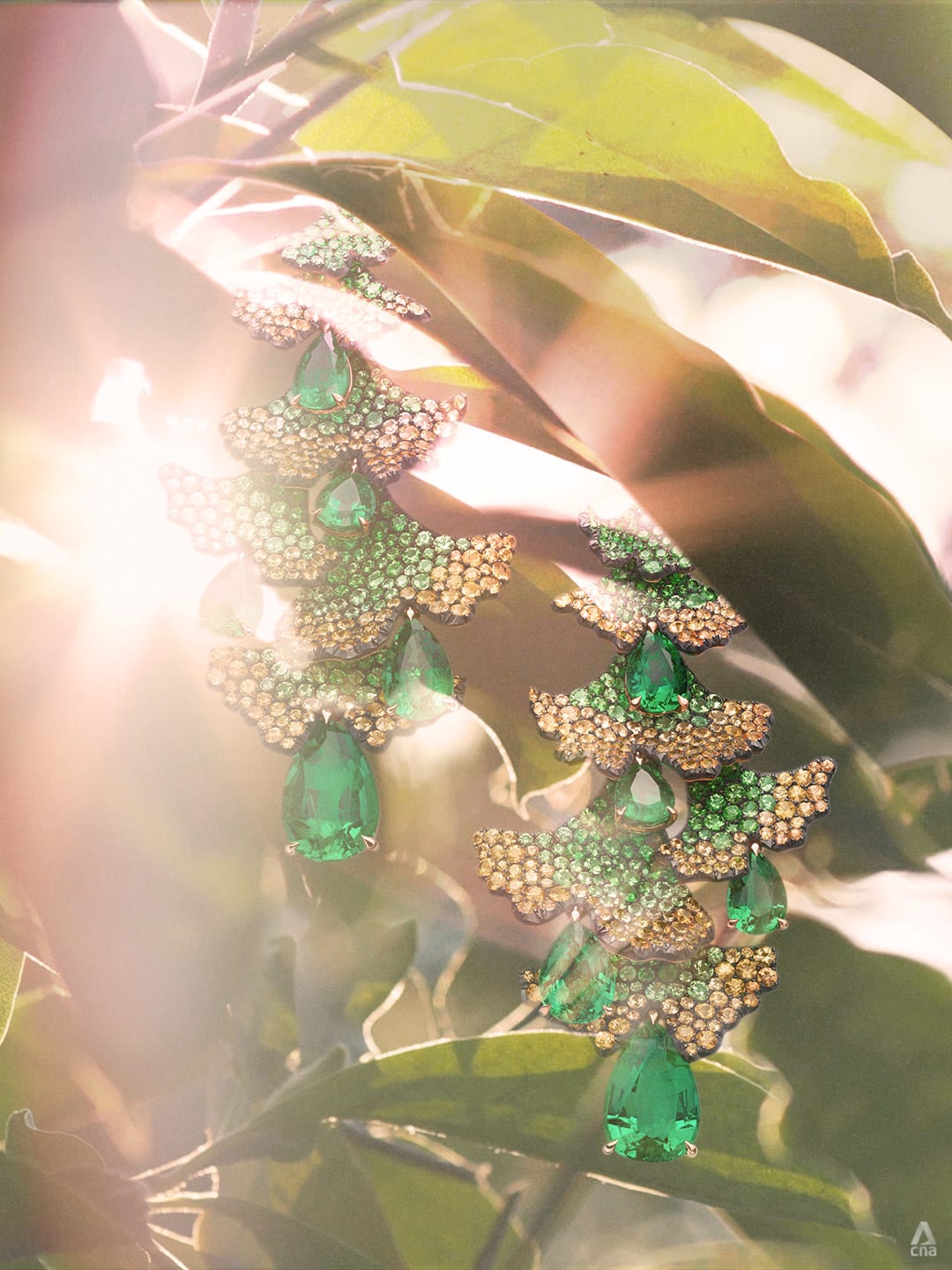 We share the planet with a spectacular array of flora, from dense rainforests to magnificent redwood groves. 
Paying tribute to the beauty of trees, these statement Gingko earrings from Chopard drip with 33.3 carats of pear-shaped emeralds, 16.5 carats of brilliant-cut yellow sapphires and 14.9 carats of tsavorites, reminiscent of lush green foliage.
CARTIER MAGNITUDE APHELIE NECKLACE
The desert and its seemingly endless stretches of sand have come to symbolise the obstacles and hardships standing in the way of man and his dreams.
Certain stones are rarely seen in high jewellery, but jewellers such as Cartier aren't afraid to break the mould. This pink gold Aphelie necklace from Cartier's Magnitude collection features a golden brown rutilated quartz pendant as the star of the show, a gem that's not as highly prized compared to, say, rubies, emeralds or diamonds, but breathtakingly beautiful nonetheless. 
Delicately studded pink diamonds, morganite and onyx are arranged in a sunray motif around the cabochon, injecting the necklace with cheery hues of coral and pink.
CHAUMET ETOILES ETOILES NECKLACE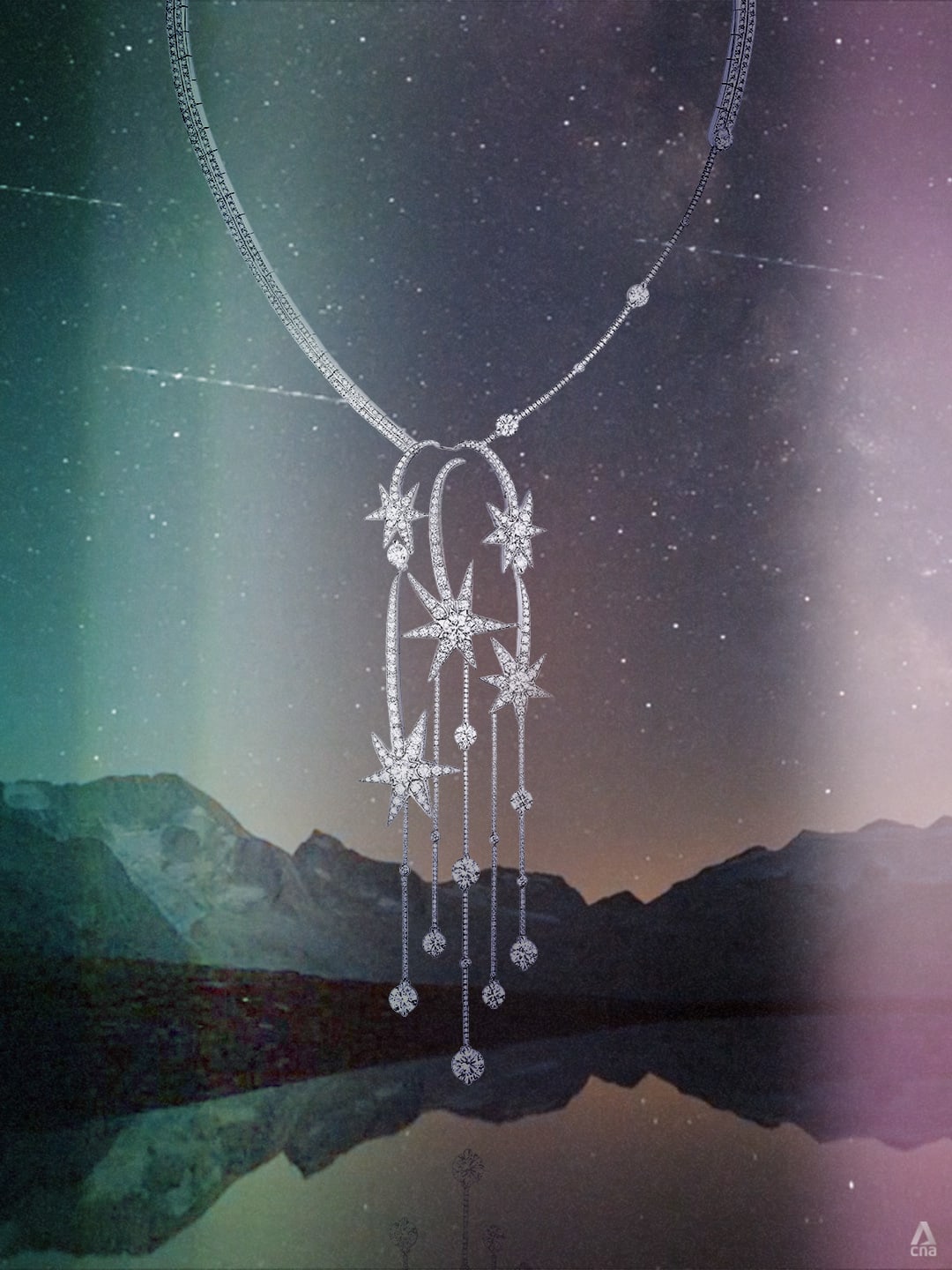 Amid hardships and uncertainty, there are days we wish we could escape by taking off into the skies. 
It is the magical allure of the Milky Way that inspires Chaumet's Les Ciels de Chaumet collection. Recreating the beauty of the sky, the Etoiles Etoiles necklace is a shower of white gold and diamond stars, draping elegantly on the decolletage.
PIAGET ECSTATIC DANCE EARRINGS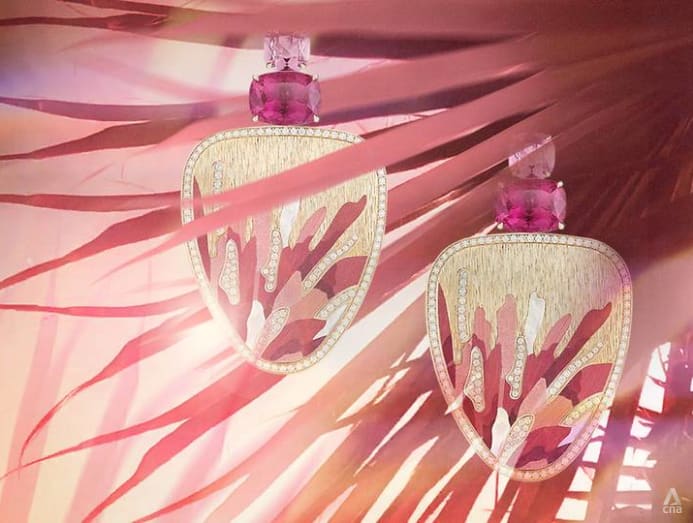 The view of a pink horizon, courtesy of the sun retreating at dusk, is one of life's most beautiful moments to savour. 
On Piaget's Ecstatic Dance earrings, rubellites and pink tourmalines capture the vivid shades of sunset. The earrings are accented with Palace Decor hand-engraved rose gold – a labour-intensive, age-old technique that produces a soft effect etched on the surface of the gleaming metal. 
Leather, wood, and mother-of-pearl marquetry are carefully cut and meticulously positioned to create an effect akin to rays of light.
LORENZ BAUMER METEORITE RING
For centuries, humans have been fascinated by extraterrestrial objects streaking across the sky. When these objects fall onto Earth, they're known as meteorites. 
Inspired by these "space rocks", this Lorenz Baumer Meteorite Ring in white gold features a 4.34-carat yellow diamond and 4.39 carats of brown diamonds. The entire spectacle is accentuated by 0.31 carats of white diamonds.