In a world gripped by uncertainty, nostalgic watches are having a field day
Montblanc's vintage-inspired 1858 collection has three new stories to tell: There's one for adventure, one for history, and one for fun.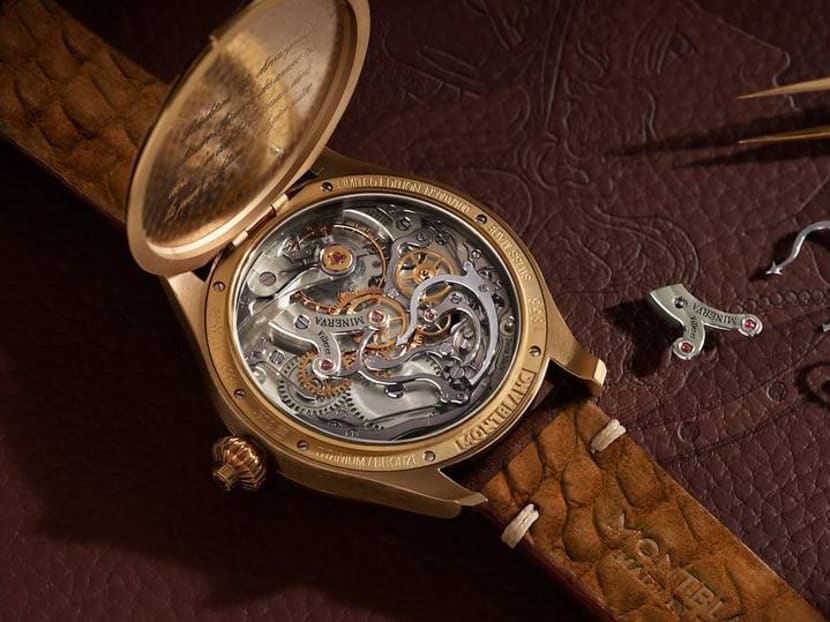 History is a precious commodity in the luxury watch world. The further one's origins date back to, the more references can be revived for a market obsessed with nostalgia. Even if that heritage is adopted, the way Montblanc did when it acquired the venerable Minerva manufacture in 2006, the strategy still works. Because all that really matters to watchmakers and their fans is that history repeats itself respectfully and beautifully.
When Montblanc launched its 1858 collection in 2015, it was to commemorate Minerva's 160th anniversary. 1858 watches are therefore styled with vintage sensibilities or were outright remakes of models from the 1920s and 1930s. Sometimes, as is the case for this year's 1858 Monopusher Chronograph Origins Limited Edition 100, it's both.
The original monopusher chronograph the 100-piece limited edition was modelled after was a 46mm steel watch with a black dial, Arabic numerals, bi-compax chronograph layout and cathedral-shaped hands.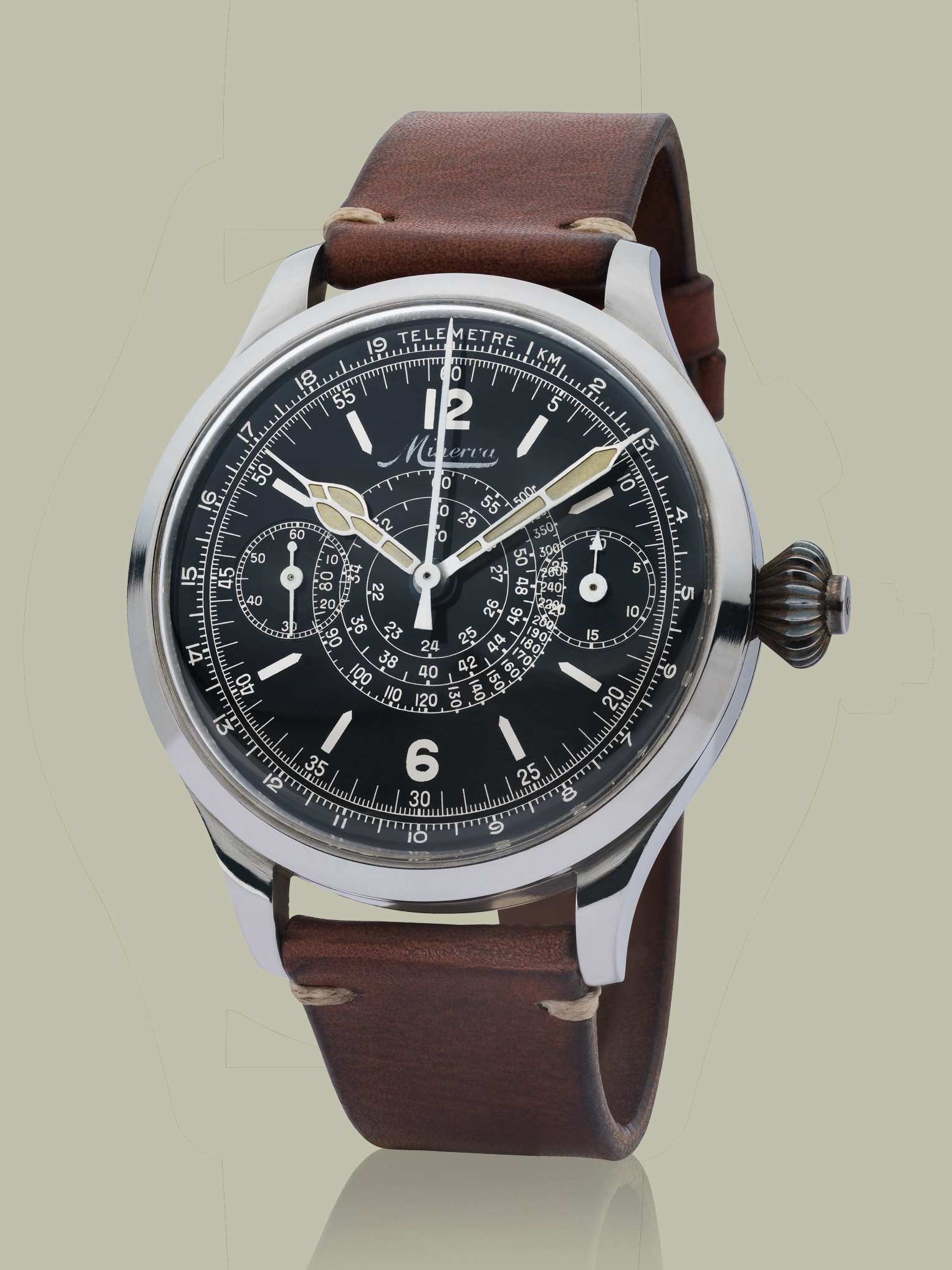 The new tribute piece follows the dial's design and case size exactly, but throws in some curveballs to keep things interesting. The case is now bronze instead of steel, and comes with a hinged case back (or officer's case back) that is adorned with engravings on both its sides.
The outer side features the head of the Minerva goddess that was laser-engraved onto a titanium base. The colours were achieved using laser-generated oxidation, where the level of oxidation determines the final shades. The inside of this additional cover bears an inscription in French that translates to, "Re-edition of a Minerva military chronograph from the 1930s equipped with a hand-made calibre following the Swiss watchmaking tradition."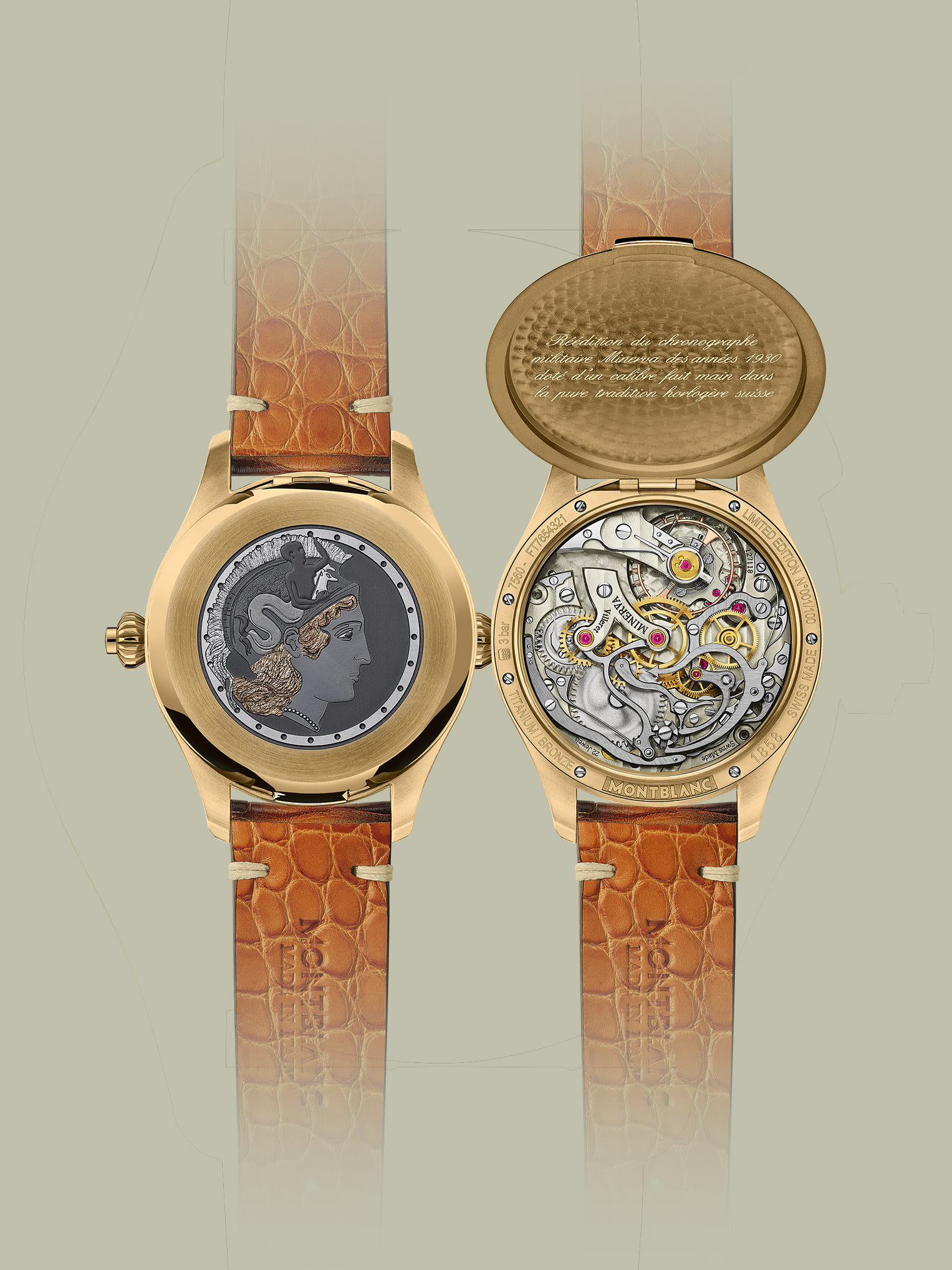 Obviously, the original 19-09 movement has been upgraded to the current generation MB M16.29, but it is still a love letter to its predecessor. The movement's main plate and bridges are made out of German silver, a material often used in old Minerva movements, and retains the V-shaped bridge, column wheel, horizontal coupling and 2.5Hz frequency. The finishing, which includes Geneva stripes, inner angles, circular graining and bevelling, is exquisite, and might even justify the watch's rather considerable dimensions.
More than just a collection dedicated to yesteryear, the 1858 line was also conceptualised for the modern day explorer. It's why Montblanc got one of the greatest ones on board as ambassador last year. Italian adventurer Reinhold Messner was the first to summit Mount Everest without supplemental oxygen, the first to ascend all 14 peaks over 8,000m above sea level, the first to cross Antarctica and Greenland without snowmobiles or dog sleds, and… you get the idea. The living legend has six more "World Firsts" in the Guinness Book of Records.
The partnership is fairly new, so there are currently only two watches that pay tribute to him: Last year's blue and bronze 1858 Geosphere Messner Limited Edition, and the newly revealed 1858 Geosphere Limited Edition 1858 in desert-themed colours.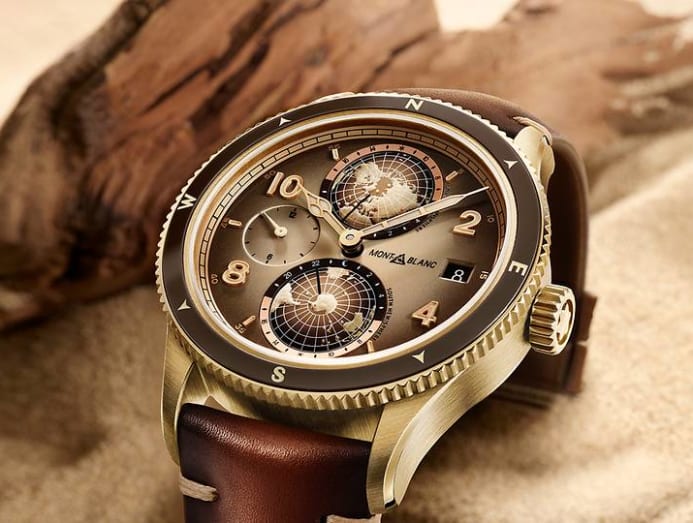 The watch is dedicated to Messner's trek across the Gobi Desert in 2004, when he crossed all 2,000km of the unforgiving terrain on foot, in five weeks, at the age of sixty. Montblanc hopes this insane exploit will inspire you every time you gaze at the watch's satin-finished, 42mm bronze case, lacquered beige fume dial, brown ceramic bezel insert, and the double hemispheres characteristic of the Geosphere line.
Another reminder can be found on the case back, where the same processes that gave the 1858 Monopusher Chronograph Origins Limited Edition 100 its Minerva Goddess helped recreate a little snapshot of the Gobi Desert's famous Flaming Cliffs. Also known as Bayanzag, the area is most famous for the first discovery of dinosaur eggs by American palaeontologist Roy Chapman Andrews in 1920.
While you probably won't be taking this watch on extreme expeditions any time soon, Montblanc has gone ahead and put the movement through its three-week-long battery of tests to be certified durable enough for the rigours of daily life. This model is limited to 1,858 pieces.
As ready for the outdoors as these watches are, there are also 1858 watches that lean toward more glamorous settings. Earlier this year, Montblanc released its first precious metal version of its 1858 Split Second Chronograph, and it is cased in a material that is entirely new to the brand.
By mixing silver and iron with 18K gold, Montblanc has created its own version of green-tinged gold called "lime gold". While green gold isn't exactly new, having been used in jewellery and, more interestingly, the base of Nobel Prize medals, it is novel in watchmaking and a refreshing change from ubiquitous red, white and yellow variants.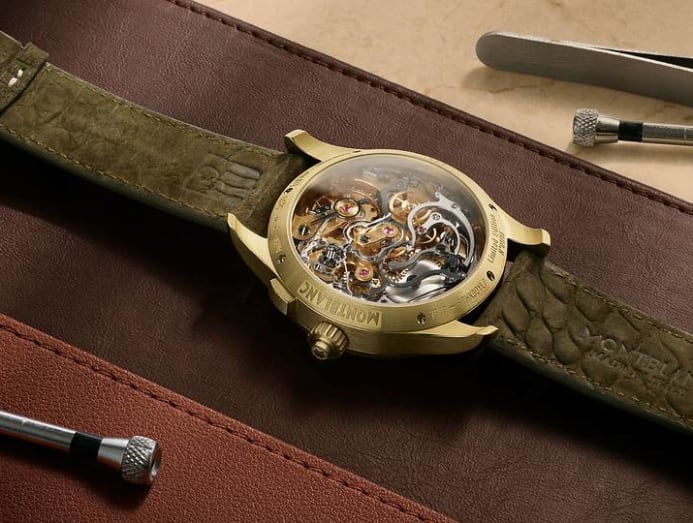 The watch itself maintains the same railroad-style minute track and telemetric scale, snail-style tachymeter in the centre, and vintage Montblanc label that made this collection one of the most memorable for rattrapante chronographs around.
The lime green-coloured dial is complemented by green elements, and the exhibition case back reveals the stunning MB M16.31, a hefty pocket watch calibre that has been adapted for the wristwatch.
As such, the watch's 44mm diameter and 15.2mm height means it won't fit snugly under most shirt cuffs, but it is one that demands – and deserves – to be seen.