Eight of the coolest timepieces from the upcoming Only Watch charity auction
The biennial Only Watch charity auction is back this November, and these are the watchmakers that didn't just slap on a new colour and call it a day.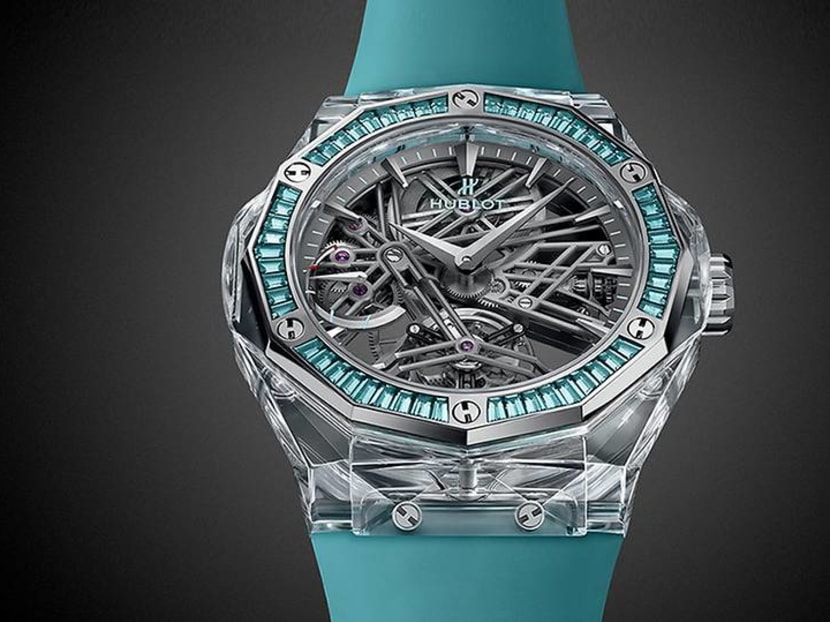 The Only Watch auction supports a worthy cause: To fund research into finding a cure for Duchenne Muscular Dystrophy, a genetic disorder characterised by progressive muscle degeneration that primarily affects boys. And it's been doing so since it was founded by Luc Pettavino in 2001, raising a total of CHF 40 million (S$56.8 million) over its seven editions thanks to the watchmakers who each donate a specially created unique timepiece to the auction.
But interest from collectors and auction-goers is said to have waned in recent years, seeing as the 2017 edition marked the first time the total sales figures didn't set a new record, with horologers citing less interesting timepieces and inconsistent brand participation as reasons for the lull.
However, let's not forget the last edition still managed to bring in CHF 10,776,500 (even if it was down from 2015's CHF 11,268,000). It was also during the 2017 auction that Tudor and F.P. Journe both sold their most expensive watches ever: CHF 350,000 for the Tudor Black Bay Bronze and CHF 1,150,000 for Journe's Chronographe Monopoussoir Rattrapante Bleu. So there's every chance 2019 has more surprises in store.
A heartwarming 52 brands are joining the auction this year, which will be held on November 9 at the Four Seasons Hotel des Bergues in Geneva and overseen by Christie's. And while we are expecting healthy hammer prices from top performers, we are highlighting the watchmakers who have put sincere effort into creating something special for a charity that deserves nothing less.
ARTYA PRECIOUS BUTTERFLY ENGRAVED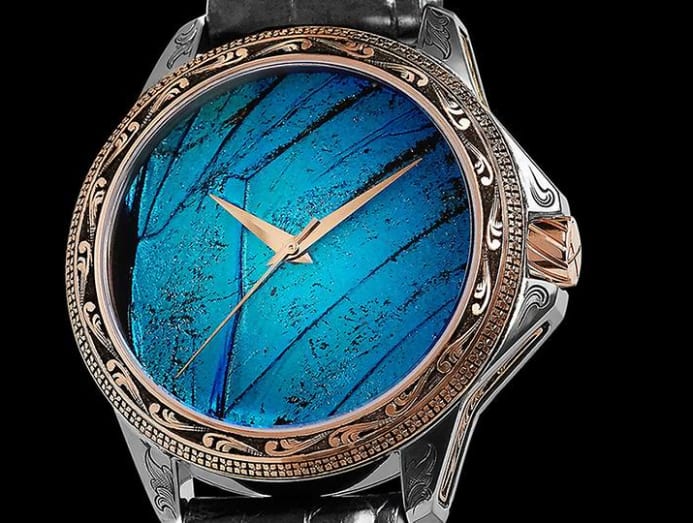 Yvan Arpa's approach to dial decoration is often so outrageous that it stands to reason that many of Artya's pieces were intended to be one-offs. What the Swiss watch designer dares to dream, his artist wife Dominique Arpa-Cirpka recreates by hand on the watch face, leading to such bizarre outcomes as bullets, tobacco leaves, fish scales and real blood adorning dials that are sometimes cased in steel that's been struck by lightning.
Insane, we know. But Arpa's contribution to this year's auction comes from its much more demure Son of Earth Butterfly collection where the dials feature butterfly wings sourced from certified farms. This means none of the butterflies are endangered species and the wings are harvested only after they die a natural death. The watch has an engraved gold bezel and lateral inserts, and is powered by the automatic Artya Aion COSC-certified movement.
BOVET RECITAL 23 "HOPE"
Bovet is among the rare breed of watchmakers that don't get lazy when it comes to its women's watches. Its feminine, oval-shaped Recital collection includes a seven-day tourbillon and a moon phase, and has just welcomed another lunar watch this year but with the brand's quirky "writing slope" slanted case. The starry, aventurine dial, engraved and domed moon phase display and specially designed hands that form a heart as they cross each other on the hour already make it a stunning and romantic watch.
The Only Watch edition adds whimsy to the mix: A fairy seated on a crescent moon has been painted onto the hour and minute dial – the result of over 100 hours of precise and focused work by a miniaturist. This edition is cased in titanium instead of gold.
F.P. JOURNE ASTRONOMIC BLUE
F.P. Journe's Only Watch donations always rocket past their already high estimates not just because they're cased in tantalum (a rare and tough precious metal with a unique blueish silver hue), but because the independent watchmaker likes to use the auction to present entirely new watches, like the aforementioned Chronographe Monopoussoir Rattrapante Bleu.
This year he brings back the same tantalum case, blue dial and orange strap with a slew of new mechanical goodies in the Astronomic Blue. It features sidereal time, day/night and sunrise/sunset indicator, dual time, deadbeat seconds and moon phase on the front, while the back shows off an equation of time, annual calendar, 60-second tourbillon and a constant force mechanism. And as if that wasn't enough, it's also a minute repeater.
HUBLOT CLASSIC FUSION TOURBILLON SAPPHIRE ORLINSKI
The collaboration between Hublot and French contemporary artist Richard Orlinski has given the watchmaker's staple Classic Fusion collection numerous variations bearing the artist's signature faceted style, but the Classic Fusion Tourbillon Sapphire Orlinski for Only Watch is the first Orlinski to combine a sapphire case with a gem-set bezel.
Fifty-four icy baguette-cut topazes sit in a white gold bezel, matching the light blue rubber strap it comes with, but it's really the presentation box that steals the show. The box, which is also crafted from sapphire crystal, is held up by a miniature version of Orslinki's famous Wild Kong sculpture. Adorable.
LOUIS VUITTON ESCALE SPIN TIME
The art of enamelling is already considered a rare and exquisite art in the world of watchmaking but even among the few master enamelers that are left, Anita Porchet's name carries the most cachet. Only top brands like Patek Philippe, Vacheron Constantin, Chanel and Hermes have access to her skills, and now Louis Vuitton counts among them.
The French maison wanted a tattoo-inspired dial for this unique Escale Spin Time (a collection that's celebrating its 10th anniversary this year) so Porchet used Grand Feu enamel and miniature painting to bring vivid colour and exquisite detail to the rose, vines and logo on the watch face. And because this is Louis Vuitton, the watch comes with its own miniature trunk with custom monograms and matching hand-painted design, along with four additional alligator straps.
MB&F + L'EPEE 1839 TOM & T-REX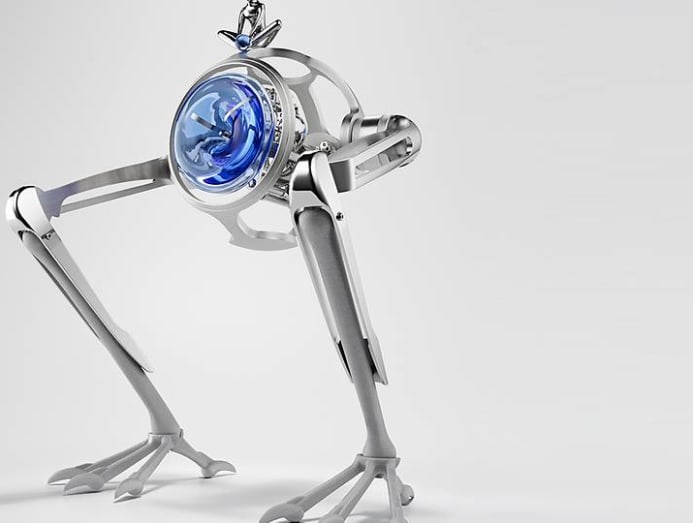 The clocks that come from the combined genius of MB&F and L'Epee 1839 have always been delightful. While the watchmaker and clockmaker's collaboration for Only Watch is no exception, this piece also carries a message of hope. A tiny sculpture of a boy, Tom, sits gazing into a blue orb as he rides atop a stylised t-rex that will take him on adventures.
The image is meant to symbolise the wondrous imaginative powers of children with disabilities. The 26.5cm tall clock is made from palladium-plated brass, bronze, stainless steel and Murano glass, and its legs were modelled from 3D scans of actual fossilised dinosaur skeletons. The hand-wound movement is powered by a single barrel and offers eight days of autonomy. A regular version of the clock will be available to the public soon.
PATEK PHILIPPE GRANDMASTER CHIME REF. 6300A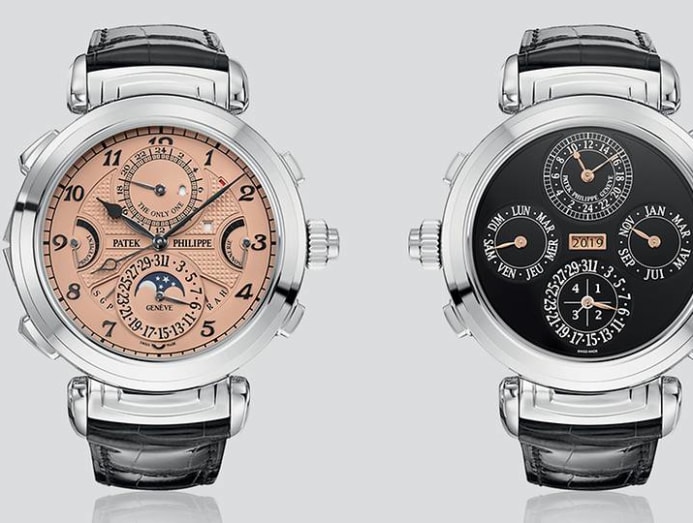 Trust Patek Philippe to try and eclipse all other contributors in the auction this year. The brand's previous entries have always been non-precious metal variants of popular existing models and this year is no different, but what's striking isn't what the case is made of (it's steel), but what the case holds – which is none other than the Grandmaster Chime, only Patek Philippe's most complicated wristwatch.
Other distinguishing traits include a salmon-coloured front dial, black back dial and the words The Only One on the sub dial at 12 o'clock. The winner of this lot, which is estimated at US$2 million to US$2.5 million (S$2.75 million to S$3.44 million), will also receive a private tour of the manufacture and museum, as well as lunch with company president Thierry Stern.
VOUTILANEN TP1
It's rather poetic that Kari Voutilanen chose to submit a pocket watch this year, seeing as it was a pocket watch he made back in 1994 that marked the start of his journey to independent superstardom. Not only that, the TP1 is also the first collaboration between Voutilanen and his 20-year-old daughter Vela, who just graduated from watchmaking school.
Voutilanen chose the case and dial design – a solid silver, engine-turned dial in a TV screen style case – while Vela decided on the colours and decoration of the movement, though both of them shared the actual hands-on work. The movement is based on a vintage LeCoultre ebauche and features a Guillaume balance wheel and Philips overcoil hairspring, and finished to Voutilanen standards – that is to say, superb.