A home away from home? A new Batam integrated township has launched
Spanning 125 hectares on the eastern edge of Batam, Opus Bay will comprise residential, retail, entertainment, business and healthcare facilities. The first phase, comprising luxury villas and high-rise apartments, has been launched.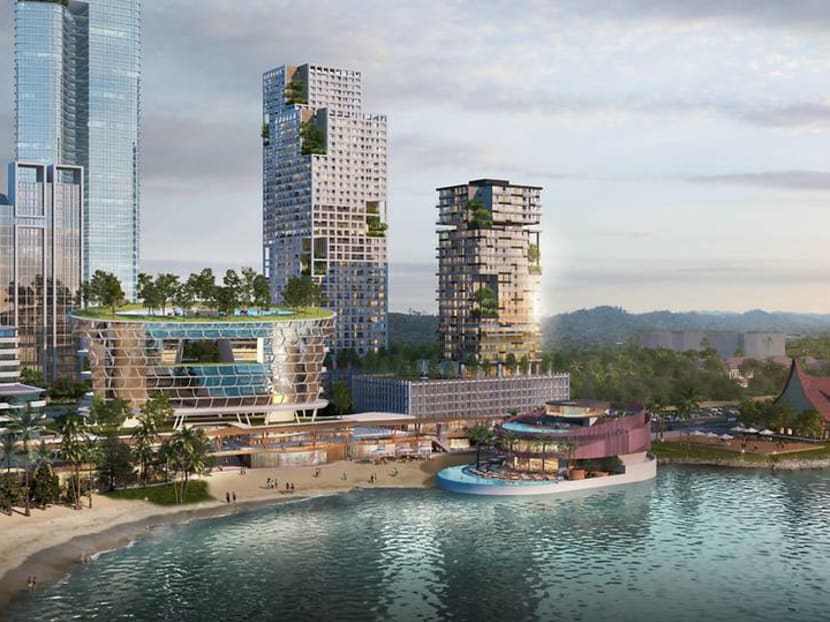 The island of Batam in Indonesia has long been a favourite vacation spot for Singaporeans. The largely untapped gem benefits from close proximity to Singapore, and boasts plenty of greenery, tranquil waters and white sand beaches.
In recent years, the Indonesian government has been focused on developing the island into a modern destination, rolling out infrastructure projects aimed at boosting the attractiveness of the island, including a bridge linking Batam with neighbouring Bintan.
Keen to attract Singapore property investors or those looking for a home away from home, Tuan Sing Holdings, a local real estate developer, has launched the first phase of Opus Bay, its first fully integrated township development spanning over 125 hectares.
Opus Bay is the first major project for the developer in Indonesia. The company's existing portfolio of commercial, residential and hospitality properties are located in Singapore, China and Australia.
Surrounded by lush greenery and boasting a seafront view, the Opus Bay township will comprise residential, hospitality, entertainment and business facilities for both residents and tourists alike, the developer said in a press release.
It is located next to the existing Waterfront Ferry Terminal in Batam, which will be upgraded and operated by the group to serve as a dedicated terminal for residents and guests, with a 40-minute direct ferry connection to Singapore.
WORLD-CLASS NAMES BEHIND THE VILLAS AND APARTMENTS
The township has been planned and designed by a group of award-winning, world-class architects. The masterplan architect is US-based architecture firm Kohn Pedersen Fox, the firm behind the redevelopment of Hudson Yards in New York, Roppongi Hills in Tokyo, the Shanghai World Financial Center and more.
The firm's Singapore projects include Marina Bay Financial Centre, Marina Bay Residences and Marina Bay Suites.
The villas are designed by Singapore's ONG&ONG, while the apartments are the brainchild of homegrown architect RT+Q. Hong Kong firm Lead8 and Singapore firm Park + Associates round up the architectural team with their design of the retail offerings and ferry terminal, respectively.
For Phase 1 of the township's launch, which stretches across 40 ha of land, potential homeowners and property investors can opt for Cluny Villas, a gated community of charming resort-style luxury villas. Buyers can choose from three to six-bedroom houses, each with its own private pool.
Those who prefer high-rise living may consider apartments in Balmoral Tower. Studios as well as one-to-two bedroom apartments are available, boasting seafront views. Phase I is expected to be completed within the next three to five years.
To cater to families, future developments for Opus Bay will include education and healthcare facilities such as international schools and a medical hub.
Opus Bay's sales gallery is currently located at 18 Robinson Road. 
"We are very excited to launch Opus Bay, one of the largest integrated developments in Indonesia. We envision Opus Bay to be a smart city and an integrated community which serves as the perfect place for luxurious and affordable resort-style living for locals, expats and travellers alike," said William Liem, CEO of Tuan Sing Holdings.
"For Singapore residents, Opus Bay will serve as a home away from home and give them a chance to escape the hustle and bustle of the mainland and indulge in urban resort-style waterfront living. Investors will also benefit from capital appreciation in an up-and-coming tourist destination," Liem continued.
FUTURE FACILITIES
Tourists and visitors to Opus Bay can look forward to a host of hotels, an entertainment hub as well as a Shopping Galleria, a retail street with a plethora of fashion and lifestyle brands. 
To enhance the retail offerings, Tuan Sing is currently working with Mitra Adiperkasa, a lifestyle retailer in Indonesia with over 2,600 retail stores, the developer said.
It is also looking to partner with other retailers to launch leading international fashion, sports and lifestyle brands, alongside F&B experiences. There will also be an exclusive Opus Club House, a space for gatherings and events.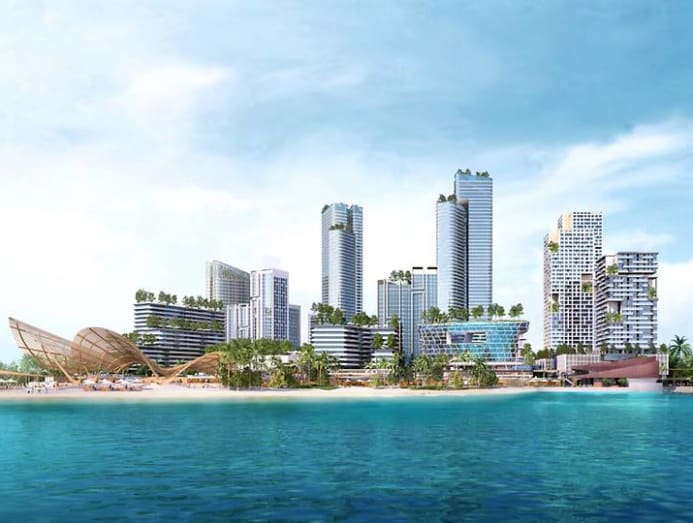 These attractions will all be located within proximity of the ferry terminal. The entire Opus Bay project will be launched in phases over the next 10 to 15 years.
"For Singapore residents, Opus Bay will serve as a home away from home and give them a chance to escape the hustle and bustle of the mainland and indulge in urban resort-style waterfront living. Investors will also benefit from capital appreciation in an up-and-coming tourist destination." – William Liem