Painting on designer bags: Singapore marquage artists on their craft and its unique appeal
They "mark" leather goods with personalised art, turning bags, wallets and such into one-of-a-kind creations for their owners. CNA Luxury takes a look at what they do.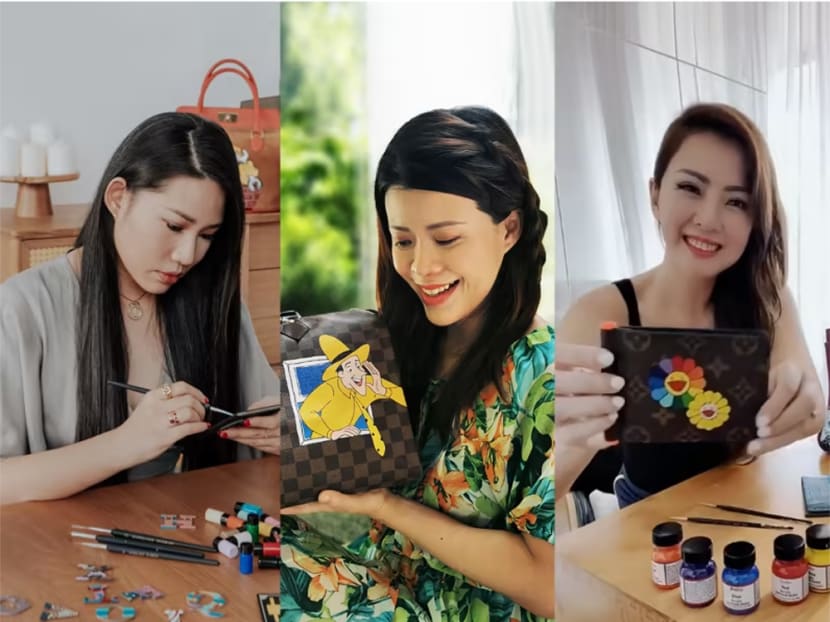 Having one's designer bag painted on might have seemed a crazy thing to do a number of years back, but most know it, by now, to be a form of art, appreciated by those who desire a highly individual form of customisation that makes their leather acquisition completely unique and different.
The number of professional artists here who offer such marquage services, however, remains small, even if more have turned to the art in recent years. It's not an easy job, of course – marquage requires intricate and precise artistry that takes time, skill and a good eye for and sense of design.
It isn't just about putting initials on a bag or wallet – although this can be easily done. You can get exactly what you have in mind hand-painted on, whether it be a famous work of art by the great masters, a portrait of your pet, or a design that is symbolic of your personality, for example.
What is it like painting on leather goods, including Birkins that cost five-figure sums and working on commissions that are so varied and different?
CNA Luxury spoke to three marquage artists in Singapore, who all said they have gotten used to putting paint on expensive items, despite it being unnerving at first. The ability to create precisely what clients desire is also what makes their line of work so special. Here, they share more about how they got into this unusual career, as well as their thoughts on the art of marquage.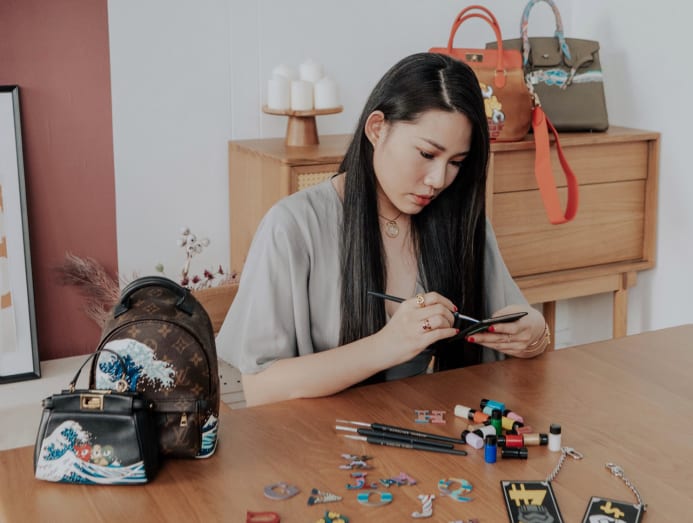 As a pioneer of marquage in Southeast Asia, Sim is a prominent name among those who practice the art here, and has been at it since 2009. As expected, her services are highly sought after – she currently has a two-year-long wait list.
"I dived straight into marquage when no one was doing it then and no one really understood it. I remember people saying, back then, that I made the bags look fake by painting cartoon characters on it," she recalled with a laugh. 
Marquage had always been the path for the artist, who holds a Masters degree in Fine Arts from Goldsmiths, University of London, and trained at the Scuola del Cuoio, the leading academy for bespoke leather goods in Florence, Italy. Upon completing her studies, she started designing and hand-making leather goods for a private clientele, specialising in making bags.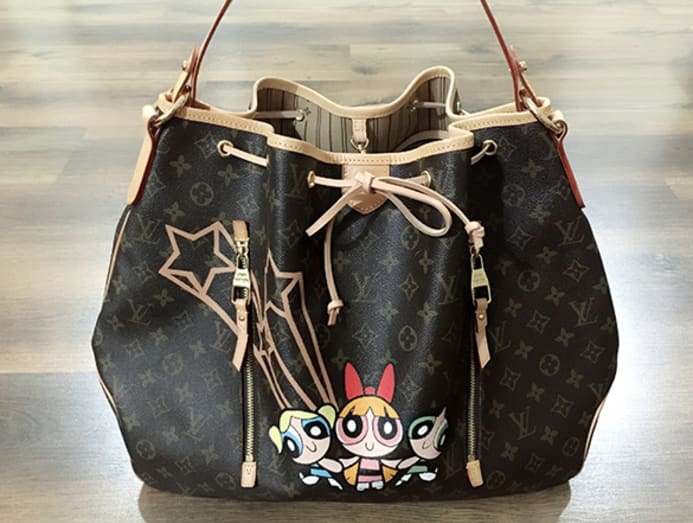 "One day, a regular client asked if I could modify her large Louis Vuitton bag by turning it into a drawstring bucket bag. I said yes, and asked if I could paint something on it as well. She agreed to it; I painted the Powerpuff Girls on it; and the rest was history," she revealed.
Sim had lived in Japan previously for several years, where she became deeply influenced by the country's huge custom culture. "My artistic ideals are shaped by something fun, cool and different," she said.
Her marquage style clearly reflects her artistic inclinations – Sim specialises in Pop art in the Superflat style, a postmodern art movement started by Japanese artist Takashi Murakami, referring to paintings made in flat block colours that have no gradient.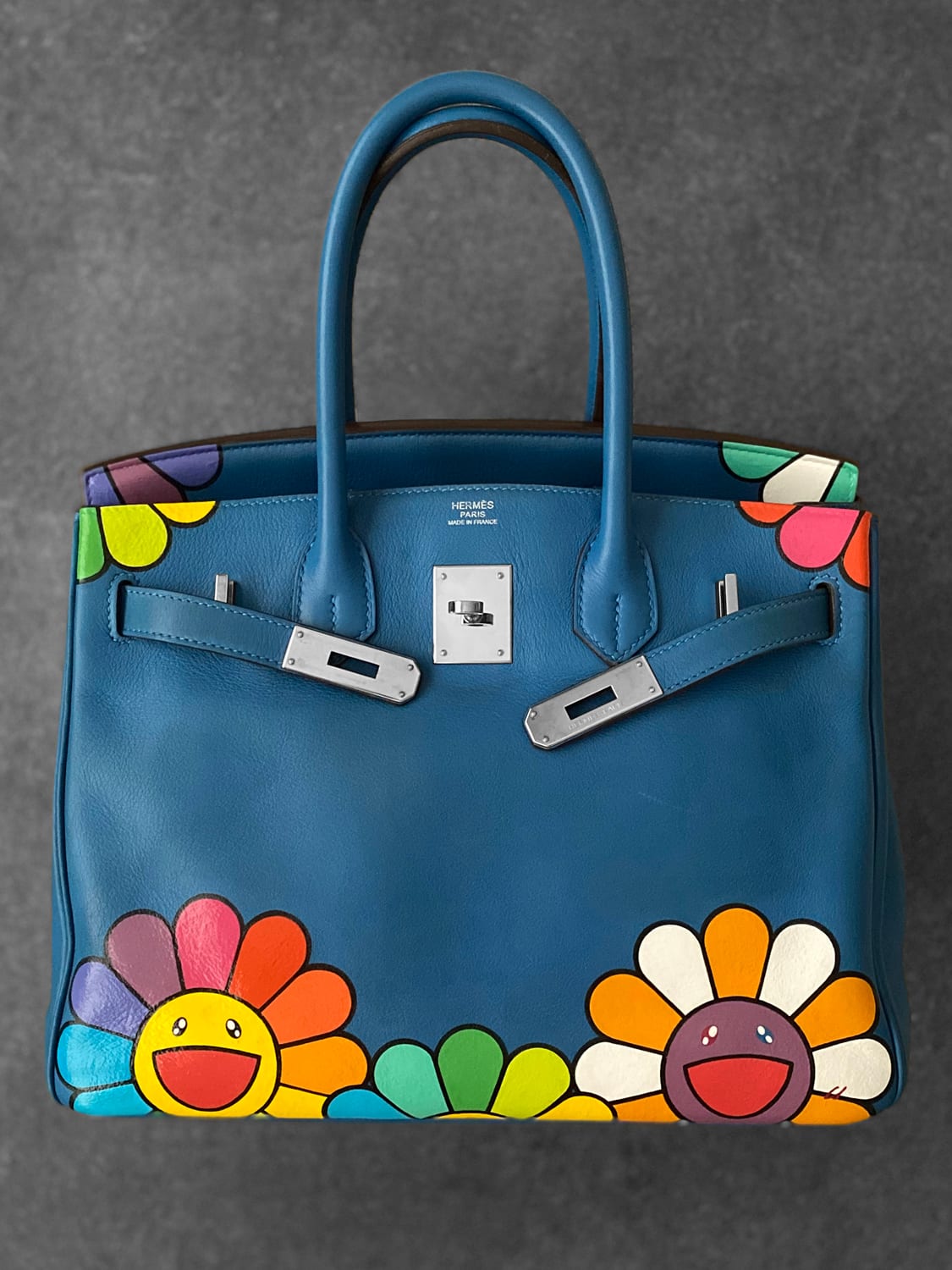 "There is a particular aesthetic I created that I really like – I named it 'Imperfect Symmetry'. It is where the piece of artwork looks vaguely symmetrical but has subtle elements that make it not a perfect mirror image upon closer inspection," she added.
While leather goods and bags form the bulk of her projects, Sim has also been asked to work on other luxury objects.
"I'd received commission requests to paint on supercars such as a Lamborghini and Ferrari, but actually haven't gotten around to working on one as I feel very strongly about not wanting to paint the usual cartoon characters (that aren't my own).
"One of my most memorable marquage experiences was being flown to Hong Kong by a private client, where I stayed in his hotel for three weeks to work, from scratch, on two large Goyard humidors," she shared.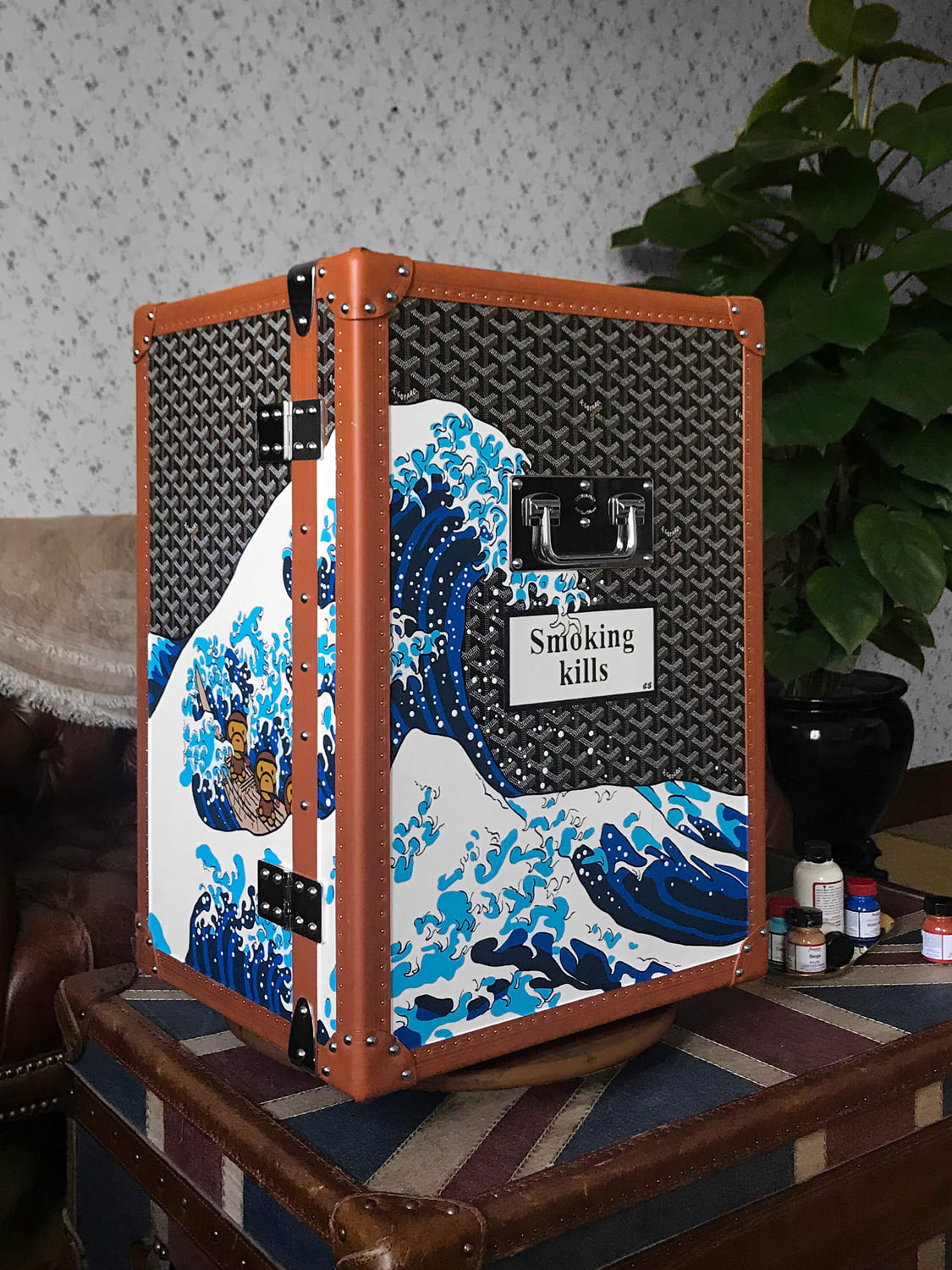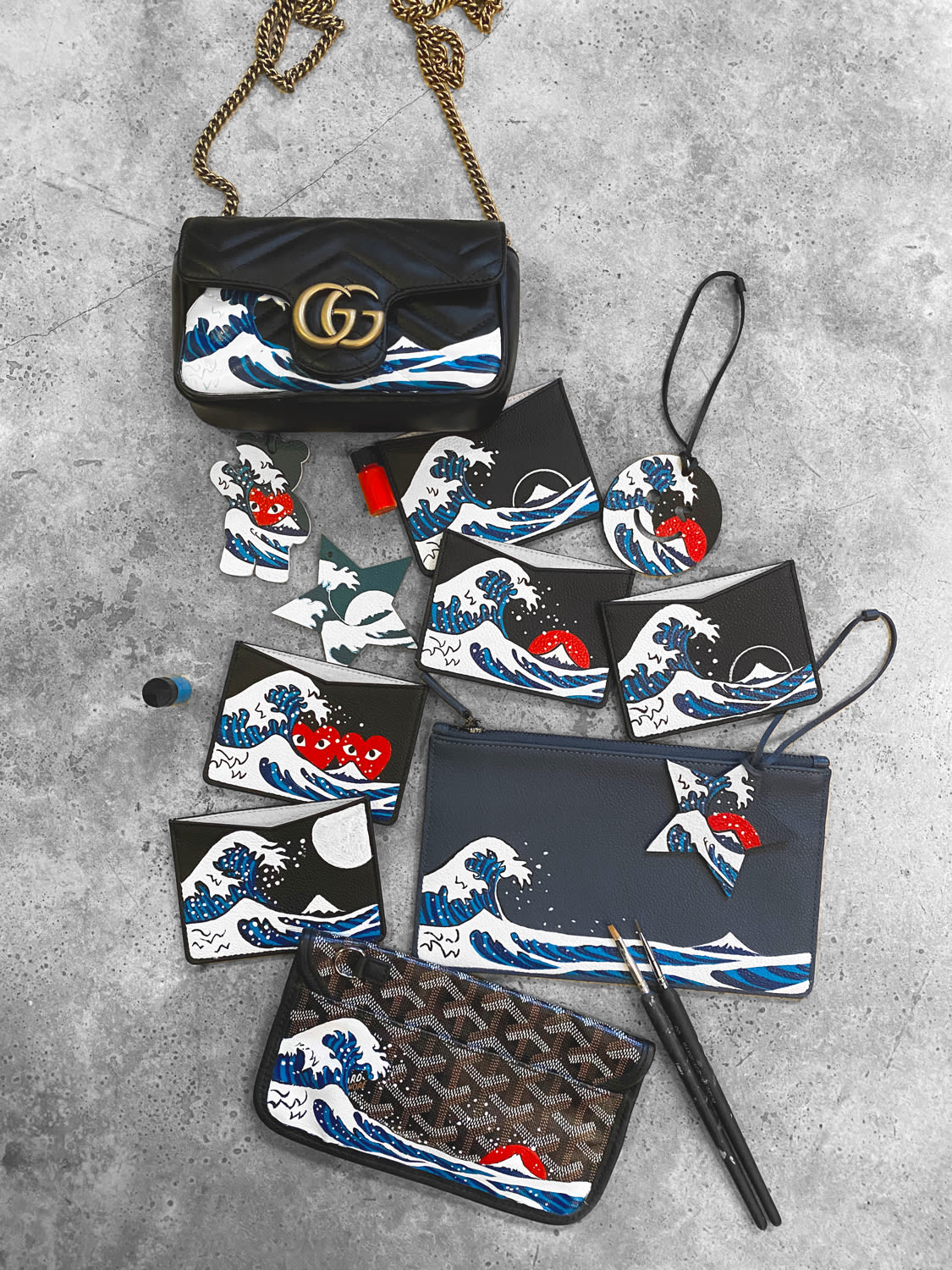 Marquage involves more than just painting skills, and Sim is well positioned when it comes to applying it to leather goods and bags.
"The art has a very niche market, and although more and more people are trying their hands at it, I pride myself with having a deep understanding of working with different materials and being able to paint with utmost precision, because of my training in leather work and fine art. 
"Designing for bags comes naturally for me, and I do take time to make sure the painted designs look like they were originally 'born' with the creation of each bag, fresh out of the fashion house," she said.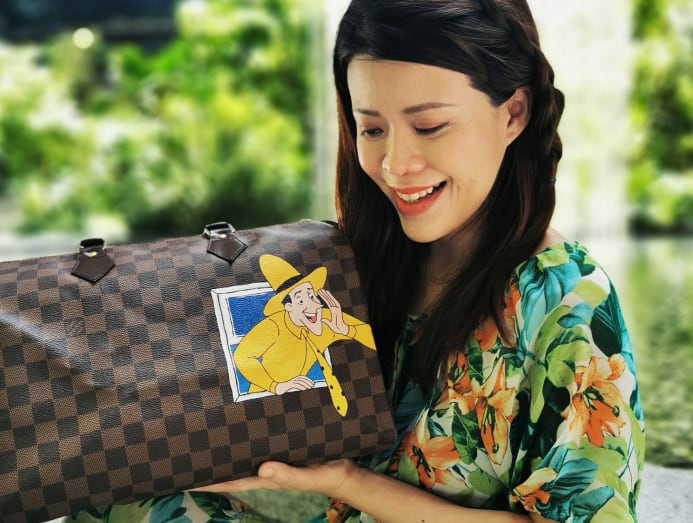 Others, like Koh, stumbled into marquage and discovered a passion for it. An Industrial Design graduate, Koh's career background is in hospitality design, as well as product development in real estate. The path on which she was on took a turn when the COVID-19 pandemic came along.
"I started in marquage during the circuit breaker in 2020, when we were spending more time at home and people were trying new hobbies. I did not set out to specialise in it – I chanced upon a YouTube tutorial on how to custom-paint leather sneakers and decided to give marquage a go," she said.
She took out her Louis Vuitton bag that was left, forgotten, in the cabinet for years and painted a Wonder Woman design on it. "It totally transformed into a fresh bag. I put a picture of it on Instagram and strangers who saw it approached me to paint their leather goods – this kickstarted my marquage career," Koh revealed.
Marquage became her full-time occupation since then. "It was fascinating to me because I had the ability to inject new life into a forgotten luxury bag with my art. I advocate sustainability and I hope to use marquage to promote sustainable fashion by convincing more clients to reuse their vintage or preloved luxury leather goods and transform them into new pieces of wearable art," she said.
Three years into making a career out of marquage, and she's built up quite a portfolio of works. The most challenging commission to her so far is an MCM backpack, on which her client wanted art based on the William Farquhar Collection of Natural History Drawings.
The theme, to Koh, was an unusual choice and the challenge lied in translating an archival series of floral and fauna drawings into designs that worked well with a monogram-covered "backdrop".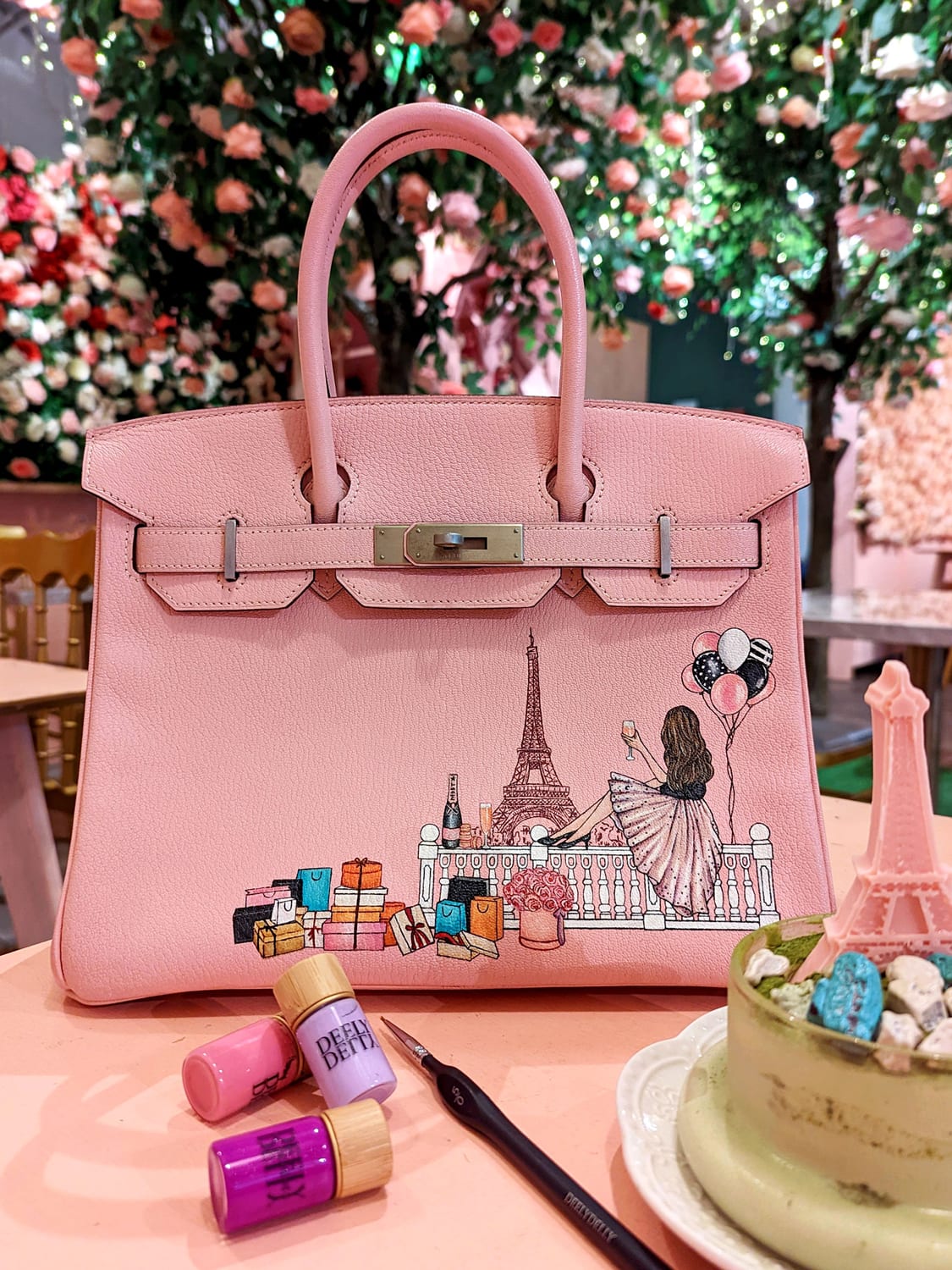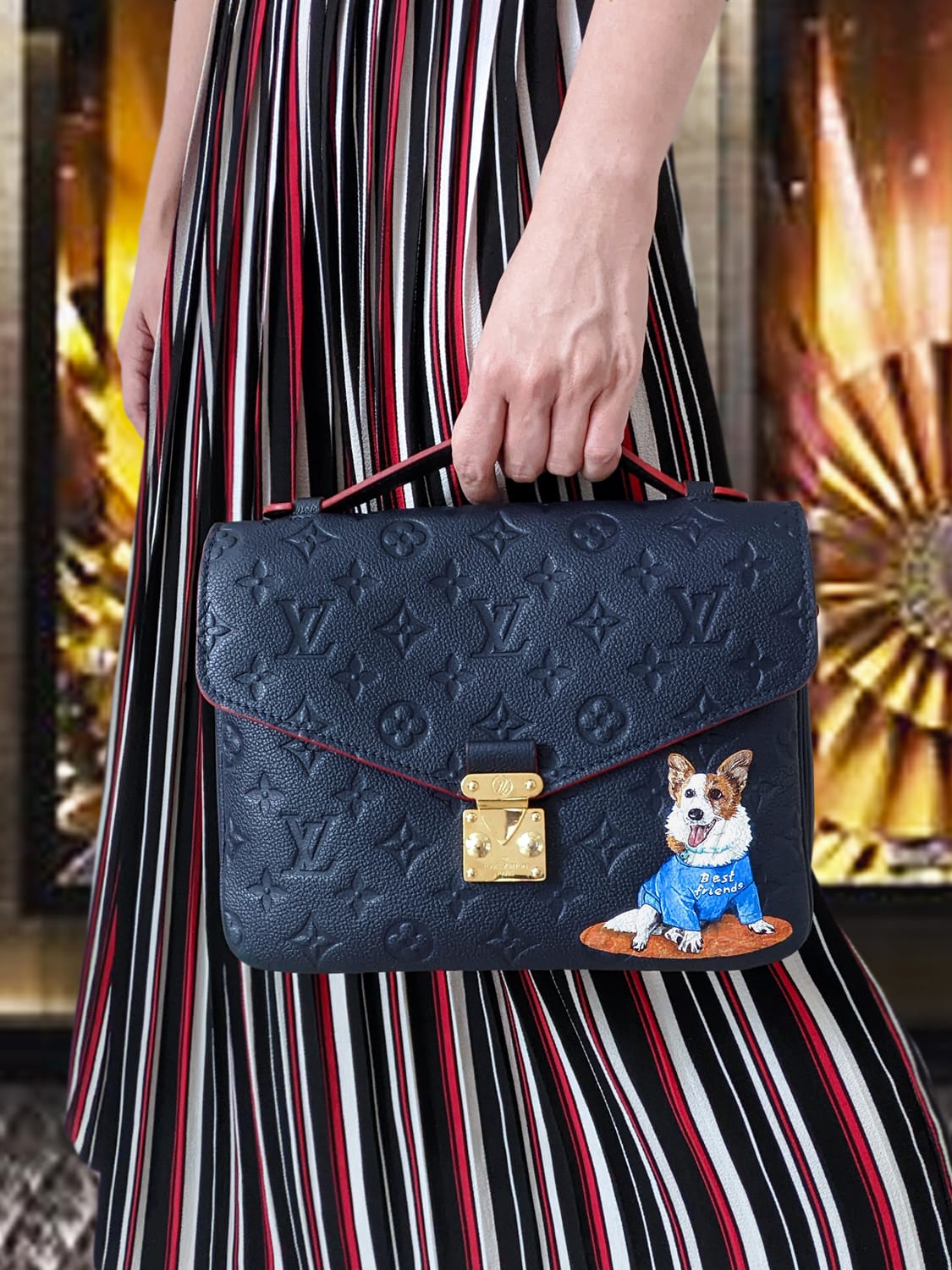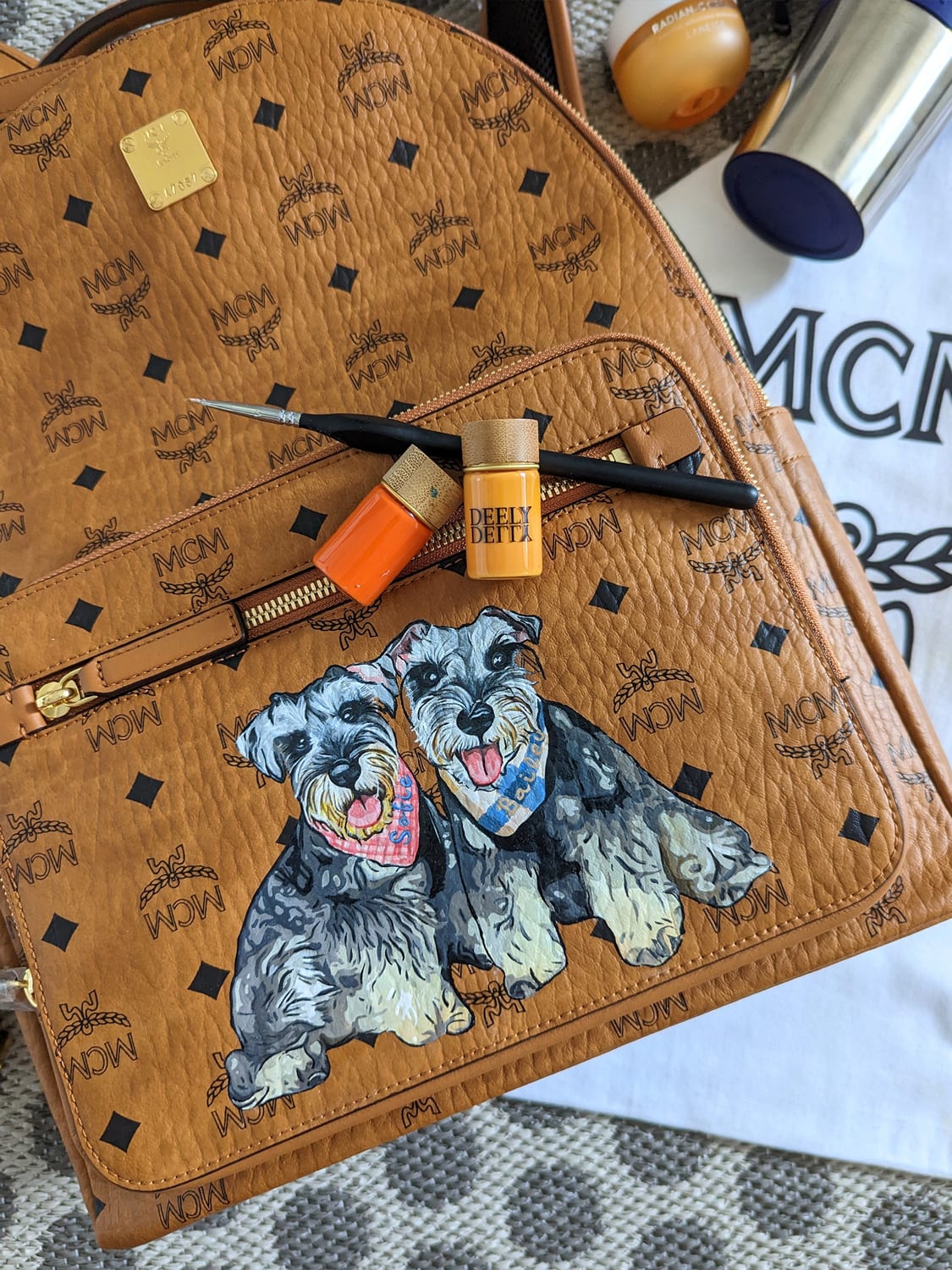 "It took three months of research before the concept of converting the historical drawings into a set of travel 'stickers' was actualised. The 'stickers' may seem casually 'plastered' onto the bag at first glance, but their designs helped bridge the years between a set of 18th-century historical images and a modern luxury bag.
"My client loved the concept thoroughly. Even as the bag is now being used every day, it is still a work in progress. There is always the option of adding on more 'stickers', just like how we collect memorabilia on our travel trips," she elaborated.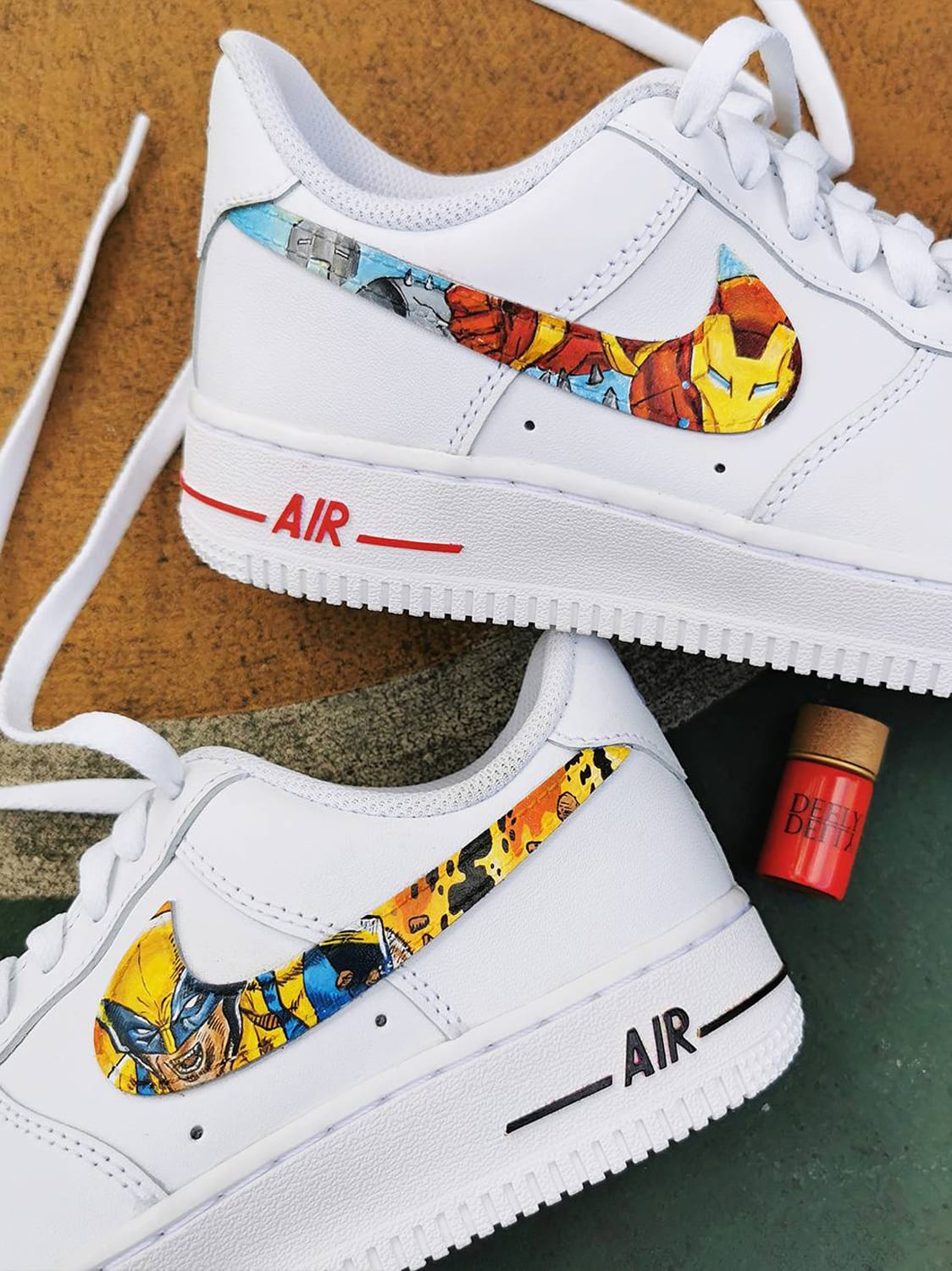 Koh enjoys meeting new people and hearing their stories through marquage.
"Most of my clients have memories that they hold dear to their hearts and being the artist who can bring these memories to life gives me immense joy. Seeing their satisfied smiles when they receive the completed bags makes my heart swell," she said.
LYDIA SYIARIEL
Despite having studied architecture, Syiariel went on to become a multidisciplinary artist. Marquage is among her specialities, besides calligraphy and watercolour painting.
"I have loved art since I was young, and am always curious to explore more, learning and trying (techniques) myself from books from the library," she said. 
Her background in architecture, however, did also contribute to her development as an artist, since she also had to learn art history, drawing and painting during her time in university.
She chanced upon the art of marquage while on a holiday in France, fascinated by the personalised items she saw at designer boutiques. 
"After that, I joined workshops and spent hundreds of hours practising to perfect my marquage skills. I am intrigued by marquage painting because it makes wearable art, and is also such an interesting way to add personality and character to leather items," she revealed.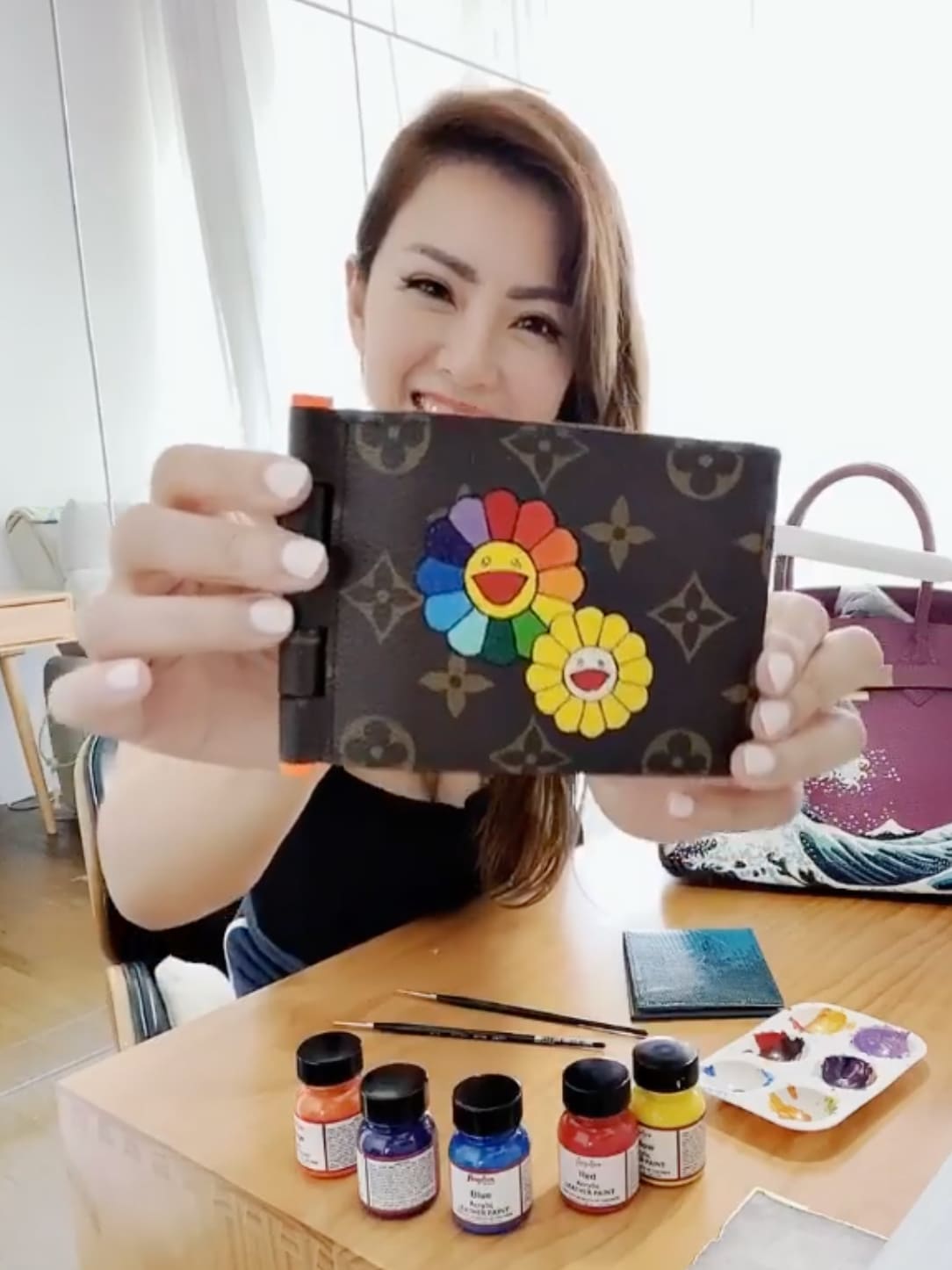 Besides working on client commissions, she also collaborates with fashion brands including Dior, Chanel and Strathberry on marquage projects, and conducts art workshops as well.
Crafting workshops have been increasingly popular here and marquage is among them. Syiariel feels it's possible for a beginner to try their hand at marquage and succeed at it – of course, on a simple design such as an initial or small picture. At the end of the class, they walk away with a piece of their own art, on a useable item at that. This is marquage's biggest appeal.
She agreed that there will still be people who cannot appreciate it – and there's nothing wrong with that.
"They probably think that personalised luxury leather goods are harder to resell. People who like marquage usually love art and they want their leather items to be unique. They also have marquage done on items with the intention of keeping them for as long as they last," she said.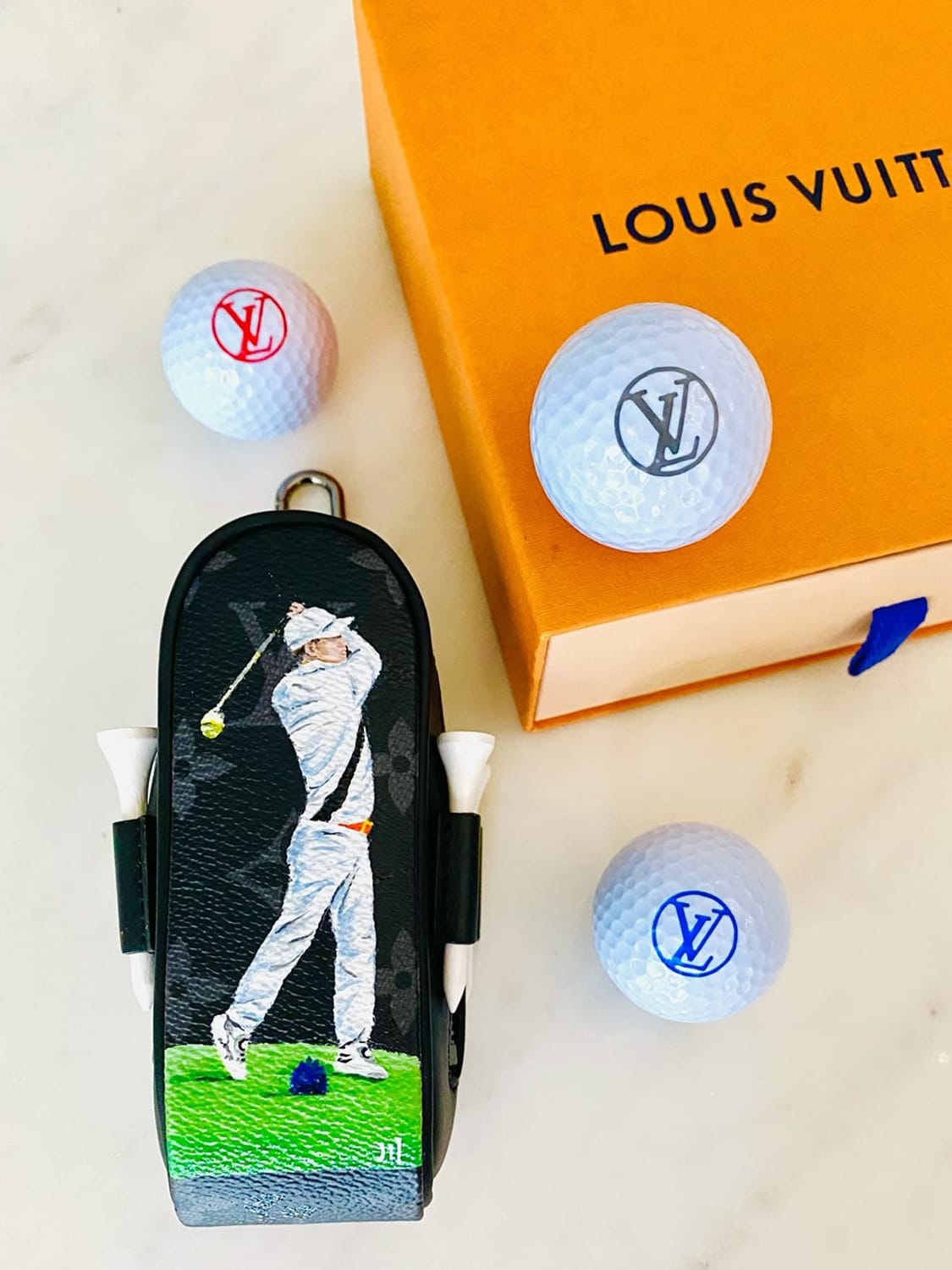 For sure, there's value in the art – it lies in how it can individualise otherwise ordinary (though expensive) leather goods, a quality that is desired, particularly in fashion. 
"Just look at brands like Louis Vuitton and Goyard – they even have in-house marquage artists who serve their clients, and the wait list for the personalisation service can be very long, like up to months or years," commented Syiariel.