Menswear takes a dramatic turn with Dior's ceremonial garb, Vuitton's skyscraper jackets
While designers at Milan Men's Fashion Week opted for comfort and tactility, in Paris, it was all about drama for some of the biggest names in luxury. Here's what caught our eye over the past week.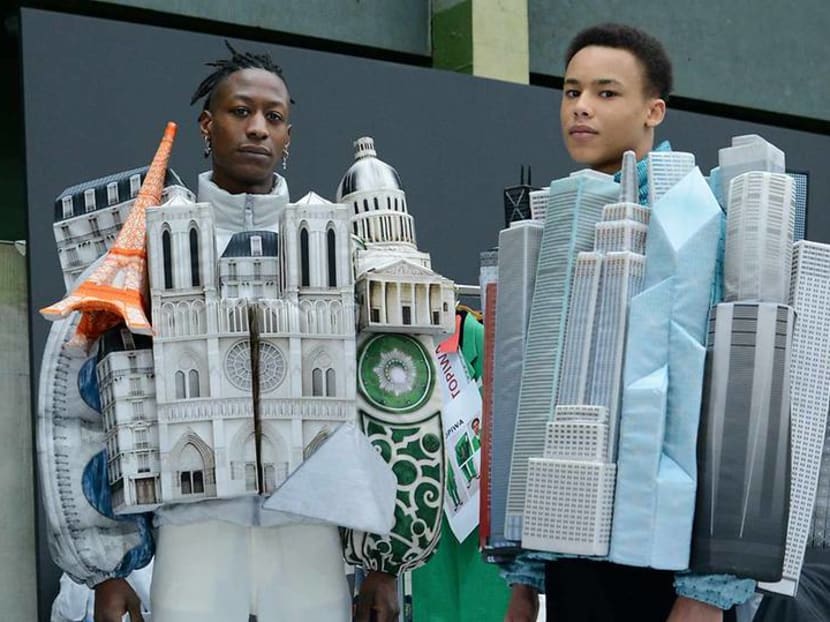 Fashion houses have become well-accustomed to showcasing their latest collections digitally, now that online presentations have become the norm. Paris Fashion Week was no different either, with several brands presenting their collections through a series of films.
Paris Men's Fashion Week (Jan 19 to Jan 24) took place hot off the heels of Milan Men's Fashion Week. But while brands that showcased at the latter seemed to play it safe, the likes of Dior, Loewe and Louis Vuitton went for more innovative ways (and in some cases, dramatic) to capture the attention of the audience at home.
Here are the highlights of Paris Men's Fashion Week.
DIOR
At a time when most brands are focusing on comfort, Dior went in quite the opposite direction, debuting a collection of lavish ceremonial wear. In keeping with a running tradition of artist collaborations, Kim Jones, the house's artistic director of menswear, chose to work with Scottish artist Peter Doig. 
The painter, who lives and works between Trinidad and London, is known for his enigmatic, moody landscape paintings, which gave Dior's collection a somewhat dreamlike quality.
Uniforms, including accessories such as boots and berets, were a central theme to the collection. Doig's landscapes were transposed onto garments throughout the collection. The colour palette was similarly inspired by Doig's work, featuring shades of blue and brown alongside pops of yellow and orange.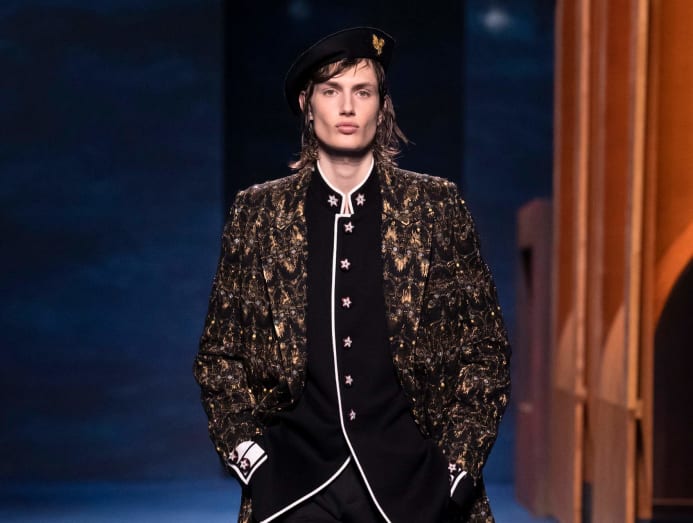 Our favourite was the show's opening look featuring a glittering, gilt-embroidered coat which took 1,200 hours of work, worn over a military-inspired star-buttoned shirt. 

HERMES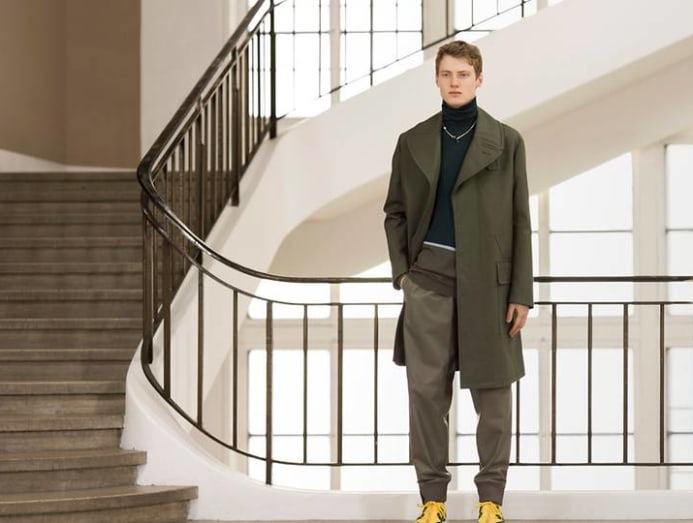 For Hermes' digital presentation, men's artistic director Veronique Nichanian teamed up once again with film producer Cyril Teste. In the film, models sauntered up and down the central staircase of France's Mobilier National building, pausing for conversation or glancing at their phones.
Hermes is known for its preference for quiet luxury, and this collection was no different. The clothes were certainly wearable for the times, blurring the lines between private and professional. "Inside-outside, the clothes leave their framework," read the show notes.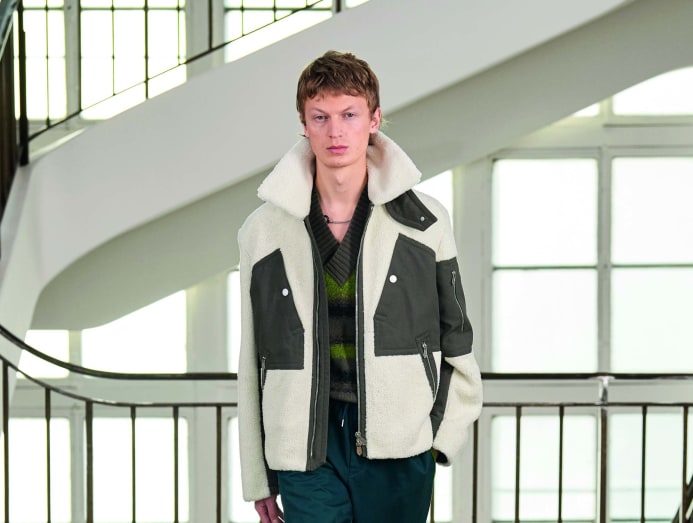 Zippers ran up and down high-collared shirts, trousers were cut loosely and featured drawstring waists, pockets were applied like patchwork and placed askew, giving the garments a more casual feel. To ground each look, models wore either glossy leather boots or brightly-coloured sneakers.
LOEWE
Ever since the pandemic hit, Spanish luxury fashion brand Loewe has been changing the game when it comes to presenting new collections. For its Spring/Summer 2021 menswear collection, the brand presented a show-in-a-box concept that included a pop-up, mini-runway set.
This time, creative director Jonathan Anderson opted to dispatch a "show in a book" to the homes of editors and insiders, a cloth-covered compilation of comics, collages and graphics by the late artist Joe Brainard.
Brainard's work served as the primary inspiration for the brand's collection. Brainard's popcorn drawings feature on black jeans, pansies are scattered over loose, oversized cardigans and high-top sneakers. A sketch of an underwear features on a tote bag and a T-shirt. The result was a collection that was upbeat and colourful, captivating with its child-like quality.
LOUIS VUITTON
Virgil Abloh, artistic director of menswear at Louis Vuitton, debuted his latest collection with a dramatic, multi-disciplinary performance that blended elements of slam poetry, dance, concert, art installation, ice-skating and more. In this collection, Abloh explored themes of ethnic identity and cultural appropriation.
The performance, inspired by Stranger in the Village, a 1953 essay by novelist James Baldwin, is narrated by American rapper and actor Saul Williams. Dressed in a black coat, Williams is shown meandering through an abstract city made of green marble and a snowy outdoor landscape, interacting with models dressed in pieces from the collection.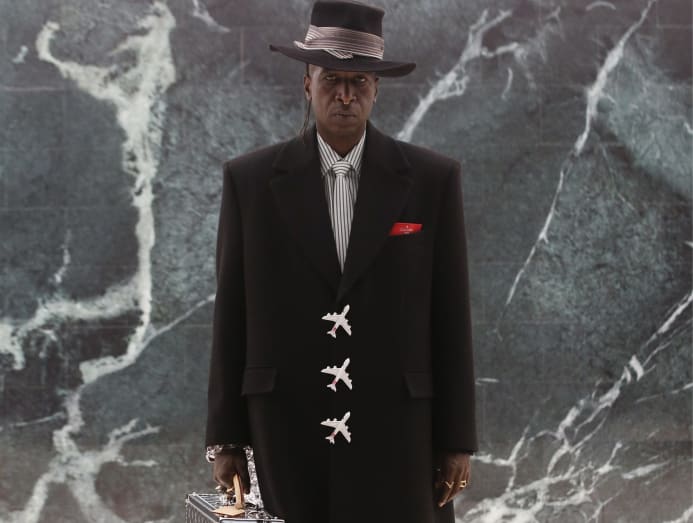 Much of the collection was wearable, but what caught our eye were the conceptual pieces in the form of dramatic cityscape jackets. 
The Paris Skyline Puffer Jacket presented the architecture of the French city, incorporating elements from the Notre-Dame cathedral, the Louvre, and the Eiffel Tower. Another jacket, titled the New York City Skyline Puffer Jacket, featured skyscrapers from a variety of cities, including New York and Chicago.
When we can't fly to these cities, why not wear them as jackets? We kid, of course.