Four rare Patek Philippe watches belonging to Jean-Claude Biver are up for grabs
Come May 9, the quartet of vintage Patek Philippe timepieces from watch industry legend Jean-Claude Biver will be auctioned in Geneva. Highlights include a prototype from 1937 and the world's first perpetual calendar chronograph wristwatch.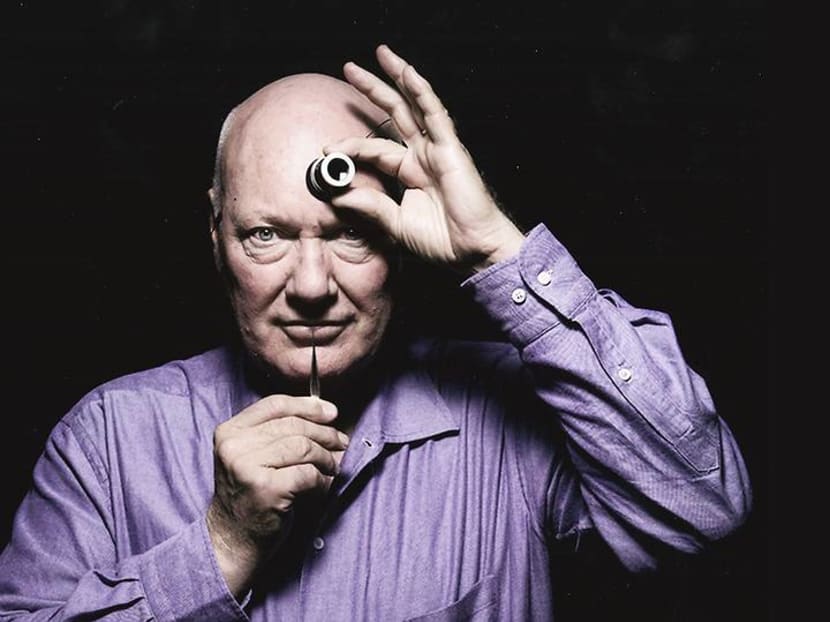 Jean-Claude Biver doesn't really need an introduction. But if he did, his achievements would include the revival of brands like Blancpain and Hublot, the modern success of Omega and TAG Heuer, and arguably being the saviour of the mechanical watchmaking industry.
This force of nature, who is currently the non-executive president of the LVMH Group Watch Division, may not need that introduction, but his fabled watch collection apparently did, which is why auction house Phillips put together the Jean-Claude Biver: A Retrospective travelling exhibit late last year, featuring some two dozen highlights from his personal collection.
These included a Philippe Dufour Simplicity in rose gold, a Zenith-driven Rolex Daytona Ref. 16520 and a Hublot Big Bang Tourbillon Chronograph. All stunning timepieces, all of which weren't for sale. Until now, that is.
On May 9 at the Hotel La Reserve in Geneva, Phillips will be helping Biver auction four of his watches from the exhibition, with a total estimation of CHF 6.5 million (S$9.4 million). If the provenance isn't enticing enough in its own right, know that the watches are four exceptionally rare, superbly maintained vintage Patek Philippe references that will surely elevate any collection.
REF. 96HU WORLD TIME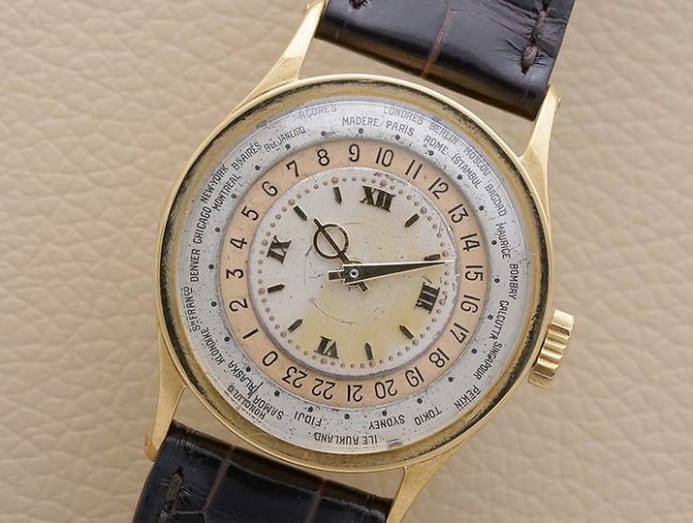 Prototypes are rare enough, but prototypes of watches that were among the first of its kind are basically unicorns.
And that's what the Ref. 96HU (where HU stands for Heures Universelles, meaning  World Time) is. It was one Louis Cottier who developed the complication for wristwatches in 1931, and he reached out to brands like Patek Philippe, Vacheron Constantin, Agassiz and Rolex for their interest.
Patek Philippe obviously jumped at the chance, and produced two prototypes in 1937 – two years before the series-produced Ref. 1415 launched. Biver got his hands on this piece back in 2011, where it sold for CHF 411,000 by Christie's. The only other known example of this reference resides in the Patek Philippe Museum.
Estimated price: CHF 300,000 to CHF 600,000
REF. 1579 IN PLATINUM FROM THE 1950S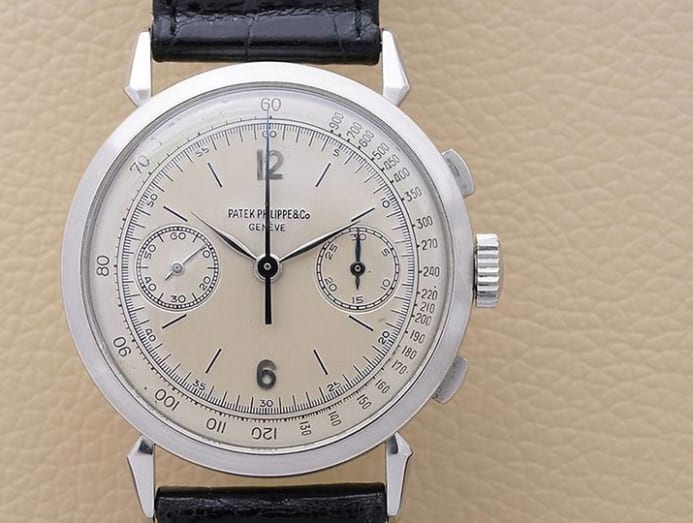 If it's pure scarcity that will help loosen those purse strings, ready your paddle for this particular Ref. 1579.
Its hefty 36mm size makes it endearingly large for a vintage watch and the spider lugs certainly add some personality to this hand-wound chronograph. But it's that platinum casing that makes this model exceptional: There are only three of them, each with a unique dial. Biver's, which is the third and last in the series, is distinguished by a blue tachymeter scale.
Estimated price: CHF 800,000 to CHF 1.6 million
REF. 1518 WITH PINK DIAL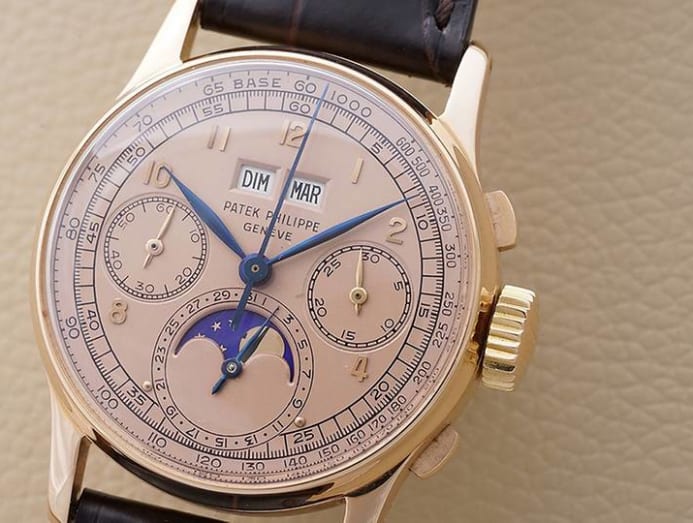 The Ref. 1518 has the honour of being the world's first perpetual calendar chronograph wristwatch, first launched in series in 1941. Only 281 of them made it out of the factory in the model's 10-year lifespan, with a majority cased in yellow gold with silver dials.
That this is a pink gold version with a pink face, believed to be one of just 13 made, gives this piece an understandably high estimate. Only its steel sibling can beat it in terms of rarity, having gone for CHF11 million at auction in 2016. But this rosy 1518 deserves extra credit for its superb condition, and the fact that Biver is only the second person to have owned it.
Estimated price: CHF 1.2 million to CHF 2.4 million
REF. 2499 FROM 1957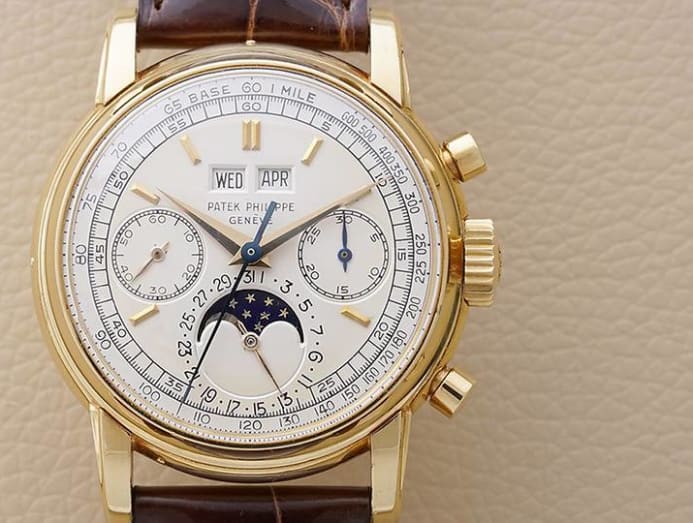 The successor to the storied Ref. 1518 is, surprisingly, considered even more collectible, likely owing to its less diminutive case size (37.5mm instead of 35mm, which is gigantic for a vintage watch) and the fact that it was produced in four series, each with its own distinctive characteristics. 
Biver's Ref. 2499 belongs to the Second Series, which is easily distinguished by its round chronograph pushers rather than square ones and the presence of a tachymeter scale, the latter of which is missing from the Third and Fourth Series. 
What drives up the estimate of this particular model is the combination of a yellow gold case with applied baton markers, as Arabic numerals were more commonly seen. There are quite possibly only 20 examples of these out there.
Estimated price: CHF 1 million to CHF 2 million.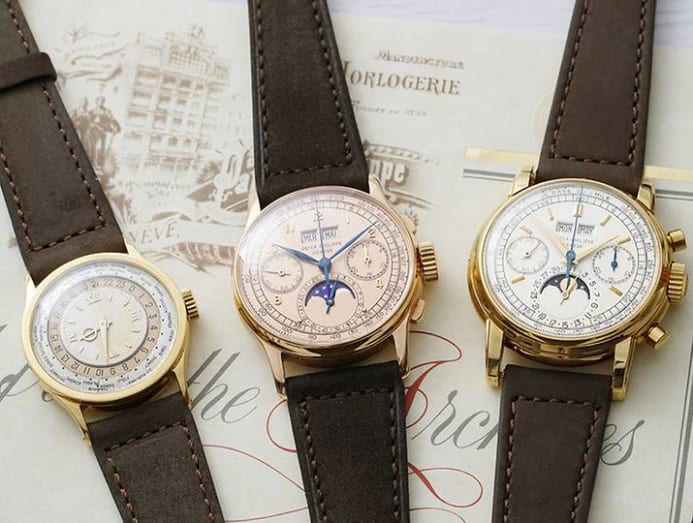 6 FAST FACTS ABOUT THE LIVING LEGEND
Still haven't a clue who Jean-Claude Biver is? Here are some highlights from his 45 years in the world of watchmaking.
1. HE CUT HIS TEETH AT AUDEMARS PIGUET
Under then-CEO Georges Golay, Biver's first year at Audemars Piguet came with only a half-salary and no office, phone line or business cards. His only job was to observe the watchmakers and learn the heritage, art and craft involved. He left after four years, hungry for promotion.
2. HE REVIVED BLANCPAIN FROM INSIDE A CAMPER VAN

After spending CHF 22,000 to buy the nearly forgotten Blancpain name with his friend Jacques Piguet in 1980, the two barely had any money left. When visiting clients or exhibiting at Baselworld, they had to sleep in a camper van and shower at petrol stations. Their first watch fair didn't even have any pieces on display, only the slogan: "Since 1735 there has never been a quartz Blancpain watch. And there never will be."
3. HE ALMOST DIED
On 16 November 1996, Biver was hospitalised after a bout of severe coughing followed by extreme back pain, chills and a high fever. He was later diagnosed with Legionnaires' disease, a form of potentially lethal pneumonia. He claims the experience has taught him to be more patient.
4. HE CONSIDERED LEAVING THE WATCH INDUSTRY
After taking a leave of absence from the Swatch Group in 2004, Biver very briefly worked with a friend in the pharmaceutical business. But the devastating realisation of how much he missed horology after a brief visit to Baselworld that year — where he was simply a guest and not an exhibitor — prompted him to return to watchmaking.
5. DON'T CALL HIM AT WORK
Rather than waste time saying too many things no one's going to remember, Biver would rather his staff email him, and to keep those emails no longer than a quarter of a page.

6. HE MAKES EXCELLENT GRUYERE
Biver bought a farm close to Montreux, in the Swiss Alps, in 2002, and has been making cheese as a hobby. The five tonnes a year he makes usually end up as gifts but the El Paradiso restaurant in St Moritz is said to stock his cheese because they wanted to serve a "Biver fondue".