The Porsche Panamera just received a sportier facelift – is it worth the upgrade?
Like an awkward sibling, the Panamera has always been the most uncharacteristic Porsche. Thankfully, it's been revamped and now drives sharper, too.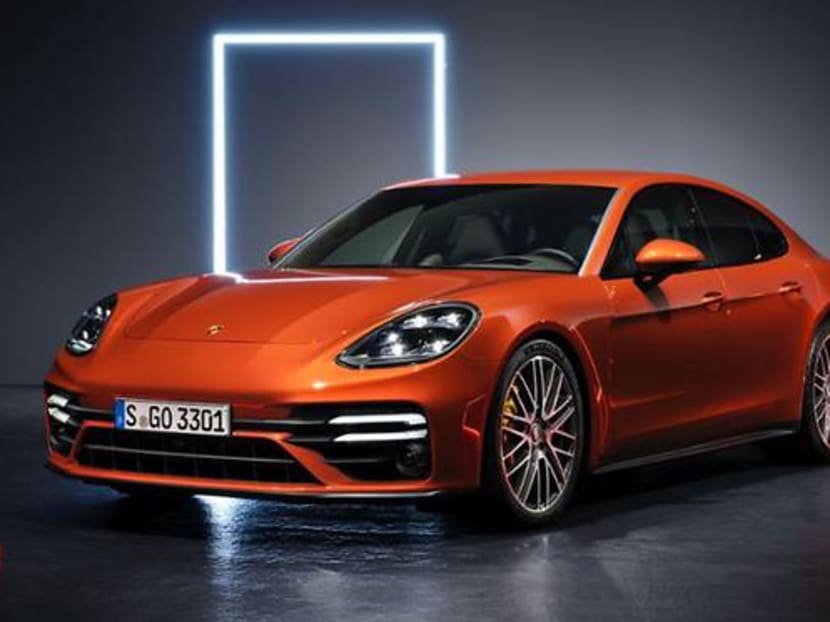 There's something about a Porsche badge that just makes one swoon different from other luxury marques and it's perhaps not unusual to find them the object of desire of little boys (and girls).
I remember seeing a hot pink little 911 number zipping in and out of our estate on my way to school every morning and boy, did it inspire me to lust after these big boy toys like no other back then.
This is why I struggle to find a reason why anyone would opt to buy a Panamera over the other Porsche models.
Some put it down to its "value" proposition (for its segment). At S$380,388 (without COE) for a base model, it's a good hundred grand under the iconic 911 Carrera, but another hundred grand over the far sexier 718. In fact, the Panamera is even pricier than both the Cayenne and Macan SUVs as well as the new all-electric Taycan.
That said, the Panamera does hold an important place in the Porsche line-up, as the only four-door luxury sedan (the 718 and 911 are two-door coupes) and still fairly family-friendly if you prefer a non-SUV option, and you're still not ready to make the leap to electric.
A MID-LIFE FACELIFT
The Panamera first arrived in 2009 and this new revamped model represents a mid-life facelift that Porsche says gives the sedan a sportier appearance.
Cosmetically, it's really just a handful of nips and tucks, nothing revolutionary. And it still looks as if Porsche made a station wagon; not quite the sexy profile of, say, an Audi A7 Sportback, in the luxury sedan segment.
Something about its proportions just feels like it needs a little more tucking, like one of Cinderella's stepsisters trying to squeeze into a dress cut for a figure more svelte. But then again, beauty is in the eye of the beholder and the revamped model is already leaps better and more pleasing to the eye than any of its predecessors.

The front bumper air intakes, for instance, are now larger and more striking, giving the car a sharper visual appearance and greater presence. 
The lights, meanwhile, have also been redesigned slightly. A revamped light strip at the rear runs seamlessly over the boot lid with an adapted contour so it flows continuously between the two newly-designed LED tail light clusters – serving up some futuristic feels almost as if to remind you this really is not your uncle's station wagon.
A SHARPER, SPORTIER AND MORE SOPHISTICATED DRIVE
The new Panamera also promises greater performance – powered by the same engine as in the racier Audi RS4 and RS5: A 2.9-litre twin-turbocharged V6 that makes 330hp of power and 450Nm of torque.
Acceleration is quite certainly one of the Panamera's best features, offering a fierce and fast ramp-up to hit the century mark in a respectable 5.4 seconds, on the way to a top speed of 270km/h.
These are numbers not to be sniffed at, and neither is the way the Panamera handles the road.
To give the car more of a sporty edge, the automaker has tuned the Panamera's chassis and control systems. Its Porsche Active Suspension Management (PASM) system, for instance, has been revamped to improve damping comfort while the Porsche Dynamic Chassis Control Sport (PDCC Sport) improves body stability.
How does this translate to the drive experience?
The new Panamera flows over bumps and humps with cloud-footed ease, eliciting nary a hint of protest from its occupants. 
Even in Sport+ mode, the car feels so well-balanced and agile that you're likely to forget you're steering a 5m-long sedan – which goes some way towards helping you forgive the Panamera's uncharacteristically Porsche roofline.

It's clearly a sharp and sophisticated drive and very wieldy, with a new generation steering control system dishing up a good turning circle, too. 
Meanwhile, the low-slung driving position gives you more of those sports car feels while new tyres offer improved lateral dynamics and greater precision. Three new 20- and 21-inch wheels have been added to the selection for a total of 10 designs now available.
SUITABLE SLEEK AND IMPRESSIVELY SPECCED
Inside, the cabin is, as one would expect, appropriately luxe.
The design of the central console is very sleek and modern, with the digital display and controls well-organised, well thought-out, and workmanship top-notch. Save for one trifling detail: The piano black plastic trim casing.
The glare from harsh sunlight bouncing off the large surface area can be quite distracting when you're driving. Not to mention having to keep polishing it as fingerprints accumulate on the high-gloss area if this was your everyday drive.
In terms of tech, the new Panamera has impressive specs. It features a suite of top-of-class assistance systems such as Night Vision Assist and Park Assist including Surround View, in addition to the now-standard Lane Keeping Assist. Always nice to see a head-up display, too.
And just a heads up: The sedan, while suitably sleek and comfortable enough, doesn't offer much space for growing families. You'd probably wanna go with a Cayenne or Macan for that.
Boot size is decent at 467 litres, so you can throw in a golf bag or two with room to spare.
Now without a family in tow, one may be tempted to look beyond the base model and consider one of the more premium variants instead.
There's the Panamera 4 Executive featuring a long wheelbase; the E-Hybrid for urbanites; the GTS for petrolheads; and the top-of-the-range Turbo S offering about double the power and torque – at double the price.
Whichever way you choose to go, it doesn't get posher than this Porsche and ultimately, it's the badge that counts.
PORSCHE PANAMERA
ENGINE: 2,894cc, V6, twin-turbocharged
POWER: 330hp at 5400-6400rpm
TORQUE: 450Nm at 1800-5000rpm
TRANSMISSION: 8-speed dual-clutch
ACCELERATION (0-100KM/H): 5.4 seconds
TOP SPEED: 270km/h
FUEL EFFICIENCY: 9.2L/100 km
PRICE: from S$380,388 (without COE)