Which is a better-value buy, a Porsche Panamera or a Porsche Taycan?
The Panamera and Taycan represent the pinnacle of sports saloon handling prowess. But with the base Taycan being some S$40,000 less expensive than the comparable Panamera, is it a better choice?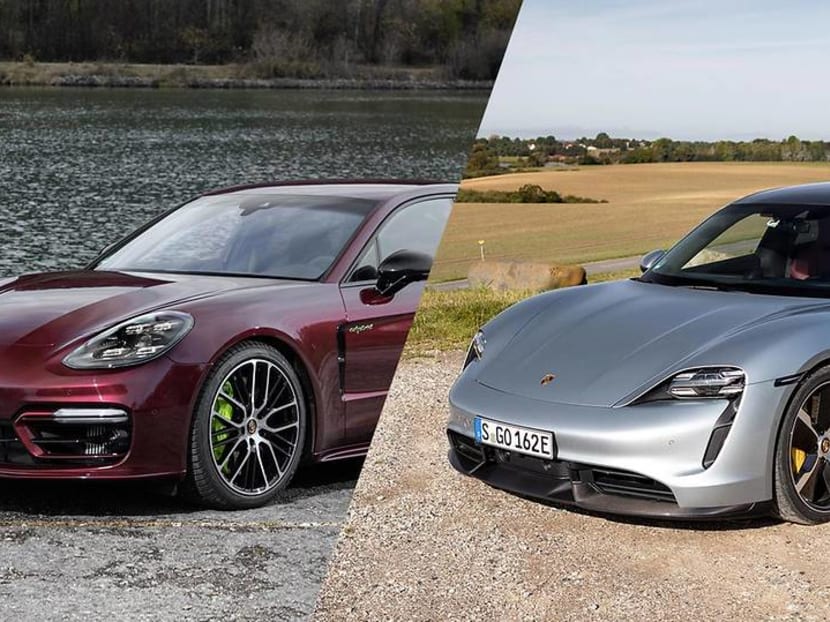 It might surprise you to learn this, but the idea of a four-door Porsche was mooted as far back as the late 1980s. There was the 928-based (Porsche's grand tourer model at the time) H50 design study and there was the 989 concept car of 1991, though crucially, none of those cars ever saw production.
The fact the carmaker was then facing financial troubles and having a bit of an existential crisis with the 911 was partly to blame.
With that, the Porsche saloon, melding the sporting qualities of the 911 with long-haul touring comfort would only be revived some 20 years later with the first Panamera in 2009.
Of course, Porsche was then, as is now, in a much different place, flush with all the money it was (and still is) making off the Cayenne SUV.
And so it goes. The Panamera is now in its second model generation, even spawning a fraternal twin in the form of the Panamera Sport Turismo shooting brake (think a sporty station wagon, and again another idea Porsche first floated in the 1980s).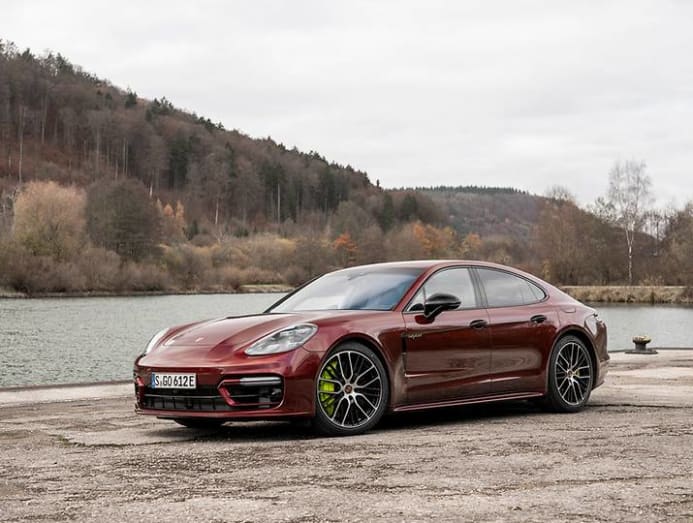 The second coming of the Panamera was much better received, especially on the styling front, against the controversial bulbousness of its predecessor.
But just a few years ago, another four-door saloon joined the Porsche lineup. One that's arguably its most contentious one yet, mainly because it was to be the first production Porsche to not have a combustion engine.
Instead, the car christened the Taycan would come exclusively with an electric motor. For obvious reasons, the Taycan would also abandon the centrally-mounted analogue rev counter, another traditional Porsche hallmark.
Perhaps most significantly, the Taycan would be one of the first production electric vehicles (EVs) to achieve price parity with its combustion counterpart. In the Singapore context, thanks to tax rebates, the base Taycan is some S$40,000 less expensive than the comparable Panamera.
Which should make going electric a no-brainer when it comes to your Porsche saloons. Or is it?
OF SURCHARGES AND REBATES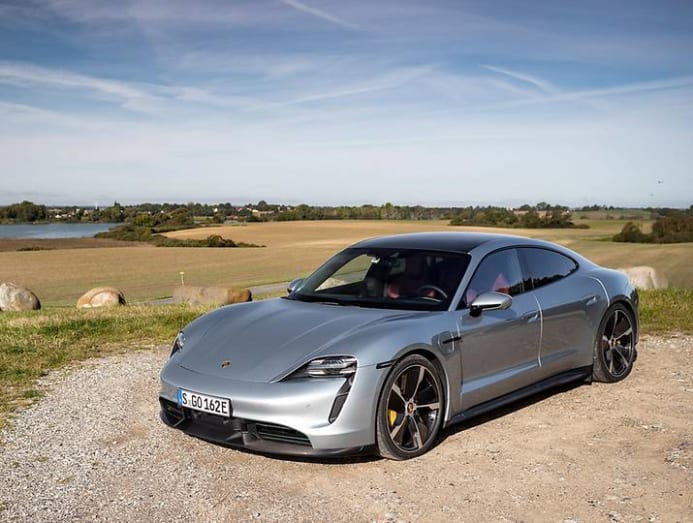 On the face of things, still sticking with a combustion car in 2021 is a bit old hat… not to mention expensive. Particularly when you're talking about performance combustion cars.
As of Jul 1, cars that emit more pollutants (that is to say those aforementioned performance cars) will be hit harder by revised Vehicular Emissions Scheme surcharges. In the case of the Panamera, powered by a 2.9-litre engine, that attracts a S$25,000 surcharge, which is factored into the sticker price of the car.
If you think about it another way, you could even out that S$25,000 over the course of its first COE cycle, which is a comparatively easier-to-swallow S$2,500 a year. On the plus side, thanks to the relatively small 2.9-litre engine, you'll just have to pay S$2,018 annually in road tax.
When it comes to the Taycan, it's even better news. Any Taycan, even the fire-breathing (and mind-numbingly pricey at S$748,158 exclusive of COE and optional extras) Turbo S model is classed in the A2 VES band, which means a S$15,000 rebate, which is excellent news.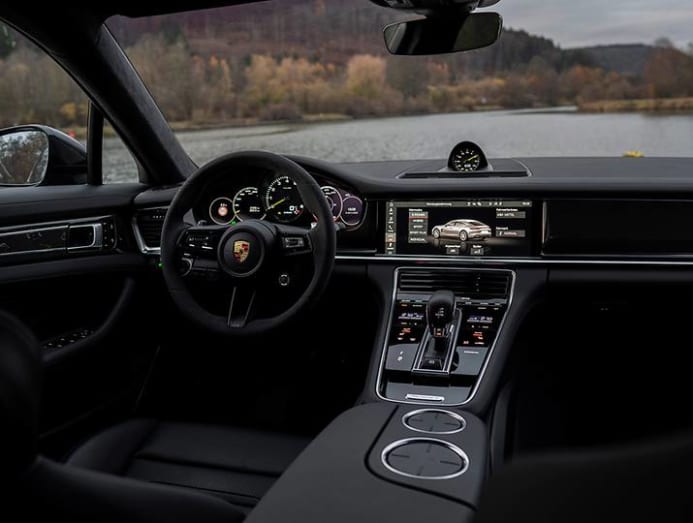 Of course, the road tax bill an electric car attracts is a different story. Quite literally, since it's calculated on power output, unlike a combustion car, which is taxed on engine displacement. In the case of the base model Taycan, that's relatively reasonable at S$2,856 a year, though it only goes up from there.
The mid-range Taycan 4S will cost you S$5,202 a year, and your pockets had better be pretty well-padded if you're thinking of owning the Taycan Turbo S, because that will cost a whopping S$7,862. That's almost S$1,000 more than what you'd pay if you had a Rolls-Royce Phantom with its 6.75-litre V12, which is currently the car with the largest-displacement combustion engine on sale today.    
The short answer is, it's a bit of a wash between the Panamera and the Taycan. All according to plan, since the LTA's official line is, that unless you're talking about commercial vehicles, it doesn't want to favour one propellant type over another.
ALL CHARGED UP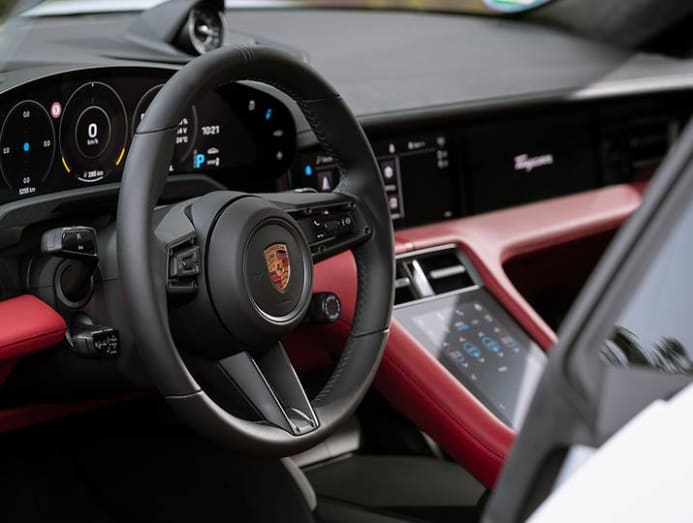 Taxes and rebates aside, one of an EV's biggest selling points is how economical they are to run, and even a performance-oriented one like the Taycan is no exception. And because it's a state-of-the-art EV, any Taycan will have at least 400km of juice in the "tank".
Anyway, the point is this: Petrol is expensive and electricity is comparatively cheap. A full tank of gas, which will last you around 500km to 600km in the Panamera (depending on how heavy your right foot is) will run you into something like S$200 each time.
But a full charge in the Taycan? Well, how does just over S$40 at a Shell Recharge charging point sound to you? Good? Great.
Until that is, you get to how long it takes. Even if you decide to use the Taycan's super-quick charging (which you can't here yet, because our charging stations aren't so equipped at the moment), you'll still be spending at least 20 minutes waiting for batteries to be topped up.
So, while the Taycan costs a fraction in "fuel" against the Panamera, you'll be spending a lot more time at the pumps. Add to that how public charging stations are still a relative rarity here, and it's enough to make you question the sense in going electric.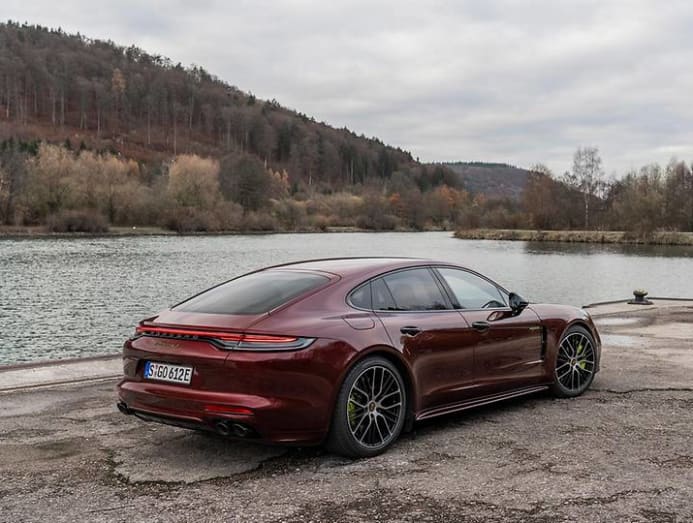 Unless, of course, you happen to own your own garage space and can install a charging port there. In which case, you won't be subject to the vagaries of hunting for a public charging point, and can simply juice up your Taycan overnight while you sleep.
But what of the handling?
Make no mistake, any Porsche handles well. Yes, even the ones least likely to, SUVs like the Cayenne and the Macan.
Which would lead one to assume it would be able to make low-ish cars like the Panamera handle brilliantly, and it does. To be sure, the Panamera isn't a small or light car. It measures just over five metres long and weighs around 1.9 tonnes, and yet the harder you drive it, the more it seems to shrink and become more self-assured. And even in base trim, it packs 330hp and will do the century sprint in 5.6 seconds.
Fairly middling in the big scheme of things, but more than brisk enough for most needs and circumstances.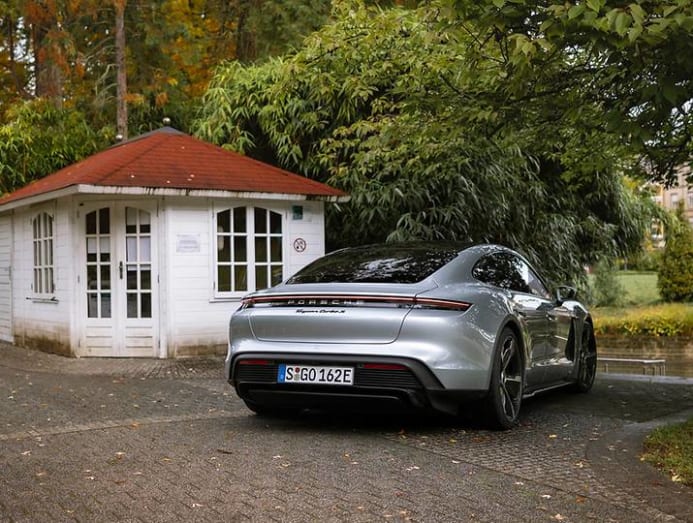 But the Taycan, oh boy. Like all EVs, it has the ability to make anything short of a hypercar feel a little lethargic, and the ability to make anything short of a limousine feel like a rattling jalopy.
Alright, that was a bit of hyperbole, but suffice it to say, the Taycan is extremely rapid and extremely quiet, a natural by-product of an electric motor having lag-free, always-available acceleration and very few moving parts. In fact, the loudest thing on the Taycan while cruising is the roar of the tyres and the rushing of the wind.
Yes, yes. You can option the so-called Porsche Electric Sport Sound on the Taycan. Essentially a digital soundtrack for the car, it adds an angry rumble at low speeds, and should you floor the pedal, a sound that's not entirely unlike a UFO.
But whether you decide to go combustion or electric, know this: The Panamera and Taycan represent the pinnacle of sports saloon handling prowess.
SO… PANAMERA OR TAYCAN?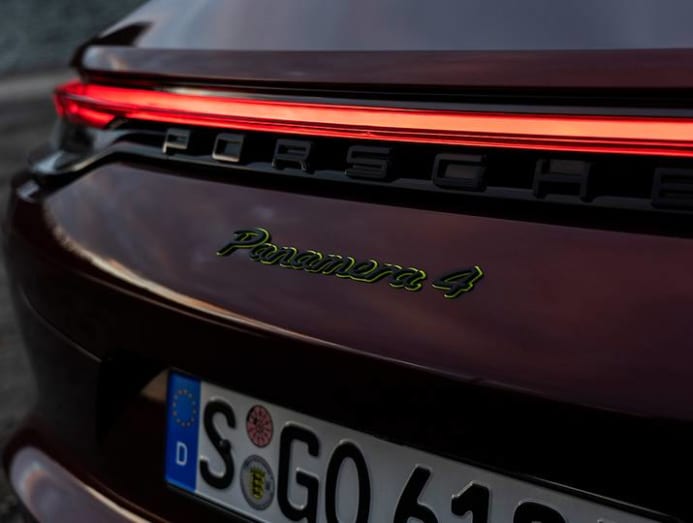 Much as we love the Taycan, and we really do, since it successfully manages to translate all of a Porsche's soul and charisma into an electric form. No easy feat, mind you, since a good deal of a Porsche's charm comes from its engine and its associated growl.
Unfortunately, while an electric car costs a pittance (in relative terms, anyway) to run, there's an opportunity cost when it comes to time. Even the quickest quick-charging systems take around half an hour to get from flat to full-ish.
It's also important to note we don't have those systems here for the moment. Charging infrastructure will most certainly improve in the next few years, and it's more than likely charging points will be as ubiquitous as petrol stations, but we're not there just yet.
Which leaves the Panamera as your only choice if you're on the risk-averse side and still want a Porsche four-door. Is it a bad thing? Well, sure if choice is an important thing to you, though that pain is tempered somewhat when you consider how versatile the Panamera is.
In short, what we're trying to say is that an EV like the Taycan is still very much a car for the early adopters, so you'll have to live with a certain amount of inconvenience.
Hey, nobody said driving the future would be easy.