Why are sports car enthusiasts making a beeline for this all-electric vehicle?
The Porsche Taycan, the carmaker's first-ever all-electric sports car, is a veritable powerhouse, as we discovered on a recent test-drive around Marina Bay.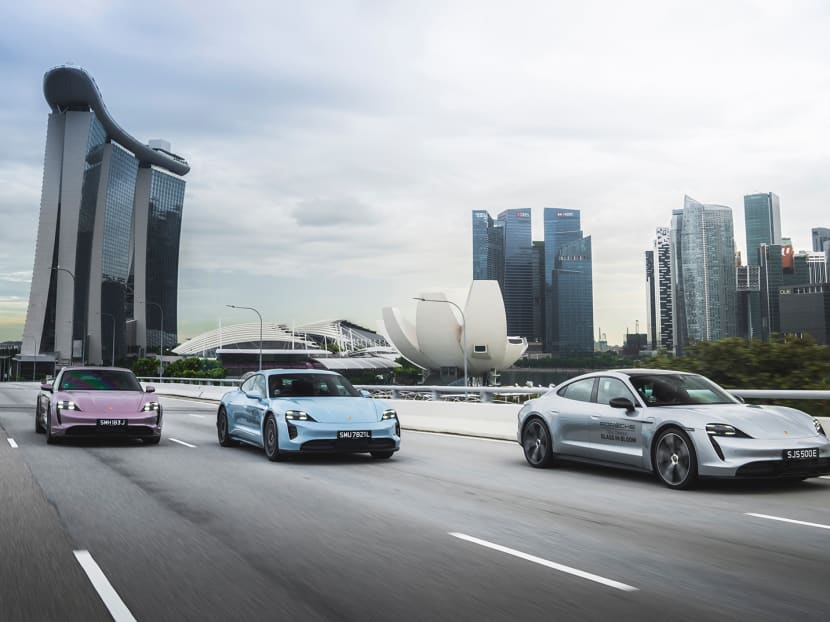 You always remember your first time. For the Taycan and I, it was at the Los Angeles Auto Show in November 2019, about a month before news of COVID-19 shook the world. Amid the endless flutter of camera flashes, she caught my eye. That moment was magic but alas, I couldn't get near.
Porsche's first-ever all-electric sports car had just been unveiled at the carmaker's exhibit in one of the halls of the sprawling Los Angeles Convention Center and it was causing quite a stir. A frenzy of reporters, bloggers and video crew had her enclosed in a human barricade, and attempting to get up close was a mission akin to paparazzi trying to get to Beyonce. 
So you can imagine my excitement when I finally got my chance to rendezvous with the terrific Taycan at the first-of-its-kind Porsche Driving Experience, held in conjunction with the Dale Chihuly: Glass In Bloom exhibition at Gardens by the Bay.
The event offered invited guests an exclusive opportunity to take the Taycan on a spin around the scenic gardens over a two-week period in July. It also featured as part of the exhibition a specially designed Taycan art car, wrapped with vibrant livery featuring design elements from Chihuly's award-winning Persians series.
ELECTRIC CITY
We reckon it's a rare find, an electric car this sexy. Perhaps that explains why three in four buyers of the four-door sports sedan in Asia are first-time Porsche owners.
According to official figures released by the Stuttgart automaker, Porsche registered a record performance in the Asia-Pacific in the first half of 2021; a jump of 87 per cent over the previous year, with 47 per cent of all units delivered being either fully electric or plug-in hybrid vehicles.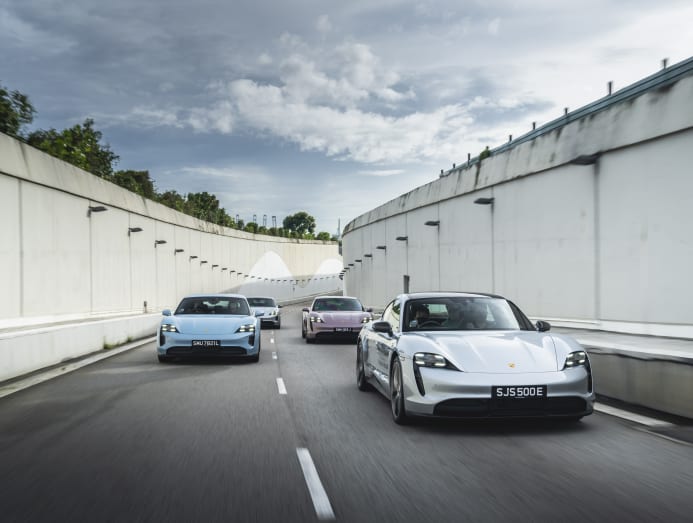 "Porsche has always captivated a widespread audience, and the Taycan continues this fascination. It is a sports car like every Porsche, yet it also marks the beginning of a new era," Porsche Asia-Pacific CEO Arthur Willmann told CNA Luxury.
The carbon-neutral production of the Taycan has certainly marked a new era not just for Porsche but the broader auto industry.
Since its unveiling in 2019, the Taycan has been named the world's most innovative car by scientists at the Center of Automotive Management, with 13 world firsts such as its 800-volt architecture, high recuperative power of up to 265 kW and best Cd (drag coefficient) value in the segment (from 0.22), which all significantly contribute to the Taycan's keen aerodynamics, low energy consumption and, therefore, its long range.
It's for these reasons Willmann believes the Taycan is proving such a hit with drivers in this dynamic and progressive region.
BRINGING SEXY BACK
When it comes to electric rides, you can't get much sexier than a Taycan. Even the ultra popular Tesla can't hold a candle to the Taycan's fluid yet sharp silhouette and dynamic flyline that's quintessentially Porsche in DNA.
The Taycan comes in seven variants including the higher performing Taycan 4S and Taycan Turbo, with even the wagon-like Cross Turismo versions cutting a much sleeker form than many other electric vehicles you'd find in the global electric car line-up.
Design elements like the four-point LED headlights with matrix beam and horizontal light strip across the rear with 3D Porsche branding embedded within glass under the three-stage rear spoiler system amp up the futuristic feels, even if they have been integrated onto other Porsche models for some years now.
For our test-drive, we opted for the Taycan 4S, the third model in the Taycan family, and took the Frozenberry decked sportster (one of seven exclusive exterior paint finishes) for an extended drive around the Marina Bay area.
AWESOME POWER, PERFORMANCE AND RANGE
Power and performance is clearly what puts Porsche ahead of the pack.
With 530PS of power and instant torque of 640Nm on tap, our Taycan 4S enjoyed a spectacular boost with Launch Control to hit the century sprint in just four seconds. The experience is nothing short of exhilarating, only beat by the Taycan Turbo S variant, which can go from standstill to 100km/h in a mind-numbing 2.8 seconds – the same acceleration figures as a 911 GT2 RS.
This is pretty wild and gives everyday drivers the opportunity to experience a standing start performance on par with that of a sports car such as Porsche's 918 Spyder. 
Now while it can't compare in range to a Tesla Model S (637km), the Taycan offers the choice of two battery sizes – Performance Battery and Performance Battery Plus – at two different price points. On the Taycan 4S, the former delivers a decent range of 365km and the latter increases range up to 414km, with an additional boost of power up to a whopping 571PS.
As for charging your electric vehicle, the Taycan boasts an industry-leading charge power of up to 270kW, and the carmaker says the Taycan Turbo, for example, can be charged up to enable a range of up to 100km in just five minutes, under optimal conditions – though this does not translate to material benefit at the "pump", as existing charging infrastructure isn't rigged up to handle that level of energy transfer yet.
ALMOST ROOFLESS AND LEATHER-FREE
The sleekness continues inside the cockpit in which state-of-the-art tech is housed within a curved 16.8-inch screen display as part of the free-standing instrument cluster, which also includes a central 10.9-inch infotainment display. There's also an optional display for the front passenger.
Porsche has almost all but done away with mechanical buttons and replaced them with digital ones so surfaces are flushed and glossy, just as a futurist would expect.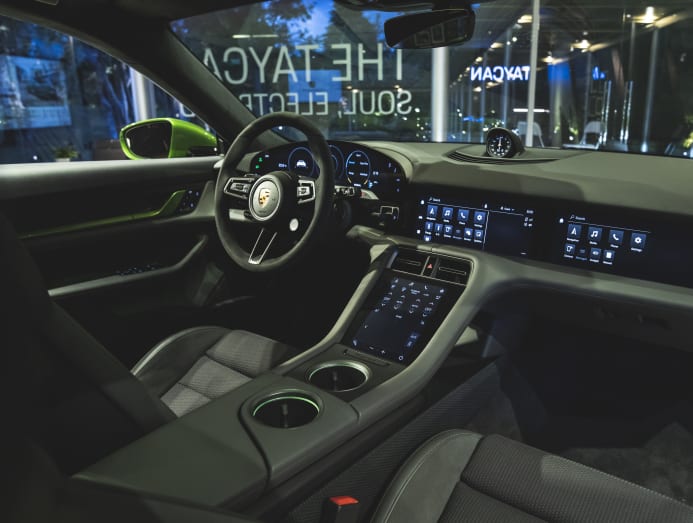 That said, analogue elements like a compass display on the dashboard (on the Taycan Cross Turismo) add a touch of class and are no doubt strategically placed to kindle the hearts of purists. 
Environmentalists, too, will be glad for the fact that buyers have the option of a Race-Tex leather-free interior (standard on the Taycan Turbo S and Taycan Turbo), made from recycled materials but no less luxe in feel.
And race enthusiasts will be stoked with the option of a GT multifunction sports steering wheel that comes with the Sport Chrono Package (also standard on the Taycan Turbo S and Taycan Turbo S Cross Turismo).
The panoramic glass roof, while splendidly flooding the cabin with light and amplifying the sense of spaciousness, may not quite be ideal if you're trying to escape the paparazzi, however.
PORSCHE TAYCAN 4S TECHNICAL SPECIFICATIONS
ENGINE: Electric 
OVERBOOST POWER with Launch Control: 530PS
MAX. TORQUE with Launch Control (Performance Battery): 640Nm
RANGE: 365km (Performance Battery) / 414km (Performance Battery Plus)
ACCELERATION (0-100KM/H) with Launch Control: 4 seconds
TOP SPEED: 250km/h
BATTERY: 365km (Performance Battery) / 414km (Performance Battery Plus)
ENERGY CONSUMPTION: 25.6 - 24.6 kWh/100 km
VES BAND: A2
PRICE: from S$468,258 (Performance Battery) / S$490,727 (Performance Battery Plus) (without COE)