Porsche wants you to 'dream big': 2 immersive art installations featuring its iconic 911 model this month
Visit two Instagrammable art installations by Scottish artist Chris Labrooy and American artist Daniel Arsham at Gardens by the Bay and Mandala Club this January.
Every Porsche enthusiast remembers their first encounter with the brand. For me, it was as a teen in the 1990s seeing a hot pink 911 zip around my condominium estate, and the sheer thrill it would send through me each time.
Today, that memory remains indelibly imprinted 30 years on.
That's the thing about Porsche, isn't it? It inspires so many to aspire; to dream – sometimes obsessively – about that covetous set of wheels and badge of prestige that sets their hearts ablaze. If you find yourself still similarly infatuated with that hot little number they call the 911, Porsche has assembled two very Instagrammable art installations featuring the iconic model for your gawking pleasure this January.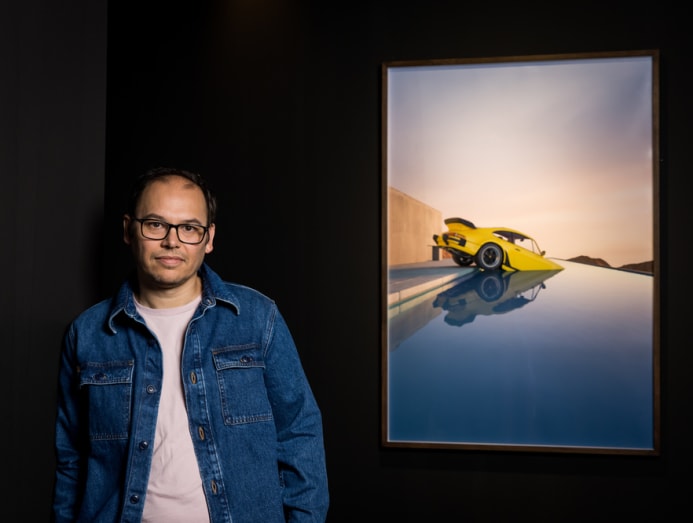 Porsche's The Art of Dreams exhibition returns for a second run this year, in conjunction with Singapore Art Week 2023.
You may recall last year's edition, which featured a 7m-tall balloon structure by French artist Cyril Lancelin that took up residence at Marina Bay's The Promontory.
Remember Your Dreams, it urged visitors. Some dubbed it a giant pile of purple noodles. Me? I thought it looked like a lavender-hued mass of innards, to be honest. 
Whatever your take, it certainly twerked one's imagination and minted a multitude of new influencer types, to be sure.
DREAM BIG BY

CHRIS LABROOY
This year's edition may be a little less esoteric, but no less Instagram-friendly.
At Gardens by the Bay, a helmeted figure appears to be rising up from the ground, larger-than-life with a hand placed over a real-life white Porsche 911 Carrera 4S.
Dream Big by Scottish artist Chris Labrooy is meant to represent the child in all of us; playing with a toy car on the ground, at a time when our imagination knew no bounds. Standing at 3.5-metre tall, the four-piece structure arrives in Singapore following its world premiere at Miami Art Week last November.
The artwork is intended to prompt some self-inquiry, according to the artist. Are we following the dreams we once held as a child? Where did we hope our journey would take us? And where will our dreams take us next?
Beholding the mammoth installation, it may also compel you to ask: Who might have the artist intended as the child concealed within the helmet? Is it one of the pre-pubescent Daft Punk-sters, perhaps? Could it be a pre-teen Lewis Hamilton? Does it even matter?
That's also the thing about art, isn't it? It's all about perspective.
On this note, be sure to take a 360-degree walk around the installation for a complete viewing experience. This writer did not, and thus missed out on seeing the two giant feet sticking out of the ground at the other end – which apparently doubles up as a slide for kids, so don't miss it!
CRYSTAL ERODED PORSCHE 992 BY DANIEL ARSHAM
In addition to this mega outdoor installation, Labrooy, who happens to be an avid Porsche driver himself and long-time Porsche collaborator, is also showcasing a gallery of commissioned artworks at Mandala Club.
The artworks feature the iconic 911, which celebrates its 60th anniversary this year, playfully rendered against the "native" playground of Palm Springs, California. There are Porches floating in swimming pools, gravity-defying Porsches, and Porsches cross-bred with inflatable pool animals. Our favourite was the pink flamingo one, of course. Trippy.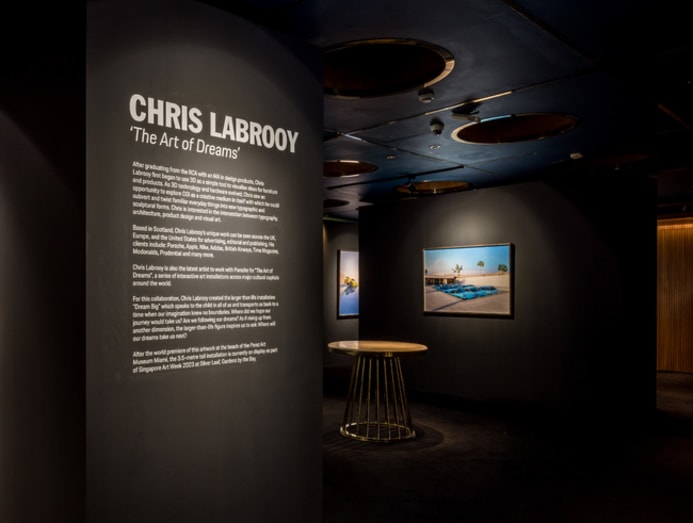 At the other end of the colour spectrum is American artist Daniel Arsham's Crystal Eroded Porsche 992 art car concurrently also on display on the ground floor of Mandala Club. It's edgy with an industrial vibe, with its off-white exterior punctuated by gaping crevasses filled with quartz and pyrite crystals that recall Superman's frosty Fortress of Solitude.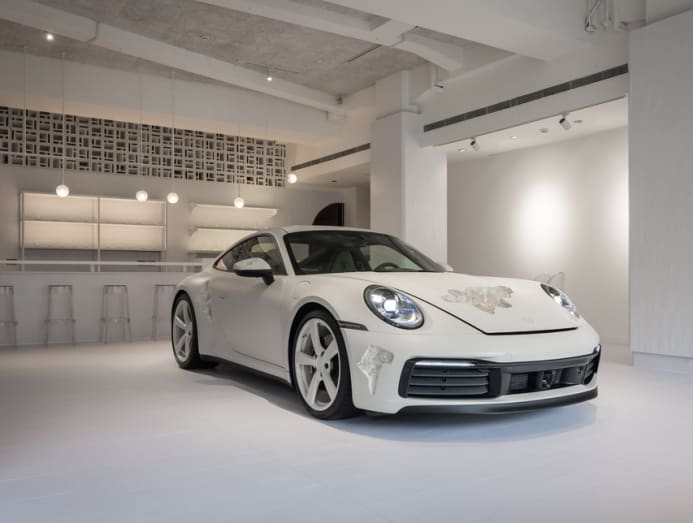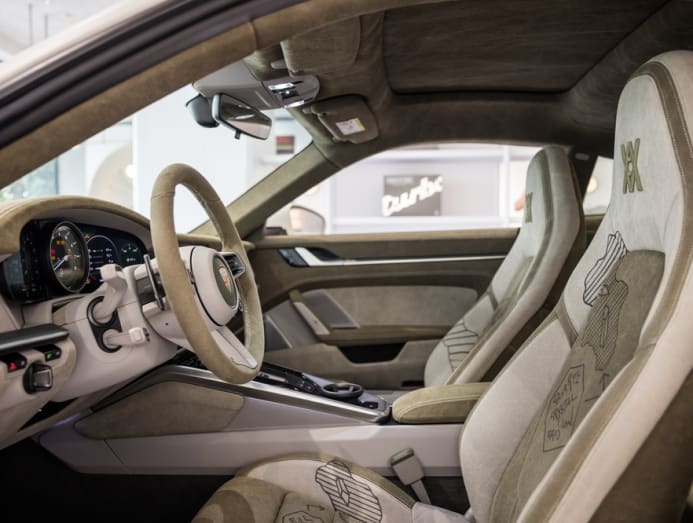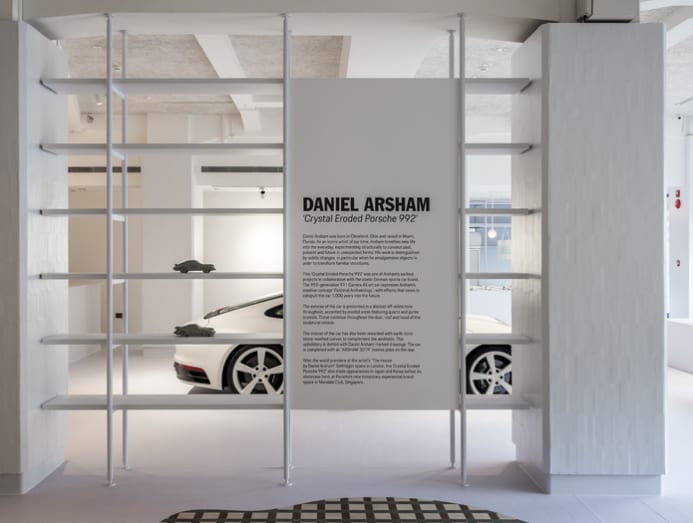 Inside, the stone-washed upholstery is further artistically vandalised with Arsham's drawings, while an ARSHAM 3019 license plate is affixed to the rear.
The Porsche badges on the car's exterior, meanwhile, appear to be coated with white-out – a commentary against consumerism, perhaps? Or maybe we're thinking too much. Go see for yourself.
Porsche presents: The Art of Dreams Singapore
Dream Big by Chris Labrooy
Till Jan 15, 2023
Silver Leaf, Gardens by the Bay
18 Marina Gardens Drive
Singapore 018953
Porsche x Mandala Club present:
Daniel Arsham's Crystal Eroded Porsche 992
Till Jan 15, 2023
Mandala Club
31 Bukit Pasoh Rd
Singapore 089845