From the boardroom to a glitzy soiree, it's time to make a style statement with Brunello Cucinelli
With parties and social events back in full force, it is time to update your pandemic wardrobe with special occasion pieces from Brunello Cucinelli's fall/winter 2022 collection for when you need to dial up the style quotient.
In partnership with Brunello Cucinelli. 
The times, they are a-changin'. From the upcoming Formula 1 festivities to the relaxation of mask wearing requirements, many of us are more than ready to shake off the past two years of pandemic languishing.
Naturally, it makes sense to give your wardrobe a refresh so that you can step out in style, whether it is to a glamorous soiree or an intimate gathering with friends and family you have not seen as frequently as you liked since the onset of COVID-19.
For an effortless shortcut to sophisticated power dressing – begone, sloppy tracksuits and oversized T-shirts – look no further than Italian luxury fashion label Brunello Cucinelli. Known as the "king of cashmere" for his signature understated yet plush knitwear, Cucinelli is often regarded as the designer of choice for those in-the-know who value timeless workwear and formal occasion clothing – from immaculately tailored jackets and suits to elegant gowns and tuxedos.
In line with the brand's ethical ethos to uphold the highest standards in Italian craftsmanship, the garments continue to be crafted in the 14th century mediaeval Umbrian village of Solomeo. To give back to the community, the company has restored the village by building a theatre and has also reclaimed land for agriculture including vineyards, olive groves, orchards and wheat fields.
No wonder then that fans of the brand's subtly luxurious and minimalist pieces include some of the most influential individuals in the world, such as Prince William, Jennifer Lopez and Jeff Bezos.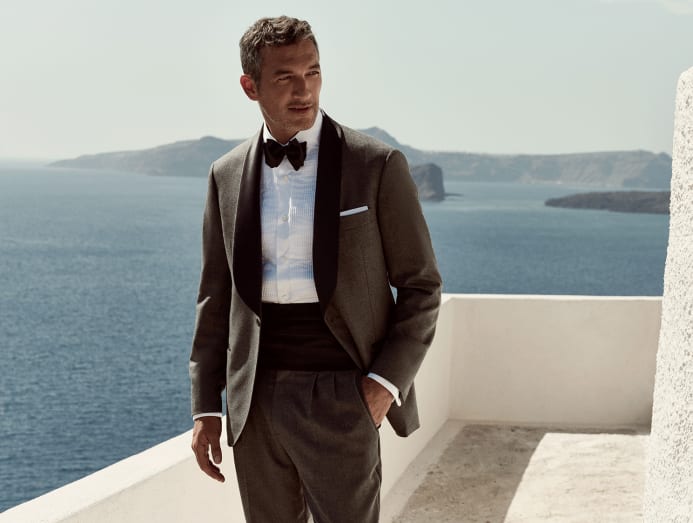 For the modern aesthete with an eye for stealth luxury, look no further than the Brunello Cucinelli Uomo and Donna fall/winter 2022 collections – sleek and elegant designs for him and her that showcase the highest standards of Italian craftsmanship. Besides formal occasion wear, the collections also feature an array of travel-friendly outfits from knitted outerwear to tailored denim that are suitable for business and leisure travel.
The men's collection – aptly inspired by the ever-transforming modern world in these post-pandemic days – fulfils the desire for effortless elegance in one's sartorial choices.
The collection features the brand's signature timeless neutrals in refined hues of beige, grey and blue, but with splashes of pomegranate red, eucalyptus green and cornflower blues to enliven the colour palette. The latest peacoats and jackets, which can be worn for work and leisure, blend elegant lines with modern sensibilities while the softer volumes of trousers offer style versatility without compromising on comfort.
The women's collection has a calibrated infusion of glamorous elements such as iconic Nordic patterns, luxurious boucle fabric and glam lame textures that are suitable for various times of the day, from business meetings to special gatherings. Together with show-stopping evening gowns, there are also stylish slip dresses, deconstructed trousers and even denim garments – all of which can be effortlessly dressed up or down with a chic blazer, depending on the occasion.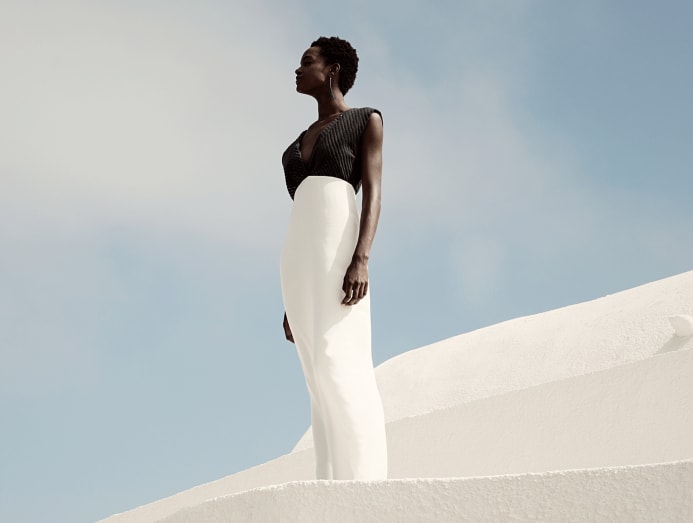 Best of all, for power couples who wish to complement each other when they attend a soiree without looking too matchy-matchy, Brunello Cucinelli takes the guesswork out of getting dressed. With a refined stylistic design code that runs through all the collections, couples can easily exude a polished, coordinated vibe without looking like they are trying too hard.
Here are more tips on how to pull off key Brunello Cucinelli looks that will take you from the boardroom to cocktail party – and more.
A MATCHING SET ALWAYS DOES THE TRICK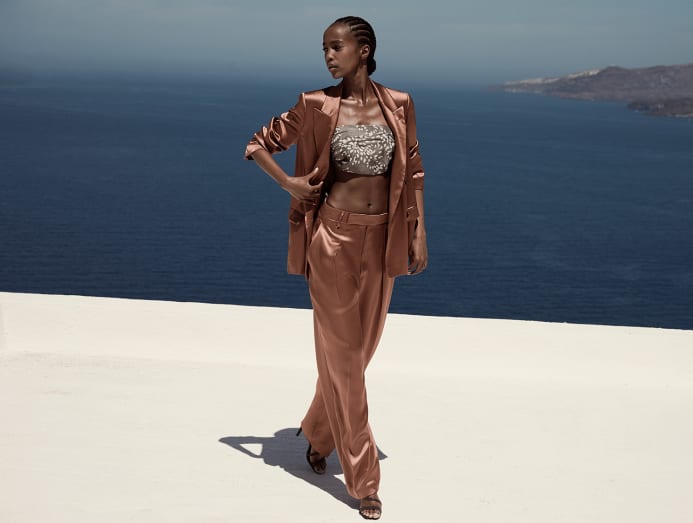 A power suit always looks chic but to update the classic two-piece, pick a set featuring trousers with a more relaxed, flowing cut for a contemporary louche vibe. To really make a statement with your outfit, choose one made with a luxurious fabric such as lustrous, fluid satin or party-ready sequins.
Even better, the beauty of a matching set is its multifunctionality since the pieces can be worn as separates or with an additional item to change up the look entirely. Switch out the trousers for a miniskirt to dial up the femininity or unbutton the suit after hours to reveal a sassy crop top for a disco-ready outfit on your big night out.
SUIT UP WITH A TWIST
When it comes to formal wear for men, it is not just about wearing a suit in a solid colour. Instead, take the opportunity to experiment with cuts and textiles to show off your personality. For example, Brunello Cucinelli offers a selection of patterns ranging from classic chalk stripes to new interpretations of tweed, houndstooth and Prince of Wales check for more contemporary leanings. Accessories with pops of colour, such as a bowtie, pocket square or even socks are easy ways to infuse a touch of whimsy to what you are wearing.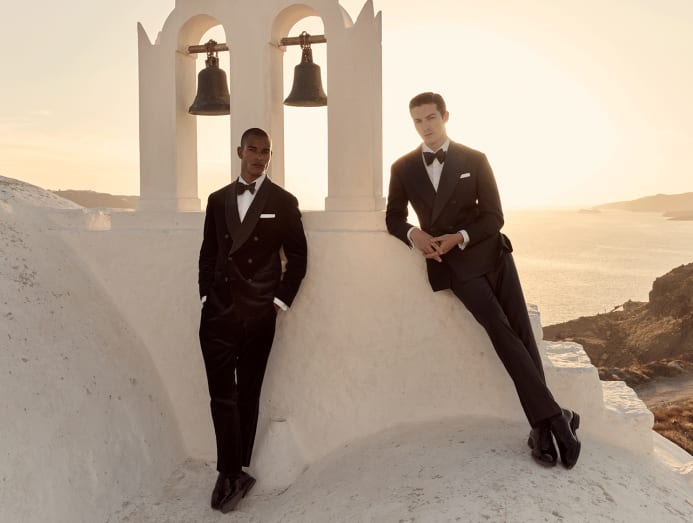 And for those who may still be transitioning from leisurewear to something a little more dressy, why not pick a pair of "leisure fit" trousers that allows for movement without compromising on the style quotient?
EXPERIMENT WITH KNITWEAR
Knitwear – the beating heart of Brunello Cucinelli's fall/winter 2022 collection for both men and women – can be found in multiple categories including jackets, travel wear, coats, skirts, trousers and footwear. Consider these pieces the basic building blocks of your occasion wear wardrobe as they offer a distinct yet relaxed appearance, plus a touch of luxe to your outfit.
For instance, a chunky knit sweater thrown over a maxi dress or skirt will keep you looking work appropriate (and warm in a chilly air-conditioned office) by day. In the evening, simply remove the sweater to reveal a slinky camisole underneath and you are good to go for a cocktail party, dinner or formal event.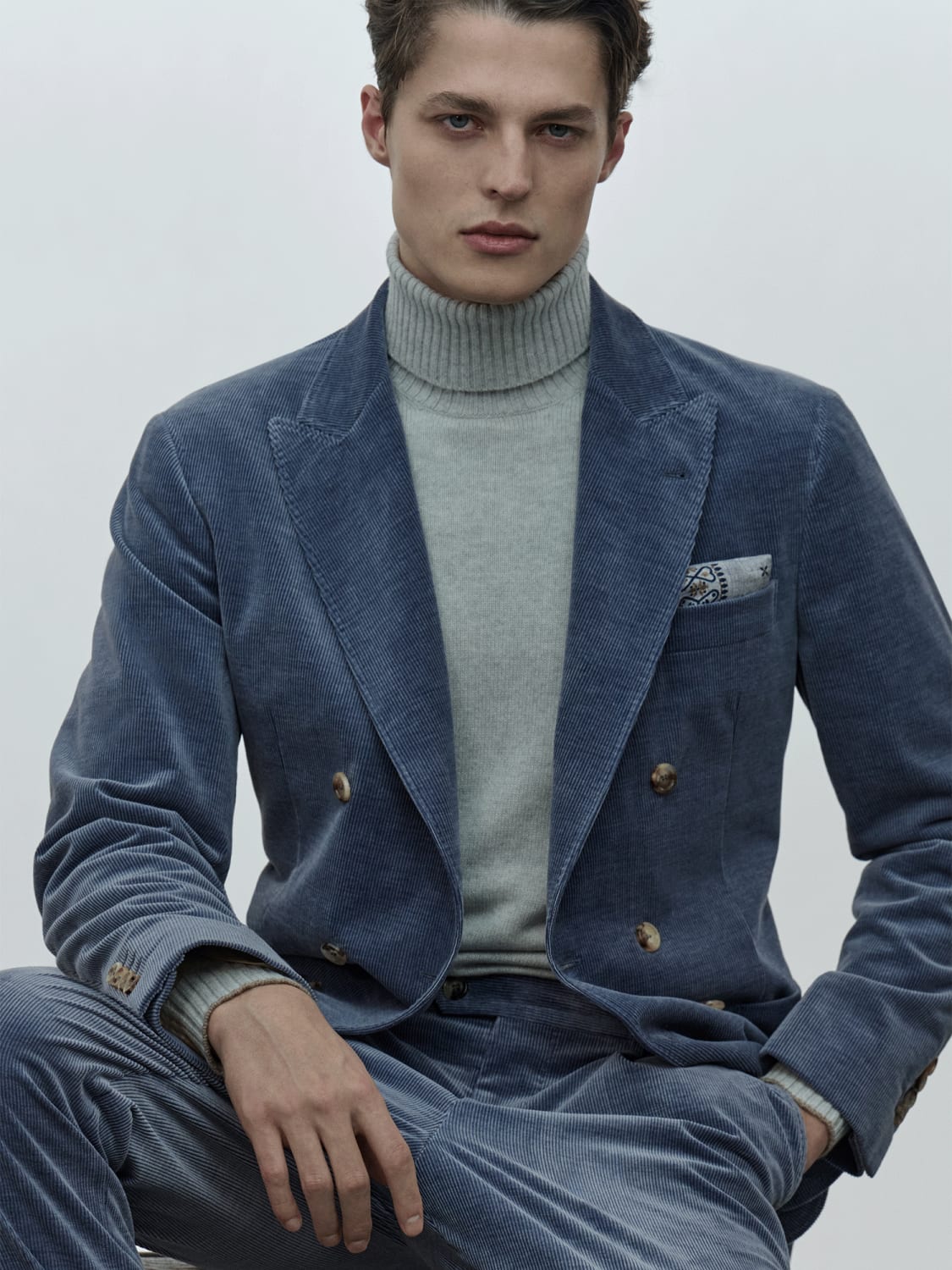 Likewise, for men, a knit turtleneck pairs perfectly with tailored trousers for an all-purpose business casual look. Need to dress it up? It is as easy as throwing on a sharp double-breasted jacket and you are ready for both the boardroom or power lunch in no time at all.
MAKE IT SPORTY
The reality of today's streetwear inflected fashion zeitgeist is that even sportier ensembles can look formal as long as you know how to pull it off. One easy hack is to keep the top formal with a sports jacket or blazer but play with proportion and volume of the trousers for a trendier take on a "suit".
For example, pants with cargo pockets or relaxed cuffed denim offer a sense of comfort while still delivering a powerful impact when you enter a room. If you prefer, switch out the button-up shirt and tie for a turtleneck or knitted vest for a preppy-meets-street vibe that is suitable for a smart casual dress code.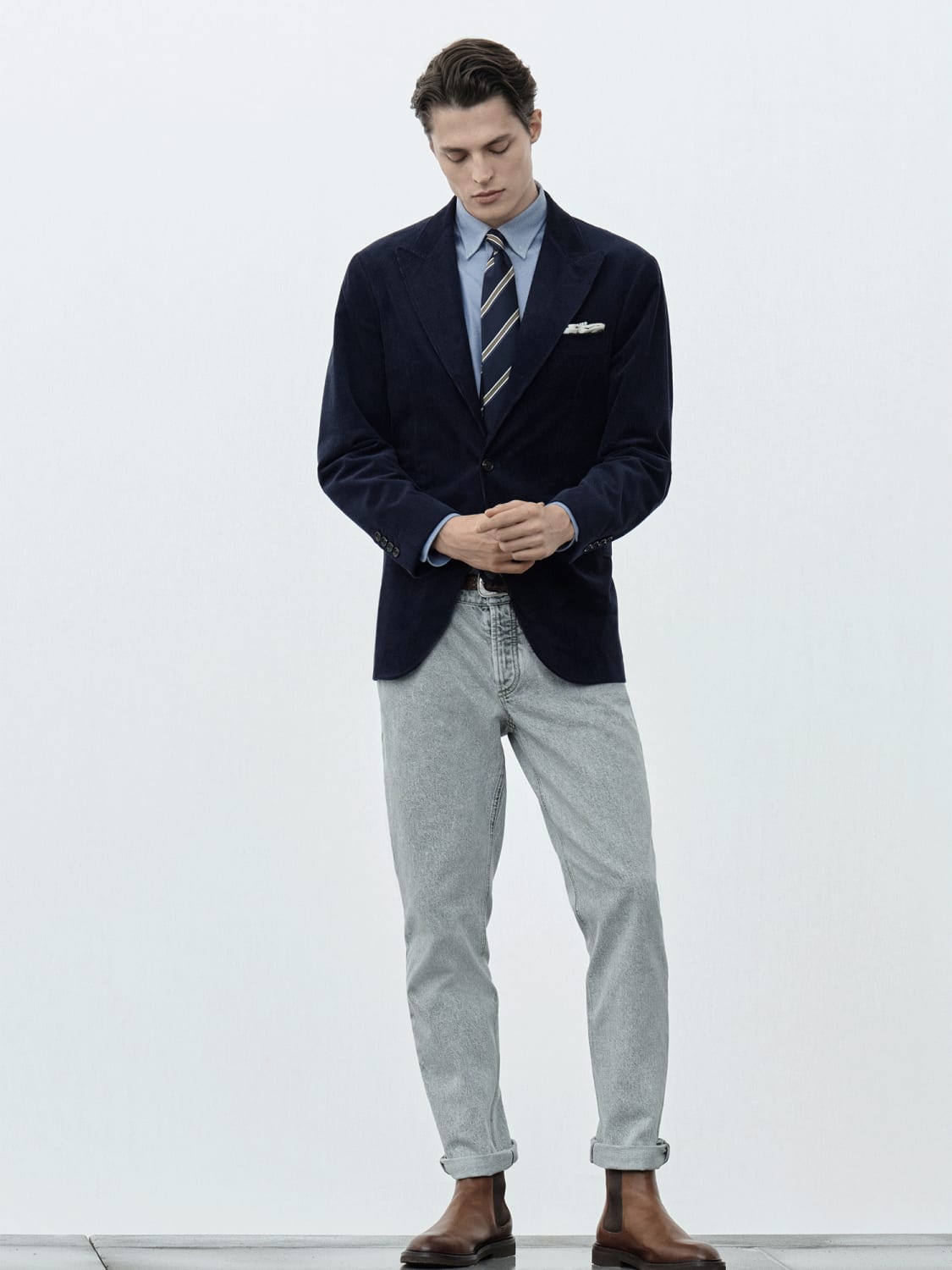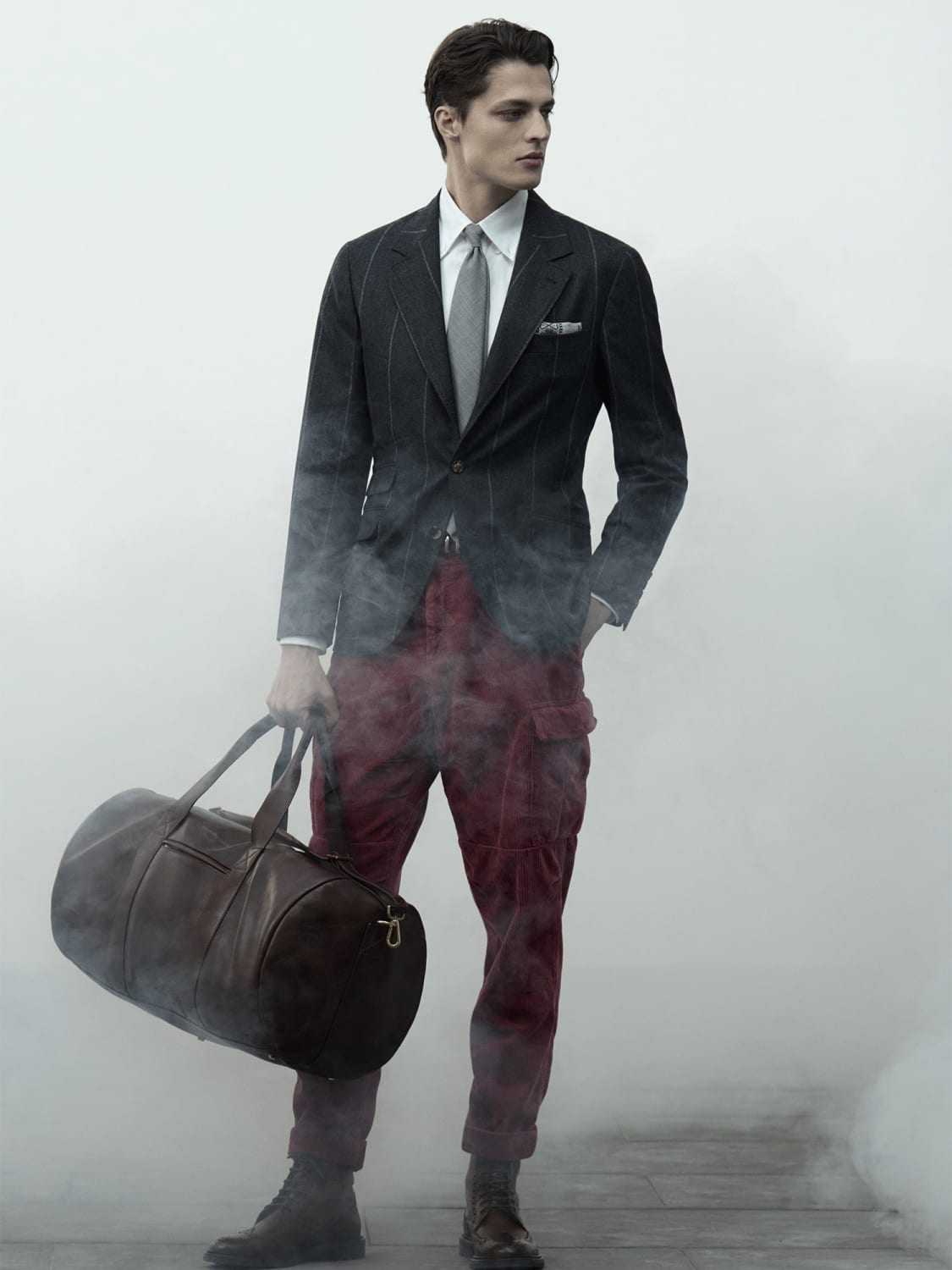 And of course, ladies, feel free to cop this style trick from the men for the times when you feel like working the androgynous aesthetic.
BE COLD WEATHER READY IN A JIFFY
With travel back in full swing, chances are you might be planning to go abroad to colder climes later this year for a celebration or to attend a special occasion like a wedding or a festive party. And if your old cold weather gear now looks seriously outdated after a few years of gathering dust, this is the best time to invest in stylish outerwear.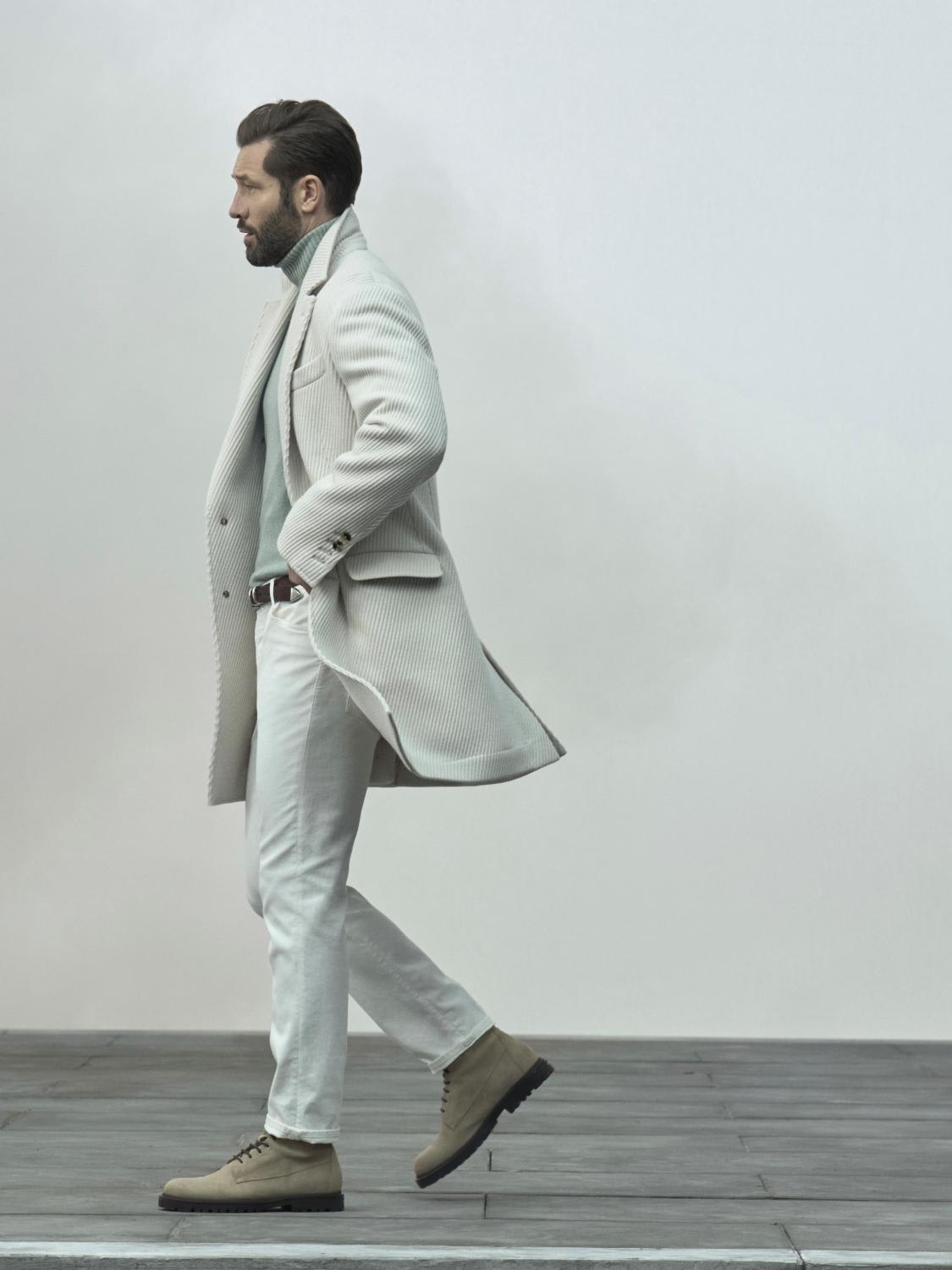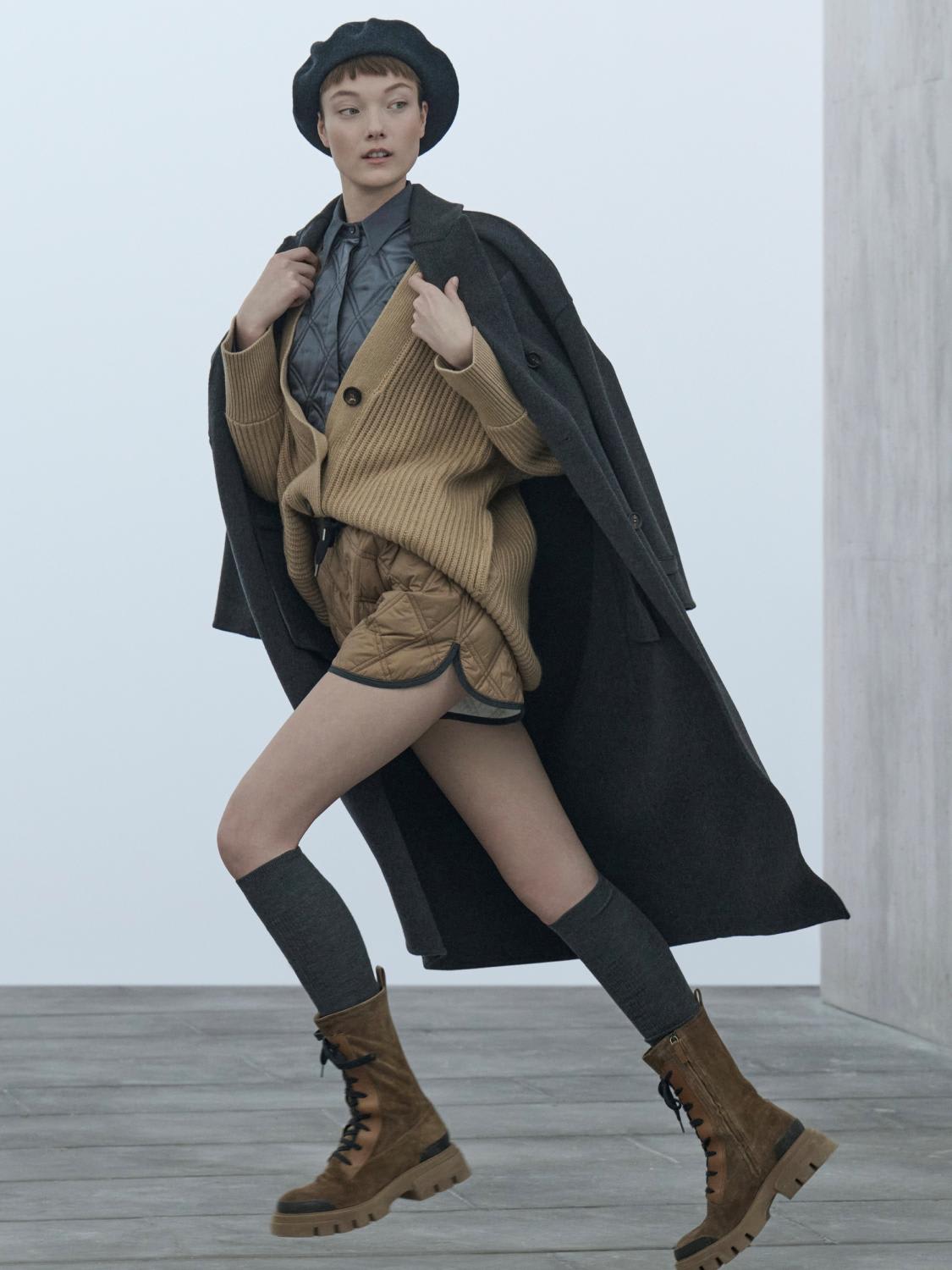 Brunello Cucinelli's coats and jackets are designed to strike the right balance between contemporary sportiness and traditional tailoring with down jackets in velvety soft suede, buttery soft nappa leathers and cosy shearling. Made with puffy padding to create a straight and square volume, the outerwear evokes a couture appeal that the sartorially conscious can appreciate.
For instance, a chic shearling jacket offers much needed warmth without adding too much bulk when thrown over a suit. Or if you intend to travel light, a long, sleek coat is a versatile choice which can dress up even the most casual looking outfits.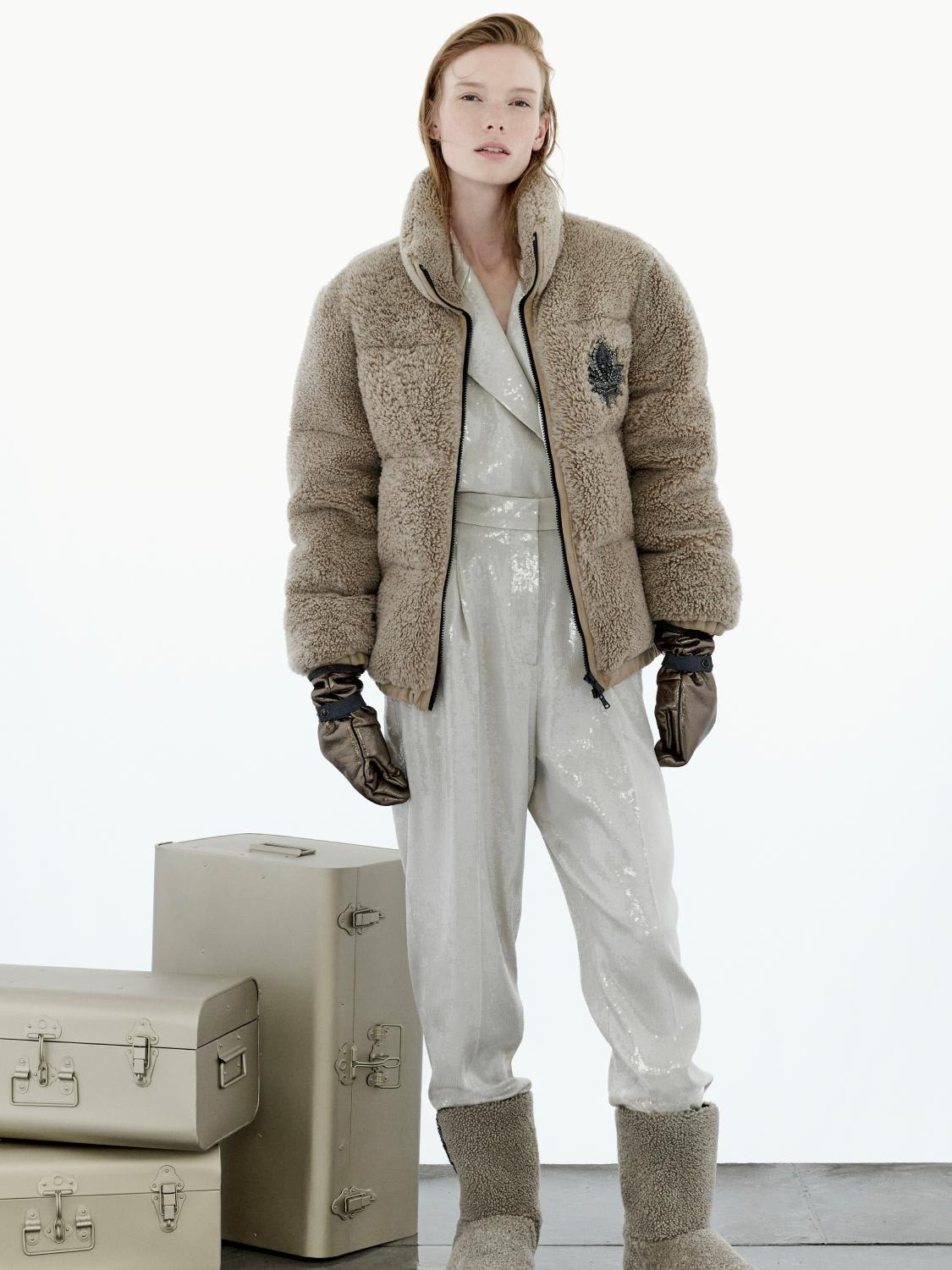 A REFRESHED EXPERIENCE
To peruse the Uomo and Donna fall/winter 2022 collections, visit the newly revamped store in Paragon, where the display area has been updated to infuse the space with an abundance of natural light.
Designed to feel like a welcoming home, the maison features tasteful furnishings in refined materials such as travertine, striped oak, soft nappa leather and crisp linens. Favourites, such as cashmere and luxury casual wear have been expanded in range to offer shoppers with even more options while accessories and footwear are spotlighted to complement the apparel.