Raf Simons's Prada debut questions the link between humans and technology
Prada has long been celebrated for its singularity, but its new co-creative director, Raf Simons, could change that, as the Milanese powerhouse label showed in its Spring/Summer 2021 collection.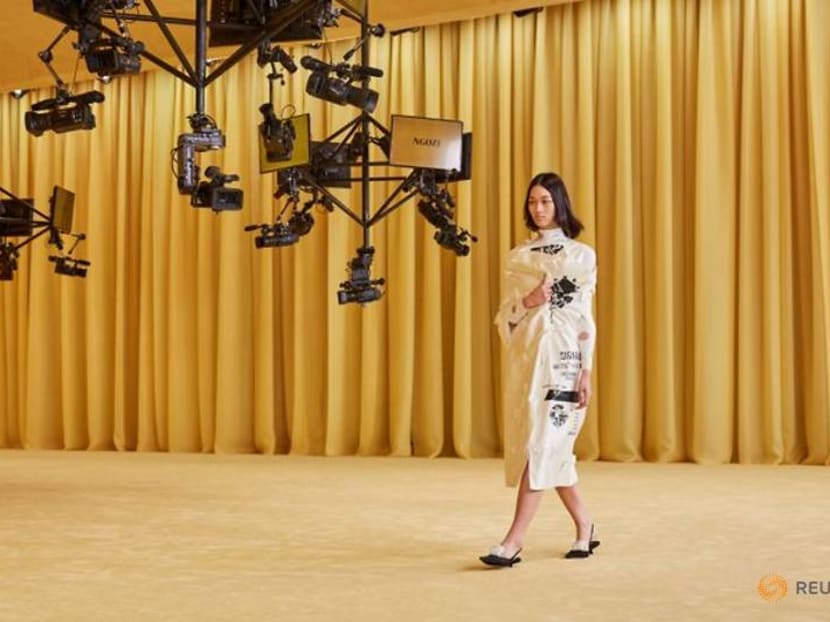 When Prada announced the appointment of Raf Simons as co-creative director in February this year, granting him "equal responsibilities for creative input and decision-making" alongside Miuccia Prada, little could anyone have imagined the circumstances of their debut. 
It took place not before a live audience in the bowels of the Fondazione Prada in Milan, where Ms Prada has shown her collections since early 2018, but via a pre-recorded video that was streamed online on Thursday (Sep 25) afternoon and followed, unusually, by a live audience Q&A. 
Viewers were invited to submit questions ahead of time in a democratic departure from the cloistered interviews that typically occur between fashion critics and designers backstage post-show. 
In the show notes, the designers called it "a dialogue", "the first example of myriad possibilities" and "a fundamental examination of the meaning of Prada", a €2.6 billion (S$4.1 billion) revenue brand whose creative influence has long outpaced its financial might.

Models, none of whom had ever walked a show before, paced through a room carpeted and curtained in tints of yellow and overhung with camera rigs and screens displaying each model's name. They were a nod to the relationship between humans and technology, something Ms Prada said they wanted to explore to reflect the current period, when technology had become indispensable to daily life.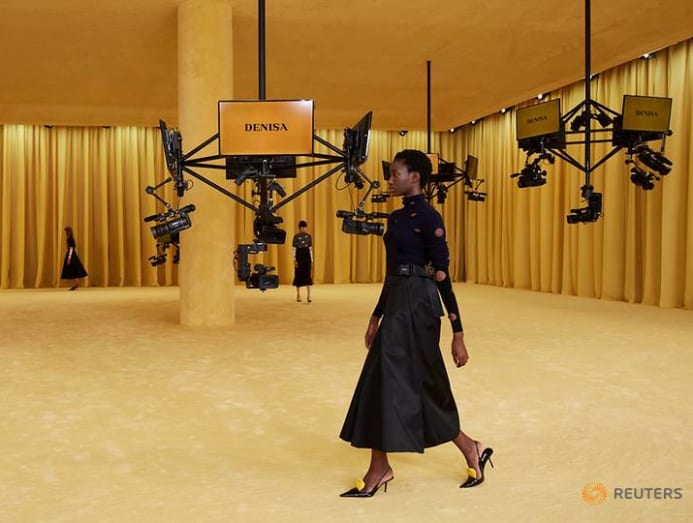 The looks were pared-back and referential, drawing more in mood and palette from Ms Prada's early, minimalist years in the late 80s and 90s than the more retro-feminine, colourful styles she has favoured in the new millennium.

Archival prints, including the kitchen-tile Formica prints from Spring/Summer 1996, reappeared on tops and skirts; roomy coats, cut from recycled nylon and duchesse satin, were clutched in the style of Ms Prada's debut show for the label, in 1987. Tried-and-true Prada silhouettes – the full pleated skirt belted over a slim jumper, the sleeveless shift dress, the boxy tunic over slim trousers – returned.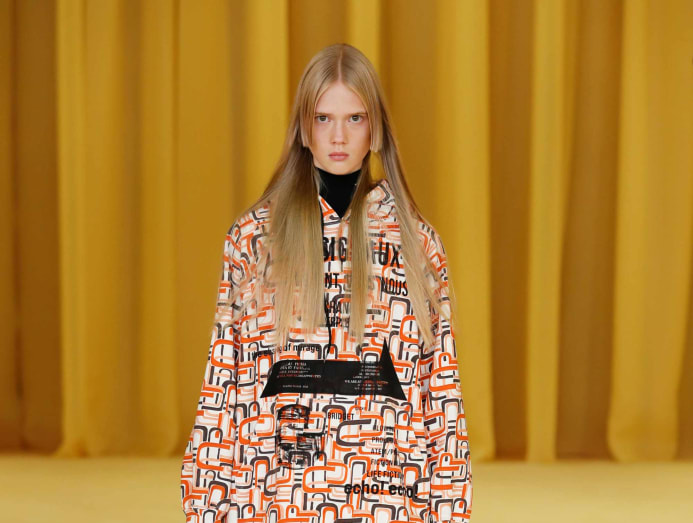 These were combined with pieces that drew from Simons's own body of work, and were hitherto excluded from the Prada lexicon, including floral-stencilled hoodies designed by artist and longtime Simons collaborator Peter De Potter, and T-shirts and jersey turtlenecks picked with holes and stamped not-so-discreetly with the Prada name. 

Indeed, the Prada logo was played up to a degree hitherto unseen before in its runway collections, taking centre stage on T-shirt fronts and nylon backpacks slung from models' shoulders.

Together, it was an impressive synthesis of both designers' work. But in its emphasis on logos and streetwear silhouettes – two things that are, yes, selling at the moment – it also stripped Prada of its singular aesthetic. In other words, it made Prada look a lot more like other brands. 
That could be a good thing for the top line, which in recent years has lagged that of larger rivals such as Louis Vuitton and Gucci, two brands that have embraced streetwear and logomania. But it may not be a good thing for fashion.

By Lauren Indvik © 2020 The Financial Times