Why these sweet treats from Richard Mille will have you salivating
Who wants candy? We do, if they're anything like Richard Mille's Bonbon collection. But don't be fooled by saccharine appearances; the craftmanship that goes into the making of these sugary delights is anything but a piece of cake.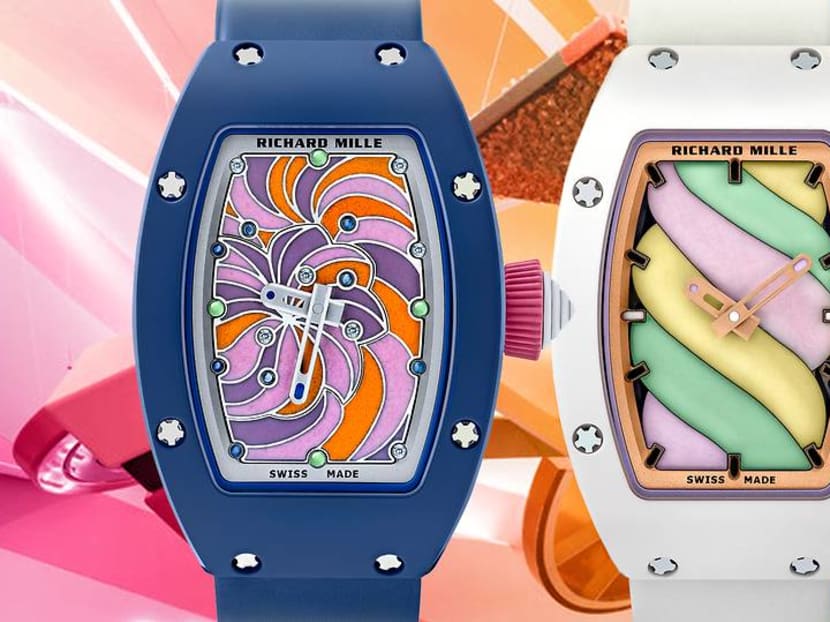 If the first thought you had when seeing the new Richard Mille Bonbon collection was "are they taking the piss?", we can't blame you. Last year, the brand unveiled a watch that had such an innovative crystal construction that it could (theoretically) survive being trampled by horses on a polo field; and the year before that, the world's lightest split-seconds chronograph with a tourbillon, that they were confident enough to just casually fling across a room full of journalists.

This year's collection, however, is inspired by fruits and sweets. Taken at face value, the answer to the question "are they taking the piss?" is a resounding "yes". The watches in the Bonbon collection may look colourful and sweet, but the burden that they put on the wallet is as serious and sinful as one would expect of a Richard Mille.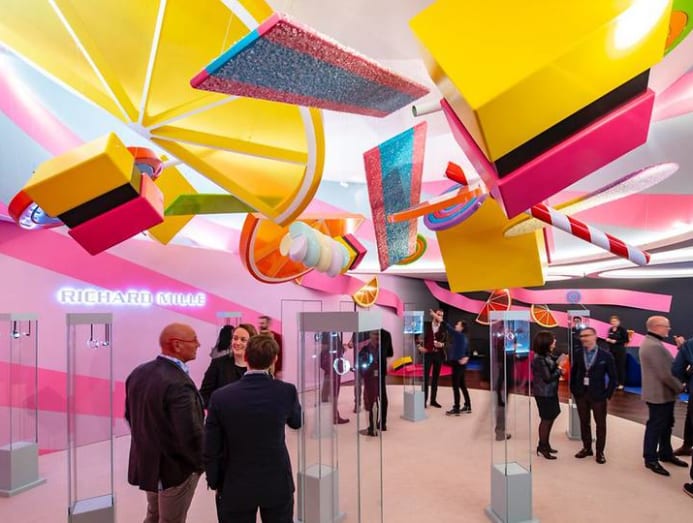 So, who then, are the clients for these watches? Is it the collector who, holding a middle finger up to the world, uses the watches as a #baller way of saying "I've got too much cash!"? Or is it the enthusiast who pays the hefty asking price for a Richard Mille because he/she understands what the brand has and still stands for: A combination of technical innovation and daring creativity that defy expectations of what a mechanical watch is supposed to be?

Judging by the aesthetics alone, it's hard to see how the watches are meant for the latter. But as you inspect the watches closer, you'll start to see that details on the watch are hardly simple recreations of fruit and sweets. No, these are not painted resin as you would find on Japanese Sampuru (food replicas); these are stamped titanium and Grand Feu enamels within carbon/quartz TPT cases that Richard Mille has put together with painstaking detail.

The brainchild of this exuberant collection was Cecile Guenat, the brand's Artistic Director. In his explanation of the collection, he said, "Bonbon – just saying the word is enough to make you smile." We think this is quite telling of what he imagined the collection to be, and in all fairness, after taking 18 months to develop, most of those who got to interact with the watches at SIHH 2019 did just that – smile.

The collection consists of just 10 different references, each of which is produced in an extremely small batch of 30 pieces each. However, even with such a small number of models, Richard Mille had to develop a palette of 60 colours to make the collection work. Hardly surprising, considering the technical sheet for these watches reads more like a receipt from a pick-and-mix candy store rather than an Haute Horlogerie manufacture.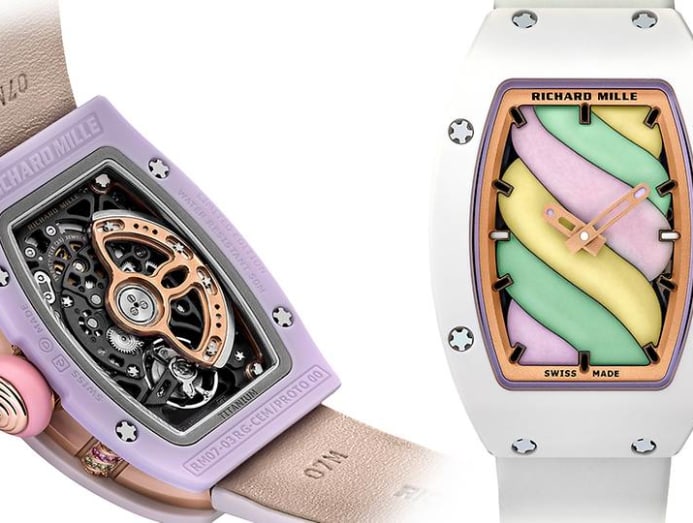 For instance, the RM 16-01 Fraise consists of the following:

16 Candies
2 Sour ribbons
2 Lemon wedge candies
2 Orange wedge candies
3 Lollipops
5 Square liquorices
1 Round liquorice
1 Marshmallow

Within the Bonbon collection, the watches are split into two veins. Six of these references are housed within the Fruits line that sees a duo of watches within the respective RM 07-03, RM 37-01 and RM 16-01 cases. Each of these cases offer bezels carved from blocks of Carbon TPT followed by a burst of colour thanks to their layered, Quartz TPT cases.

In the case of the RM 07-03 Myrtille, Richard Mille even debuted a new turquoise colour. If you're thinking "Well, it's just different colours, how hard can that be to make?" Aurele Vuilleumier, R&D Manager at Richard Mille explained: "Every new colour is the outcome of innumerable tests. We use prepreg quartz filaments (quartz filaments pre-impregnated with a resin) to observe interactions between the constituents and the resin. We evaluate the visual appearance after firing. A new colour takes a year of development to perfect before it can be used."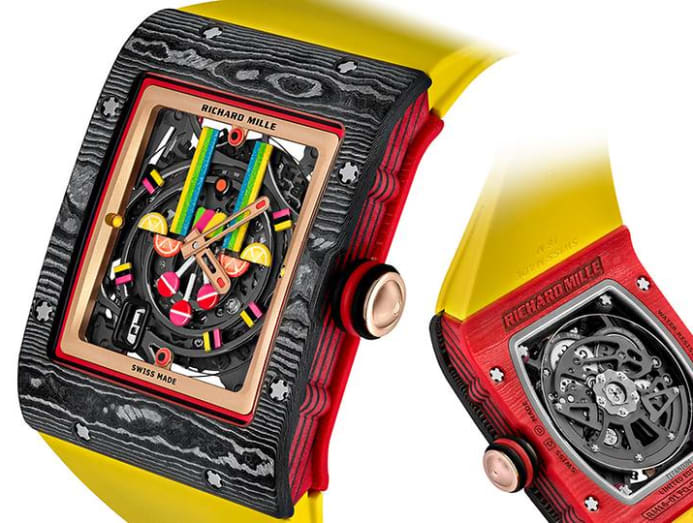 The six references within the Fruits Line are adorned with 8, 12 or 16 miniature candies like gumdrops, swirling gelato, marshmallows or barley sugars; and between the 180 watches in this limited edition line, over 3,000 tiny candies had to be made. In true Richard Mille fashion, these candies were machined from sheets of solid titanium and are then entirely hand-painted to resemble how these candies would look like, not to adults, but to children. Utterly irresistible.

Then there's the Sweets line, which consists of Sucette, Cupcake, Reglisse and Marshmallow. The watches offer a two-tone ceramic case with a surface texture that looks creamy, almost melt-in-your-mouth. The ties to Haute Horlogerie come with the dials, which were made with one of the most respected artisanal technique in watchmaking – Grand Feu enamel.

Like making rock candy or tempering chocolate, Grand Feu enamelling is all about controlling the temperature. But instead of working around the lower range, Grand Feu (Big Fire in French) enamel requires extremely high firing temperatures, around 800°C. Getting a Grand Feu enamel dial whittled down to a flat texture is tricky enough, but what Richard Mille has managed to achieve with the RM 07-03 Marshmallow is a light and fluffy surface matching the real world texture of the eponymous sweet treat.