Here's why Rihanna's new Fenty fashion line is a godsend for curvy women
Rihanna is one of fashion's most powerful influencers. But while some celebrities know how to work – and sell – a dress, her arrival at LVMH has the potential for real disruption.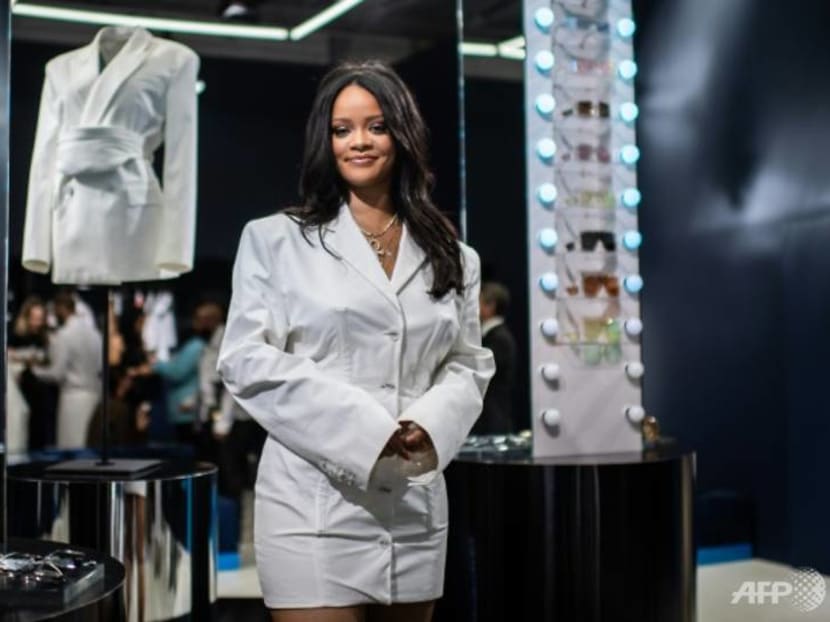 "I am my own muse," Robyn Rihanna Fenty purred of her new luxury fashion label Fenty, created with the LVMH group, unveiled on Wednesday (May 22) and now on sale at a pop-up store in Paris. It will be available online from May 29. "It's badass, it's daring," she continued. "It pushes the envelope. It's confident. It has a strong silhouette. I want everyone to wear it. But I've got to make it right for me."
We have met in Paris, in a nondescript building, down a narrow street in the Marais. The building has been designated to launch her first "release", named 5-19, and is clad in a dazzling Fenty-azure blue, but the only clue as to its current occupant is the phalanx of rock-faced heavies who stand around in suits. 
This collection, the first under the auspices of LVMH, but actually the fifth if one factors in the four Fenty collections she did when the brand was part of the then Kering-owned Puma, is what she feels like wearing "now". And it's unexpectedly smart.
"It's badass, it's daring. It pushes the envelope. It's confident. It has a strong silhouette. I want everyone to wear it. But I've got to make it right for me." – Rihanna
Where her previous collections cited "Marie Antoinette at the gym" or vivid moto-leathers, here are tailored blazers in taupe or pink cotton with bumbag belts attached; a boned shirt has a sculptural, romantic sleeve; Japanese denim jackets and shirt dresses are either designed to cinch the waist and short short short, or voluminous and oversized; a cotton bodysuit has a bustier neckline and a saucy sensibility. The accessories include stilettos with barely-there straps, chunky gold hoops, and massive metallic visor-style sunglasses.
It's a wardrobe for someone who wants to be taken seriously, but still wants to feel their vibe. According to Fenty, fashion was only ever a second interest after music. Her passion for clothes was fed by her mother Monica, whose style she has always admired. But, this segue into fashion is merely another platform from which to sell her "sound". 
Excluding the footwear and jewellery – there are as yet no bags – this first release amounts to about 36 different shapes, and items range from about €200 (S$308) for a corset T-shirt to €1,100 for a reversible coat, price points that are lower than at many LVMH labels but still highly aspirational for the consumers one would imagine sit in her target demographic. Then again, it is size inclusive: Clothes run to a French size 46, but the cuts are so generous that they actually run far bigger. "I'm a curvy girl," she said of the label's proportions. "And if I can't wear it, it's not going to work." 
Watching Rihanna it's clear to see how the author of eight albums (a ninth is in the works), with a personal fortune estimated to be about US$260 million (S$358 million), persuaded Bernard Arnault, the president of LVMH and the fourth-richest man in the world, to do her bidding.
Wearing a Fenty mini shirt-dress in white cotton poplin, she gazes out from under a black bouffant of hair like a Ronette remade for the millennial age. Her scarlet-painted talons trace a Barbados-shaped pendant at her neck, one of many references to her birthplace, and strung among a trove of amulets.
But it's the eyes – catlike, hazel-coloured, lids smeared with an iridescent glow – that hold you. She has an unnervingly direct gaze, which, combined with her easy candour, and that crazy Cupid's bow, has a hypnotic effect.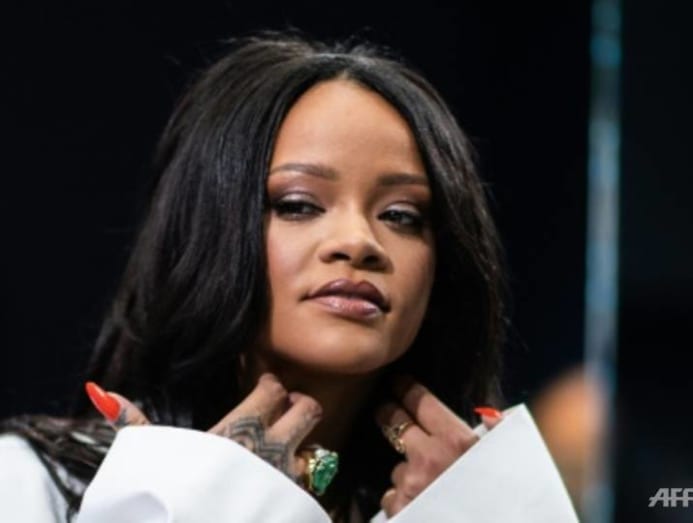 "I'm a control freak," she said, lightly squeezing my shoulder for emphasis, as she describes a fitting session in the studio. When asked if LVMH were comfortable with the new flexibility she has brought to the maison, she smouldered: "Mr Arnault isn't stupid." She may epitomise the laid-back humour of the Caribbean island on which she grew up, but don't confuse that with complacency. Rihanna works to no one's schedule but her own. 
Actually, the collection is pretty good. For starters, it's blessedly absent of logos. It's grown up and womanly, with a femininity undercut with tougher, more masculine looks (later, British Vogue editor Edward Enninful becomes her first male client when he buys a reversible parka in beige and oily black). But whether or not this Fenty finds commercial favour is less important. This is just the first release.
"I'm designing what I want to wear, for when I want to wear it," she said of the brand's roll out, which will see clothes distributed in "drops", like a cult streetwear brand, and sold direct via the website.
There will be no shows. Not unlike singles on an album, each release will represent completely different attitudes. Today, Riri wants a shirt dress. But next month, she might want a string vest, such as she might wear on holiday. Or an omelette gown, like the spectacular Guo Pei number she wore to the Met Gala in 2015.
If a brand is built on its DNA, Fenty's defining characteristic will be its changing aesthetic. It will be as mercurial and unexpected as Rihanna is herself. "I don't want to go to a show and then wait for six months to buy a look in a shop," she said of dispensing with the business model on which most brands under LVMH have traditionally been dependent. "With Fenty, you see it, you wear it. I'm too greedy to wait."
"I'm designing what I want to wear, for when I want to wear it. I don't want to go to a show and then wait for six months to buy a look in a shop. With Fenty, you see it, you wear it." – Rihanna
Now 31, with more than 71 million Instagram followers to her name, Rihanna became one of fashion's most powerful influencers the day she invited us to stand under her umbrella in 2008. But while some celebrities know how to work – and sell – a dress, her arrival at LVMH has the potential for real disruption.
She first worked with the group when she starred in a campaign for Dior, for whom she later designed a capsule of eyewear. When Kering sold Puma, she brought the label to Arnault. In 2017, she launched Fenty Beauty, an inclusive cosmetic line that now offers make up for 46 shades of skin tone. That generated more than US$500 million in retail sales in its first year. 
This latest venture combines a further set of firsts. She's the first woman of colour to front an LVMH fashion label – "I am an immigrant, of mixed race, and I bring that perspective with me," she said of her racial identity, which includes black, white and Latin American heritage. She's leading the first fashion house LVMH has built from scratch since 1987, not only creatively but in the role of chief executive alongside her managing director, Veronique Gebel, and LVMH chief of strategy Jean Baptiste Voisin. 
She's also the first celebrity to have been given a label at a luxury group that has typically banked on the skills of the couturier. LVMH have invested €30 million in Fenty – and the singer is reciprocating with a similar investment in her time. Voisin attests that she's putting in the hours, and that her work ethic is ferocious, but when one of the biggest, most prestigious and successful luxury groups is now putting their money on a singer and not a star designer one wonders if the fate of fashion now rests in the hands of a celebrity? 
Sidney Toledano, chairman and chief executive of LVMH Fashion, who is not directly responsible for Fenty but worked with her at Dior, said that Rihanna is simply an exception. 
"She's not just a celebrity designer," he said. "[LVMH] know her. We met her years ago at Dior and you could see even then she was above celebrity. She's super smart. Even at our first meeting she really impressed me. Rihanna is not couture, but she has the talent."
Even so, having a major global celebrity in the house does offer family Arnault the cachet of modern cool. And a soupcon of mystique. Certainly, the clandestine nature of this first launch has been epic. While the deal was done two years ago, Voisin was so secretive about the label that until very recently only three of his five-member strategy team even knew of the brand's existence. Those in on the secret referred to the project as "M", which stands for "Mademoiselle". (Riri fans will note that early incarnations of the Fenty Beauty line were named "mattemoiselle".)
Of course, Gabrielle "Coco" Chanel was the first "Mademoiselle". And according to Voisin, the two share much in common. "Both women with a strong vision," he said. "Both very smart. Both hard workers. Both powerfully charismatic."
Is Riri the 21st century's equivalent of Coco? The singer has already far exceeded the Chanel founder's global reach, but the comparison draws some handy parallels. During her career, Chanel transformed traditional modes of business, designed to suit her own sartorial needs, revolutionised the female wardrobe and made a fortune flogging scent. More importantly, she marched to no one else's tune. 
Rihanna brings the similarly disruptive point of view, a bold assurance and the calm authority of a woman in absolute control. Even better, she's devised a creative environment in which she can U-turn any time. If something's not working, she can just change her mind. And release something else. As a business proposition – it's LVMH's most badass move yet. 
By Jo Ellison © 2019 The Financial Times