How the joyful rainbow spectrum found its way onto luxury timepieces
Not everyone is going to fancy wearing a rainbow on the wrist, but rarity, fastidious craftsmanship and good ol' showboating has earned these colourful tickers a solid fan base in recent years.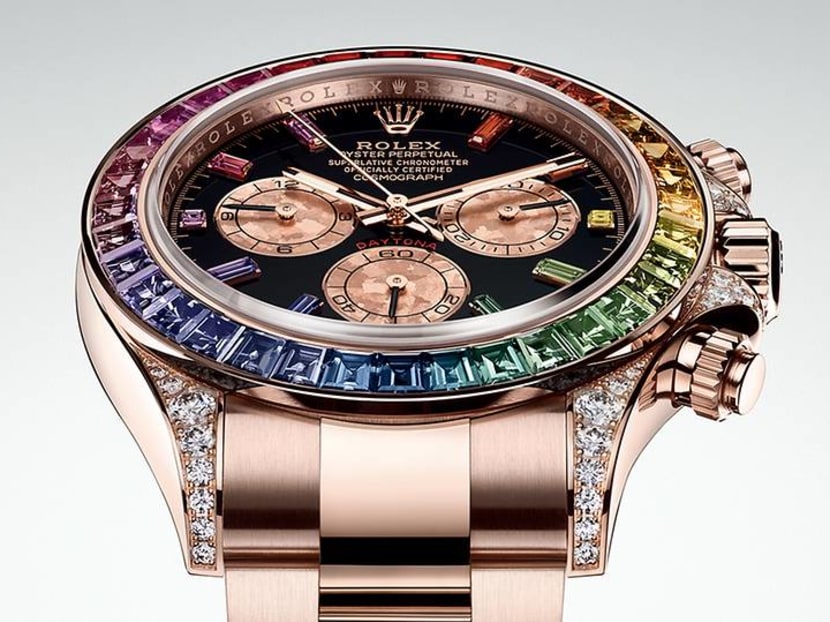 There is nothing implicit about a rainbow's ability to spark hope and happiness. Which is why you see it in everything from children's cereal and pride flags to fashion and technology. Even Apple understands that its Spinning Wait Cursor is slightly less infuriating when it looks like a colourful beach ball. So of course the world of fine watchmaking has capitalised on this magical palette in recent years. Rainbows are delightful.
This year alone offers an array of rainbow hued watches. Parmigiani, Rolex and Chopard have brought the multi-coloured bezel trend to the Tonda 1950, Day-Date 36 and Imperiale models respectively. Hublot and Audemars Piguet present two each: The Hublot Big Bang Unico Rainbow and Big Bang One Click Rainbow, and the Audemars Piguet Royal Oak Frosted Gold Double Balance Openworked "Rainbow" and the pink gold Royal Oak Offshore Selfwinding Chronograph. These are flashy times indeed.
And we have, of all brands, Rolex to thank for this fun turn. In 2012, the Crown released a Daytona Cosmograph with a rainbow bezel adorned with 36 baguette-set sapphires with diamond-set lugs and indices. The notion (and appearance) of an iconic driver's watch getting a rainbow makeover was frankly a little ridiculous and Rolex collectors were understandably perplexed, charmed or horrified.
But Rolex does nothing by halves and a closer, longer look at the popular chronograph – still equipped with the trusty automatic calibre 4130 – will reveal the impeccable gem-setting technique from its 20 in-house gem-setters as well as stones with perfectly graduated colour – all of them Internally Flawless. Its limited production gave the watch, available then in white gold or yellow gold, a cult following and when it was discontinued shortly after, prices for it skyrocketed. It's now worth three times its original price on the secondary market.
The Rainbow Daytona made a comeback in 2018, reappearing in Everose gold, Rolex's patented pink gold alloy that was engineered to never lose its rosy hue. The diamond indices have also been replaced by more multi-coloured sapphires. After the gone-too-soon 2012 models, no one was going to mock another rainbow Rolex. Celebrities like John Mayer, Adam Levine and Mark Wahlberg are proud owners of Rainbow Daytonas, proving that the style isn't even exclusive to female buyers.
Fellow luxury watchmakers quickly followed suit and positively swerved onto the rainbow road. They were aware that its deepest pocketed clients were also some of the showiest, and a watch with seven colours was going to catch the eye more effectively than a watch with two. It also gives horologers a chance to demonstrate their skills as a jeweller. It takes a considerable amount of time to acquire quality stones with just the right shade to produce a seamless gradient. Brands like Hublot and Parmigiani have mixed sapphires with semiprecious stones like amethysts and tsavorites to achieve the same effect, but watches that use only sapphires obviously require more time and money.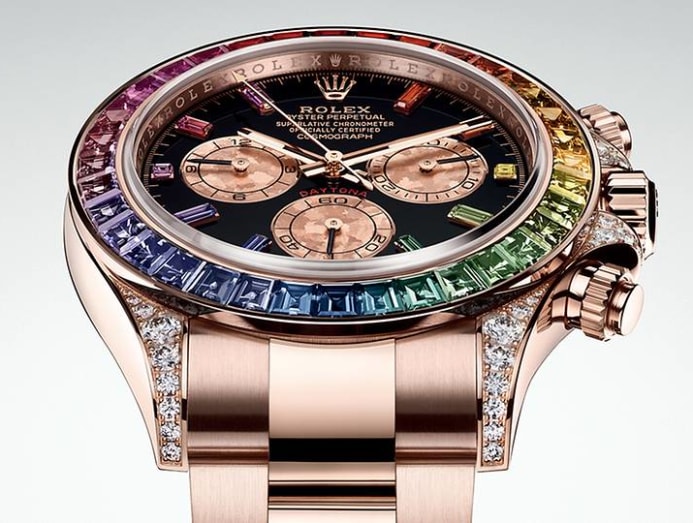 And then there's the actual gem-setting. The Chopard Imperiale Joaillerie Rainbow, which took the rainbow aesthetic well past the next level and into another dimension in 2016 with coloured jewels radiating from the centre of the dial and extending to the bracelet, needed over 1,000 hours to set its 581 sapphires. The effect is admirably striking, and testament to how experience, know-how and patience – things luxury brands have no shortage of – is needed to make a rainbow look jubilant, not juvenile.
The recent leaning toward rainbow watches could also be less about the gasconade of one's wealth and more an indication of society's state of mind. There are those among us fatigued by the oppressive austerity of minimalism and the constant pressure of an ever-receding economy. In the midst of all the doom and gloom brewing in the news, what could be more optimistic than a painstakingly assembled timepiece that looks like it could summon a unicorn to save the day? There's an important takeaway here: If even the most serious, heritage-laden manufactures can lighten up in dark times, so should you. The world would at least look like a happier place for it.