Take a tour of this luxurious multi-generational family home in Muar
Wide open spaces and deft manipulation of materials set this home in Muar, Johor by S/LAB 10 apart.
The sleepy town of Muar on the west coast of Johor might not be the first place one thinks of as a likely place to find sophisticated design but an award-winning design practice has transformed one particular bungalow here into a celebration of materials and fine detailing.
The founders of Sydney-based S/LAB 10, Johor natives Hao Wang and Jason Sim, have grown their firm to have operations in Australia, Taiwan, Singapore and Malaysia. And the client for this particular project found the firm through word of mouth, and after a brief meeting in Muar, the client headed down to S/LAB 10's Johor Bahru office for further discussions.
The site was a large three-storey home with approximately 10,000 sq ft of interior space and 4,000 sq ft of courtyard space. It had been purchased to house three generations and to reflect the family's success, which the client attributed to his father's hard work – the latter was recently involved in an accident and a tranquil home where he could convalesce in comfort was a must.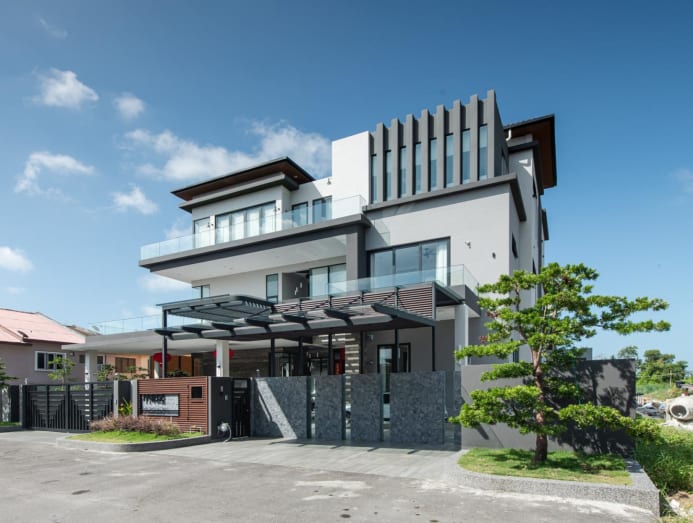 "We believe that a good final product is the result of teamwork which involves the client, the designer and the builder. So when the client took the initiative to travel down to Johor to discuss and engage us, not only were we touched, we were inspired by his enthusiasm about the project," recalled Wang. 
"The client believes in design and how designed spaces can benefit a person's health, lifestyle and experience. Basically, his brief was to build a home for the family to enjoy, especially for the father, as an appreciation for what the father had done for the family."
The designers are great believers in the benefits of an open plan home for connected and happy family living and how ample natural light enhances well-being and health. To this end, they started by looking to see how they could improve the existing layout so that there would be a more seamless integration of the indoors and out.
By rearranging the house's programme to generate more open space, they created what they term as "breathing space" by connecting the indoor and outdoor in an attempt to blur the lines.
"The design was very much driven by loosening and creating spaces that would meaningfully juxtapose to another space. Be it in and out, or up and down, vertically and horizontally," said Wang.
This is particularly evident on the ground floor where, instead of solid walls, the living, dining and bar areas open up to the central court door with large format glass "curtains" which fold aside completely so that even when closed, a view of the outdoors is still visible.
Pockets of spaces were also created under the shade of a timber pergola so that the family would have more options to enjoy the outdoors and serene pool.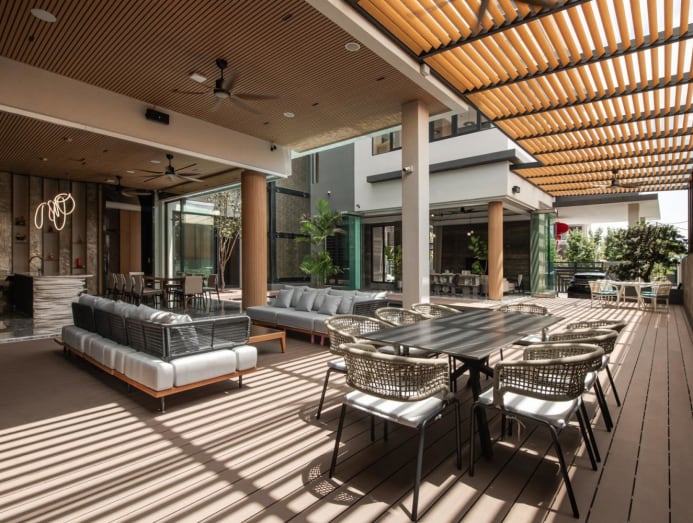 Material choices are always important in furthering the design intention. Here, the designers looked to enhance the "breathing space" further by incorporating natural materials.
"From when we started conceptualising this project, our intention was to focus on natural materials. Like all our projects, our inclination will always be true to materials," mused Wang. "For this house, the finishes are marble, granite, natural wood and slabs of timber. Marble and granite are amazing materials with unique patterns. Marble can be art, valued not only for its luxurious finish but for the endless opportunities the natural vein gives designers. The thermal mass of natural stone is also superior in keeping the house cool in a tropical climate."
Natural wood veneer was used liberally in the common areas, the warm hues contrasting pleasingly against the marble.
The balanced effect achieved was no accident: "We were very particular on the natural wood veneer characteristics and the experience when one comes close to it visually and tactility. We have explored numerous finishes (sealer and wax, etc) on these wood veneers as we wanted to preserve the natural beauty of the wood grain."
While S/LAB 10 is known for its meticulous detailing work, working with natural materials presented its own set of challenges. This was particularly the case in the marble staircase that pierces through all three floors and appears like a seamless swathe of stone.
"As a natural material, marble is very challenging to work with.  Every single piece of marble pattern is unique and non-modifiable.  Our design intent was to have the marble vein continuously leading up the six-metre long staircase over three levels," explained Wang.
"In searching for the right marble, we visited multiple stone quarries from Ipoh to KL to JB. We personally inspected every piece of marble and created 3D renders to best optimise the design outcome."
Apart from the stunning staircase, the mesmerising kitchen island was another exercise in showcasing the designers' commitment to fine details. Consisting of 48 pieces of marble layered over each other, each piece was hand-cut and installed individually. To ensure that the undulated curves flowed naturally, multiple physical scale models were made before the designers decided on its final organic form.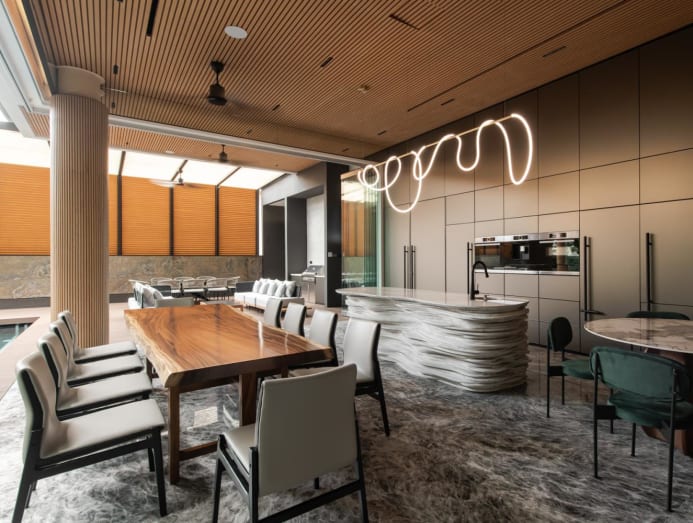 Midway through construction, the pandemic struck and site work was paused for almost 10 months. But once lockdowns eased, work resumed and the family finally moved into their home early this year.
Since then, Wang shared that that the client regularly sends over photos of his family enjoying the space.
"The client put a lot of trust in us and the greatest reward comes when we know the finished product exceeds the client's expectations. We were keen to take up this project because we knew the outcome would be unique and tailored to the family's needs and expectations. Designing homes is like sculpting spaces that project meaningful messages to the dwellers. In this case, filial piety, healing and fun."
"Designing homes is like sculpting spaces that project meaningful messages to the dwellers." – Hao Wang