Why are watchmakers making million-dollar timepieces that look like plastic?
Not that they're actually made of plastic, of course. These see-through watches are cased in sapphire crystal, but what is it that makes "watch glass" tickers so expensive?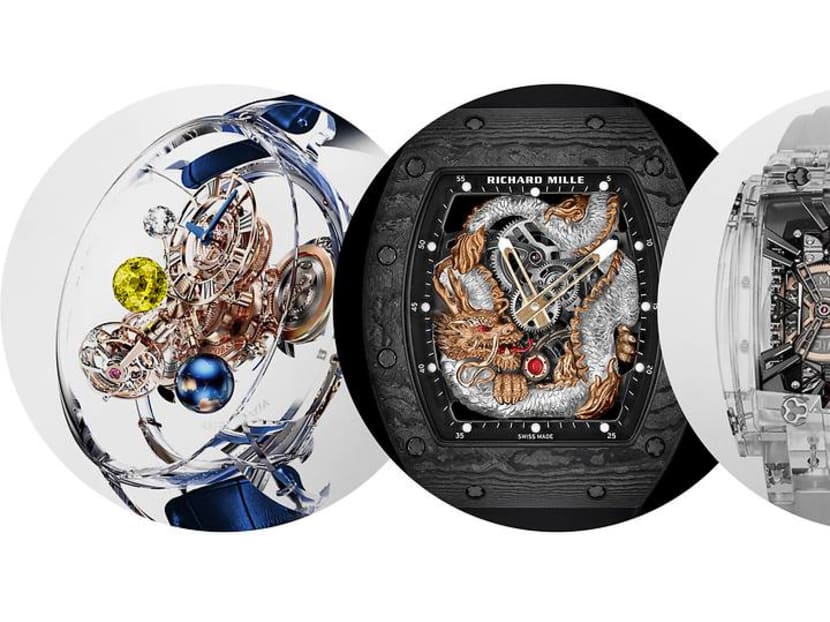 Up until watchmaker Richard Mille unveiled the RM056 Felipe Massa Sapphire at SIHH 2012, sapphire crystal was simply thought of (if it ever crossed watch enthusiasts' minds at all) as that bit of glass that shields your watch face from literally everything. Because of its impressive scratch resistance, it is the default choice in luxury timepieces over cheaper, inferior materials like acrylic and mineral glass. So it was a big deal with Mille decided he wanted an entire case made out of it.
Limited to just five pieces, his audacious creation had a sticker price of US$1.7 million (S$$2.4 million) and while it did boast a tourbillon movement, it was outrageous amount to pay for a watch with no precious metals, gemstones and at least five more complications. The concept was fresh and exciting, and many wondered why such a watch hadn't appeared sooner.
The truth is, it had. In 1980, self-taught watchmaker Vincent Calabrese presented Corum with what would end up being its most popular watch, the Golden Bridge, and the famous baguette movement was originally mounted in a faceted sapphire crystal case. With such a case, the full beauty and ingenuity of the world's first linear calibre could be appreciated from all angles.
The reason that no well-known examples have shown up again for the next 32 years, and why such watches are still relatively rare despite their recent popularity, is simply because they are just really that dang hard to make.
That scratch resistance we mentioned earlier comes from sapphire crystal's Mohs hardness scale rating of 9 out of a possible 10, making it second only to diamond. Paired with its innate brittleness, this makes the crystal a nightmare to mill. When Calabrese lent his expertise to independent brand Rebellion for its 540 Magnum Tourbillon Sapphire in 2016, it took them 99 days of milling to get the eight specially cut sapphire blocks to make each case.
But the payoff isn't limited to exclusivity and the resulting bragging rights. Having a completely transparent case means watchmakers often have to rethink the design of their movements to ensure no unsightly attachments and anchor points can be spotted. Consequently, it's often the independents at the very top of their game like Richard Mille, Jacob & Co., Greubel Forsey and MB&F, as well as Hublot, that have dared to take on the challenge.
Now that it's a legitimate enough trend for such watchmakers to funnel R&D dollars into, sapphire crystal has enjoyed innovations such as coloured variants and crazier shapes (Richard Mille sculpted an entire dragon out of the material for its RM 57-03 last year) while its fans are enjoying less alarming prices. Hublot's Big Bang Unico Sapphire, for instance, goes for just US$57,900.
It's an interesting evolution of aesthetic tastes in haute horlogerie, seeing how a watch that runs the risk of looking like a plastic quartz watch to the untrained eye can command the prices they did and sometimes still do. Perhaps this is the new face of stealth wealth.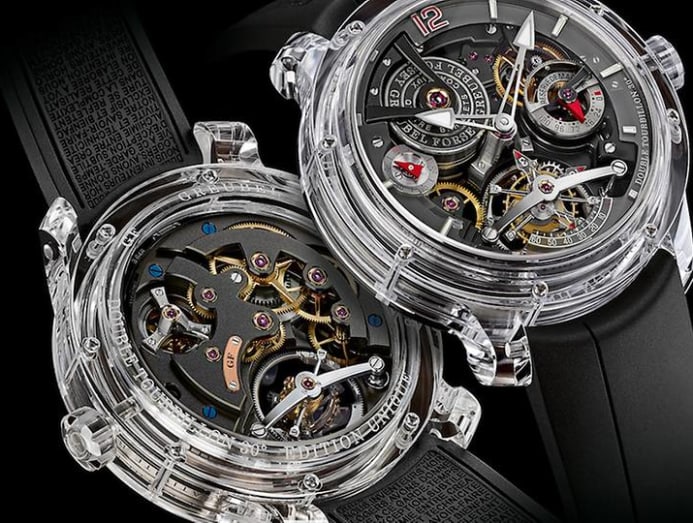 CLEARING THE STAGE
These 2020 novelties bare it all.
CHANEL J12 X-RAY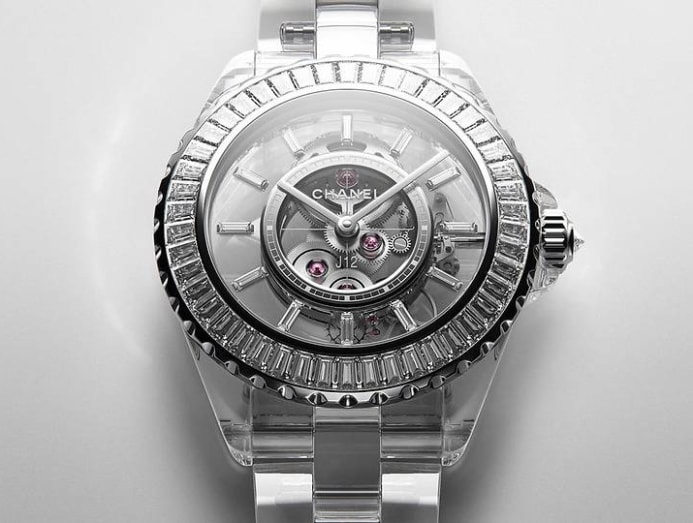 As we've pointed out before, Chanel has pulled no punches with its sapphire offering. A ring of baguette-cut diamonds surround similar diamond markers and a beautifully spare skeletonised movement, giving the entire watch face an air of crispness, but it's really the sapphire bracelet – a supposed watchmaking first – that steals the show. The "invisible" links are held together by white gold pins and screws. Only 12 will be made.
GIRARD-PERREGAUX QUASAR LIGHT
Girard-Perregaux's first foray into sapphire crystal cases was only last year with its Quasar but it has really hit the ground running since with this year's follow-up Laureato Absolute Light and Quasar Light.
The latter in particular really dials up the play on light. Like the Quasar, the Quasar Light has a tourbillon and the three signature bridges holding everything in place, except this time the bridges are made of sapphire. It's easy to miss them especially since the barrel is made of ruthenium, a rare element from the platinum group that gives off a diamond-like sparkle.
HUBLOT SPIRIT OF BIG BANG YELLOW SAPPHIRE
The sapphire crystals used in watches are grown synthetically to ensure impurities don't end up giving it an unwanted tint of colour. But this also means manufacturers can deliberately fuse different elements and compounds into the crystal to achieve a desired shade, as Hublot has done with blue, pink and black Big Bang Unico Sapphire watches. Its latest hue is a vivid yellow, an eye-catching contrast to the watch's black dial, pushers and exposed screws.