How did the tiny screw end up becoming a celebrated design motif on watches?
Bezel screws were never meant as decoration. On the earliest wristwatches, they were functional, securing the glass to the case. Today, however, they have become desirable features, vaunted by watchmakers and watch enthusiasts alike.
Broadly speaking, screws are the one thing designers and engineers try to keep out of sight. Whether it's furniture, gadgets or appliances, an exposed screw implies unfinished work and lazy craftsmanship.
And for the most part, they're just not very pretty to look at – except when they're on watches. There are of course instances where the humble component is part of an overall design language or even highlighted as a motif, but this is especially celebrated in fine watchmaking.
On the earliest wristwatches, bezel screws were functional, securing the glass to the case. Today, however, they have become desirable features, vaunted by watchmakers and watch enthusiasts alike. Some of the most alluring examples include Bell & Ross's Skeleton Blue BR 05, Cartier's Santos de Cartier, Chopard's Alpine Eagle and Hublot's Big Bang Integral Titanium. 
But while they look cool now, bezel screws were never purely decorative. The earliest example would have to be Cartier's Santos, since it is widely believed to be the first men's (and pilot's) wristwatch ever made.
Created in 1904 by Louis Cartier for the Brazilian aviator Alberto Santos-Dumont, the square-faced watch used eight screws to secure the glass to the watch and were left on display – a nod to all the steel structures (like the Eiffel Tower) that were being built in Paris at the time. As the Art Deco style became increasingly popular, the screw size and bezel of the Santos grew to match.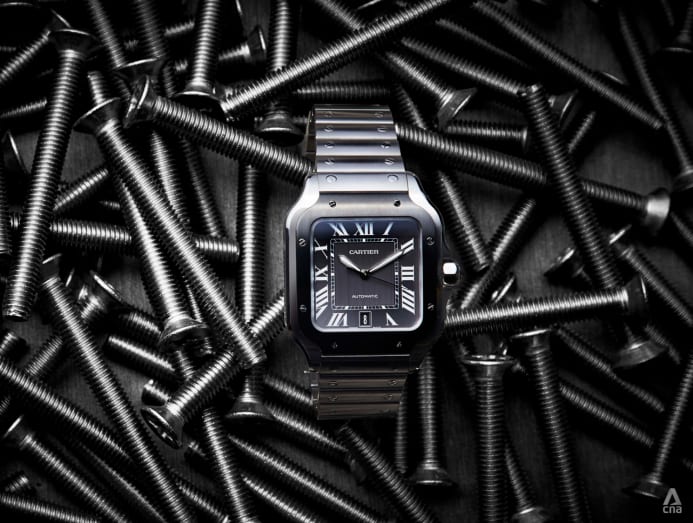 But this design feature didn't explode until Audemars Piguet's rebellious Royal Oak took off. Legendary watch designer Gerald Genta, who had by then made a name for himself by designing the SAS Polerouter and giving Omega its Constellation, was tasked to come up with a design that would save Audemars Piguet's slump season in 1970. Genta's inspiration came from old diving helmets, and their chunky gaskets were what gave rise to the octagonal case with its eight gold screws.
Bolstered by the demand for the Royal Oak, Genta carried the look over to IWC six years later, who needed his help reinventing the Ingenieur. What was once an unmemorable round watch became the circle-in-tonneau case we know and love today, held together by five distinct screws.
These industrial-chic bezels had become so in vogue that it galvanised two brands into releasing similar products. When Carlo Crocco founded Hublot in 1980, his first watch resembled a ship's porthole, which is where Hublot, French for "porthole", got its name.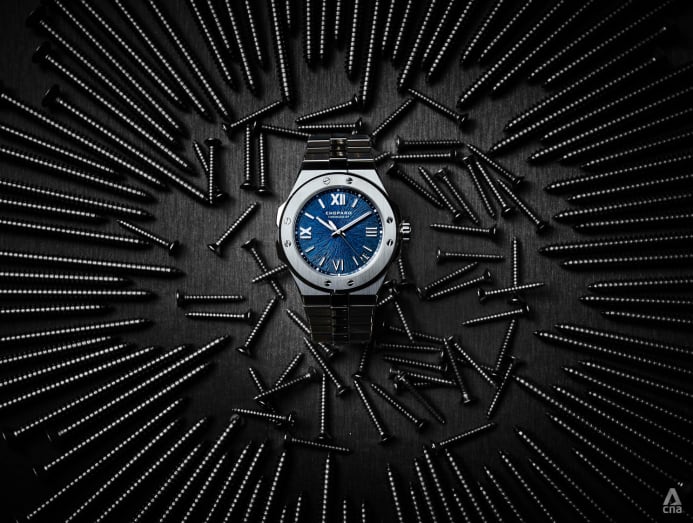 That same year Chopard released the St Moritz, its first steel watch. Interestingly, both vintage models ended up being reborn decades later as the Hublot Big Bang and the Chopard Alpine Eagle respectively.
Not all watchmakers were trying to follow in Genta's footsteps. In 2005, Bell & Ross released the now iconic BR 01, giving the brand a much-needed stylistic identity. The round dial, square case, screws in the corners and prominent indices were influenced by vintage dashboard instruments in military planes, where things like the aesthetic value of exposed nuts and bolts were obviously not priorities.
That militaristic look has served Bell & Ross well, but its latest collection proves that the almighty bezel screw can go a long way in maintaining one's design DNA. Released in 2019, the all-steel BR 05 collection is a softer, more elegant take on the brand's typically rugged offerings thanks to a number of changes.
The overall shape is now a rounded square with a bezel to match, the straight lugs from the BR 01 and BR 03 have been swapped to a centre link that leads into a bracelet or strap. New crown guards add to the streamlined form. But Bell & Ross kept what matters: The typeface, shape and, of course, the screws. And more importantly to some: aligned screws.

Because the only thing more talked about than the trendiness of visible screws is the alignment of said screws. In the Bell & Ross BR 05 and BR 03 models, the screws are placed at a pleasingly precise 45 degree angle. This isn't always true for such cases – look closely at your Santos or Big Bang and you'll realise their screws point every which way. (And if you've never noticed before now, we're sorry.)
There's a trick to it that Audemars Piguet also employs for its Royal Oak. Those screws we see are actually bolts that fit perfectly into the slots created for them, and are secured by screws found on the case back, and those don't line up.
It is technically possible to create screws with threads that start and end in the exact same orientation while also making sure the countersinks all have identical depths, but the additional time and effort to do all that – known as "timing" the screws – would send prices (further) into the heavens.
Not to mention screws that are specially reworked to be perfectly aligned are no longer interchangeable with other slots, which means even more work when it comes time to service the watch.
Timing screws seems to be the domain of luxury shotgun makers and obsessive-compulsive carpenters, but those who idly wish horologers would adopt this practice have to deal with the implication that watches with exposed screws will just become rarer and more expensive. And can you imagine Cartier having to align every single one of its screws on the Santos' bracelet?
Let's just appreciate the screw for what it is: An essential, usually invisible part of watchmaking that happens to look pretty neat when given its day in the sun.