Fanny packs and beer-can totes: 7 man bags you need to own right now
From the barest essentials to an entire weekend's worth of stuff, these are seven of the most stylish manbags to have and to hold now.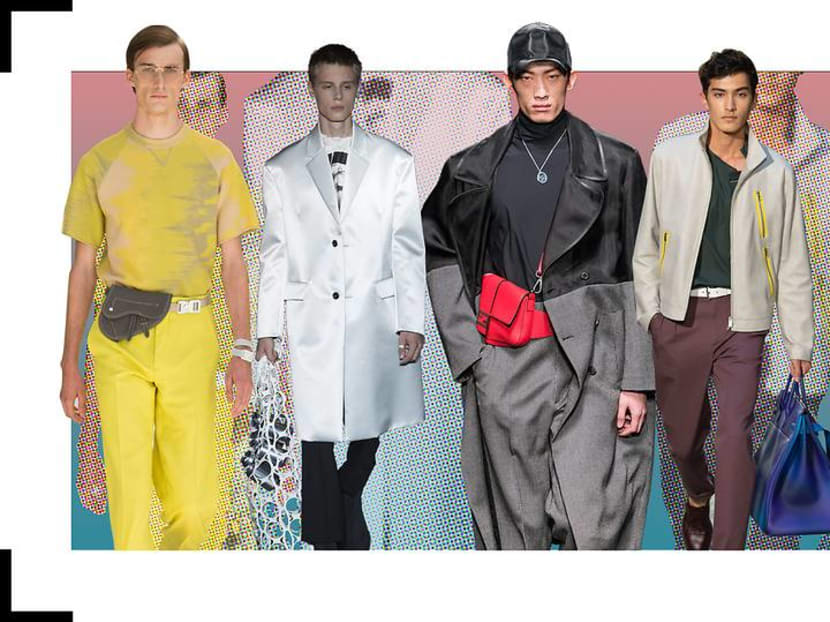 Isn't it funny how some people still consider owning a manbag a rather feminine affectation, when the oldest purse known to humankind belonged to a man and is believed to date back 5,000 years? Its owner was a well-preserved male mummy discovered in the Otzal Alps in 1991, who was said to have lived between 3,400 and 3,100 BCE.
Maybe it's got to do with how pockets in garments were invented only in the 17th century. Before that, early hunter-gatherers tied bags around their waists to store foraged foodstuff; Scotsmen such as the legendary warrior William Wallace (CE 1272 – 1305) used fancy sporrans to store small daily essentials, show off their status and quite possibly, prevent their kilts from blowing up in strong winds and inadvertently revealing their family jewels. Italian Renaissance men owned girdle pouches that held spices, herbs and money – and that showcased their wealth through their ornate fabrication.
After pockets came along, small items were stashed into garments, close to the body. As a result, bags used by males became bigger and more utilitarian, with form following function. Cue stable-bottomed doctor bags with mouths that open wide to reduce the need for rummaging for the right potions and medical tools; messenger bags worn cross-body to reduce the likelihood of the bag slipping off the shoulder; saddle bags for cowboys and bikers; briefcases for white collar workers, and so on.
Come to think of it, there's really no reason why any modern man should be expected to continue relying just on his pockets to carry daily essentials, especially with health concerns over placing radiation-emitting smartphones too near the gonads, credit cards getting bent out of shape from wallets stored in pants' back pockets, and lugging around your own water bottle, reusable chopsticks and stainless steel straws because #PassOnPlastic.
And when you do have bigger items to tote around, such as laptops and gym gear, why do you have to stick to the same old plain, utilitarian messenger, duffel and backpack styles, and only in the drabbest of colours?
It's something that fashion designers are cottoning on to in recent years. According to research firm Euromonitor International, the market for men's luxury bags in the US grew 23 per cent between 2011 and 2016. And in 2017, Singer Pharrell Williams became the first male face of the Chanel bag, and was pictured a US$3,600 (S$4,800) "Gabrielle" Chanel tote.
This season, top fashion houses such as Dior, Fendi and Hermes have even taken a leaf from their women's handbag collections, re-issuing them in male-centric styles. So boys, know that it's more than okay to bring on the murses (guy-appropriate purses) and motes (man-sized totes). Here are our favourites.
DIOR SADDLE FANNY PACK
Designed by John Galliano in 1999, Dior's original Saddle Bag, with its equestrian inspiration and distinctive saddle shape, first debuted on the runway in Spring/Summer 2000 as a compact shoulder bag and quickly became the It-Bag that every It-Girl of the time, such as Paris Hilton and Sarah Jessica Parker, sported.
The hype soon died down (the 90s era of seasonal It Bags was super competitive after all), but in 2014, Beyonce was seen carrying a vintage one around, and more celebs soon followed suit.
In 2018, Dior revived the piece, with Artistic Director Maria Grazia Chiuri creating 20 different designs and colours for the Autumn/Winter 2018 womenswear collection, and menswear designer Kim Jones doing a male version for his first collection for Dior Homme, the Spring/Summer 2019 menswear Ready-to-Wear.
Elegantly crafted out of grained leather and boasting a streamlined shape, it's attached to a jacquard strap subtly inscribed with the brand founder's name, which fastens with a industrial style metal buckle that incorporates the "CD" initials, making for a distinctive and sleek-looking bumbag (so on trend this year) that won't get you mistaken for an '80s tourist.
FENDI BAGUETTE FOR MEN
The original Fendi Baguette for women, designed by Silvia Venturini Fendi in 1997, was a neat rectangular front flap bag with a short shoulder strap that allowed the purse to be tucked snugly under the arm, much in the same way people toted around their baguette loaves. Issued in a mind-boggling array of colourways, patterns and materials (ranging from the FF monogram canvas, to fur, sequins and precious skins), it's said that 100,000 pieces flew off the shelves during the bag's initial year of release.
In 2019, the Baguette was re-released for the Spring/Summer 2019 womenswear collection, and the male version for the upcoming Autumn/Winter 2019 season, sees the arrival of Baguette For Men, which comes with detachable shoulder straps and top handles, and a bum-bag-style round-the-waist fastening.
LOUIS VUITTON UTILITY TRIO
As you'd have figured out by now, luxed-up bum bags are hotter than hot this season, and Louis Vuitton ups the must-have factor by fitting not one, not two, but THREE separate zippered compartments onto the same belt, that's thankfully, adjustable. Available in monogrammed leather or matt crocodile, we love how it's super functional – your condoms can be stashed in a different section from, say, your business cards or phone, to prevent potentially embarrassing situations. An added bonus: Those pesky pickpockets in Europe who are always attempting to prey on Asian tourists queueing outside the designer boutiques will be left completely confounded as to where exactly your wallet might be.
PRADA BRIQUE SAFFIANO LEATHER BAG
Available in two neat, structured and oh-so-practical rectangular shapes (one's a tall rectangle, while the other's a wide rectangle), each model is available in two smallish sizes that are just enough to store stuff a guy would otherwise be carrying in his pockets. Think powerbank, phone, wallet, keys and lip balm. It's available in macho-enough hues such as black, white, red and navy, but we say, have a little fun and go for the one designed in collaboration with architect Rem Koolhaas' studio, which features super-cute retro-style marine-inspired Prada logos.
HERMES OMBRE OVERSIZED BIRKIN
As the story goes, the original Hermes Birkin was inspired by an incident in 1983, when Hermes CEO Jean-Louis Dumas was seated next to actress Jane Birkin during a flight from Paris to London. Apparently, she had placed her straw travelling bag in the overhead compartment, and the contents fell out. Birkin had then explained to Dumas that she found it hard to find a leather weekend bag that she liked. In response, Dumas created a supple leather bag for her in 1984, christening it The Birkin. For men, this oversized multi-hued stunner from the maison's Spring/Summer 2019 men's Ready-to-Wear collection is bound to turn heads and induce pangs of envy.
RAF SIMONS BEER CAN TOTE
You can't get any more macho than a man who drinks lots of beer. Which is why Belgian designer Raf Simons' Spring/Summer 2019 menswear collection, which is inspired by British lager louts, features tank tops fashioned out of plastic beer can rings, and this lightweight yet sturdy leather cut-out tote. A much more stylish way to transport your favourite hoppy beverage to the next picnic or BBQ than carrying a cardboard carton over your shoulder. If your sartorially-challenged bros poke fun at you, just patiently explain to those Neanderthal plebs that Raf Simons said it's also "like Paco Rabanne".
JACQUEMUS NECK SLING POUCH
This label's been on the lips of female fashionistas the past few seasons, and in his first menswear collection, Frenchman Simon Porte Jacquemus presents his idea of modern masculinity: The gadjo, a hunky Mediterranean boy who wears Provencal-inspired sorbet hues, and carries his possessions slung around his neck. His leather neck pouch is perfect for hands-free transportation of your daily essentials such as your phone, keys, and a slim card case, while adding a small but punchy accent to even the plainest T-shirt-and-jeans getup.