Short-sleeved shirts that are great for Singapore's weather, and stylish to boot
Men, your loose-living days have arrived – printed short-sleeved shirts are your new wardrobe essential for dressing up without compromising comfort.
In spite of its breezy design, which makes it perfect for Singapore's humid weather, the short sleeve shirt hasn't received the love it deserves. Perhaps it reminds some men too much of their former school uniforms and they wish to distance themselves from that memory. Or perhaps it is the (ill-placed) perception that only geeks don them.
Either way, those folks will hardly recognise the stylish and exquisitely printed versions that have been popping up. Looking anything but utilitarian and being far from nerdy, they are a great alternative to dressy but stifling formal shirts. Because after a Work From Home situation for the last 18 months where we have gotten used to wearing clothing that's actually comfortable, do we really want to slide on a formal shirt that's too snug at the collar and too unyielding at the shoulders?
In these post-COVID-19 days, pursuing a sense of ease is of paramount importance, even if that simply means wearing clothes that make us feel better. Lightweight and loose-fitting short sleeve shirts are the perfect solution as they allow not only freedom of movement, but also expression of individuality. From eye-catching botanical prints to subdued classic monograms, you can easily pick a shirt that best reflects your personality.
As we get ready to head back out for a meal at our favourite restaurants or a spin around town, here are some options to prep your wardrobe with. With the dissolution of traditional dress codes compounded by the pandemic, the time is ripe for expression and experimentation.
NATURE BECKONS
You can almost never go wrong with botanical prints. From florals to paisley, plant-inspired patterns are no stranger to fashion – but they have taken on more a graphic and abstract character of late.
This cotton-jersey printed shirt from Dries Van Noten's SS21 collection, for instance, is full of upbeat and tropical motifs. Decorated with flowering cacti, it has an aloha-style cut which promises a comfortable fit. The bold design is balanced with cool tones, so you can command attention without screaming for it.
If you are all about foliage, you'll like Gucci's vibrant and debonair leaf-print number. Pair it with faded jeans and white sneakers for some street cred or dress it up a notch by tucking it into slim trousers.
An uber-casual option for when you actually want to hit the beach, the printed cotton-terry shirt from Orlebar Brown hits the right note. Emblazoned with a tonal palm print, its absorbent fabric makes it perfect for wearing post-swim.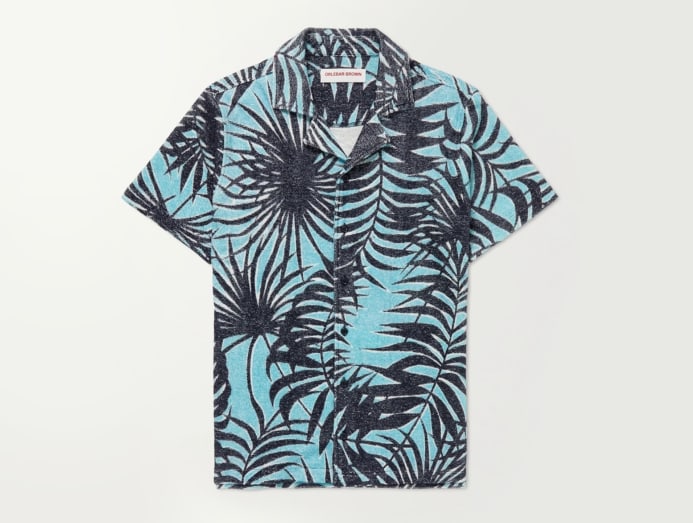 And If classic Hawaiian truly is your vibe when it comes to short-sleeved shirts, go all out with Polo Ralph Lauren's lightweight cotton-poplin offering. The vibrant printed hibiscus has long been associated with this shirt style, and here it is made relevant without being a caricature.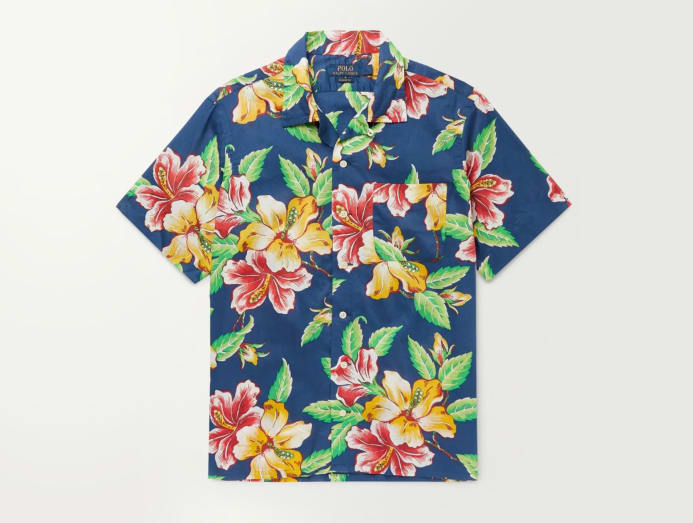 ANIMAL INSTINCT
Animal print will never fall out of fashion, and it is possible to wear it without coming across as garish. The key is moderation: Whenever dressing with a statement piece such as this, keep the rest of the outfit muted. Focus on subtle colours and understated detailing to balance your look.
This smart shirt from Amiri features a Cuban collar and is printed with a repeating Playboy-style bunny motif. It's cut for a loose fit from lightweight silk-twill, so you'll feel free and unencumbered. Match this with denim shorts for a casual brunch or smarten up the look with trousers for a sunset cocktail.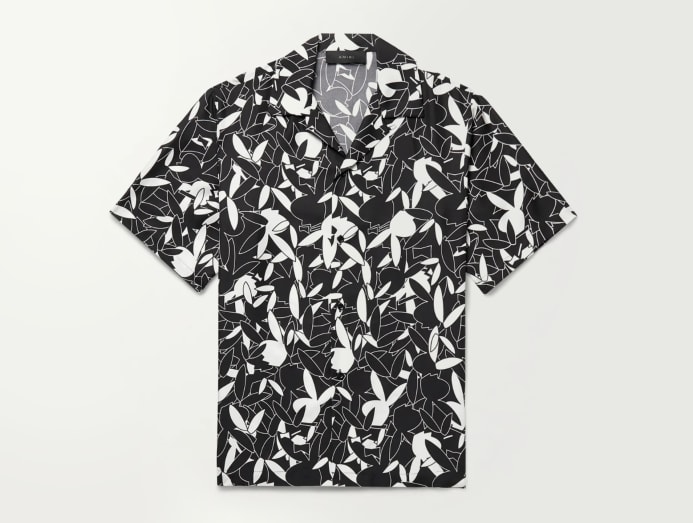 For the young-at-heart, Saint Laurent offers a cheery outlook with this shirt printed with colourful brush strokes that resemble an abstract take on perched parrots. Woven for a lightweight handle and a fluid drape, it's cut for a relaxed fit and has a 70s-style collar. Style this loose over skinny trousers or tucked into a high-waisted pair of trousers.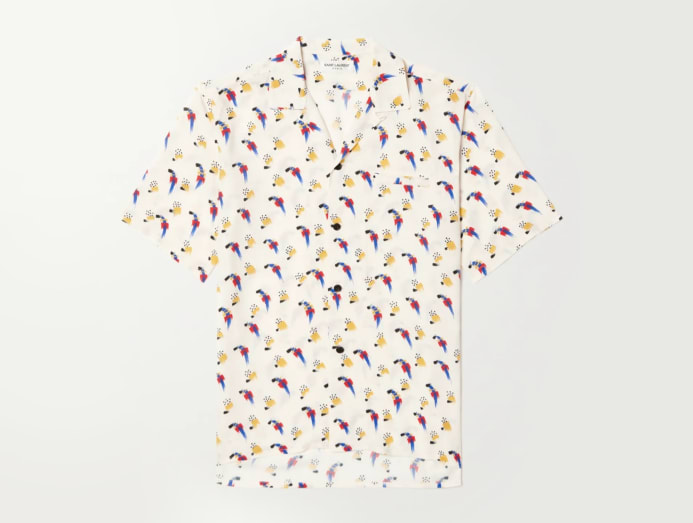 If you are in the mood for humour, you will appreciate this cotton shirt from Nudie Jeans. Even an arachnophobe will be won over by the graphic skull-faced eight-leggers. Cut from lightweight organic cotton in a relaxed camp-collar profile, it's the perfect conversation starter for a casual weekend.
However, if you are a beast and prefer to go full-on animal mode, this shirt from Celine Homme is essential. Covered in a pack of contrasting animal prints (because one isn't always enough if you're a maximalist) it manages to be bold yet palatable.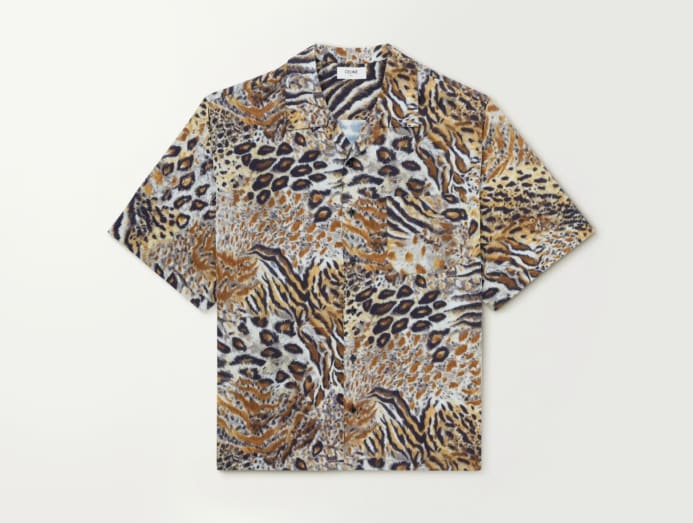 LIFE IN MONO
One of fashion's most enduring styles is the monogram print. In an industry where change is the only constant, monograms have become essential for maintaining a brand's cachet. While they can sometimes be too outlandish, when executed with a restrained hand, they can be highly wearable – even cool.
Take this oversized Cuban-collar crinkled shell shirt from Gucci. Its baggy and relaxed style makes for easy wearing, and the print of a checkerboard of belts, each fastened with the house's signature GG buckle, is subtle yet distinctive.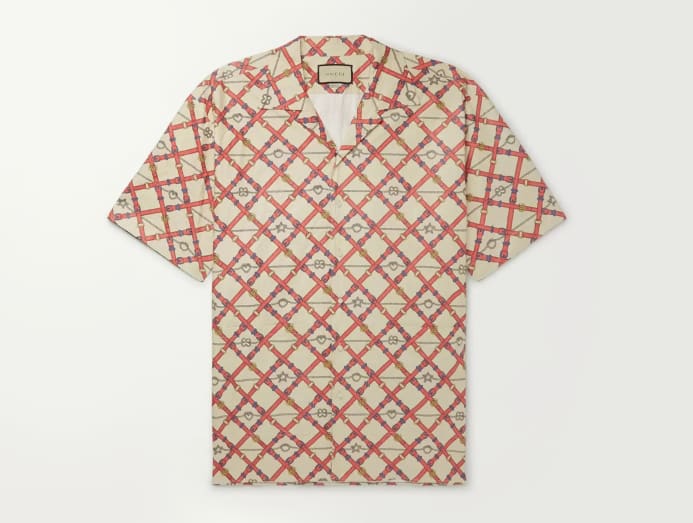 Likewise, the motif print on this shirt from Valentino is at once discreet but recognisable. With a style that is reminiscent of the seventies, it's cut from naturally cooling silk in a relaxed profile. Wear it easily with tailored shorts for a summery look, or with skinny faded jeans for an edgier silhouette.
If you are in search of summery vibes, this classic Hawaiian-style shirt from Louis Vuitton is all about embracing the pastel theme. A colourful take on the monogram motif, it is cut from soft cotton poplin and features white metallic buttons. Pair it with white trousers if you are heading to the beach bar, or keep it casual with a pair of denim shorts.
And finally, Burberry's bold cotton-poplin shirt bears all the hallmarks of its signature check motif, but interpreted in a fresh way with its perfect symmetry. Cut for a boxy fit, it is the perfect way to demonstrate your alliance while injecting a dollop of cool.